This post may contain affiliate links which may give us a commission at no additional cost to you. As an Amazon Associate we earn from qualifying purchases.
After a few coworkers purchased their own under-the-desk treadmills, I quickly hopped on board the trend. The more I thought about how I typically work, my habit of pacing, and the fact that I knew I needed to move more than I did throughout the day, I was sold on the treadmill and standing desk plan.
Finding a treadmill was the easy part. Setting up a treadmill desk workstation that actually worked for me was significantly harder.
I originally purchased a treadmill that had a small acrylic desk that laid across the handles. That setup was far too low and led to a crick in my neck. I returned that treadmill and purchased one that was a little cheaper. After all, why pay for that desk setup if it wasn't working for me? After a few weeks of searching, I realized the only solution that would work for me was making a standing desk of my own.
DIY Standing Desk For Your Treadmill
I did try a few other options first, but I can say that I'm confident PVC pipe is the easiest way to DIY a desk for your treadmill. PVC is easy to cut, especially if you have a pipe cutter tool, and you can make your desk the exact size you need!
DIY Standing Desk Materials
40′ of PVC Pipe (either 3/4″ or 1″ PVC pipe will work for this project)
Piece of wood for the desktop
Pipe straps to hold the PVC to the desktop (buy straps that are 1/4″ larger than the pipe that you select)
Eight, 90-degree side outlet elbows
Ten, 90-degree tees
Two, 90-degree elbows
A few notes before you buy your standing desk materials:
I purchased 40′ of 3/4″ PVC pipe to make my desk. If I was doing this over again, I'd probably purchase 1″ pipe to make things even sturdier.
When picking up your PVC fittings, make sure you select "slip" fittings. The fittings come in both slip and threaded. Slip fittings will just slide onto the pipe.
How To Make Your New Treadmill Desk
Once you've purchased your materials, it's time to cut the pipe and fit things together. It's a bit like making a puzzle from scratch, and the exact dimensions will depend on the height you want your desk to be and the width of your treadmill.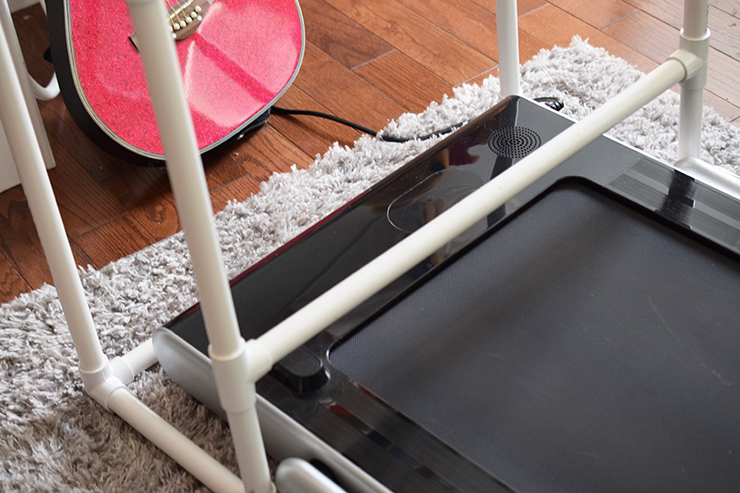 I made my PVC pipe desk 48.5″ tall, which turned out to be the perfect height while I was standing on the treadmill. I played with a lot of different configurations until I got to the one you can see in the pictures. It provided me with the exact amount of height I needed with a fairly decent amount of sturdiness. Keep in mind, this desk will be sturdy but there will still be some wobble. Adding on adjustable feet will help make things as secure as possible.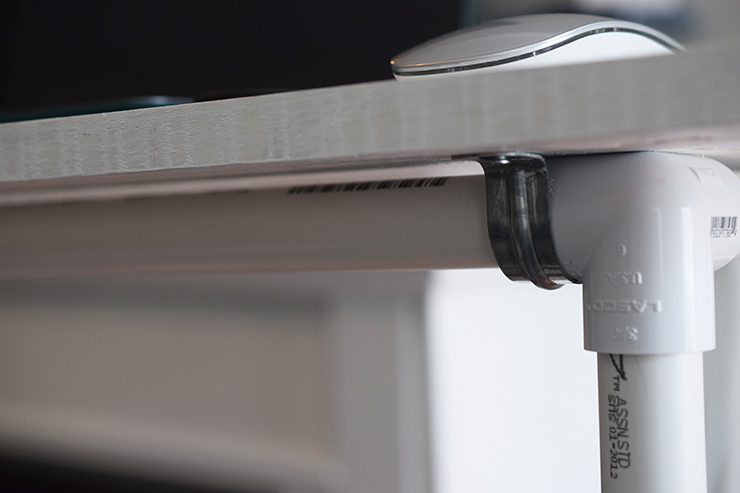 In my case, I wanted a treadmill desk that was lightweight and easy to move out of the way since I was using it in my living room. (My treadmill can easily roll under the sofa to keep it out of the way.)
Tip: If you already have a desk, but just need to add some additional height to raise your computer for use when you're on the treadmill, creating a smaller version of this treadmill desk to use on top of your desk is an easy solution.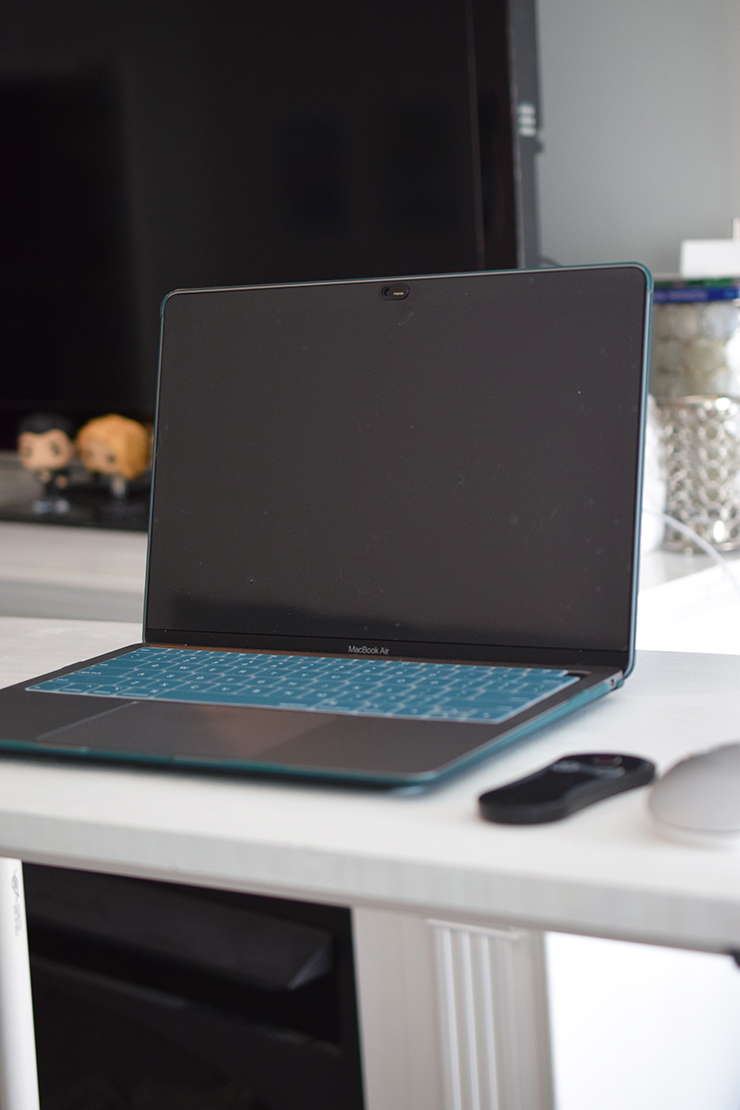 The total cost of my standing desk was around $50, but that will vary depending on the size of the desk you make and the exact cost of materials in your area. Compared to the hundreds of dollars you can spend for a standing desk online, this is a much more affordable solution.
You might be wondering how easy it is to work on a laptop while using your treadmill. In my case, I've found that working on spreadsheets, taking calls, and any activities that were more mouse-based than typing-based were pretty manageable. I can send off a quick email while walking, but I do prefer to step away and sit down to do more extensive writing tasks (like typing up this blog post!).
For more help getting set up to work at home, check out these tips for creating a home office space and our guide on setting up a home video studio.