This post may contain affiliate links which may give us a commission at no additional cost to you. As an Amazon Associate we earn from qualifying purchases.
I love baking and entertaining. They go hand-in-hand! Displaying food and desserts attractively for my guests is important. It doesn't matter the season or occasion, my goal is to make the food look great. I'm always on the look out for the perfect dessert stand.
As we say goodbye to the summer months, remember, fall is great for entertaining fun, too. Fall brings us so many wonderful opportunities to entertain and celebrate. The season also brings a volume of pumpkin and spice inspired treats to share.
I am obsessed with vintage chic. In particular, I love mercury and painted glass. Mercury glass was discovered in the 19th century. The process was developed as an inexpensive and tarnish-free alternative to silver. Glass was blown into double-walled shapes. Through a small hole, a silvering formula was used coat the glass. Interestingly, the silvering formula was neither silver nor mercury.
I am also obsessing over stacked cake and dessert plates. I think they are chic and practical. The food always looks amazing on the towers. And they use space well for easy entertaining. The dessert plates easily stack or stand alone depending upon space and look.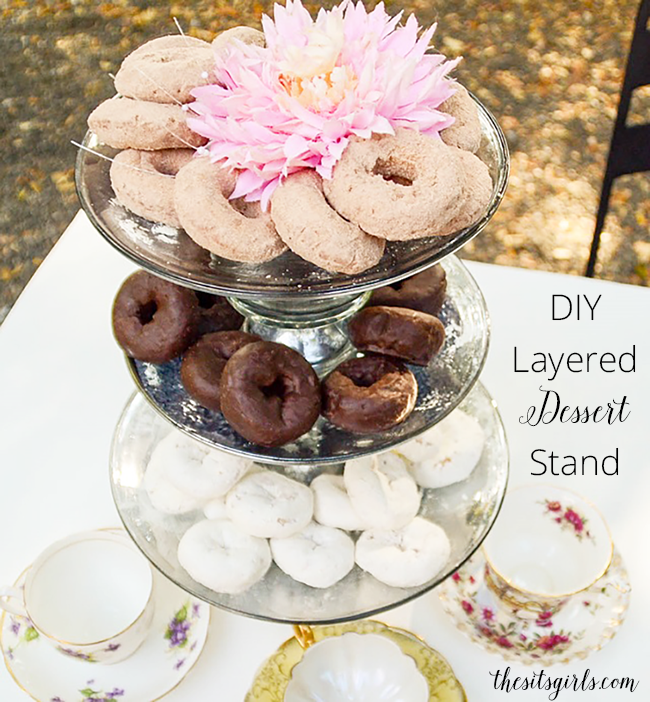 DIY Layered Dessert Stand
The materials for a layered dessert stand are inexpensive and easy to locate. I found the items at my local discount store. You could shop thrift stores or dollar stores for the glass items, too. Mix and match plates and bases for a unique look.
I used these materials to make my dessert stand:
1 – 9" clear glass plate
2 – 5" clear glass plates
3 – footed clear glass dessert cups OR candlesticks
1 – can Looking Glass paint (or your paint color choice)
1 – can Clear finish coat
1 – Epoxy
1 – spray bottle with ¾ distilled vinegar and ¼ water
Paper towels
Start by cleaning the bottom of the plates and inside the bowls. Use rubbing alcohol or glass cleaner to remove fingerprints, oils, or any debris.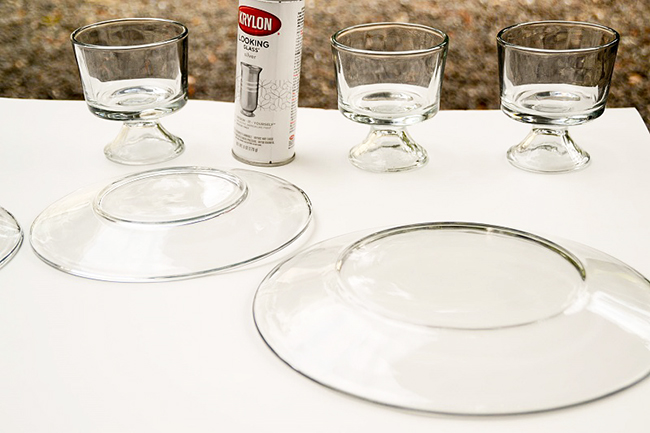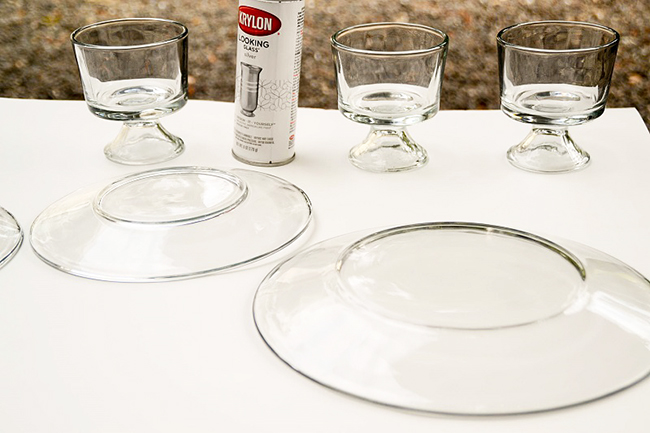 Lay the plates face down (do not paint any surface food will touch). Lightly spray 1 to 2 coats of Looking Glass paint.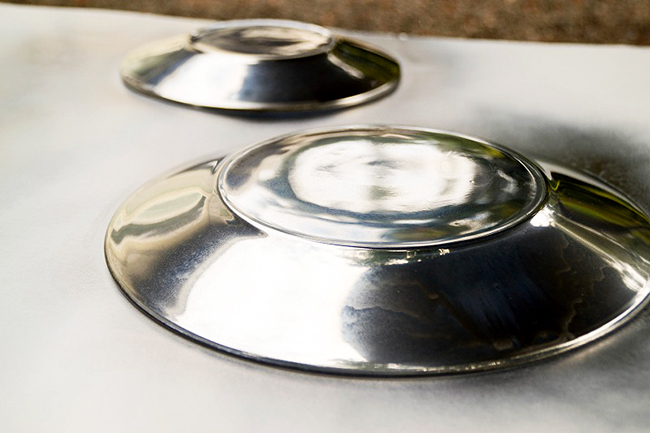 Paint 1 to 2 light coats of Looking Glass paint inside the footed bowls. If the base is concave, paint inside there too.  Do not paint the outside surface of the glass.
Option: Use a solid color instead of Looking Glass paint for a different look. Don't want the distressed look? Skip the vinegar and water step.
Mist the painted surfaces with the distilled vinegar and water solution. Lightly dab the paint with a paper towel. You are going for a mottled, random look on the glass. Some of the paint will come off. That is exactly what you are going for so don't panic.
Once the distressing is done, lightly paint the clear coat on any painted surface.  Again, do not paint any surface that will have food on it.
Allow the glass to dry overnight.
Putting Your Dessert Stand Together
Now for the fun part. Apply your Epoxy (in a well-ventilated space or outside) along the rim of the footed bowl. Place the bowl upside down onto the back of each plate.  Allow to cure according to the directions.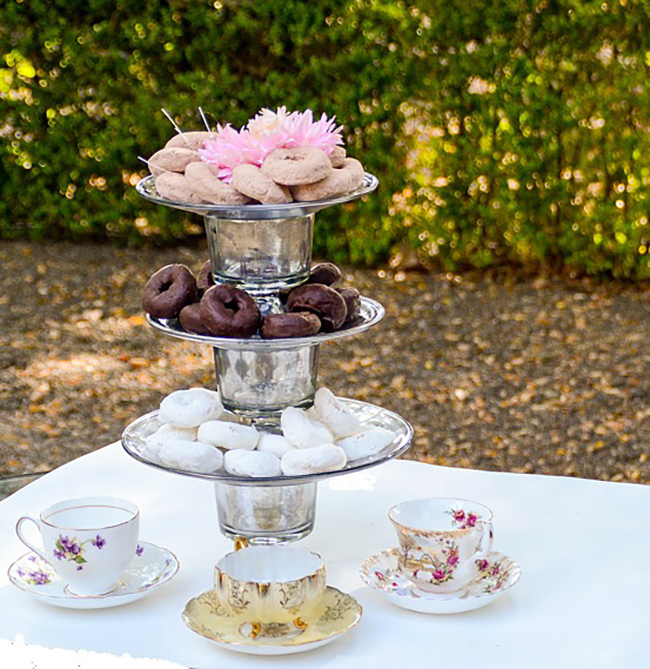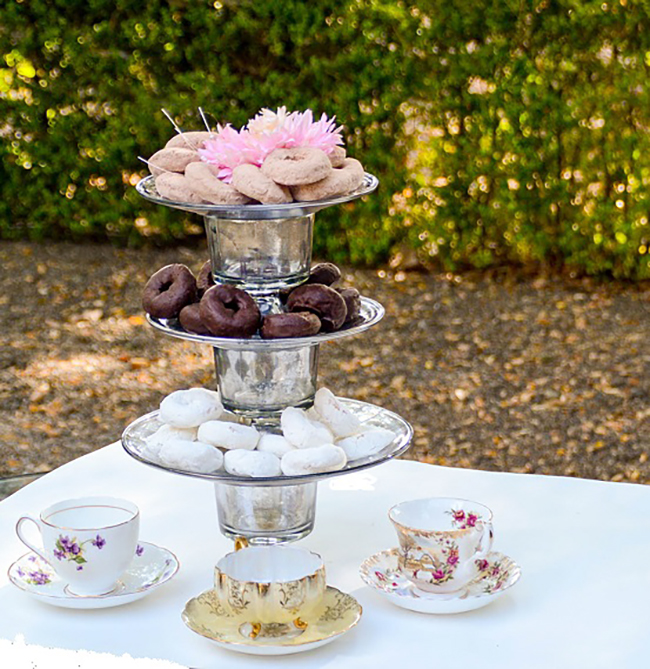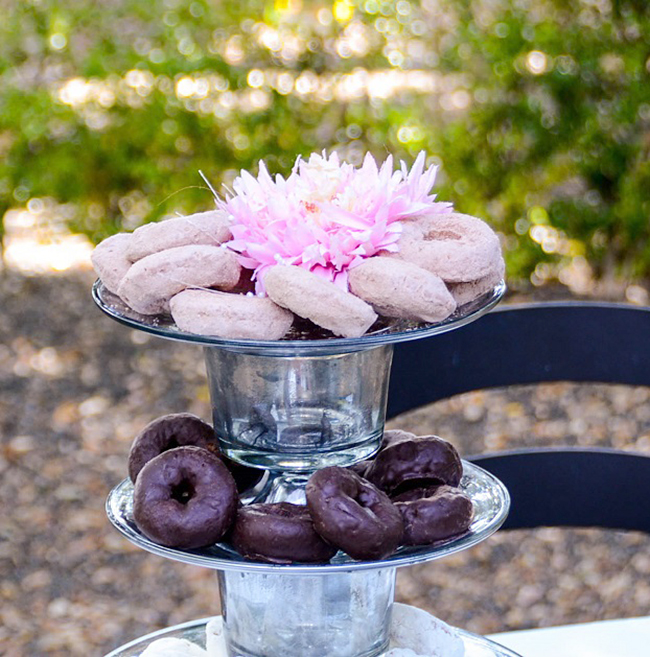 Let's Celebrate
The finished plates are amazing. The stacked plates are perfect for any holiday or celebration. Use them for to display brownie bites, cupcakes, cookies, finger sandwiches, or hors d'oeuvres. My kids loved the doughnut display.
These also make wonderful hostess or birthday gifts. Create a stunning cake plate and top it with a delicious dessert. Your loved one will be excited to receive a creative and tasty gift!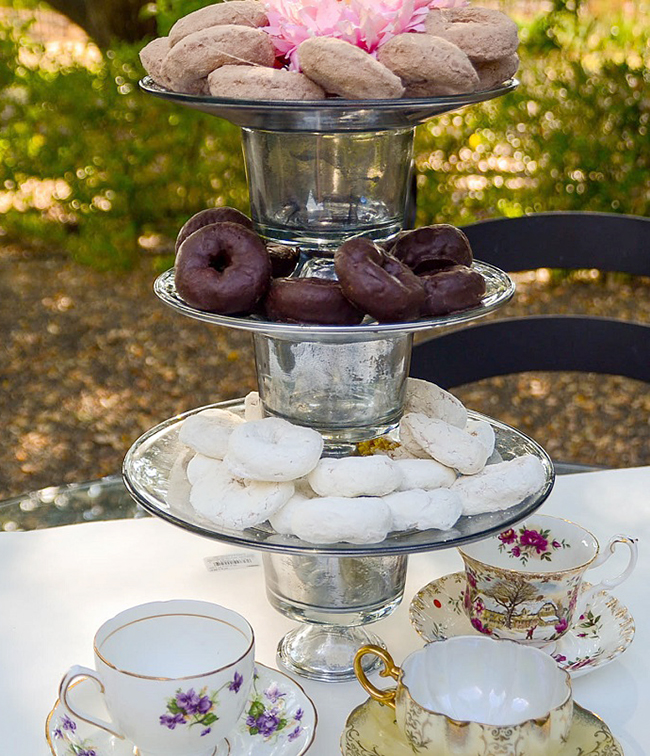 Create these lovely stacked cake plates for your next party. Get creative!