This post may contain affiliate links which may give us a commission at no additional cost to you. As an Amazon Associate we earn from qualifying purchases.
Growing up I remember going to the Nutcracker Ballet. I was enchanted by the beautiful colors, snow, and the dancing Sugar Plum fairies. I loved the way they came came to life and floated gracefully across the stage. The pastel pink and sparkling winter decor was just too beautiful for a young girl to grasp. I fell in love and wanted desperately to be a professional ballet dancer or a fairy.
Fast forward 20 years, and I am neither of those two. However, I did decide that I could easily recreate the fairy magic in my home. My daughter loves everything girly, so I knew she would be delighted to see a door to a magical fairy world. And I was delighted this DIY Sugar Plum Fairy Door was super easy to make.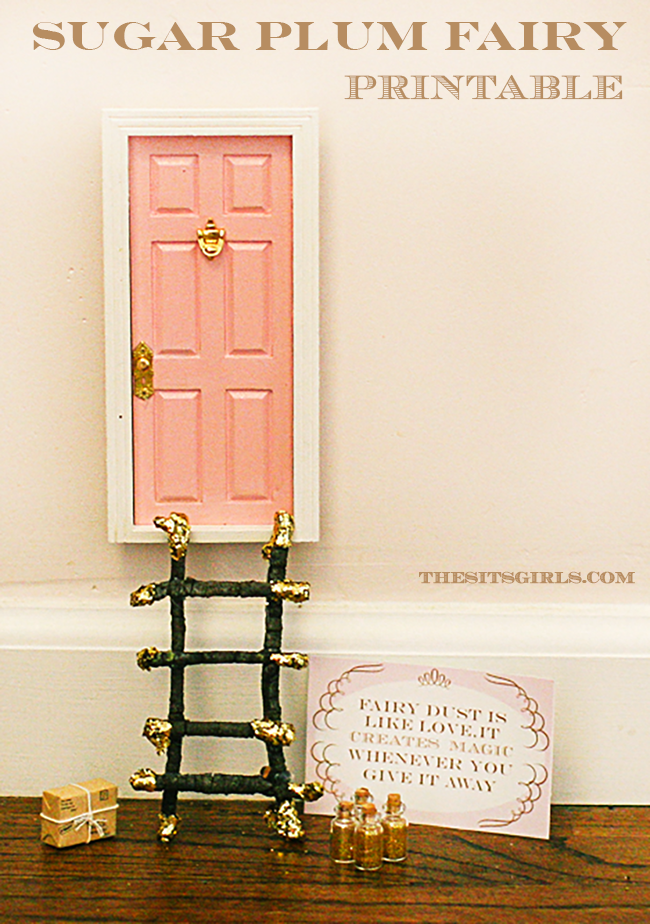 DIY Sugar Plum Fairy Door
Fairies are magical little creatures, and I decided that my fairy door had to be exactly that. Magical. At first I was at a loss of how to create a magical little door. But it hit me when I was strolling the aisles at a craft store! I saw some adorable little doll house doors, and knew that I could transform one. *This post contains affiliate links.
I bought a plain wood door, little doorknob knocker, and a door handle.  You could also do put a small tiny address plaque on the door as well. There are so many little accessories you can buy to modify your door and make it personal to your little one. After I had my basics picked out, I had to choose my paint color for the door.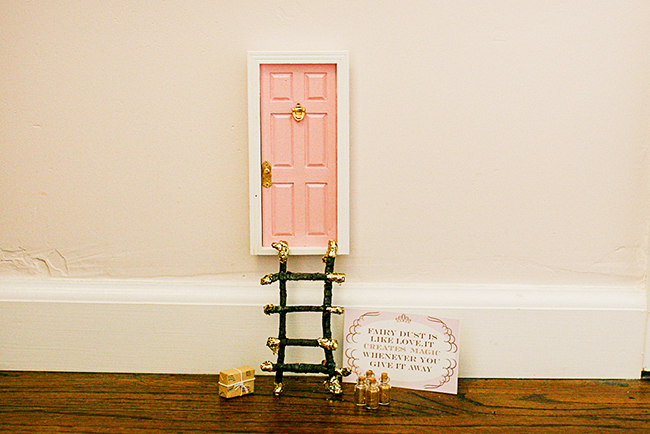 I initially bought gold, baby blue, baby pink, and white with a pearl sheen. I wasn't sure if I wanted to paint the door a baby blue with white trim, so it would look like a winter snowflake door, or go a little more girly with pink and white trim. I ended up mixing the pink and the white sheen and painted the front of the door baby pink. The trim I painted a flat white.
I applied about 5 coats of the pink and 4 coats of the white trim on the door. Once I was finished painting, I felt the color on the door was pretty flat, so I decided to finish it with a sealer. The sealer I used was a clear spray wood sealer, you could also use one that you paint on. I attached the doorknob and knocker using E-600 glue.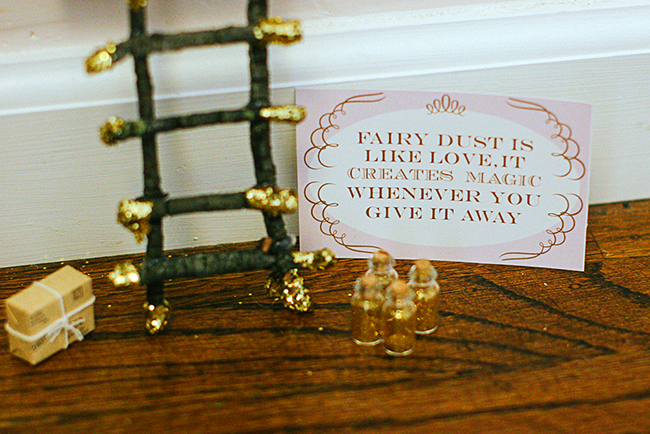 The next step was to install my fairy door. I used command hooks to keep my door in place. I have a two year old and a four year old, and so far it has stayed put for over a week even with their tampering! I raised the door just enough so that I could craft a small little ladder out of some twigs. I coated the ends in Modge Podge and then dipped them in gold glitter. Once they were dry I used my hot glue gun to assemble my ladder.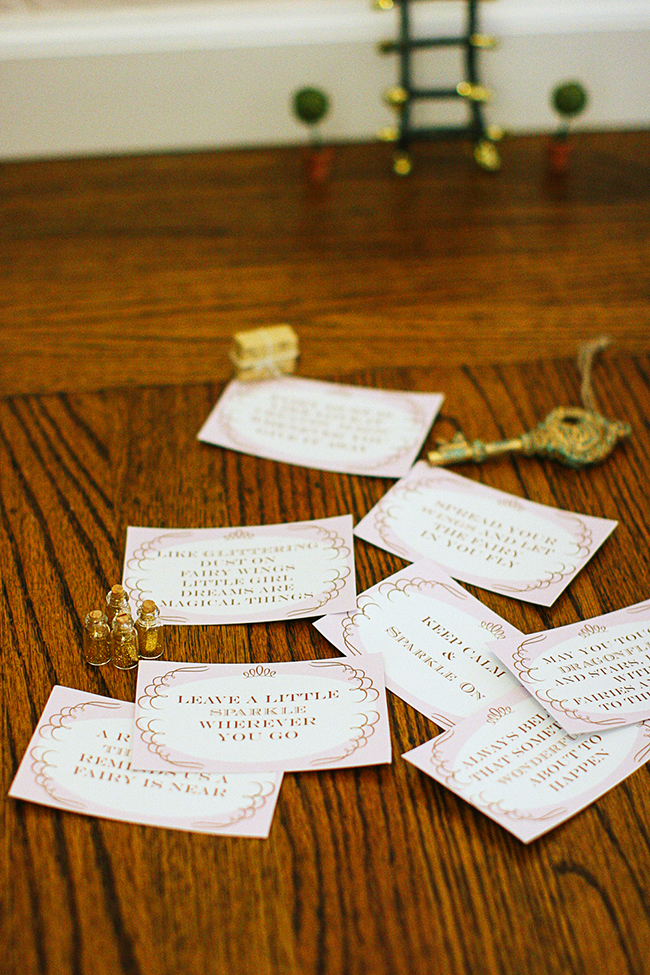 My favorite part by far is these darling messages from our Sugar Plum Fairy. They are so girly and pink, and so sophisticated. Each one has a little inspirational message for your Little Princess.
They will remind her that she is powerful, special, and that the world is a magical place. I also bought extra little accessories from the doll house section so I could leave little fairy presents with it. These little glass bottles I filled with gold glitter so that my kids could have their own tiny jar of fairy dust!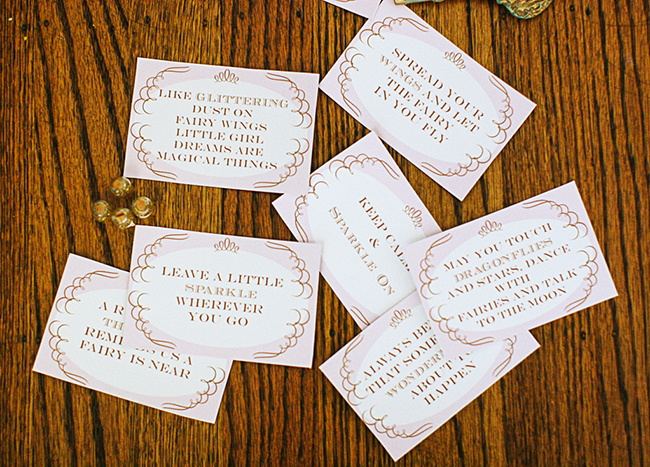 Make this your new family tradition this year. Kids will rush to see if the fairy has visited throughout the night. Leave a little trail of glitter from the door and they will know a fairy has been there. You could also leave gum drops fresh from fairy land, or perhaps some pink peppermint marshmallows!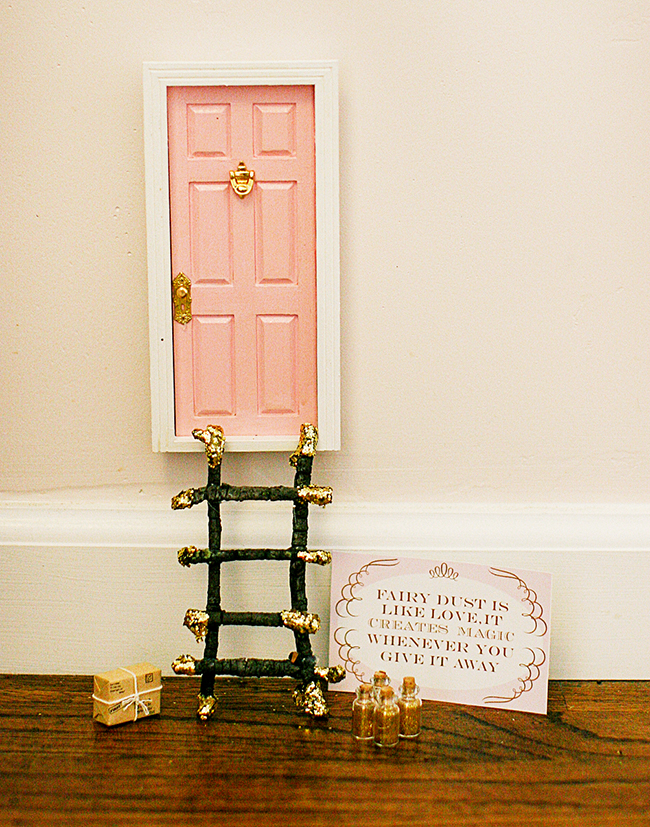 Your kids (and you!) are going to have so much fun with this one. The possibilities are endless, and it is a magical experience for kids! The best thing? Your fairy doesn't have to visit every day like the Elf on the Shelf, so you can set the schedule or make the visits random – whatever works best for your life!