This post may contain affiliate links which may give us a commission at no additional cost to you. As an Amazon Associate we earn from qualifying purchases.
This year I've resolved not to let my mantle go empty for the holidays. So I've come up with a great Thanksgiving mantle decorating idea that will not only look great but will also help my family keep Thankfulness top of mind during a tough year.
This season I am loving the color gold, because it is universal, and can be brought in to any type of decor. I had an excessive amount of pumpkins left over from my Halloween decor. I decided to go for the gold, and use them for Thanksgiving decorations, too. Gold spray paint was my best friend this week, and I went to town on my pumpkins. Here are ideas for super easy fall mantle decor you can do in your home.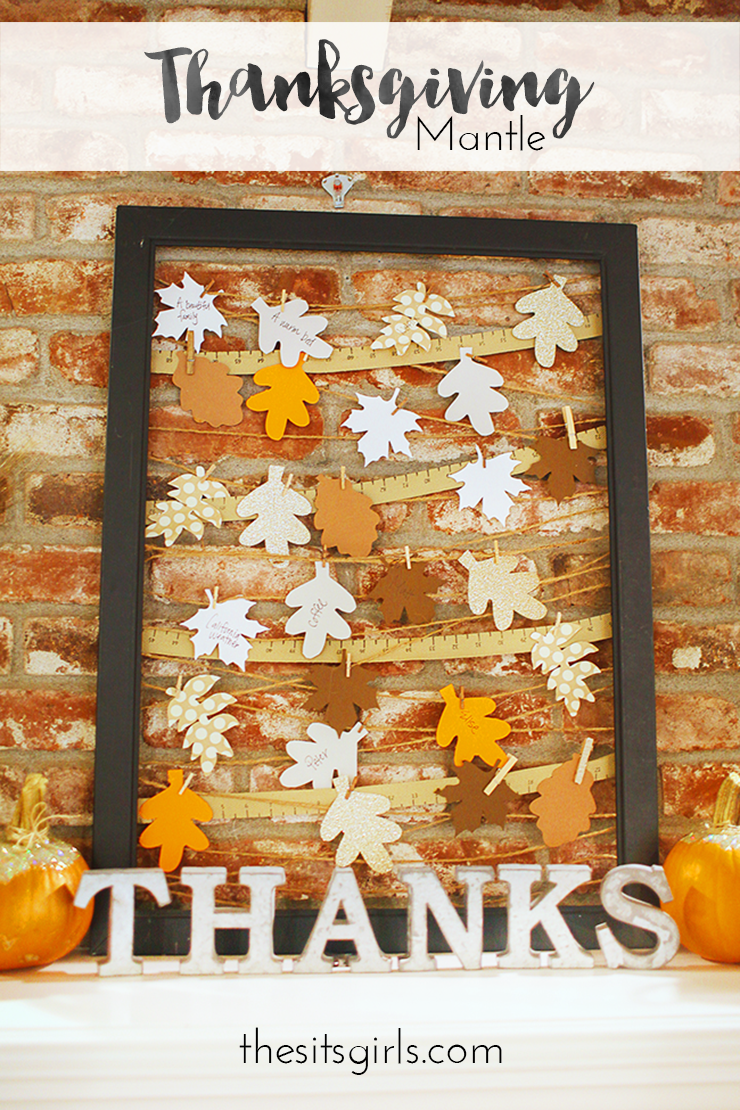 Thanksgiving Mantle Decorating Ideas
I am super blessed to live in a house that has an classic brick wall and mantle. I am so in love with it, because it's the perfect backdrop for holiday decorations. This year I purchased a variety of pumpkins, instead of just the usual circular orange ones. My favorite pumpkins are the mini white and Cinderella varieties.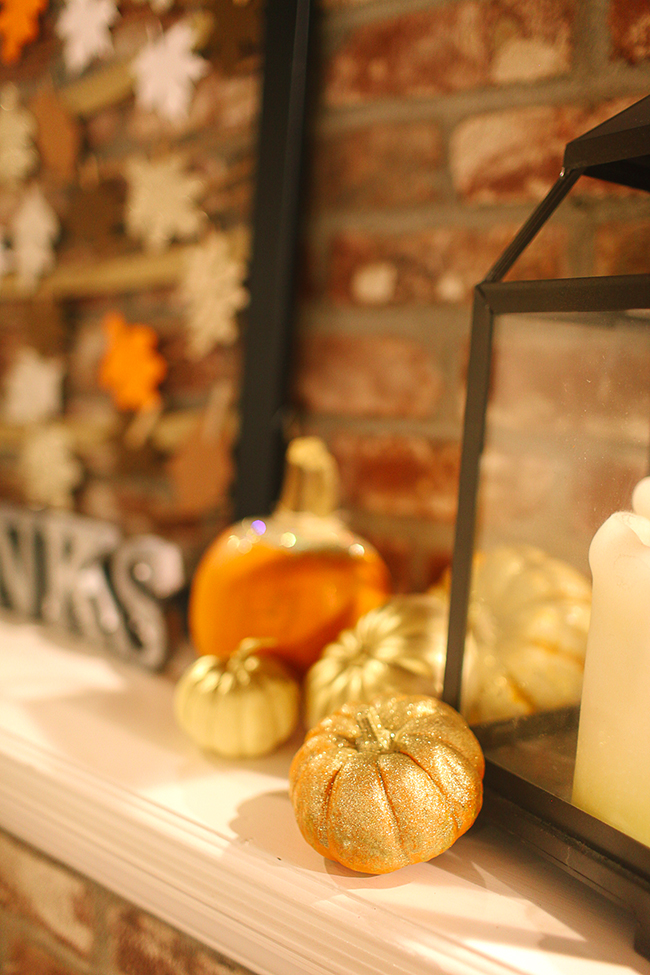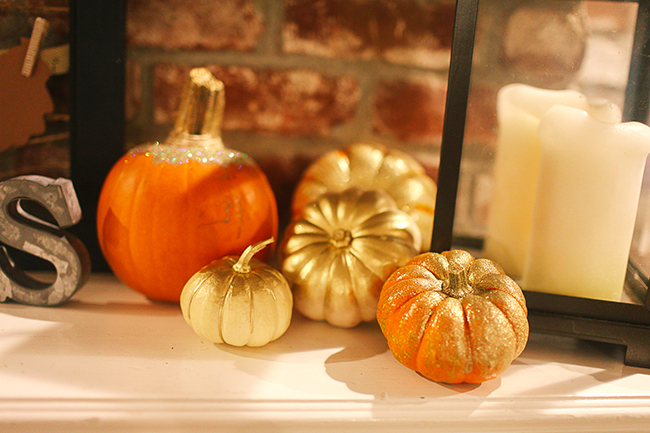 Of course I had to use wheat in my mantle display. My mind immediately goes to wheat and pumpkins when I think of Thanksgiving and fall.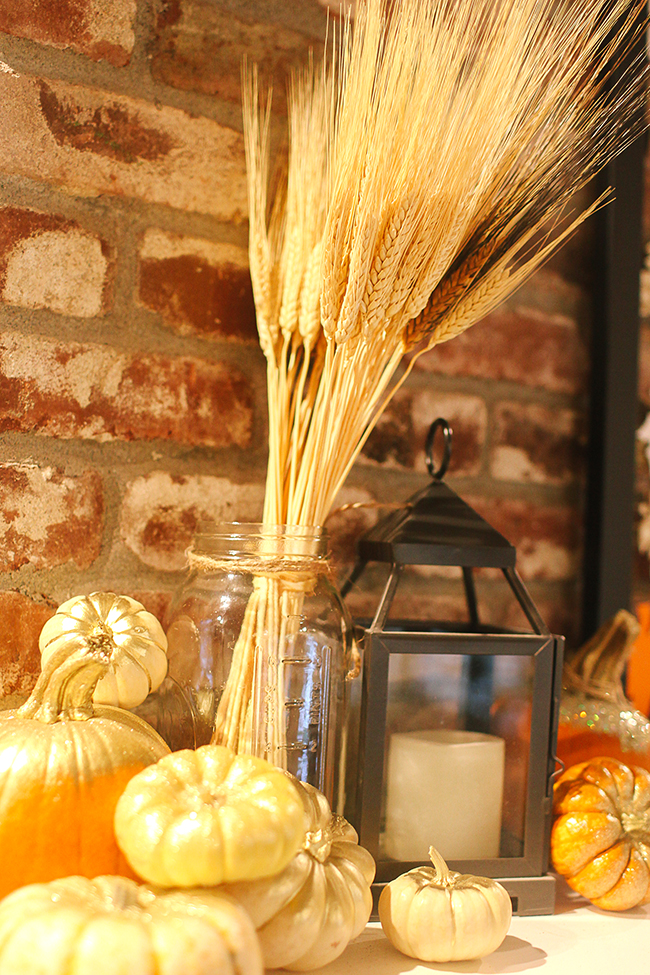 I like to mix metals, so I added these small industrial looking metal letters to spell out Thanks. I love the shine of the gold pumpkins and the rustic metal together.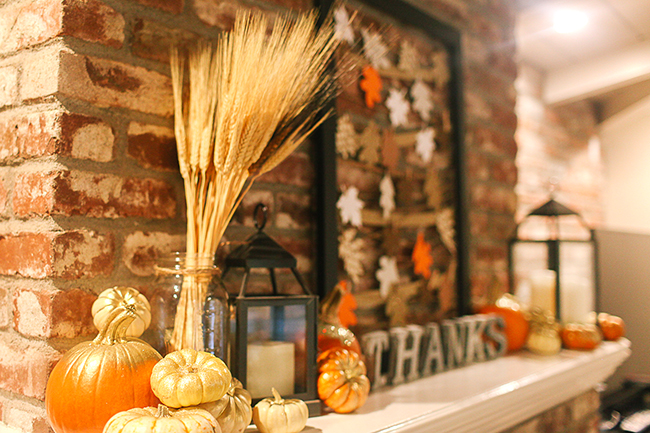 I normally do not do a Thanksgiving mantle, but really wanted to create a gathering spot for my kids this year. I preach all year long to be thankful for what we have, so I thought I should create a place where we can come and share what we are thankful for each day.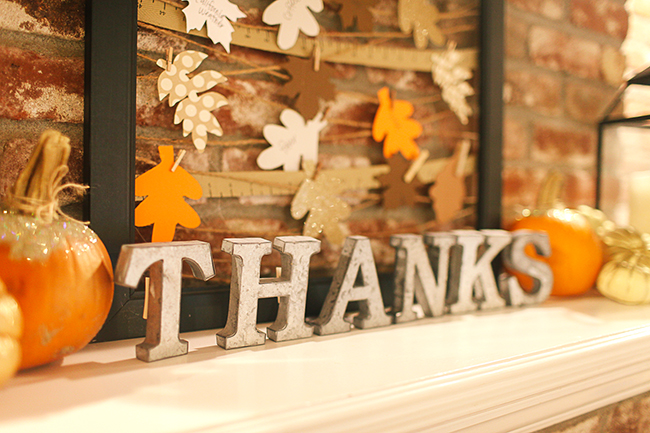 My gratitude picture frame was so easy to create. You just need a couple of household items, which I am sure every good crafter has lying around. I used a 18×24 frame, because that is what I had available, and it fit my mantle perfectly. You could always use a 11×14, or any size that fits well in your space.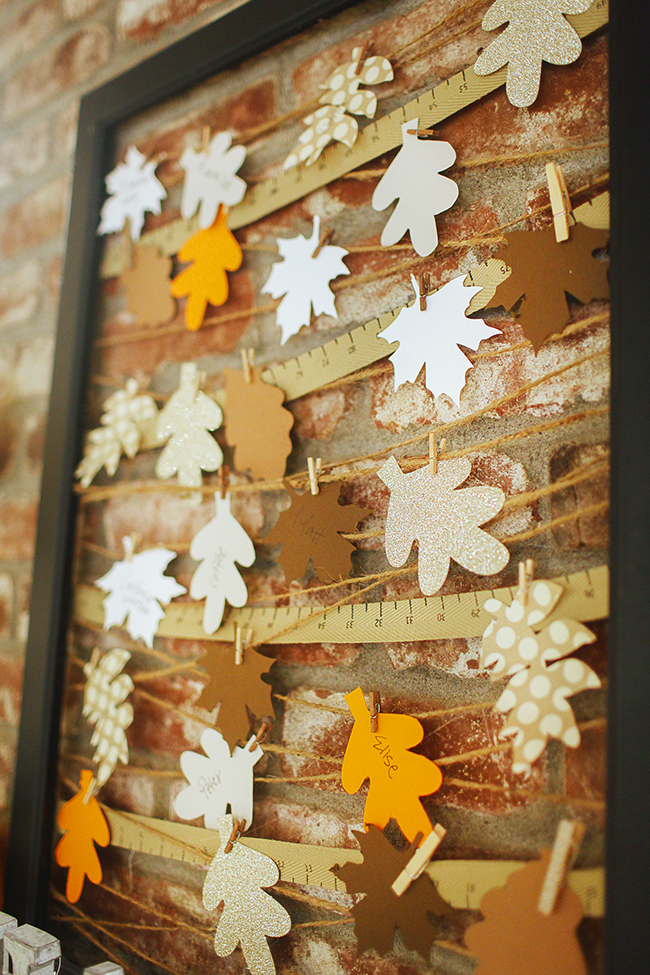 To assemble the frame, I took some twine and sporadically arranged the twine along the back of it. Then I took my trusty hot glue gun, and glued away! I personally like the twine to be arranged mismatched and unorganized, but if you are super Type A, you could line them up, and it would look equally as cute.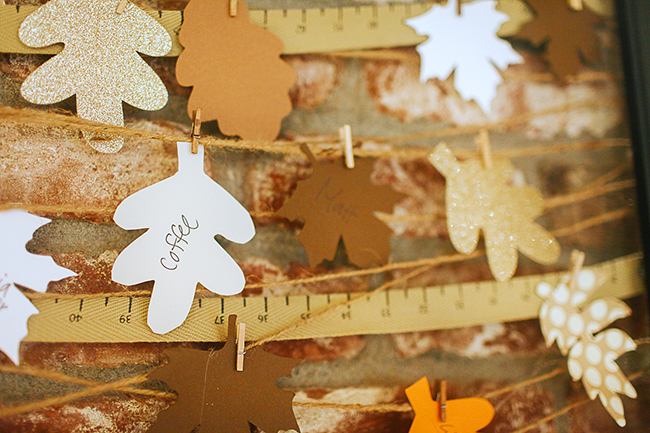 I used my trusty cricut to cut the various leaves. The variety of the different colors of paper on the leaves add some dimension and texture to the display. My favorite is the gold glitter paper leaves (of course!). Another cute idea would be to collect leaves from outdoors, and dry them. You could then write on those and hang those as well.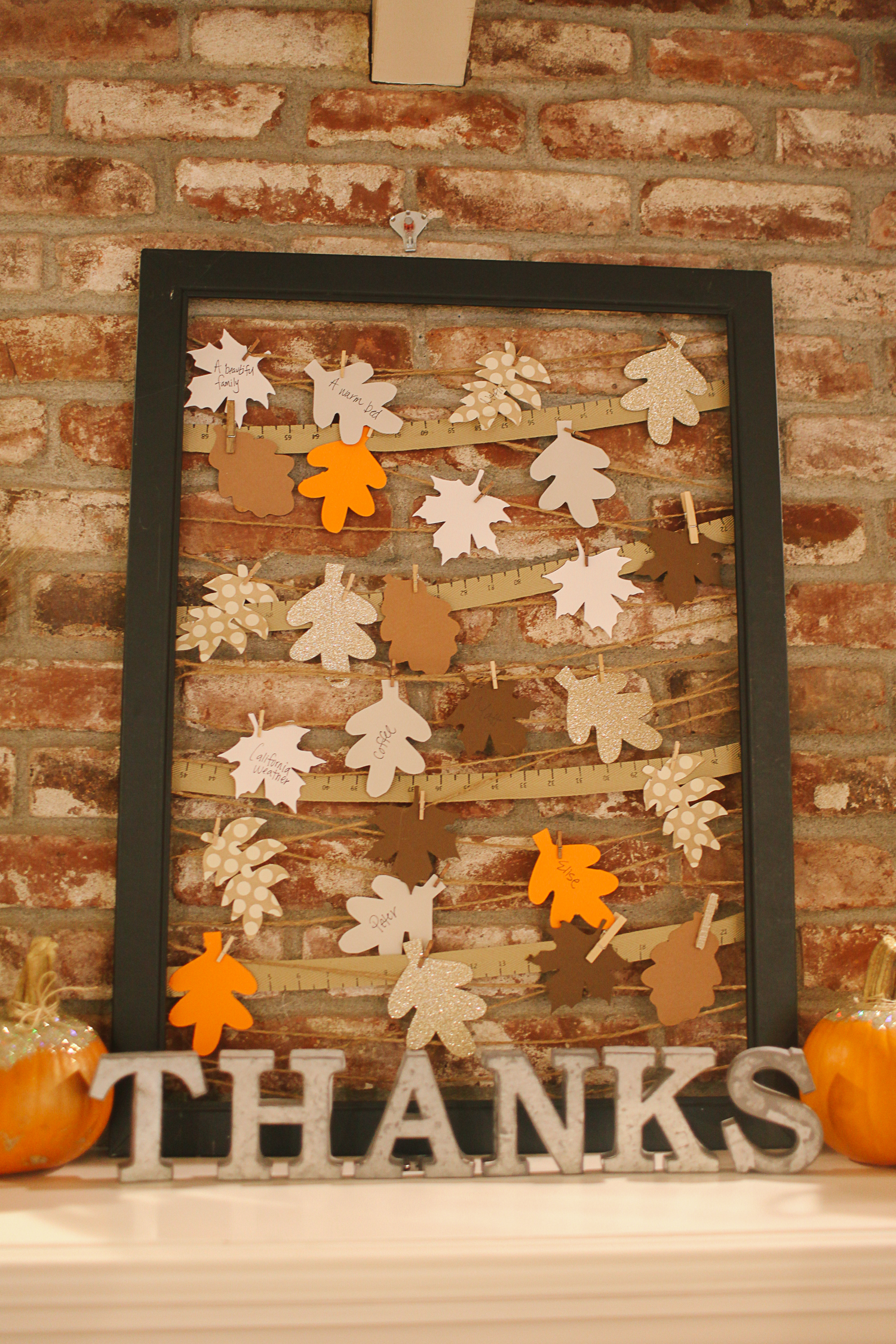 Each night before bed we have been taking turns writing down something we are thankful for. Some of them are funny, and some are serious. My husband wrote Netflix, which I found hilarious (but he isn't wrong – we do love to binge watch great tv shows)!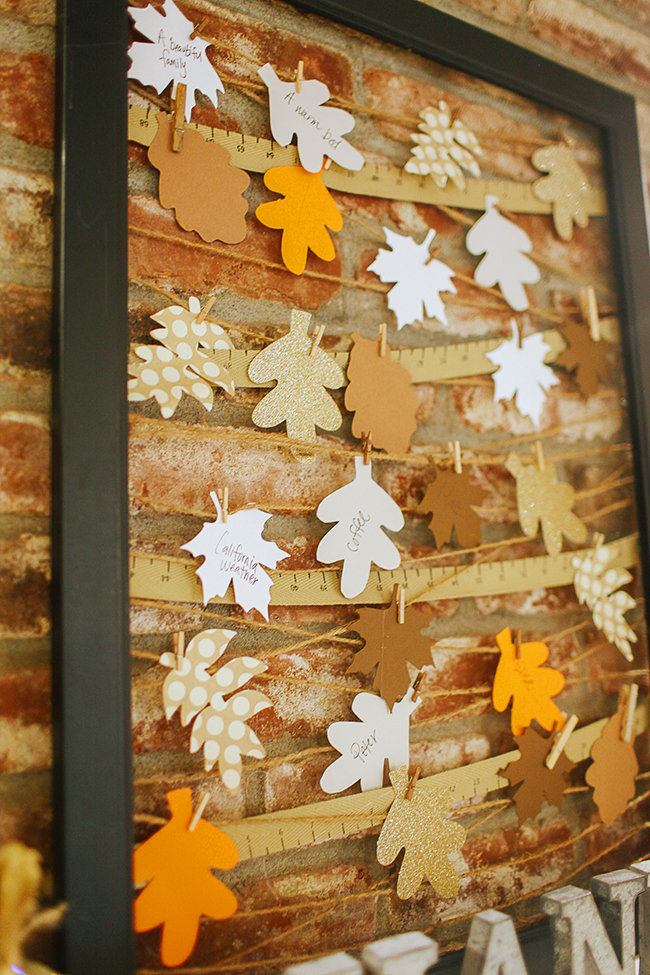 I have another fireplace that is white brick. I decided to keep that decor simple and sweet on the ground. I added a few faux pumpkins, and some lanterns to make that area pop.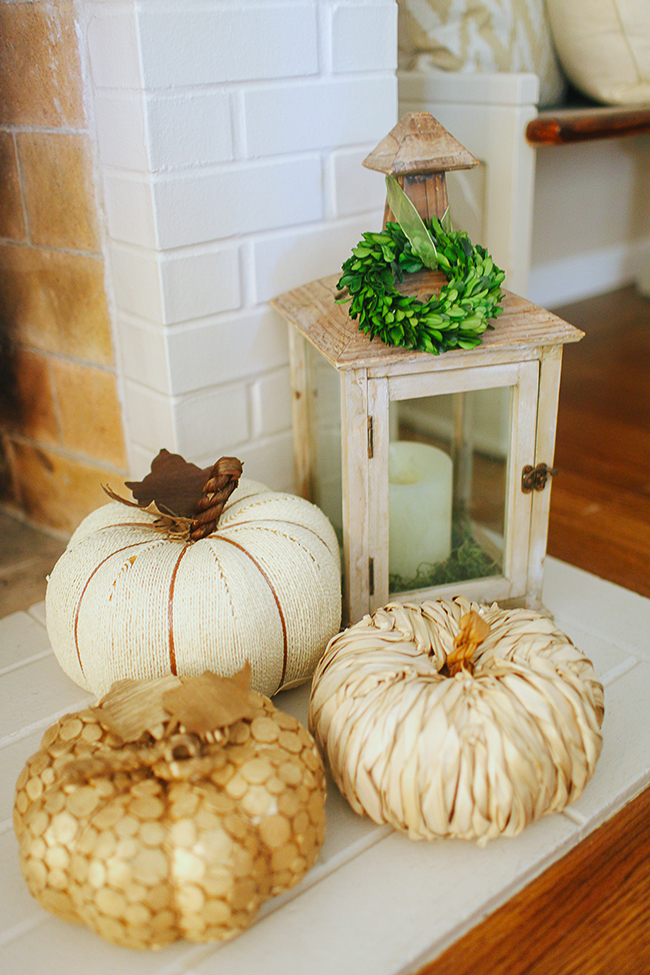 Sometimes the best things in life are simple. Clean and simple mantle decorations are so beautiful, especially when you can use natural elements. The pumpkins and other fresh decor from nature are the best for creating beautiful fall creations.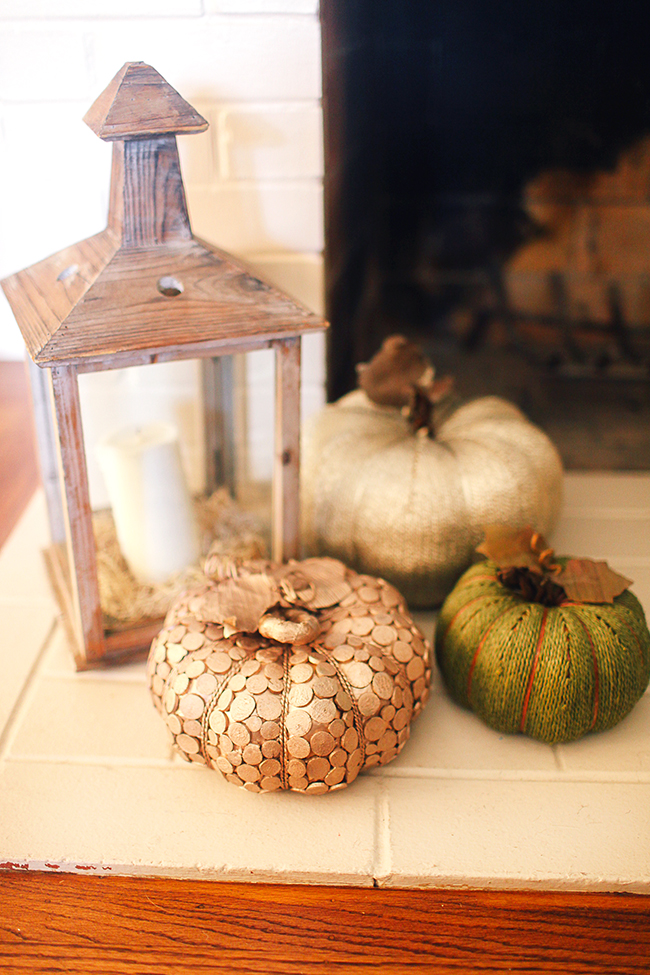 Have you decorated your mantle for Thanksgiving? What inspired you this year?