This post may contain affiliate links which may give us a commission at no additional cost to you. As an Amazon Associate we earn from qualifying purchases.
Shut the front door. No, really. Shut it. You have nowhere to go except back to the couch. Grab your favorite snuggie, curl up and get cozy because I want to talk about love.
Or rather, the day of love. It won't be long before Valentine's Day is among us and partners world wide are forced (Did I say forced? Obviously I meant over-the-moon-ecstatic) to show their love and affection to each other.
In our house Valentine's Day just isn't like it used to be. Now days we show our love and affection more to the tune of 'I'll give the bath, you clean up the puke'.
And they say chivalry is dead.
Surprisingly it's in those moments, when we're up to our elbows in fluids better left unidentified, that I am reminded we are truly a family.
We are in it together for the smiles that melt your heart and the times you have nothing left of yourself to give.
We are all in.
And so it's only fitting that for Valentine's Day I made our family tree.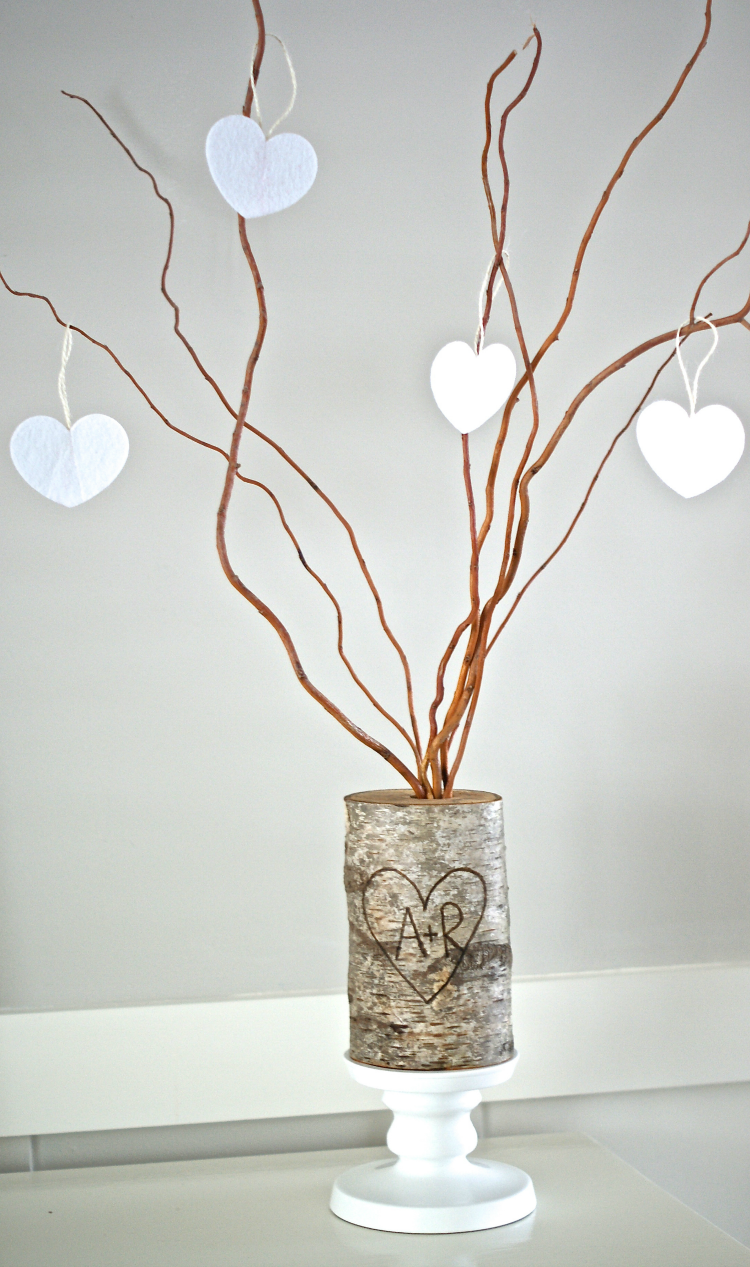 Family Tree: Birch Wood Home Decor
We had some tree limbs leftover from yard clean up just sitting on the side of our garage and I'd been looking at them for over a year, so it was high time those logs were put to use.
I started by bringing the logs inside the garage to dry for a couple weeks, then inside the house for several more days. There's a rule about drying wood, and it's typically one year per inch thickness of wood. However, this is a small vase that'll be sealed and I'm not too worried about it splitting, shrinking or having to hold up to a lot of wear and tear. So. A few weeks is good to me.
I also wanted to make sure there were no stowaway critters on board. So I baked the log (yes, in the oven) at 200° for two hours to remedy that problem.
After they were dried, it was time for some fun.
I decided how big of a base I wanted and used a miter saw to cut the log to 12 inches.
(Be careful doing this, being it's not flat, you'll want to make sure you have a firm grip while sawing.)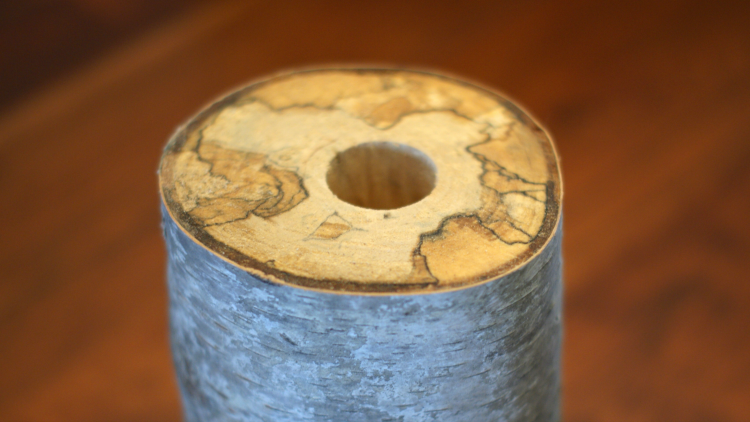 I used a 1 1/8″ tri-flute wood boring drill bit to create an opening.
Just a side note. You'll want a powerful drill for this bad boy.
I didn't need a large opening as I only planned to use it for a few branches. You could get creative here and make a larger opening, large enough for a plastic container so that you could use fresh flowers as well. I drilled down to about 2″ from the bottom of the vase.
I used rough grit (80) sandpaper on top of the vase followed by a finer grit (120).
I used my wood burner to make the heart and initials.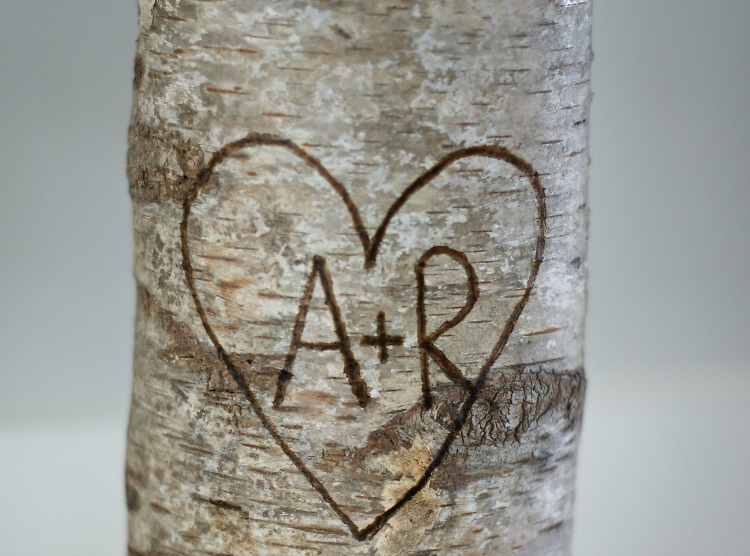 Then applied a thin layer of Minwax Helmsman spar urethane on the ends of the vase. I didn't apply this over the bark as it'll probably hold up better in this case, left alone. White birch bark may yellow if a finish is applied and I didn't want to risk that.
I added a couple branches, then added little felt hearts, one for each of us.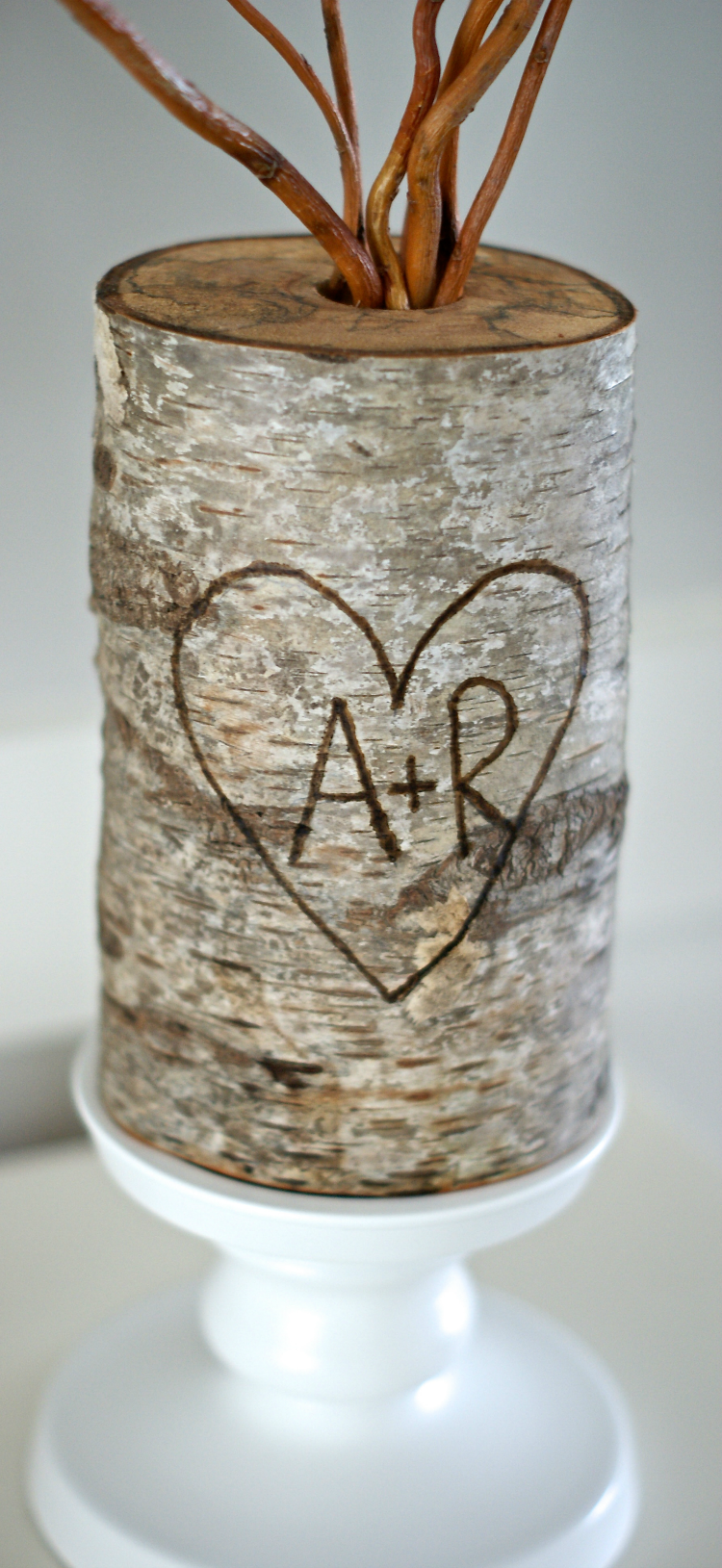 And I loved our little family tree so much once finished that I wanted to find a way to use more of the birch log.
So I cut small discs, approximately 1/2″ thick and 3″ in diameter.
I baked those too, after all we have enough living creatures in our house the way it is.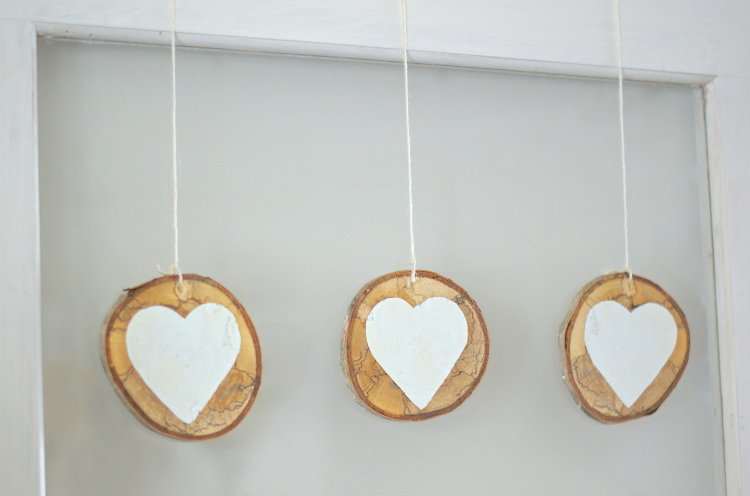 I drilled small holes at the tops so I could later hang the discs. Then sanded the fronts and backs of each disc and in keeping with the Valentine's Day theme I painted on little hearts. I applied the same spar urethane to seal the discs, added the jute twine and hung them from the window.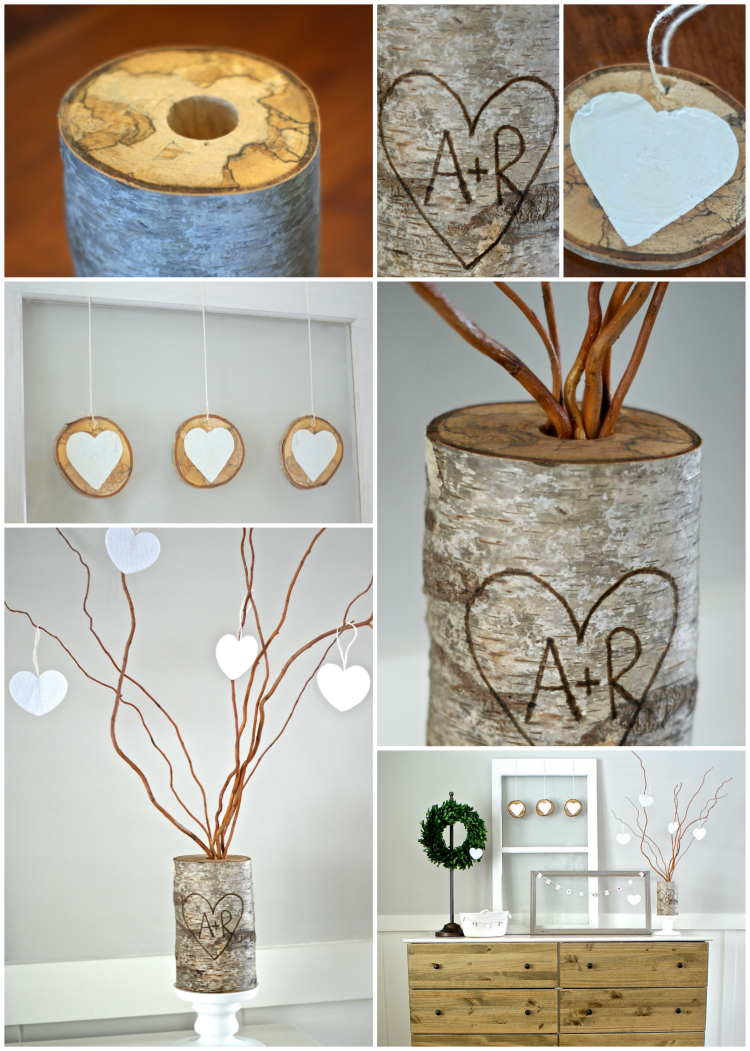 Admittedly, Valentine's Day isn't a holiday I typically decorate for. But ever since the dining room addition of the sideboard I find myself coming up with new excuses to decorate it.
Shocking, I know.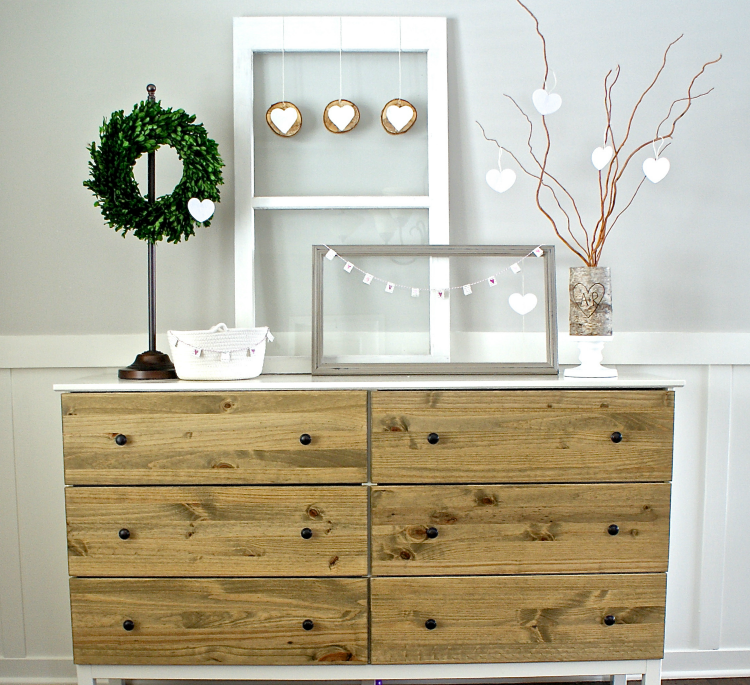 I hope your Valentine's Day is filled with lots of love, chocolate, and sloppy kisses! I'll let you decide who those sloppy kisses come from.
Author Bio: Amanda
Amanda is a midwest mama of two, wife of one who loves all things DIY, coffee with cream, summer nights at the lake and craft beer. You'll often find her elbow deep in a new project and shares them with you on her blog, The Hatched Home.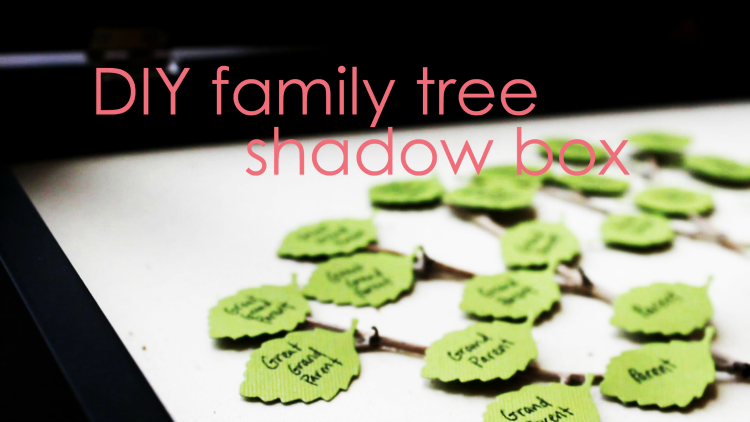 For another great family tree tutorial, check out this DIY Family Tree Shadow Box.