This post may contain affiliate links which may give us a commission at no additional cost to you. As an Amazon Associate we earn from qualifying purchases.
How the Grinch Stole Christmas is one of the most iconic Christmas movies. It's one of those movies that is perfect for all ages. The message is clear and simple, and my family looks forward to watching it every year. One thing I love about the remake is the set design. The town of Whoville is so whimsical and visually stunning. Everything is completely unique, and such a fun twist on classic Christmas decor. One of my favorite things are the Whoville Christmas Trees, so I decided to make my own!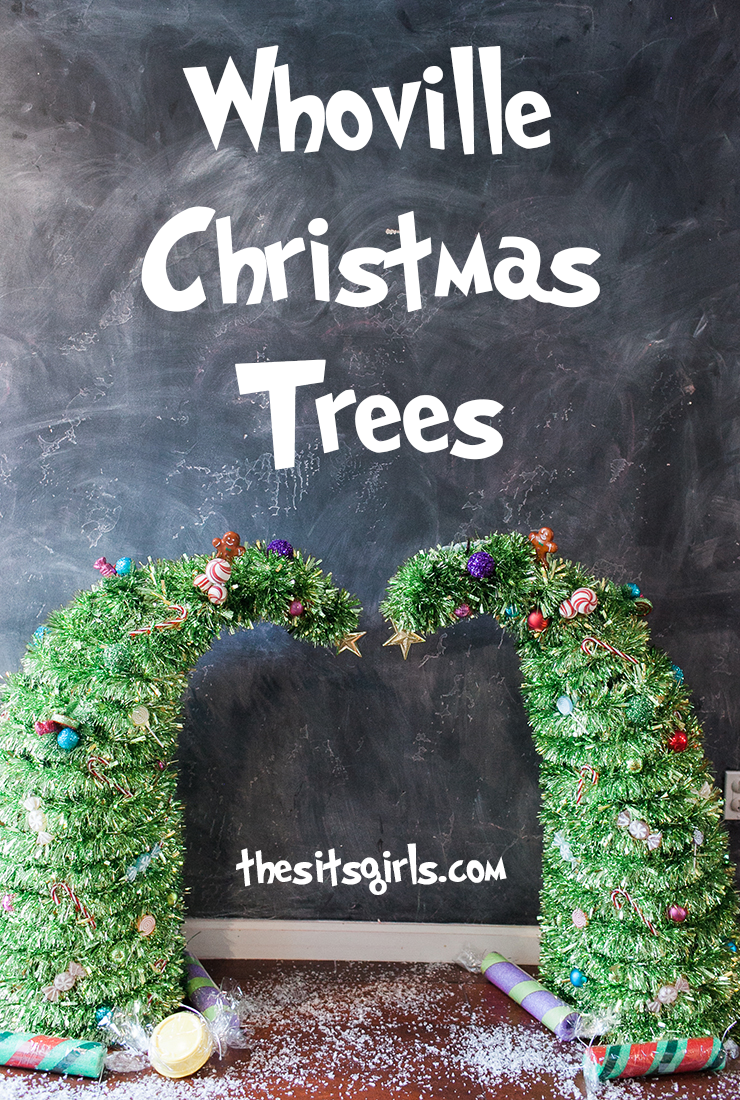 Whoville Christmas Trees
Materials you need to make Whoville Christmas Trees:
note: this post contains affiliate links which give us a commission at no additional cost to you
Whoville Christmas Trees Video Tutorial
How To Make Whoville Christmas Trees
The general shape of a tomato cage is perfect to create Whoville Christmas Trees. It is wide on one end and then gradually tapers up to a thinner tip. The metal is also easy to bend and move around. The first thing you need to do is flip your tomato cage over so the circular end is sitting flush on the ground. The three pointy metal pieces will be standing straight up. Now you are ready to gently bend the three prongs to one side. Create roughly a 30 degree angle to one side with the three metal prongs.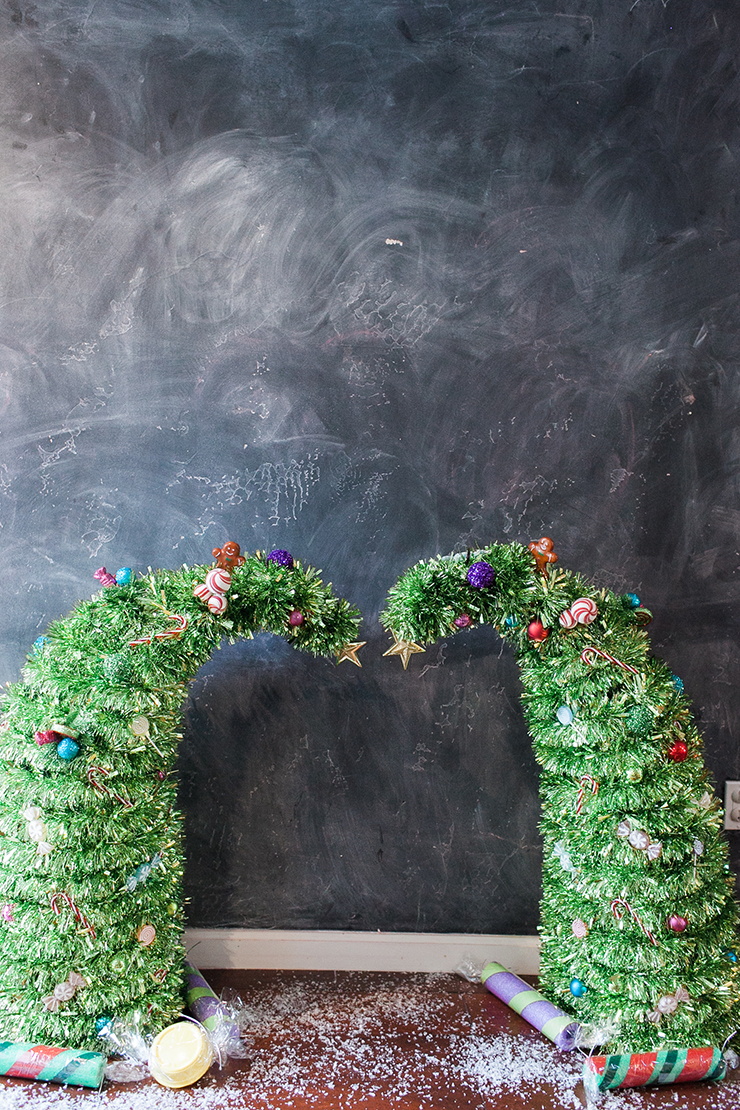 From this you are ready to add the chicken wire. The chicken wire acts basically like a support system for when you wrap the tinsel. Carefully wrap the tomato cage form with the chicken wire. You can bend and curve the wire ends and the tomato cage so the chicken wire is attached pretty securely.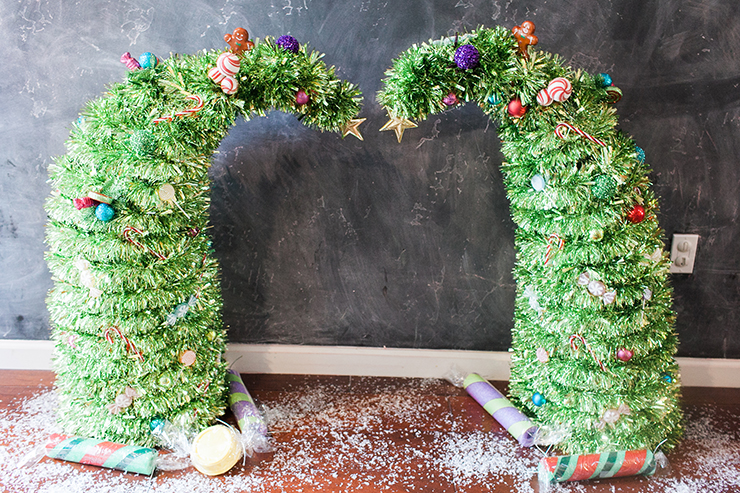 Once your chicken wire is secure, you are ready to wrap your wire form with green tinsel. Tinsel is cheap this time of year, and can be found online or at any store! I chose a bright Grinch green, but you could use almost any color, because Whoville is a very bright and colorful place. I used a total of 3 tinsel garlands to cover each tree. You can use a little hot glue to secure them, but I found that it was easy to tie one end of the garland and simply wrap it around.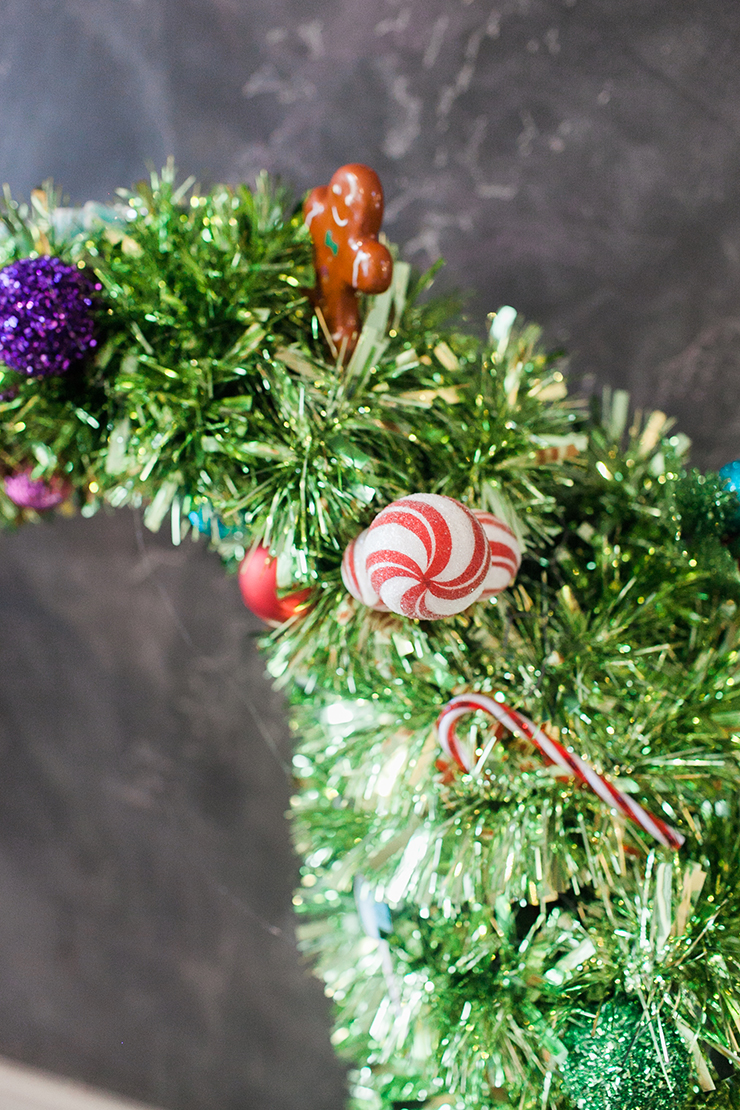 Once your chicken wire form is completed covered, you can add the "flair". I decided to decorate mine with fake candy and bright colored balls. Don't forget to add the star at the top, and make sure it is slightly drooping down.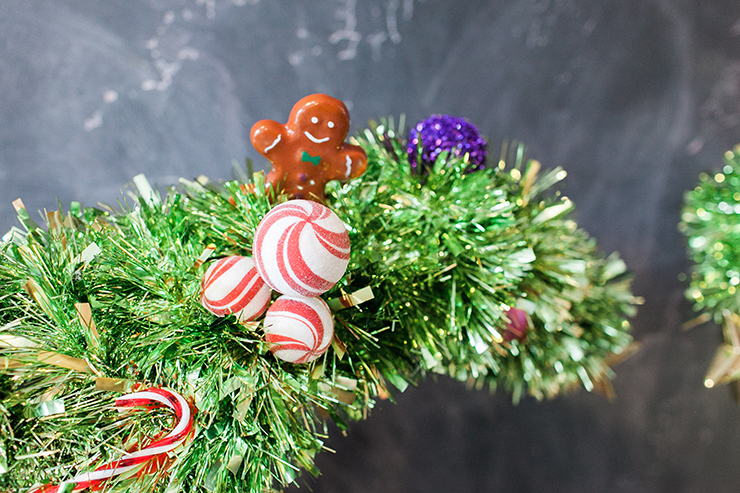 These trees are the perfect thing for parties, kid's rooms, or to sit on your doorstep. They hold up great in the elements, and are perfect to save for decorations you can use year after year!
More Christmas Decoration Ideas
If you like the giant candy I had sitting at the bottom of my Whoville Christmas trees, check out this giant candy garland!