This post may contain affiliate links which may give us a commission at no additional cost to you. As an Amazon Associate we earn from qualifying purchases.
I was able to push my email newsletter subscription rate from 47 in February to 307 today — with 68 subscribing just last month. What? 307 seems like a small number to you? You'll see why that's a pretty big deal. Don't think you need a newsletter? Here are 5 reasons why you do.
For a long time, I had an RSS feed set up in Mailchimp. Every time I posted something on my blog, it would feed through to an auto generated email, that would get sent to subscribers at a preset time I chose.
Think about how that was being delivered. Do you enjoy being force fed? I don't.
If you write helpful, entertaining, valuable content, people are going to be looking for it. Your audience doesn't need you to shove it in their face. Furthermore, what are you really telling them?
"Here's the latest post. I don't really want to invest in giving you any value for providing me with your email address, so just…here. See you next week. Zzzzzzzzzzzzzzz."
Once you take a step back, and realize that every communication, even your automated ones, represent who you are and your brand, you'll change how you see RSS feed emails. Don't get me wrong, I just received an email from one subscriber who said they missed receiving my posts in their inbox. The other 306, don't miss it, or they haven't said as much. My opinion? Ditch the RSS feed. Have faith that your audience wants your content. Don't feed it to them like cold porridge.
Now that I decided I would take a more personal approach, what would I write?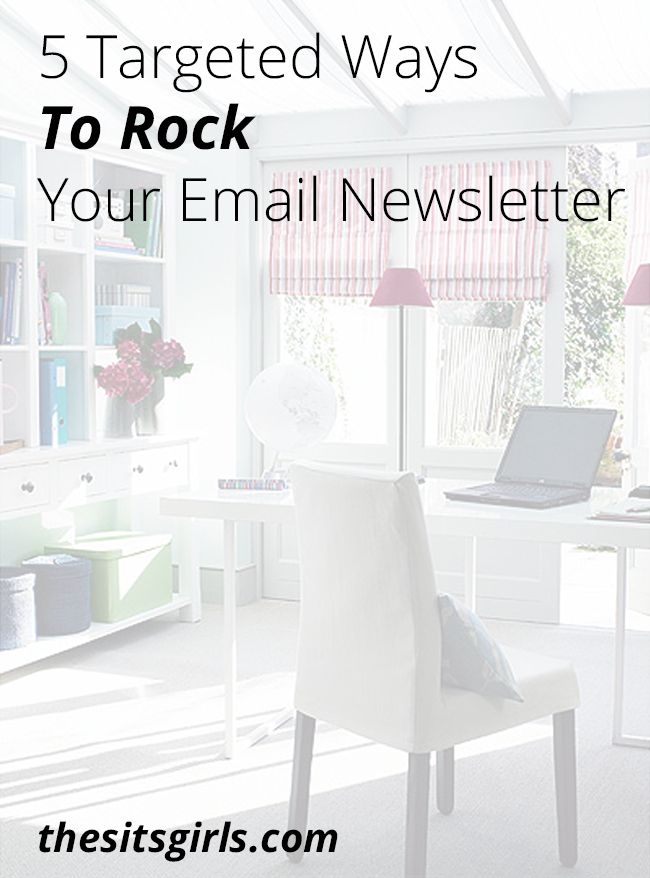 5 Targeted Ways To Rock Your Email Newsletter
Here's the trick, folks: you have to entice them. Yes. You have to entice your audience to opt-in (which I think is the easy part). Move them towards your subscription placement, and the timing of your opt-ins. The more nuanced part, however, is how to keep them subscribed. I'll get to that secret sauce in a bit. Let's get our strategy in place first, then we can talk content.
1. Consider Popups
Oh popups! They are such a hot topic, aren't they? For a while I refused to use them. I felt that it interrupted the reader experience. I've since put them back up and tweaked it. My reasoning? The reader knows a popup is in their immediate future. They know that I am going to ask them to subscribe, but I don't have to be in their face about it. My popup shows only once per reader in a week and only 70% down the page as they scroll. That's a lot of content to sift through, and they may leave before the popup comes up, but I prefer to yield to the reader experience. You can choose those presets based on what you're comfortable with. As always, you know your audience better than anyone else!
2. Consider Placement
Don't just leave the subscription request to your popup! Have another request or access point in your sidebar. Want to up your game? Of course you do. Head over to your analytics and find your top 10 performing posts of all time. Go back and add a quick blurb asking your reader to sign up at the beginning and at the end of your post. Going forward, you can choose to add a subscription box to the top or at the end of future posts. Personally, I have a subscription request at the top and end of only my top 10 posts. Want to see a live example? Check this post out.
I also have another subscription request as an announcement bar at the top of my site.
3. Consider Your Opt-In
What could you come up with that's true to your niche? For me, I created a quick one pager titled: My Top 7 Tips for Creating a Successful Online Community.  I chose to create that because it was true to my brand, true to what I knew I could easily share and blended well with my niche as a blog and social media coach. Opt-ins could be:
31 favorite recipes for working moms with little time

10 bible verses to pray your way out of a crisis

20 favorite Instagram linkups

An ebook (make sure it's super polished)

Access to a Facebook group if you're a coach (be sure you're active in it)

Weight loss challenge

Instagram photo challenge

Top 10 books for _____________

A mini e-course (you have to set up automation)
Think about a solution you can provide to your audience, one that you can speak to easily and with confidence, and that's your optin. For more ideas, head to this post, 101 Newsletter Content and Opt-In Offer Ideas for Bloggers by Sweet Tea and Saving Grace
Now that you've got them to subscribe, what do you do?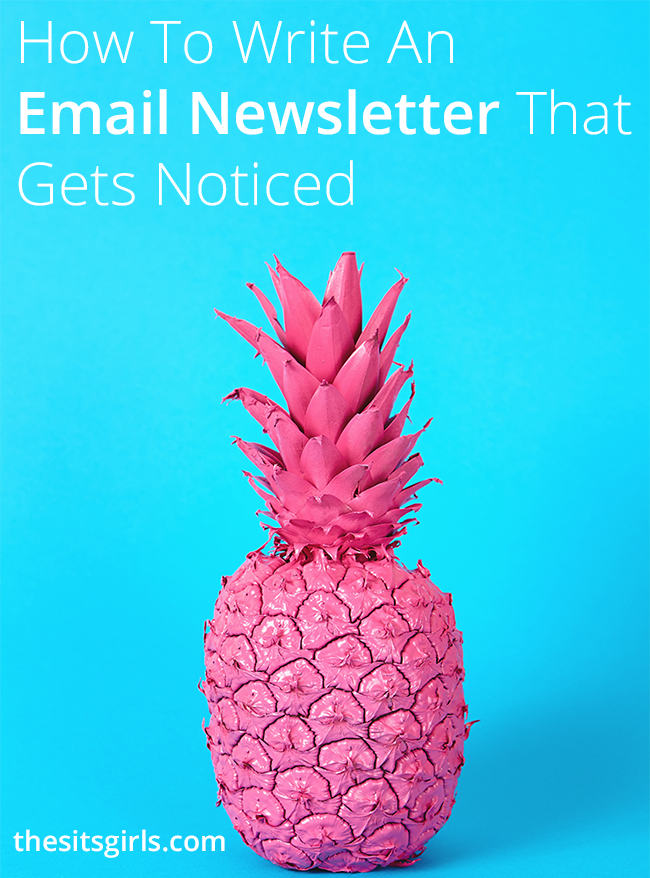 4. Consider Personal Responses
For a while, I sent a personal response to anyone who subscribed to my list. You read that right. I would thank them for giving me their email address. Email is personal. You're in their inbox, that's like walking into someone's house. I thanked them for sharing that with me.
Granted, when I got 68 subscriptions in one month, I couldn't keep up. When you're starting out, this is a great way to get to know your tribe. I would share what I was doing just before sending them an email, whether it was sip coffee, send an email, respond to a voicemail, grab yogurt from the supermarket shelf, it didn't matter. I would stop and respond. I wanted them to know they were really hanging out with me in that moment.
5. Consider Content
Now that you've got your placement, popups, personal responses and opt-in sorted, what are you going to say? How often are you going to send a newsletter? Only you can really answer that for yourself and your audience, but I'll tell you what I did.
I share a personal email once a week with exclusive blogging and social media tips that I don't share anywhere else; not on the blog, my podcast, guest posts, or the monthly radio show I do. If someone is subscribing to my blog, they get exclusivity – that's how I keep them, all 307 of them. When you're in a room of 307 people all waiting to hear what you have to say, isn't that more compelling than 1,000 people who could care less what you have to say? I mean, can they even hear you?
I scour the internet and read up on everything social media and blogging to give them the cream of the crop. I break everything down to manageable, actionable tips with pictures and a bit of humor. At the end, I add a ICYMI because I share content in different places, like here for instance.
I've even tweeted right before I started writing the newsletter and let people know if they sign up, I would share links to their blog and / or social profiles – whatever I could find. Why? Immediacy. Why else? Real time connection and visibility. I'm saying, "I see you and others should, too."
Isn't that what all of this social media and blogging thing is about?
So tell me, what are your newsletter tips? I'd love to hear them!
Keep Reading
For more email newsletter tips, check out the following posts: