This post may contain affiliate links which may give us a commission at no additional cost to you. As an Amazon Associate we earn from qualifying purchases.
You know you need an email list and you know you needed it yesterday. You also know that this email list means a newsletter. A newsletter you have to write, and an audience you have to keep interested and growing (in addition to your blog posts). Can social media help you leverage the time you spend there by growing your newsletter subscribers? My answer? Always yes. In this post, I'll go through the Big 4, as I call them, and tell you where you can leverage social media to gain more newsletter subscribers.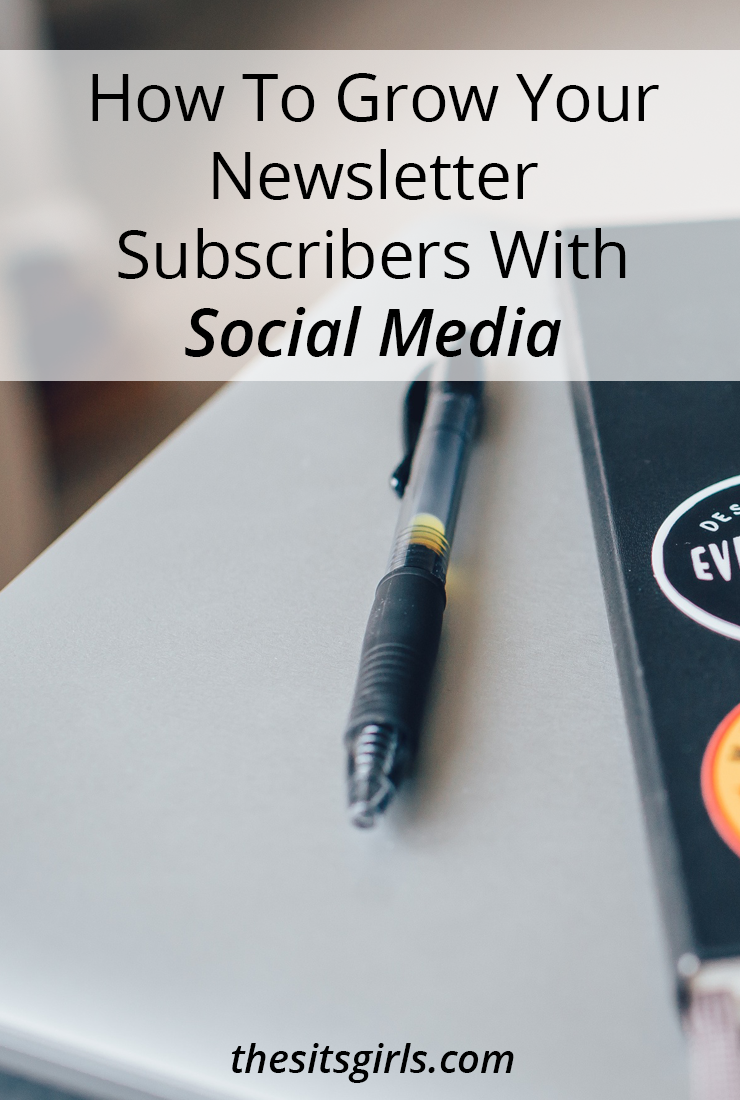 How To Grow Your Newsletter Subscribers With Social Media
First things first, shorten your newsletter subscriber link. There are a few reasons for this. First, are you going to remember random letters and numbers in a link to drop when you need to from your phone on the go? Or in each profile? NO. Second, if you can't remember all of those letters and numbers, you think your readers will when they are talking about your amazing newsletter to their friends? NO. Third, branding. That is all.
The easiest way I've done this is to go to bit.ly and change the url to have my branding. So, for example, to opt in to my newsletter, you just go to bit.ly/stitchyscoops I can remember that, because that's the name of my newsletter. I am 100% positive other people can remember it too. Now, on to the platforms.
Growing Your Newsletter Subscribers On Facebook
Share your latest newsletter on your Facebook page. What better way to entice readers to subscribe then to see all of the tantalizing info you put out there. I share curated content from around the web that relates to my niche (craft, creativity and creative biz), give a shout out to others that I find inspiring on Instagram, share some behind the scenes of a piece I am working on (that I never share on the blog – because subscribers are your VIP! They get all the goodies no one else does), and first dibs on seasonal launches and promotions.
Share your newsletter opt-in frequently. How frequent, is frequent? I would say monthly. Head over to your social media scheduler of choice and load up a year's worth of "Hey, check out my newsletter" to drip out to Facebook once a month. You don't have to think about it again for a year. Just be sure to load another year's worth when the 12 months are up!
Update your banner image. In your banner image, be sure to add all of the details surrounding who you are and what your are about. Think elevator pitch! Then add your newsletter opt-in link. Don't know what I mean?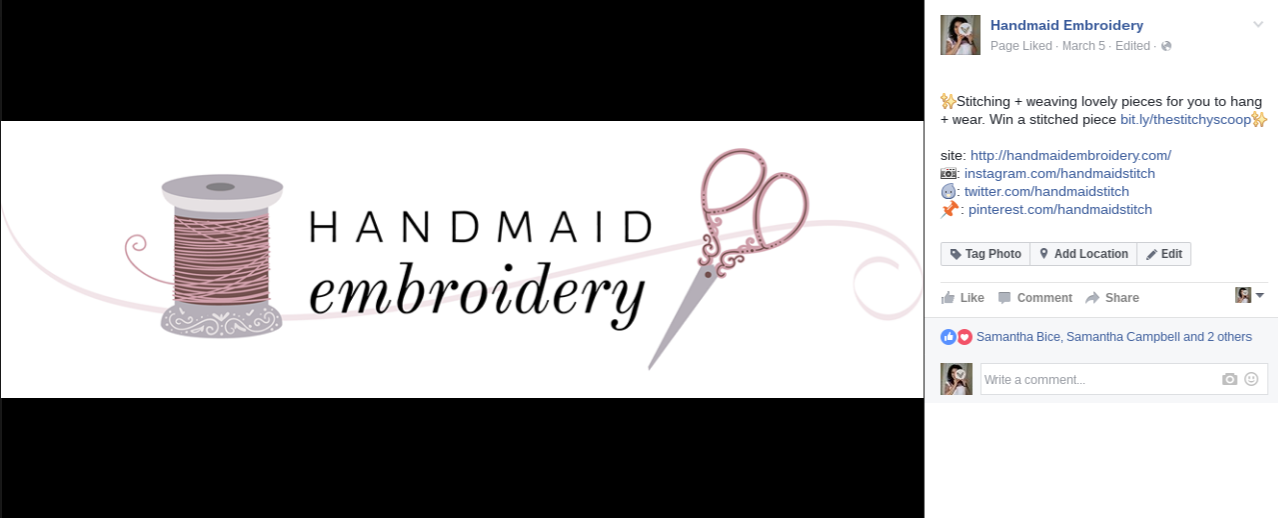 See that? I have my elevator pitch, and then my newsletter link is right next to it. You don't want your intro to be too long, because then your link shows after the "see more" cut off. You don't want to lose a potential subscriber because you were wordy.
Don't leave out your personal profile. On your personal profile, there is space to write a bio. Add your newsletter link there! Hey, all's fair in love and war. Now, the link here isn't clickable, but you made your opt-in link short, sweet and snagging, remember (yes, I just made that up. You want to SNAG your ideal reader/customer/buyer – and I like alliterations)? If you have your elevator pitch just right, people will type that link in themselves to get on your list!
Pin your post! Finally, when you share the link to your newsletter, pin that post to the top of your Facebook page. Don't know what I'm talking about?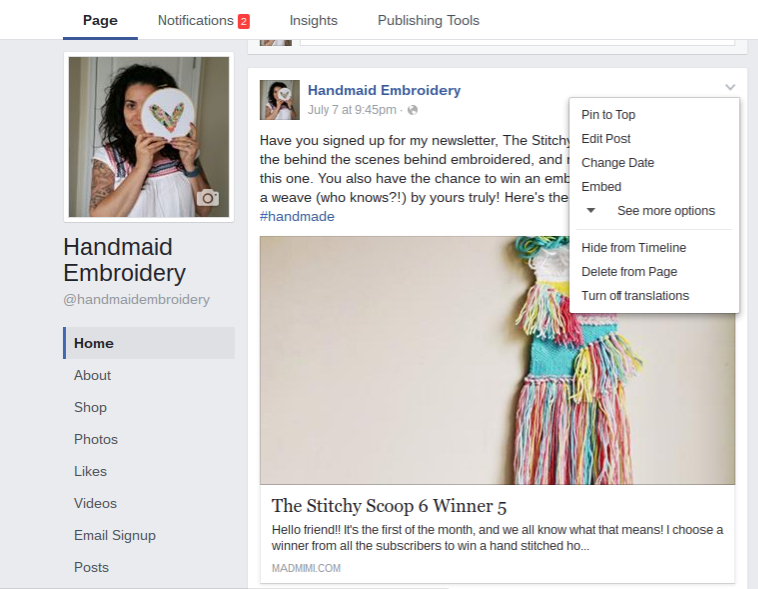 Just click on the "v" in the upper right hand corner of your Facebook post, and click "Pin to Top". Done and done. When anyone comes to your page, that will be the first post they see. Why not make it work for you, and pin the latest newsletter post, like I have here?
For more Facebook hacks, you know where to go.
Growing Your Newsletter Subscribers On 
Twitter
Pin it! Please tell me you know about pinnable tweets.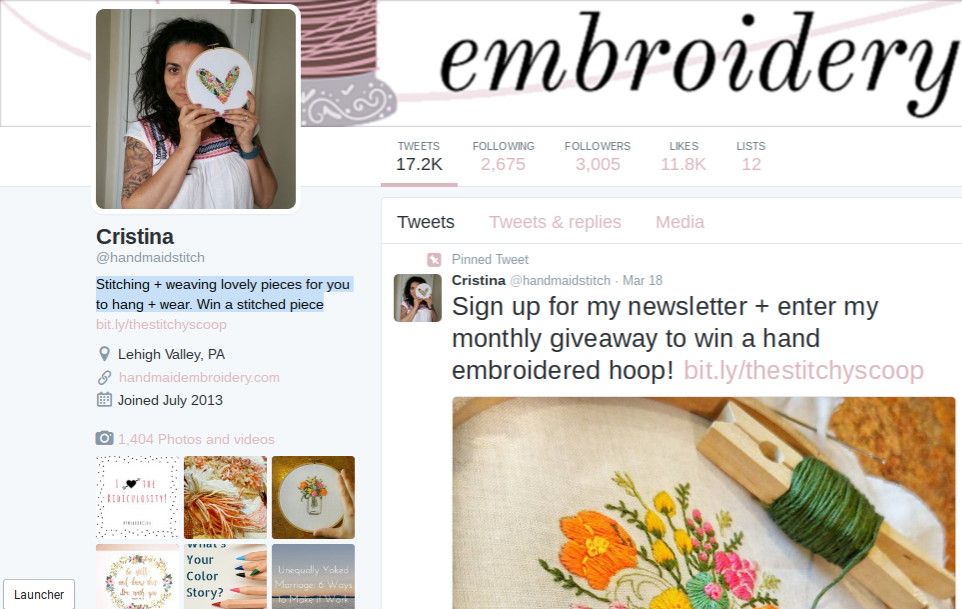 See that? It's always pinned to the top of my profile page. Much like Facebook, you click on the three ᐧ ᐧ ᐧ choose "pin tweet to profile" and it's always there, at the top of your profile. Be sure to add an image. Images go a long way on Twitter, and you want to show people why they should sign up!
Share! Again, like Facebook, you can also share your newsletter with your Twitter followers in a few ways. Try sharing a recent newsletter every so often. I don't recommend sharing it every time you publish. Why? Why would anyone sign up if you're just going to tweet it all the time? Nothing exclusive about that.
I would suggest one real time newsletter tweet a quarter, or every 4th newsletter. Regardless, pick a frequency that's good for you. The rest of the newsletter link drops should be the general sign up with an image, always.
Update your bio. If you noticed in my Twitter profile, I have two links! One to my website, and the other to my newsletter! That's right, you can use your bio for an extra clickable link – and I do. I highlighted it for you in the last image!
For more Twitter tips, head here.
Growing Your Newsletter Subscribers On 
Pinterest
Now, you may be thinking, "Cristina – you don't have any tips for Pinterest. Pinterest is cagey with the links."
Not so, my friend. Not so. Check my profile. Notice a pattern here?
Update your profile. See that? I got two links out of Pinterest! Only one of them is clickable, I know. But again, because I have a branded link, it's more likely that people will pop that into their browser on the go, than this link: https://madmimi.com/signups/194325/join right?
Create a pin. You can also upload an image, and have the link go back to your newsletter. Why not? I did!

Schedule your pin. Load this up in your social media scheduler, like Tailwind or Boardbooster and you have a constant drip linking to your newsletter. I call that, winning!
Need Pinterest help, head here!
Growing Your Newsletter Subscribers On 
Instagram
Update your profile. You also only get one clickable link on Instagram in your profile, but I have two! Again, it's so important to have your elevator pitch: short, sweet, and snagging.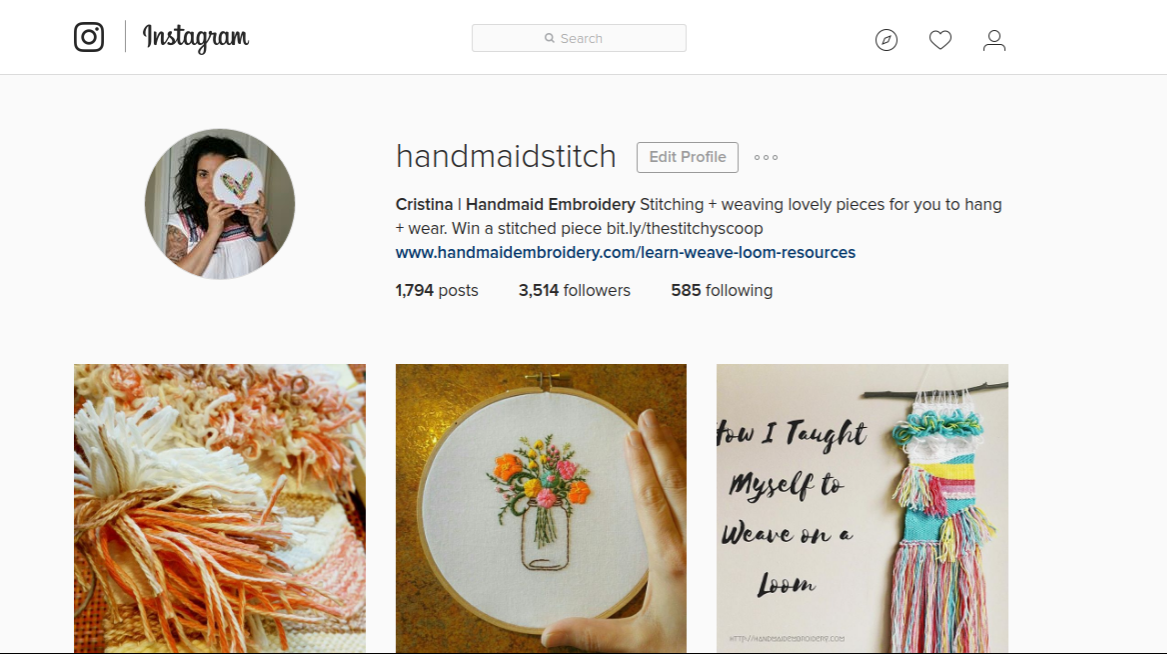 Work those Call-to-Action messages. You can also use a short, sweet and snagging call-to-action (CTA) in the caption of your Instagram post when you publish a newsletter. I've seen Vanessa of pidge pidge work this like nobody's business. She's a fellow creative, making hand woven scarves and accessories of sumptuous splendor (I told you, I have a thing with alliteration.).
On Instagram, Vanessa, smartly, posts and image, and then teases her audience with her CTA by saying, want to see more, or, get all of the behind the scenes and how to do just that! See?
You can do this once a month. I wouldn't do it more than that because that would be too sales driven and your audience will turn off or worse, unfollow. Yikes!
Don't know where to begin on Instagram. Help is here!
Here's some extra tips that are indirectly related to leveraging social media to gain newsletter subscribers…
I have a link to my newsletter at the end of every post I publish on the blog. Why? Well, I have a social sharing schedule for my blog posts, too. If I am sharing my blog posts frequently (mixed in with other content, of course), and each post has a link to my newsletter…you get the idea.
Do you write for other blogs? If you're allowed a link or two, one of them should always lead to your email subscriber page. Leverage their platform to expand your reach to people you wouldn't ordinarily have access to!
And for even more emails subscriber tips, I've got you covered. If you're looking to get even more results from the time you spend on social media, I've got you covered there, too.
I share my newsletter link on social media as much as I can, both blatantly and indirectly. Do you have any tips for me? I would love to hear how you are leveraging social media to gain email subscribers!