This post may contain affiliate links which may give us a commission at no additional cost to you. As an Amazon Associate we earn from qualifying purchases.
Everyone wants a large email list. If you're like I was last year, you may feel like growing your list is about as slow as watching grass grow. But if you take these steps that I discovered last fall, you'll start to grow your email list in a short amount of time.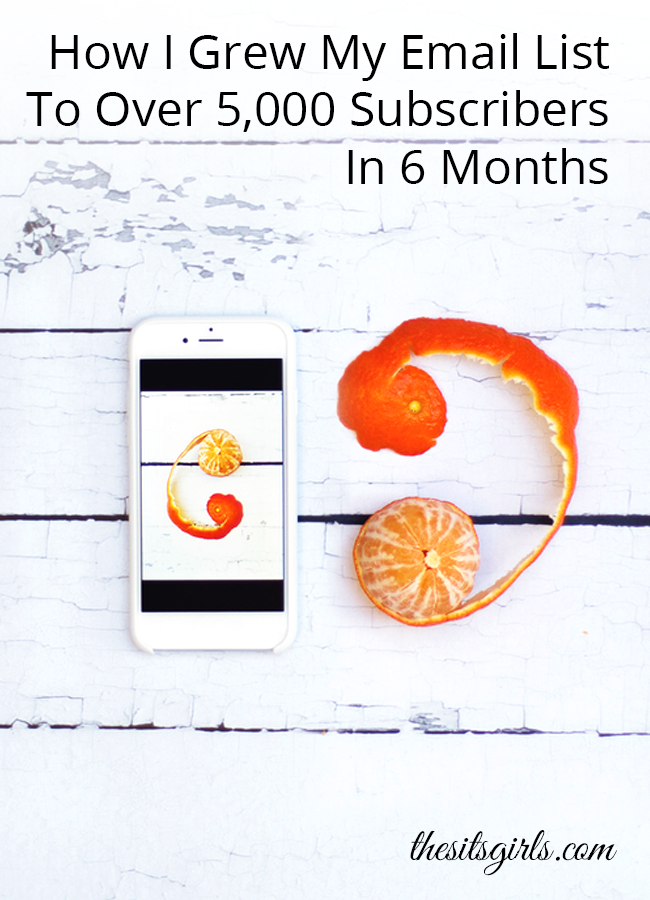 Why should you grow your email list?
I have always put a big email list as one of my goals ahead of Pinterest or Facebook followers, although those are great, too. (In fact, we've got great tips for optimizing for Pinterest and Facebook, too!). Having someone's email address is almost like having an invitation to call them up – you're much more likely to get their attention than on Pinterest or Facebook.
With email, you have a great opportunity to build a relationship with them. Of course, if you abuse that invitation, that unsubscribe button is a click away and they will not hesitate to use it.
How To Grow Your Email List Quickly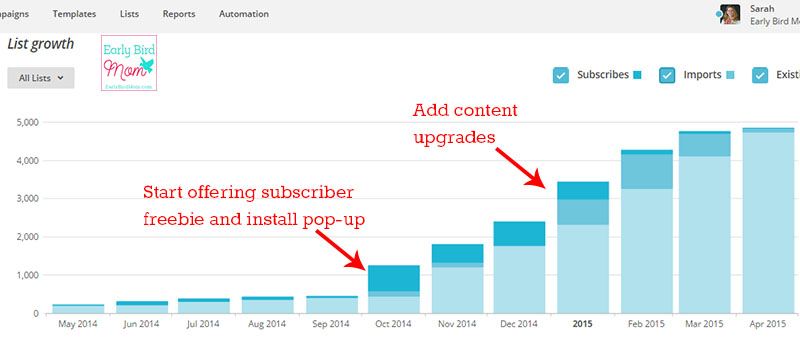 1. Create a freebie.
My subscriber freebie is quite simple – just one page, but on a topic (finding the motivation to organize) that's hot for my readers.
Even though my freebie is very simple, I took the time to make it look nice. Since I'm not a graphic designer, I based the style on another freebie I liked, while adding my own content.
All my printables are designed in OpenOffice Writer (similar to MS Word) and converted to PDF.
Other ideas for subscriber freebies:
Mini-recipe booklet
Printable forms and checklists
Detailed explanation of how to do something – put it in a PDF and it becomes more tangible.
2. Create a landing page for the freebie.
I have a simple landing page with an opt-in form for this freebie. When someone signs up, they are added to my Mailchimp list and are sent to the download page for the freebie. I also have a graphic in my sidebar that leads to the landing page.
3. Use a pop-up.
I know – you hate pop-ups, right? Bloggers are often hesitant to use a pop-up because we're hyper aware of them, but readers are used to them and they work. I haven't had any complaints.
Once I installed the Sumo pop-up and started promoting my freebie, my list really took off. About 3,000 of the addresses I have were collected through the pop-up. My pop-up is triggered after about 10 seconds on a page and then it waits a day to show itself to a reader (in case someone returns).
Also, I make sure to turn off the pop-up on any pages where it doesn't make sense (my landing page for the subscriber freebie and my advertise page, for instance).
4. Create an eye-catching pinnable image for the freebie.
This is a key step – once you have your pinnable image, pin it to your applicable Pinterest boards and watch the subscribers start signing up. My pinnable images for this freebie have been pinned over 5,000 times – this is great word-of-mouth for my site!
Advanced Email List-Building Technique: Content Upgrades
The steps above brought me over 4,000 subscribers. With the addition of content upgrades, I've added almost 1,000 more subscribers to my list.
I first learned about content upgrades from the free Email1k course I took a few months ago. The concept is simple – create some kind of added value for a post and require readers to opt-in in order to receive it. It could be a simple checklist, a short video with more detail on your post, or a printable.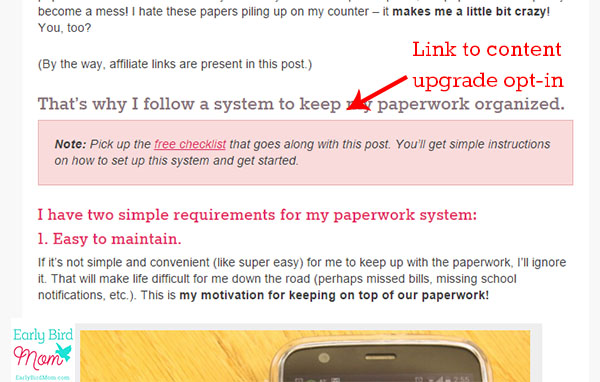 Whatever you create, it has to give added value that's specific to a particular post.
Then you mention the upgrade within your post. People won't be able to resist signing up for it! This kind of an opt-in is like a super-targeted freebie – you know that the person is interested in it because they are reading that particular post. The content upgrade is much more relevant than a more general freebie on your site.
Right now, I offer content upgrades on 3 posts on my site (here, here and here). I have plans to add them to the top 10 posts on my site. I've got a nice little box that highlights the offer, but you could also show a button or even an opt-in form right on the page.
The link in my box pops up a form so the reader doesn't even have to leave the page to opt-in. Sweet and simple, right? And it has a great conversion rate!
If you look back at the graph of my subscriber growth, you'll notice that growth leveled off in February and March of this year. I have been focusing on essential oils as a revenue generator for my blog and so the regular list has taken a back seat. But the nice thing is that without any extra work, my pop-up, subscriber freebie and content upgrades continue to bring in new subscribers.
Does it sound like a lot of work to set all this up?
I promise that it actually doesn't have to be too difficult. The key is to keep your reader in mind – if you create something useful for them, it will be easy to "sell" it.
Often, I am tempted to make things complicated and get bogged down in technology, but I try to keep coming back to the idea that simpler (and cheaper!) is often better. You can always improve on things later – just get a first attempt done and then revisit and improve on your work.
Whew – that was a lot of information! Let's review.
How to grow your email list in 4 (or 5) steps:
Create a subscriber freebie.
Create a landing page for the freebie and integrate with your email service.
Use a pop-up.
Create a pinnable image and pin regularly.
(Optional) Create content upgrades to bring in even more subscribers.
Now I want to hear from you.
What are your favorite techniques for growing your email list?