This post may contain affiliate links which may give us a commission at no additional cost to you. As an Amazon Associate we earn from qualifying purchases.
Everybody loves a cool DIY project!  But, add in the intrigue of a wearable DIY project and my heart starts beating faster! Making something you can wear is a definite plus in my book.  Even better, giving a handmade wearable piece of jewelry is a great way to show someone that you care.
And don't forget to link up your craft or recipe post at the bottom of this post. Last week we had 238 people link up their posts!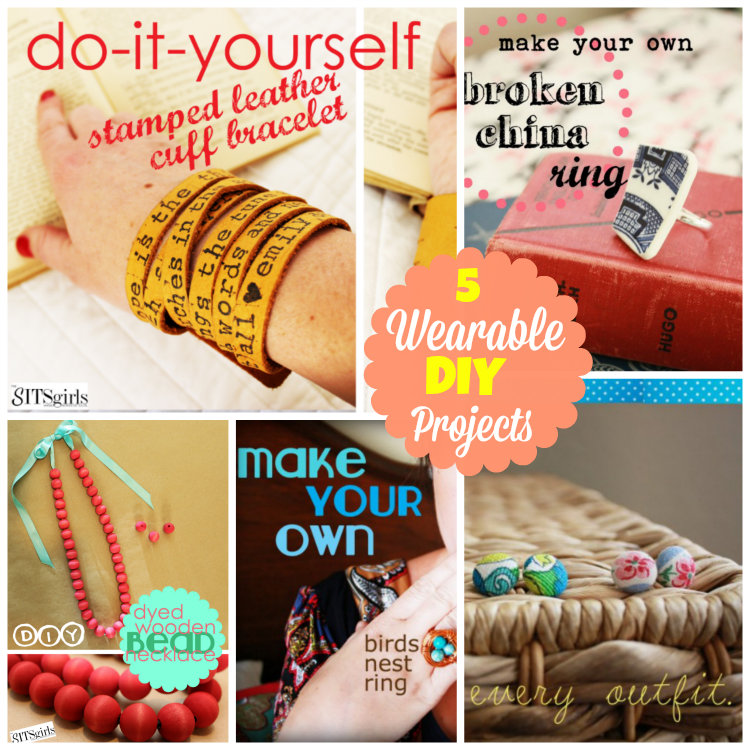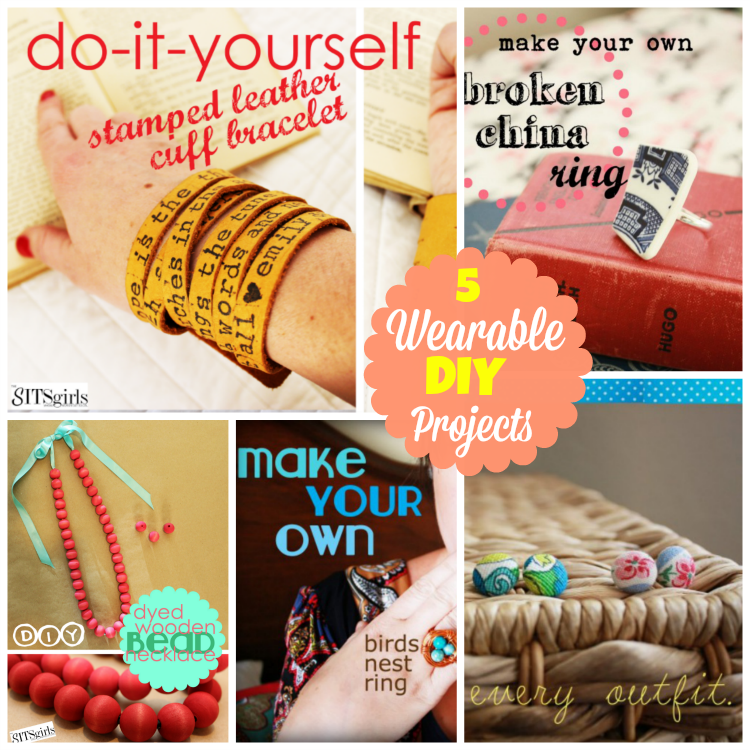 5 Cool DIY Projects You Can Wear
Get ready to hear "You made that?!" because, we've got 5 Wearable DIY Projects to keep you busy and beautiful at the same time!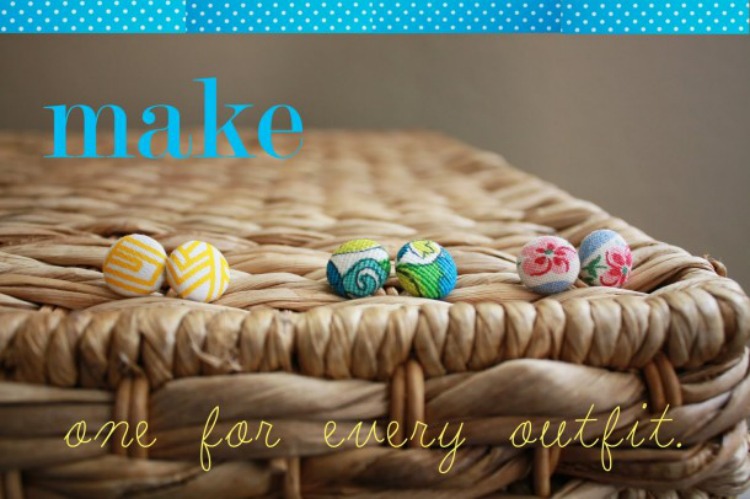 Fabric Button Earrings
The utter fabulousness of fabric button earrings is the ability to create them to match any outfit!  With a throwback retro charm, these kitschy little earrings are sure to delight.  Made in mere minutes, a whole collection of Fabric Button Earrings is at your fingertips!  Do you want to learn how to make your own?  Follow our link and we'll show you how!
You can find the full post by clicking here.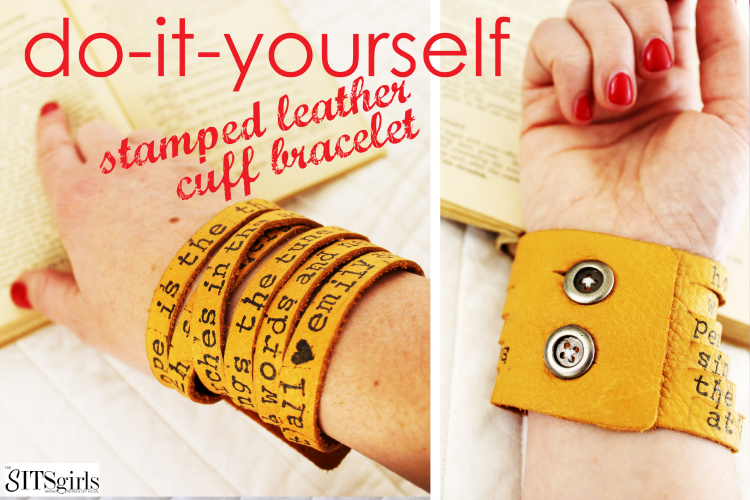 Stamped Leather Bracelet
Everyone loves a personalized gift, and this Stamped Leather Bracelet completely fits that bill!  Designed for a special quote or saying, this bracelet can be made to delight anyone.  No fussy tools are needed for this unique project, just a set of alphabet stamps, some soft leather, and a little bit of creativity!  Get ready for the complements, because this Stamped Leather Bracelet attracts them all!  Would you like to learn more and make your own?  Click our link to get your creativity flowing!
You can find the full post by clicking here.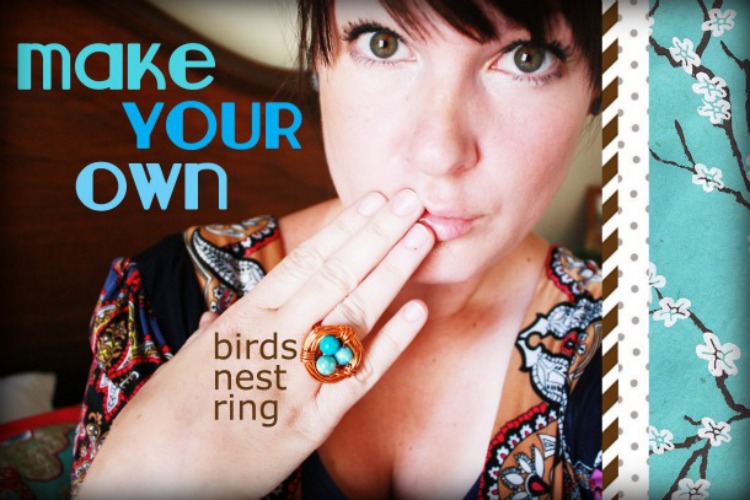 Wire Birds Nest Ring
We are totally attracted to eggs and nests, so this Wire Birds Nest Ring is an absolute favorite.  Constructed only of wire and beads, this afternoon project is a cinch to make and can be personalized by the number of eggs you put inside!  Nothing says springtime quite like this ring!  It's made to match most outfits, and such an awesome statement piece you'll have complements galore!  Are you interested in learning more?  Click our link to get crafting!
You can find the full post by clicking here.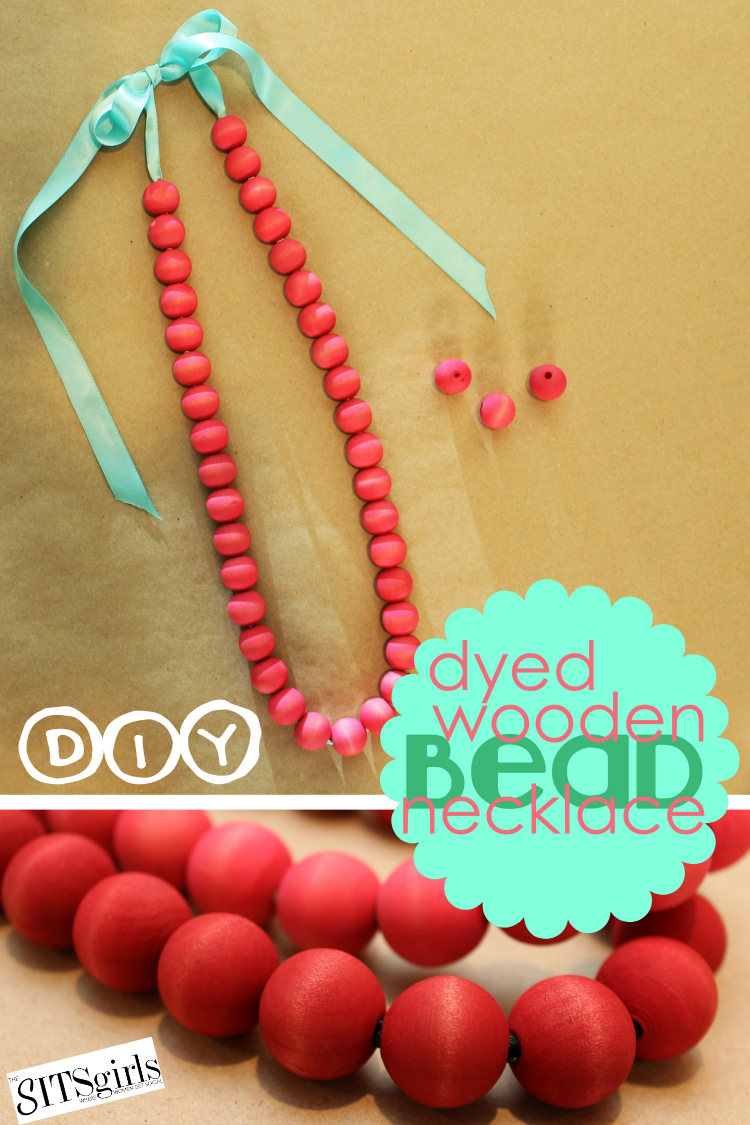 Dyed Wooden Bead Necklace
A pop of color always attracts the eye, just as this Dyed Wooden Bead Necklace can attest!  It's striking color will fill your whole closet with bold expression.  We love anything that we can personalize, and this checks all of the boxes in that regard!  Got a hard to match outfit that needs an amazing accessory?  Mix your own dye and create a one of a kind wearable masterpiece!  "Dye"ing to learn more?  Click our link to get started!
Read the full post by clicking here.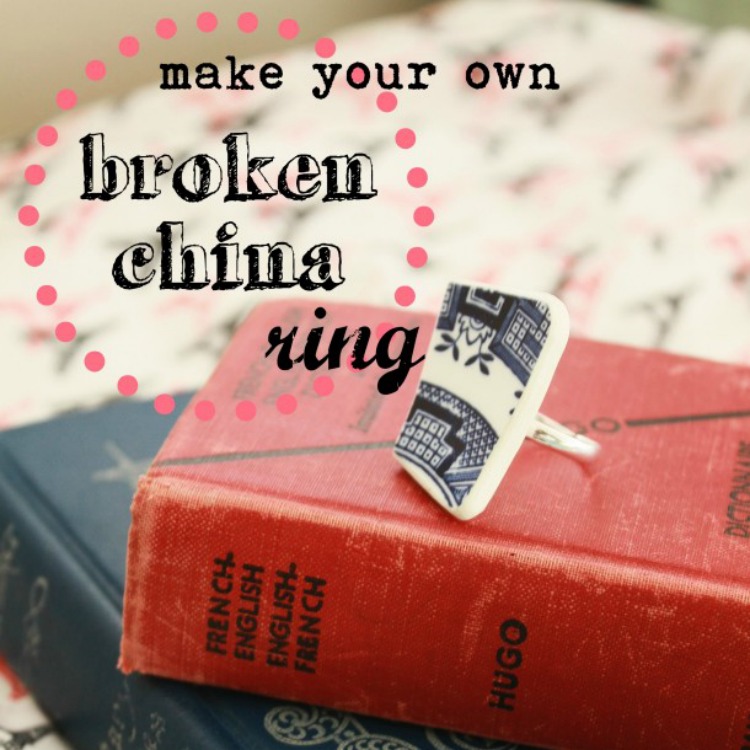 Broken China Ring
A one of a kind beauty such as this Broken China Ring is the ultimate attractant of complements!  Don't be fooled though, this baby is as easy as pie to make and so much fun, you will be tempted to break all of your fine china into bits!  Are you tempted to make your own?  Click our link to find out how!
Read the full post by clicking here.
FEATURE YOUR CONTENT!
Do you have a craft, recipe, or another Pin-teresting post that you want to share? Use the below Linky to get featured! We'll be sharing our favorite posts in the coming week across our social media channels, on the blog, and in our newsletter.
SHARE THE COMMENT LOVE
Be sure to spread the comment love! If you link up, please comment on at least three posts that grab your attention. We're looking to help our community continue to grow their tribe and spread the comment support.
WHO WE LOVED FROM LAST WEEK
Here are our favorite picks from last week's link-ups. Show these ladies some love!