This post may contain affiliate links which may give us a commission at no additional cost to you. As an Amazon Associate we earn from qualifying purchases.
I cannot tell a lie. This post is coming to you from our resident fashion expert, Angie, from Seven Clown Circus. Let her amazing fashion sense help you look your best come Easter Sunday…
Growing up, it was tradition in my family to get a new Easter Dress. As an adult, the tradition still lingers on and each Spring I find myself dying for a new dress or outfit that I can wear on Easter Sunday. This year, I am particularly pleased to see that beautiful, flirty dresses and skirt outfits are on the racks, and they are not in pastels! Pastels are super hard to wear for most of us, so having a color palette available that looks good on the general population makes this mama very, very happy.
Have you picked out your Easter/Spring Outfit yet?
I've been busy online doing a little shopping of my own, and thought I'd pass along a few tips (we are all about time saving, here) to help you in your search for the perfect outfit.
When shopping for the perfect Easter outfit, I'd consider a few things:
Fit. Pay attention to it. If you've found the perfect dress, but it's made to flatter a body type that you don't have, walk away. Over the years I've found that dresses with a defined waist looks best on me. As much as I love the look of sheath dresses, they look terrible on me, and even though I want to be able to wear one, I shouldn't because they don't look good.
Color. Once you've found the perfect fit, choose a color that looks good on you. If the color you've selected does not go with the hue of your skin tone, don't buy it. There's no point in spending money on a dress with a great fit and a terrible color. On you.
Accessories. An Easter outfit just wouldn't be complete without accessories, right? I'm thinking that a nice bag and shoes are just the ticket. Choose a bag and shoes to coordinate to your dress or outfit.
Interested in my wish list for Easter 2011? Here is what I picked out using Polyvore…a great site to discover fashion trends.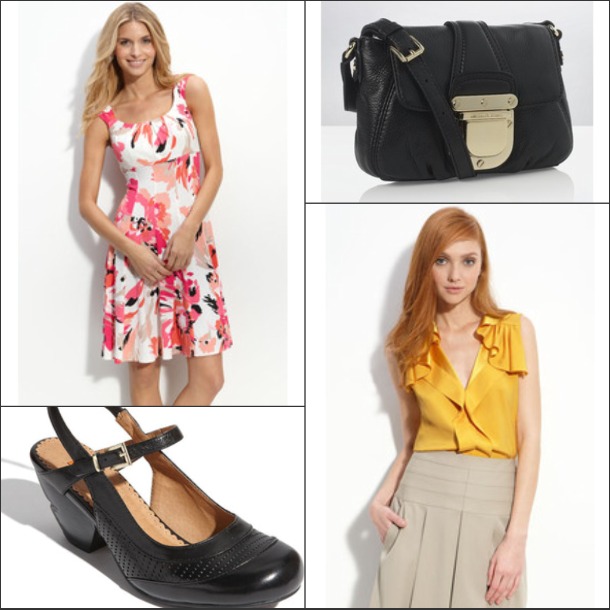 Maggy London scoop neck dress
$128 – nordstrom.com
Tahari v neck blouse
$168 – nordstrom.com
Marc by Marc Jacobs style pencil skirt
$158 – nordstrom.com
Miz Mooz black pump shoes
$110 – endless.com
MICHAEL Michael Kors cross body bag
$128 – nordstrom.com
What are you wearing this Easter? We'd like to know!