This post may contain affiliate links which may give us a commission at no additional cost to you. As an Amazon Associate we earn from qualifying purchases.
Fall and winter are quickly approaching, and so is chilly weather!  It's that time of year again, boot season!  Boot cuffs are all the rage right now.  But, what's not to love?  It's the look of a cozy sock without all of the bulk!  I've been craving a pair of boot socks after spotting them in a fashionable little neighborhood boutique.  But, at $25 a pair I had to walk away!
Did you know that with an old sweater, a little lace, and 30 minutes, you too can have your own pair of DIY boot cuffs?!  Get ready, because it's hard to make just one pair!  (And, these make the perfect Christmas gift too!)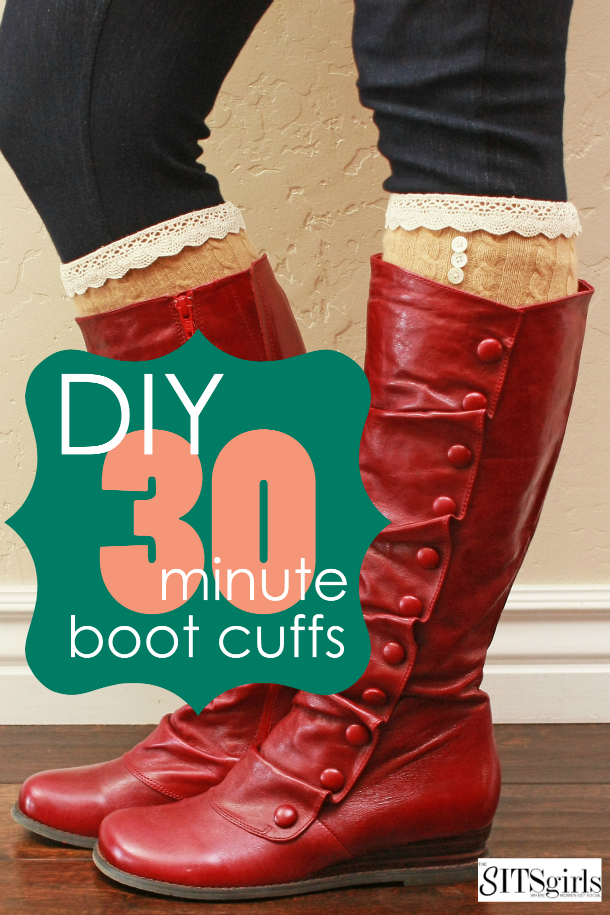 How to Make Your Own Boot Socks
To make your own pair of DIY boot cuffs, you will need these cheap & easy to find supplies: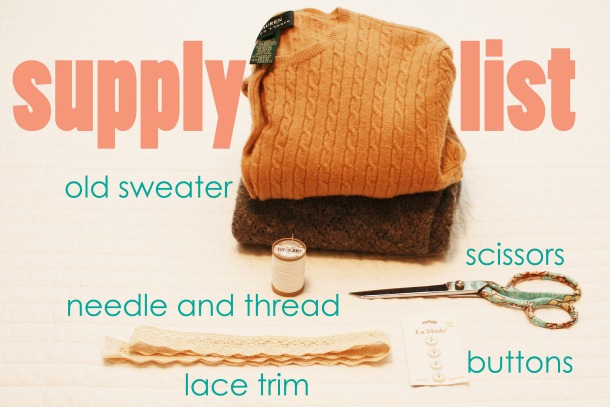 When you go hunting for the perfect sweater to make your DIY boot cuffs, consider more than color when making your choice.  You must find a sweater that is stretchy enough to fit over your calf.  This is not the case for all sweaters!  The hand opening on the sweater will be the top of your boot cuff.  Try it on your leg if you have to!  I found my sweater at my local thrift shop for $3.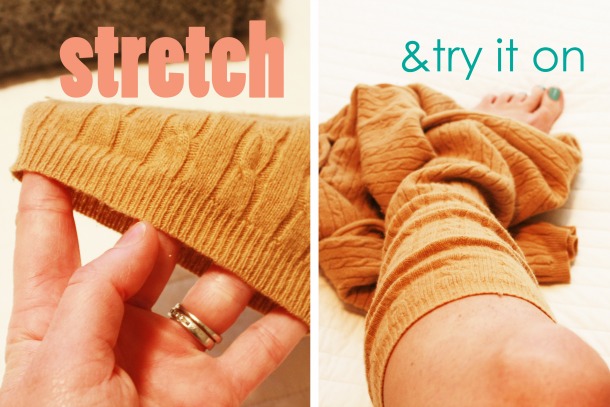 Next, you must choose how long your boot cuff is going to be.  I live in Utah, and the winters are long and cold, so I went with a longer length that would provide more warmth.  (Think, leg warmer size)  If you live in a warmer climate, you might not require such a long length and would be able to cut them shorter.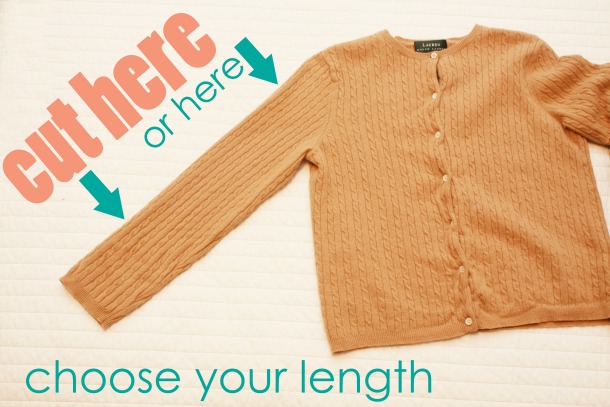 Whatever the length, cut your boot cuff straight, so that the edges match.  This will make sewing easier.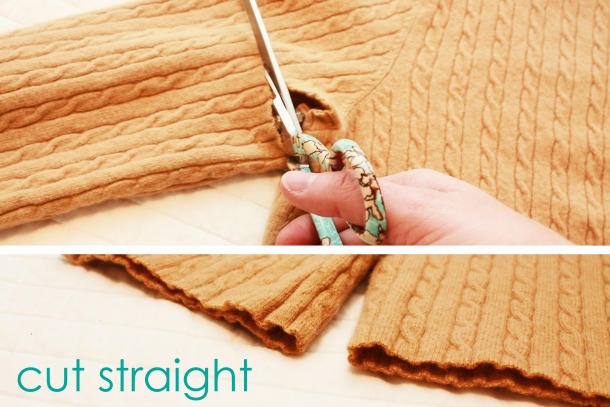 Sewing up the raw edge of your DIY boot cuff is a snap!  If you are talented on a sewing machine, feel free to use that method to finish your boot cuffs.  But, hand sewing is just as simple and does not require one to get out a bulky sewing machine!  I decided to hand stitch my boot cuffs.
To complete this step, just fold your raw edge over once, twice, and then quickly stitch it up.  If your stitches are less than perfect, it's okay!  This is the part of the boot cuff that is hidden inside of your boot and will never be seen!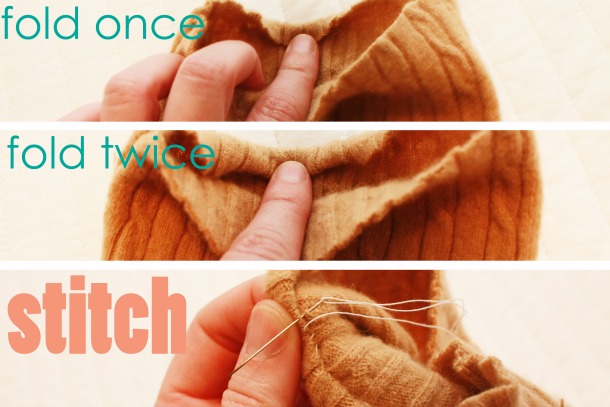 Once you have completed stitching up the raw edges, turn your boot cuffs over and sew on the lace trim.  I found a delicate cream lace that unravels easily, so to remedy that I added a few drops of Fray Check to the edges.
If your lace is not stretchable, make sure your sock is stretched taunt when you sew it on so that the circumference will fit around your calf.
(If you don't want to add lace, you can completely skip this step!  These DIY boot cuffs look fantastic with or without the lace and buttons!)
If you would like to add decorative buttons to your boot cuffs, you need to measure out where you would like them placed before sewing.  I just put my boot cuffs on and decided on a good spot.  I recycled the buttons off of the same sweater that I used for my boot cuffs.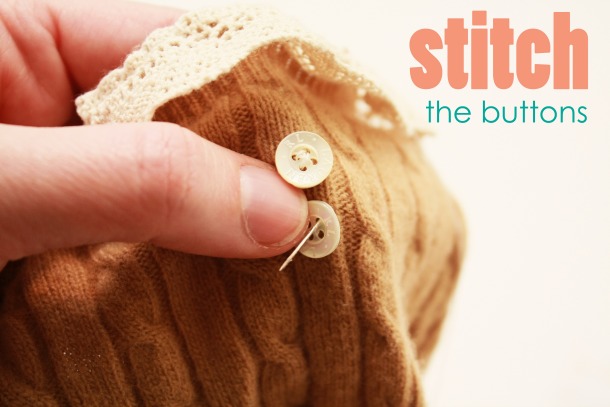 These DIY boot cuffs are easy enough that you will be able to whip up numerous pairs in an afternoon.  Don't forget to grab a few extra sweaters from the bottom of your closet or the thrift shop, because these make the perfect gift for Christmas!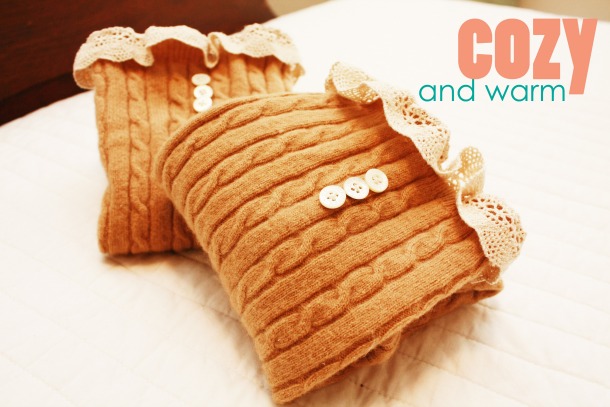 DIY boot cuffs are the perfect addition to any outfit!  They make your legs cozy and warm, and provide the perfect little touch to your favorite fall boots!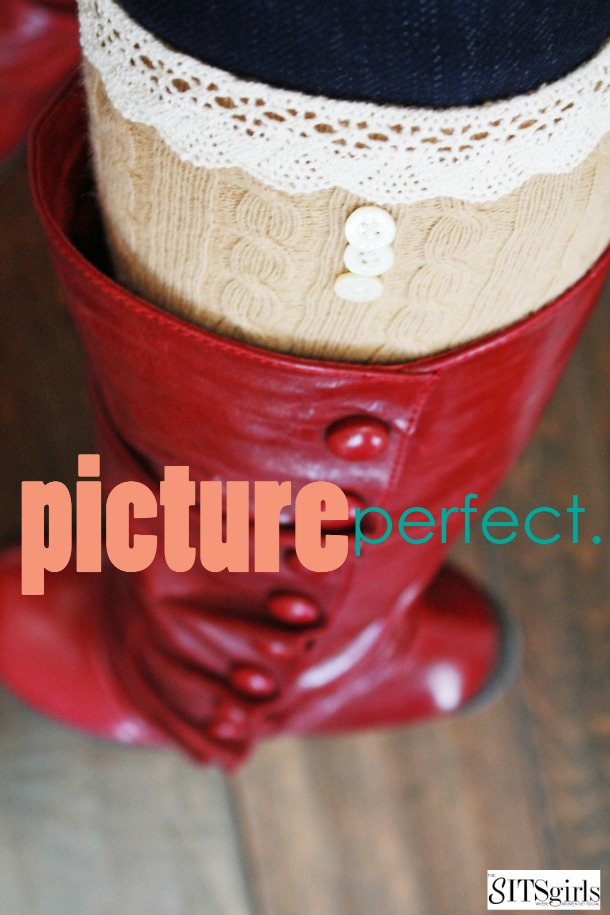 Feeling Crafty? Keep Reading!
If you enjoy this post on DIY boot socks then keep reading! We have more DIY projects for you.