This post may contain affiliate links which may give us a commission at no additional cost to you. As an Amazon Associate we earn from qualifying purchases.
Emily from little momma & co. is dreaming in chocolate today. Read more about the artistry behind this delectable little treat…
If you were to ask me to name the first thing that comes to mind when you say the words "chocolate dress", it would probably be this…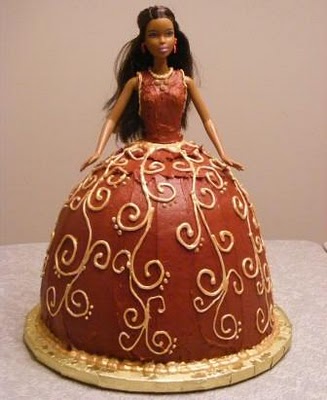 And while I love a good Barbie dress cake just as much as the next girl, this is not the kind of chocolate dress that makes headlines once a year.
Actually, chocolatiers and fashion designers from around the world gather for the Salon du Chocolat in Paris – a fashion show dedicated to garments made from what else, chocolate! Feeding an appetite for both fashion and chocolate, models strut the runway in edible creations that can sometimes prove to be a tricky feat.
I'm sweating just thinking about it!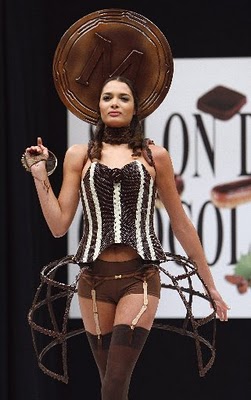 Can you put yourself in these models' shoes? Seriously, how does one walk in a chocolate dress if one was chosen to walk in a chocolate dress?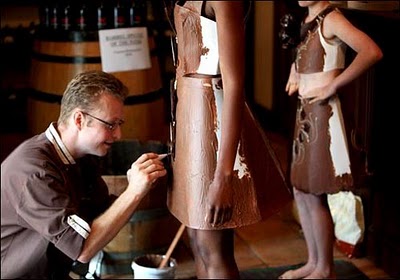 Martin Howard, a pastry chef turned chocolate fashion designer, has been involved with Salon du Chocolat for more than a decade and is definitely a pro at what he does.
"Chocolate is good to work with. It's a bit temperamental at first, but strong and sturdy once it sets. It's easy to model and sculpt into shape, much like clay, so you can get very creative with it," he said. As expected, molding chocolate into wearable art has some challenges.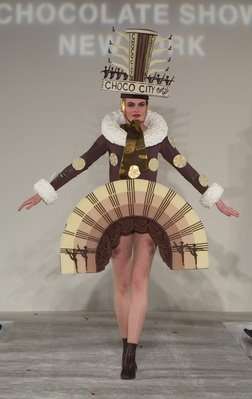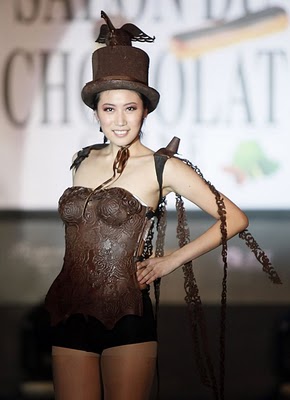 "It can be tough. Of course, there's the whole melting factor. Big, solid pieces also tend to snap and break sometimes, so I always carry a chocolate repair box with me to the fashion shows. If a piece pops off a dress, I have another piece ready to replace it," he said.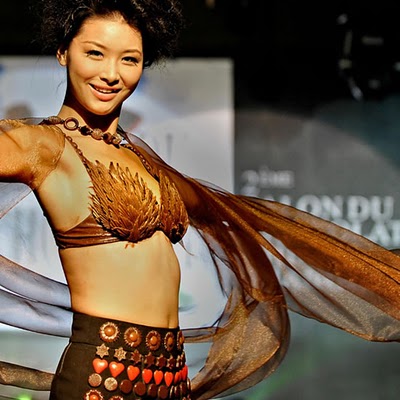 Sadly, we can't all jet set to Paris to wear our own chocolate dress down the runway. (Doesn't that just sound so luxurious?) But we can do the next best thing!
If you would like a bit of chocolate fashion of you own, consider chocolate shoes, designed by Frances Cooley, a boutique cake maker trained in England.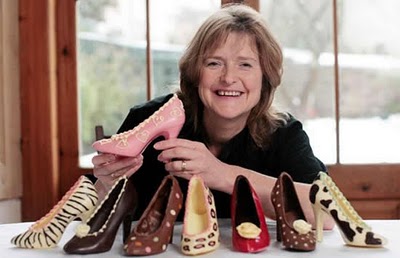 Frances' chocolate shoes come in a complete array of styles, all with matching handbags. Chocolate and shoes, it's the perfect combination if you ask me!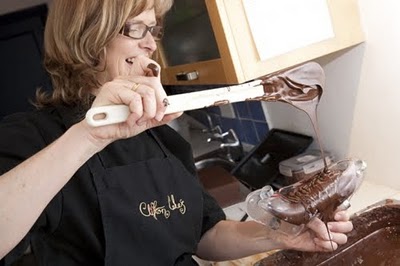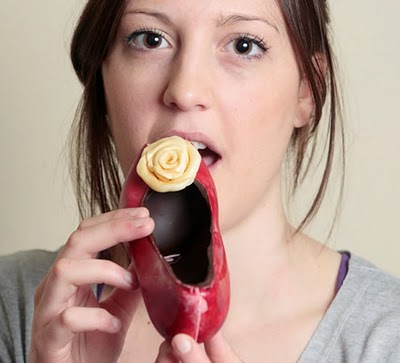 Do you want your own pair of chocolate shoes? Click HERE.
Chocolate dress images from www.salon-du-chocolat.com
Chocolate shoe images from http://www.chocchic.co.uk