What a WEEK! To say that we partied out hearts this week out doesn't quite cover it. We went the distance with our 3rd Birthday Bash and finally crossed the finish line. Whew! Us girls will be taking it easy this weekend.
For those of you who might have might a day or two of the Birthday Bash, here is what happened…
Education
We launched our FREE eBook on Facebook, which is all kinds of fun. You can download it here.
We also opened up speaker spots for Denver and Atlanta. If you've always wanted to be a blog conference speaker, here is your chance! We'd love to help you connect with our audience. Read more details here.
Women on the Move
We were super excited to show off The SITS Girls Store on Zazzle. It is filled to the brim with ultra cute coffee mugs, t-shirts, mousepads…you name it! Check it out here.
We also announced our stops for Bloggy Boot Camp 2012. Interested in seeing whether we're coming to a city near you? Read all the juicy details here.
Food & Lifestyle
Our Food & Lifestyle channel exploded with giveaways. And not just your ordinary, everyday, run-of-the-mill giveaways. Nope. For the Birthday Bash, we wanted to give our community the very best. Here are the giveaways you'll want to be sure you enter:
Whew! Did you get all that?
SITS Girl in the Spotlight
In honor of blog conference season and BlogHer happening in San Diego in just a few short weeks, today's SITS Girl in the Spotlight is Natalie from My Crazy Busy Life.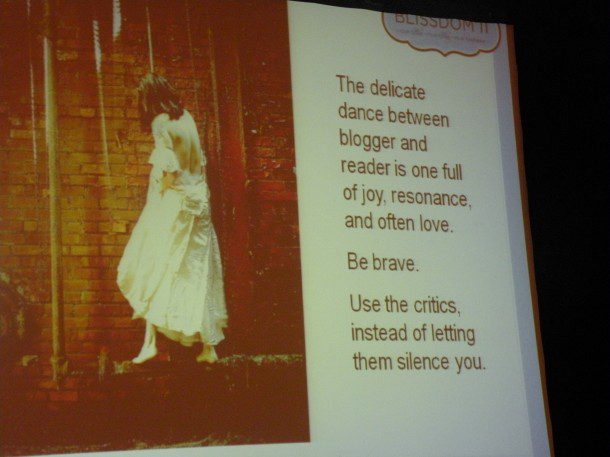 This is a photo the Natalie took at the Blissdom conference in Nashville back in January.
This picture was taken during Cecily K's writing session.  This was my first blog conference and her talk about writing from your heart inspired to pick up a pen and write what I feel.
And Natalie has certainly done just that!  Check out her recent post teaching her children that the right choice is not always the easy choice.  Natalie talks about her decision to end her marriage in an honest, yet heartfelt way.
What's Coming Up Next Week
Next week we're getting back to our normal selves.  Here is what you can expect…
If you've ever been interested in writing an eBook, you won't want to miss our two-part series where we break down eBook basics and give you the tools you need to get started writing.
In honor of our recently announced Bloggy Boot Camp stops, we'll be helping you figure out where you can win a free ticket.
Summer is here and what could all use some ice cream.  Emily Louise will be showing off how to make homemade ice cream, without all the cranking!
Enjoy your weekend!