This post may contain affiliate links which may give us a commission at no additional cost to you. As an Amazon Associate we earn from qualifying purchases.
Food allergies are a huge issue in our house. My son is allergic to pretty much everything under the sun, and so is my brother in law, so I am constantly searching for healthy delicious recipes that I can serve. These black bean tacos with lime cilantro slaw have been a staple at our dinner table for the last 5 years.
My husband, who is a meat and potatoes kind of guy, is beyond obsessed! He even comments that these are his favorite thing for dinner. The best part is that these tacos are super healthy. They have protein, fiber, and vegetables and are cooked in olive oil for all those Omega 3 fats that are so beneficial — they pretty much check off every box for a well balanced meal! There is one warning though… you should double the recipe, because these go quickly!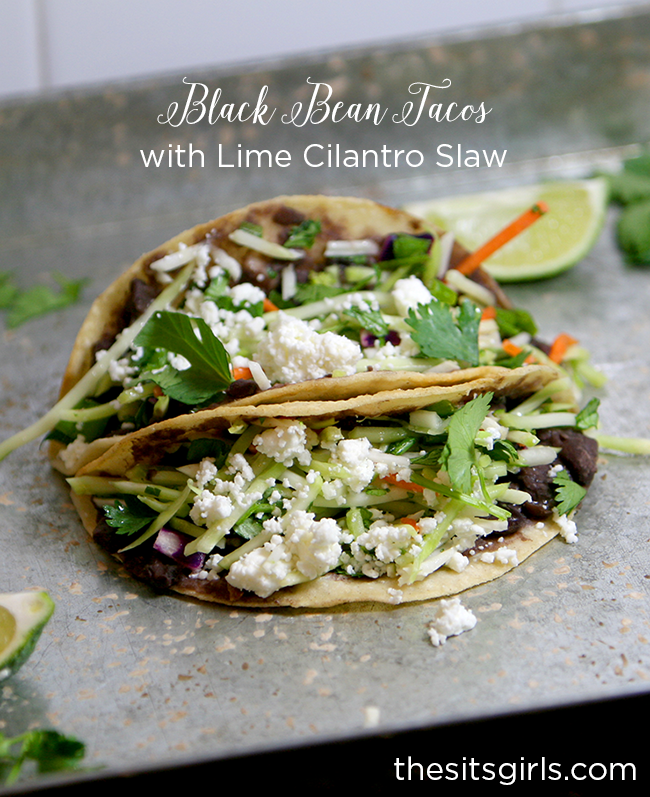 Black Bean Tacos With Lime Cilantro Slaw
Black Bean Taco Ingredients:
One can of black beans
tablespoon of cumin powder
6-8 corn tortillas
3-4 tablespoons of olive oil for frying the tacos
salt and pepper to taste
Lime Cilantro Slaw Ingredients:
One bag of Broccoli slaw mix
one bunch of cilantro
4 green onions
2 limes (or more if you want more lime flavor)
2 tablespoons of olive oil
salt and pepper to taste
goat cheese to garnish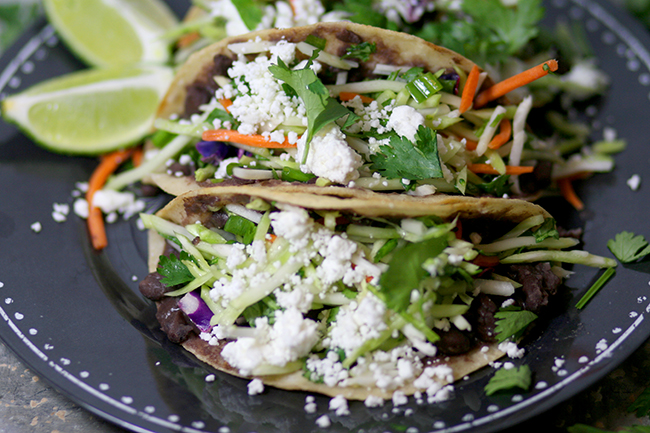 Lime Cilantro Slaw Recipe
The first thing you want to do is the make your broccoli slaw, so all the beautiful flavors can stew together while you are frying the tacos. Chop your green onions and cilantro and combine them with your broccoli slaw in a large mixing bowl. Next, cut your limes and squeeze the juice into the slaw mixture. I like my cilantro course, but feel free to chop it as small as you desire. Add your olive oil to the mixture, and stir all the ingredients together until incorporated. Season with salt and pepper to your desire. Feel free to add more lime juice or olive oil if you desire a little bit more flavor for your slaw.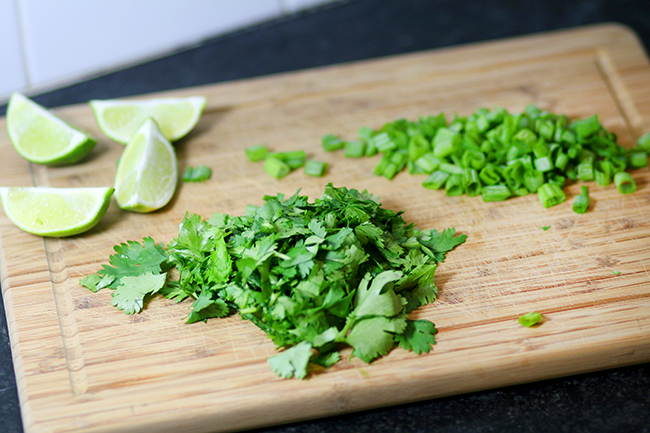 Black Bean Tacos Recipe
Once you have your lime cilantro slaw is ready, you can move on to cooking your delicious tacos.
Drain your can of black beans, and remove as much of extra juice as possible. Pour in to a bowl, and add salt, pepper, and cumin. Mash the beans so they resemble the texture of ground meat. I, personally, like some of my beans whole for a little texture, but you want them mostly mashed to a paste so they do not fall out of the tacos. Meanwhile, heat the remaining olive oil in a pan on about medium high heat. Once the oil is hot enough, you are ready to fry the tacos.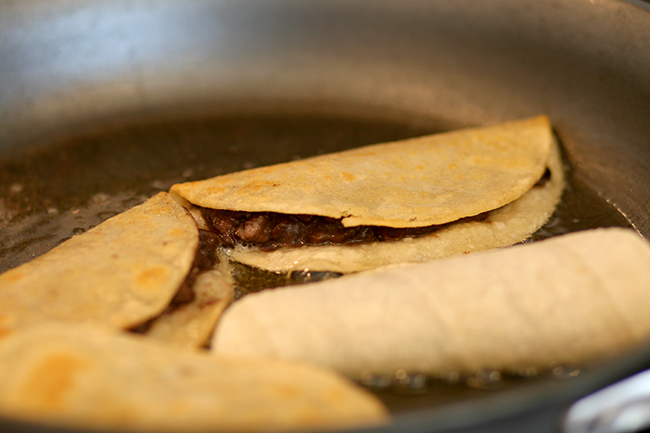 Add 2-3 tablespoons of your black bean mixture to one half of the corn tortilla. Fold it in half, and let one side fry until it is a light brown, and slightly crispy. Then flip and fry the other side.
Have a plate with a paper towel on it handy so you can set the tacos on it after they are fried. The paper towel will soak up any excess oil, leaving them crispy. Continue the process until your bean mixture is all gone.
You should have around 6-8 tacos, but it depends on how much bean mixture you put in each one.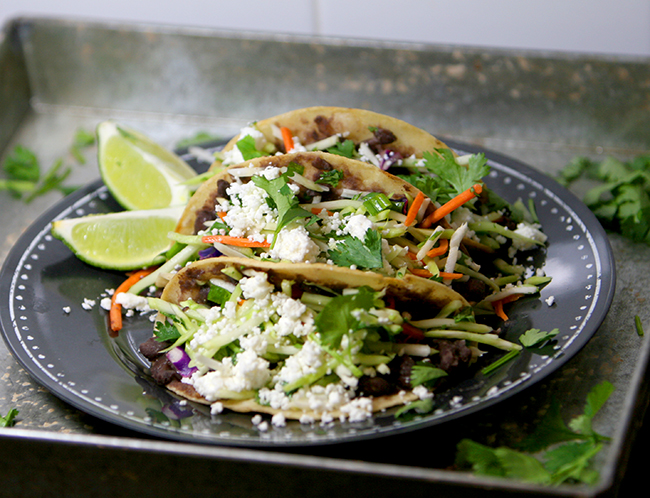 Finally, top the black bean tacos with your delicious broccoli slaw, and sprinkle with some goat cheese. You now have a quick and nutritious dinner. This is also a fabulous option for a dinner to serve if you have any vegetarian dinner guests on the list. These tacos are a gourmet meal on a penny budget, and trust us, this will soon be a staple go-to dinner in your household!