This post may contain affiliate links which may give us a commission at no additional cost to you. As an Amazon Associate we earn from qualifying purchases.
Most Tuesdays we celebrate Taco Tuesday. Tacos are ALWAYS well received by every member in my family. Even my kids who are picky eaters will devour my black bean tacos. Occasionally, I like to switch things up and throw a curve ball to the kids. This past week I decided to make Cookie Tacos! They are by far the most well received tacos I have ever made.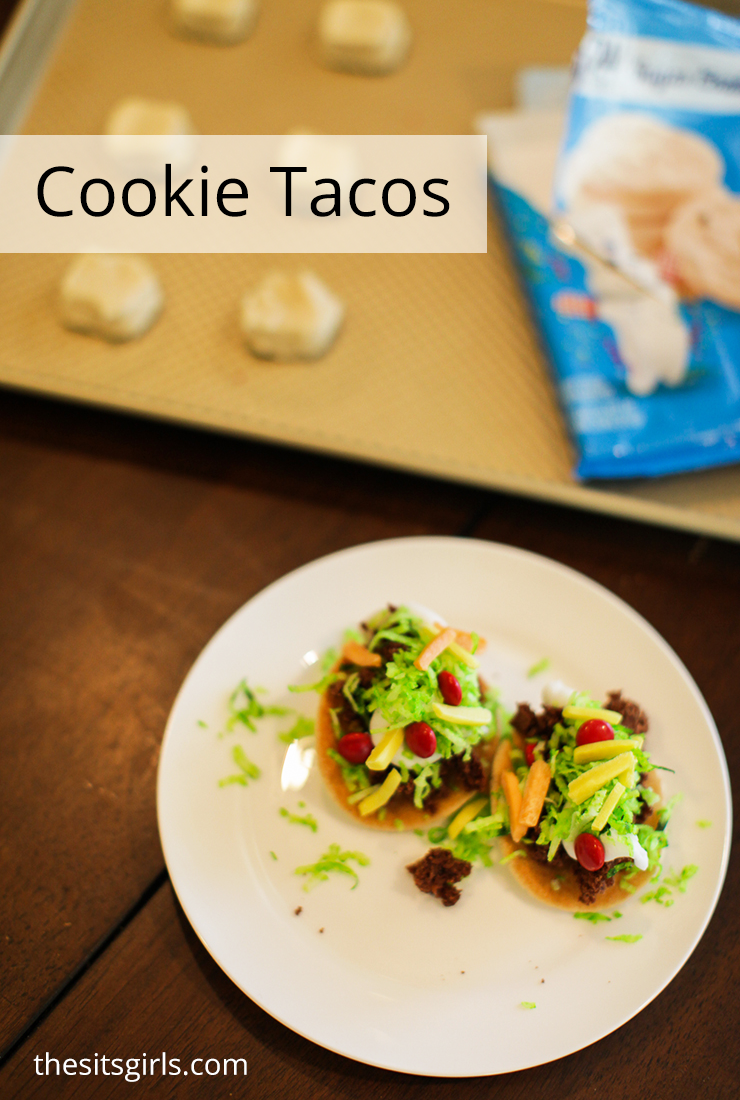 Cookie Tacos
Cookie Taco Ingredients:
Sugar Cookie Dough (your shells)
Boxed Brownie Mix (your "meat")
Shredded Coconut (your lettuce)
Green Food Coloring
Red M&Ms (your tomatos)
White Icing (your sour cream)
Yellow and Orange Starbursts (your shredded cheese)

One of the best things about these tacos is is that they are made using pre-made cookie dough and boxed brownie mix. I love baking from scratch, but sometimes the boxed mixes are just what I need.
How To Make Cookie Tacos
Your first step is to bake the packaged dough according to the directions on the package. Take them out one minute BEFORE directed. Let them cool for 3 minutes and then gently transfer them to a rolling pin where they will finish cooling. When the cookies are cooled there will be a subtle curve that looks exactly like a taco shell!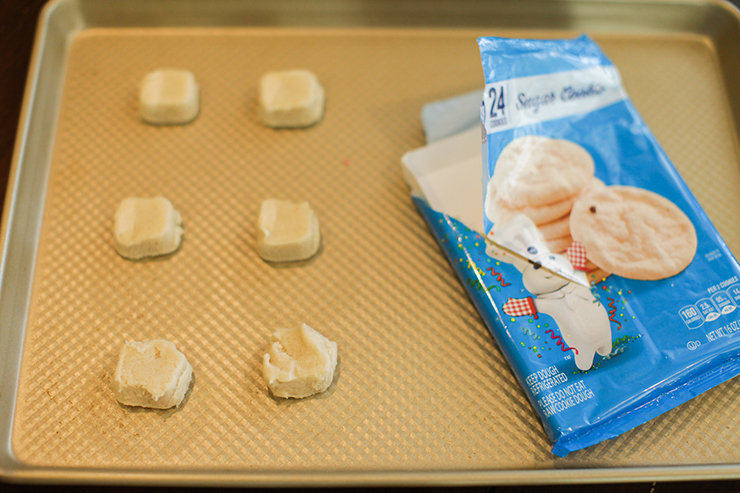 While your cookies are cooling it is the perfect opportunity to bake your brownies and prep your taco "toppings".  After the brownies are baked and cooled take a fork and run it through them. Crumble the brownies so they look like ground taco meat.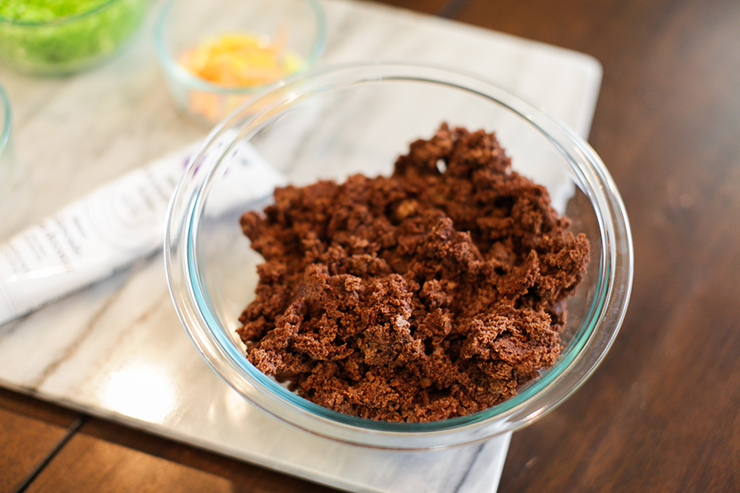 My toppings took minimal prep time. I used orange and yellow Starbursts chopped in little pieces for my shredded cheese.  My tomatoes were simply red M&Ms, and my sour cream was store bought white tubed frosting. For my lettuce, I mixed shredded coconut with green food coloring.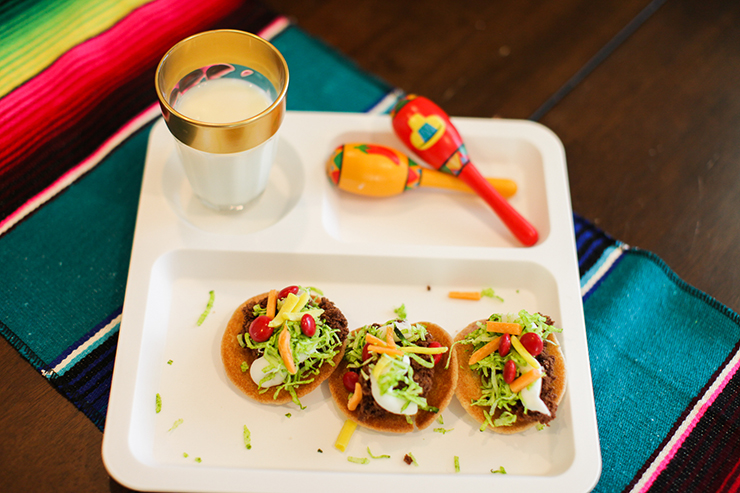 Not only are these tacos adorable, they are SOOO delicious! It is the perfect blend of yummy flavors! We created our own DIY Cookie Taco Bar. The kids had a great time filling their taco shells with delicious toppings!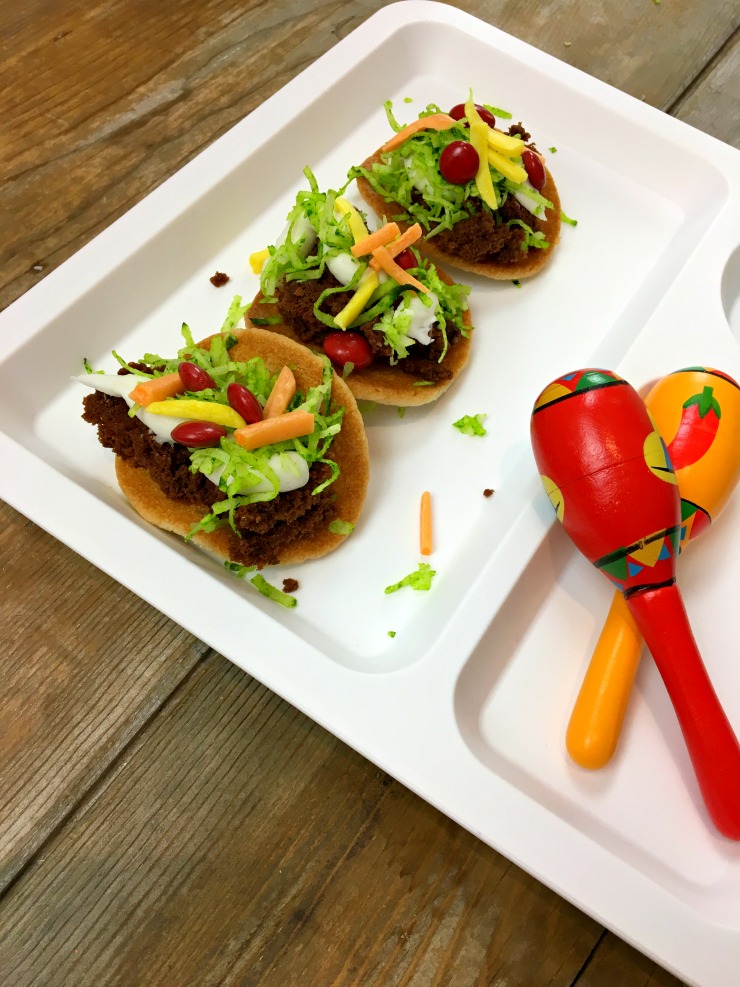 Olé for Taco Tuesday!