This post may contain affiliate links which may give us a commission at no additional cost to you. As an Amazon Associate we earn from qualifying purchases.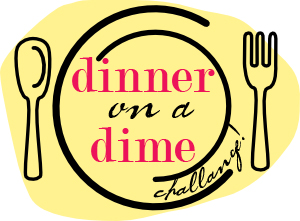 Wow! What a run we've had with our Dinner on a Dime contest! I've received some amazing entries, some amazing inspiration, some great meal ideas! (In fact, I wanted so badly to be a part of the fun that I blogged about my own $5 meal, even though I can't win the coveted prize! If interested, you can check out my recipe here.)
But now, onto the winners!
Our second runner up was a fabulous recipe, Tomato Macaroni Soup, submitted by Toqua of Toqua's Crafts.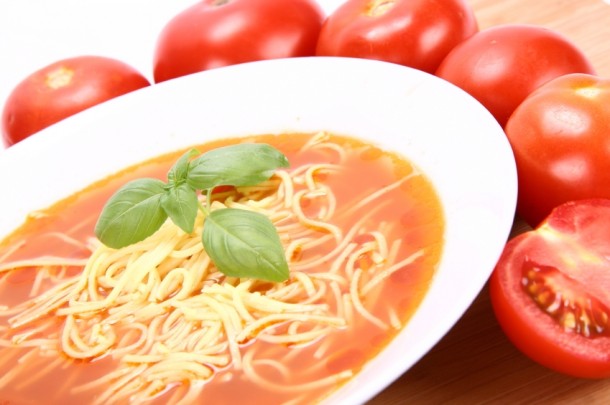 Toqua writes:
When I was younger and a single mother, I had a similar soup to this in a restaurant, so I went home and made something as close as possible. In the years since, this has become my son's favorite recipe!
Toqua's Tomato Macaroni Soup
1 and 1/2 C dry macaroni
1 lb hamburger (the leanest possible, or you can use ground chicken or turkey)
1/2 onion, chopped (or 2 T dry)
2 cloves garlic, chopped (or 1 T garlic powder)
1 family size can of tomato soup (or 2 smaller cans)
4 to 5 stalks of celery, chopped (leaves too)
1 T Peppered Season-All (or regular ground pepper)
6 to 8 drops of Tabasco
Boil macaroni until al dente. While that's cooking, brown your meat, onion, and garlic together.
Empty the tomato soup into a large saucepan, following the directions on the back of the can, using milk.
When the hamburger mixture is done, drain the grease and add to the soup. After the macaroni is done, add that to the soup.
Add celery, pepper, and Tabasco.
Simmer soup for 1/2 hour minimum. The longer, the better.
…
Our first runner up is a creative recipe, BBQ Chicken Pasta, submitted by Diane Schmidt of Created By Diane.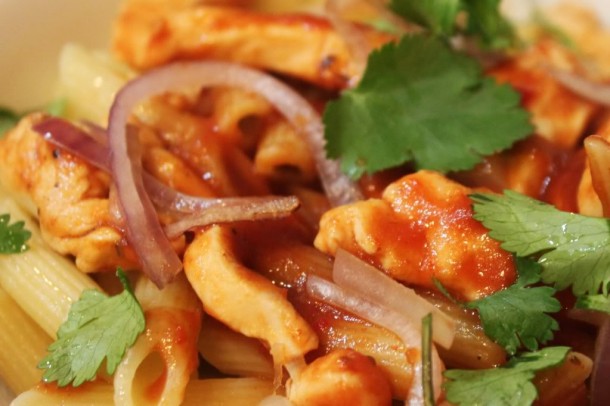 Diane said:
Created by Diane is where you will find me up to my elbows in flour and sugar, along with creating ways to make dinner easier, often healthier, and more delicious.
BBQ Chicken Pasta
1/3 C Bullseye BBQ sauce
1 and 1/2 C tomato sauce
fresh cilantro
1/2 red onion, thinly sliced
1 lb penne pasta
3 boneless chicken breasts
Cook pasta according to package directions. Slice chicken into bite size pieces and sauté with BBQ and tomato sauce until completely cooked. Lightly sauté onion in a separate pan. Plate pasta, top with chicken, sauce, onion, and cilantro.
…
Finally, our great, grand prize recipe, Black Bean Soup, submitted by Sarita Edgerton of The Lone Tater.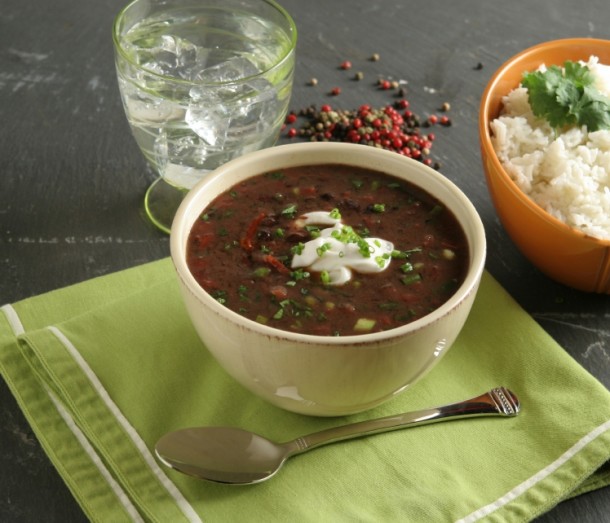 Sarita writes:
I am a stay at home mom of 4 children, ages 8 and under, who home schools, works part time, blogs when I can, and sleeps hardly ever. My life is crazy and busy, but I wouldn't change a thing!
Black Bean Soup
1 bag of dried black beans
2 carrots, chopped
1 medium onion, diced
garlic
salt and pepper
2 cans of Rotel
1 can of sweet corn
Cooked rice
Soak the beans overnight. Place the beans in a crock pot along with onion, carrots, garlic, salt and pepper, Rotel, and corn.
Cook on high for 4 hours, and then on medium for 4 hours more. Serve with rice.
…
Congrats to all of our finalists, but especially to Sarita! She wins the amazing prize pack courtesy of Good Cook! I am so jealous!
And, a huge THANK YOU to everyone that sent in recipes! It was very difficult to pick just three. I wish I could have included them all. Thank you for accepting the challenge!
Keep your eyes open for our next challenge!