This post may contain affiliate links which may give us a commission at no additional cost to you. As an Amazon Associate we earn from qualifying purchases.
Sometimes making homemade cookies can become monotonous and dull.  But, by adding a new and easy decorating technique, it will be fun and exciting again!  Using canned aerosol food coloring, (think spray paint for your cookie) you can create a gorgeous design in seconds!  Seriously, DIY Spray Painted Cookies makes cookie decorating fun! These might just be the best cookies you've ever decorated!
But before we dive in, don't forget to link up your craft or recipe post at the bottom of this post. Last week we had 202 people link up their posts!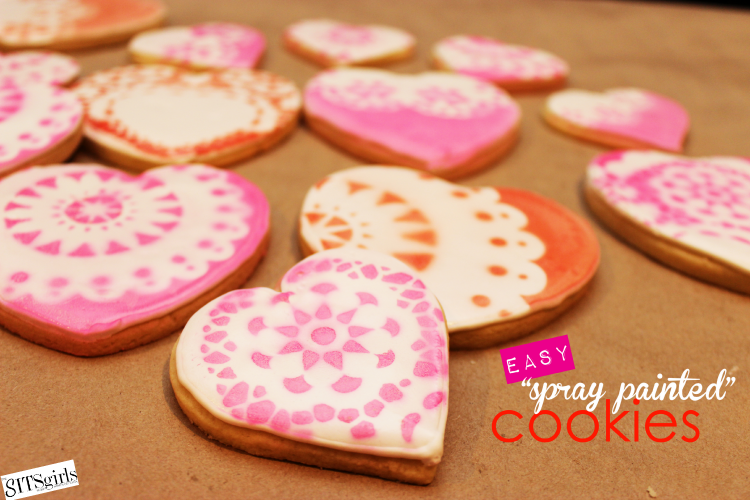 Using aerosol food coloring is a simple way to get kids into the kitchen!  Imagine the joy to be had at watching their colorful cookie creations come to life!  I needed a batch of cookies for a class party, and decided to use this technique to decorate them.  Not only was it simple, the results were so eye popping all of the parents had to know my secret!
To create your own DIY Spray Painted Homemade Cookies, gather these supplies.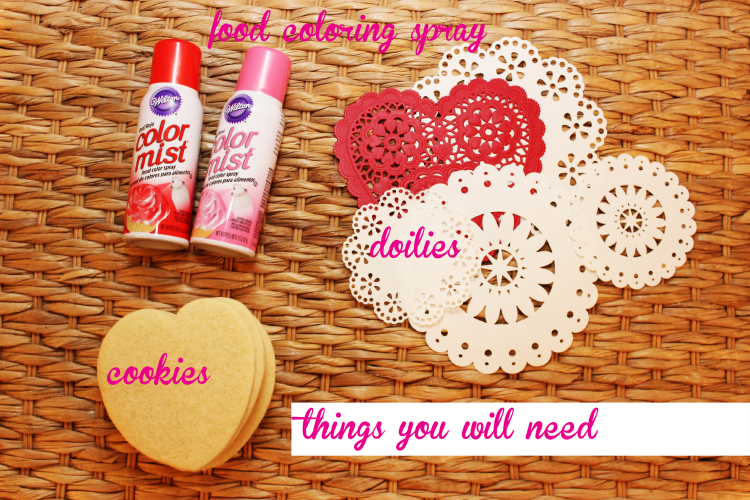 Homemade Cookies
You can use your favorite sugar cookie recipe.  I used this one: best sugar cookie recipe.
Also, I wanted to create a nice frosted surface for my spray.  I choose a royal icing that would dry hard.
Basic Royal Icing
½ C water
3 T meringue powder
½ t vanilla or almond extract
1lb powdered sugar (1/2 of a 2 pound bag)
To create your icing, pour your water and meringue powder into a bowl and using an electric mixer, beat until bubbly.  Add extract, and mix well.  Add powdered sugar, and beat for 3 to 4 minutes until icing is stiff enough to pipe on a cookie without running.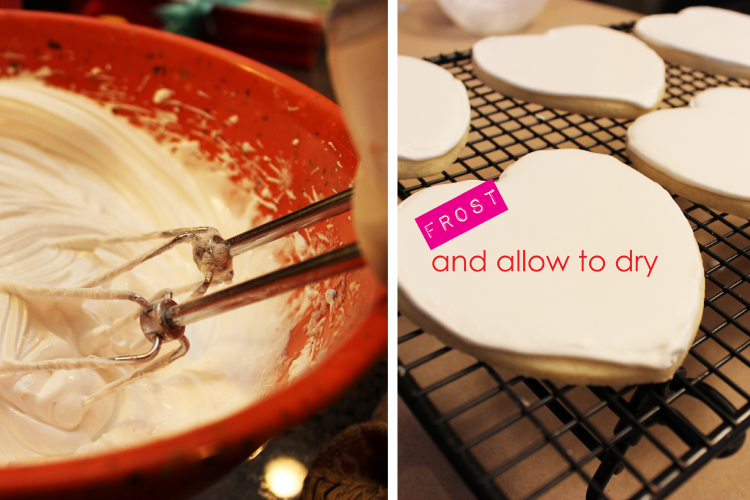 To frost your DIY Spray Painted Cookies, use a zip-top bag and fill it with the icing.  Then, cut the corner off and pipe around the outline of each cookie.  Next, water down the remaining icing that you have left and spoon in into the outline, allowing it to fill the void space.  Then allow your cookies to dry overnight.
You could also use this technique on a cookie without icing. If you are planning on using a soft icing, this technique might not work very well.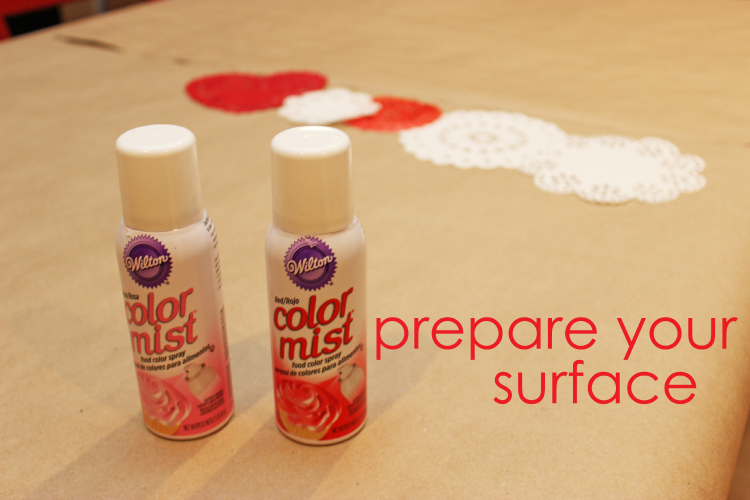 Before you begin to use the spray, DON'T FORGET to cover and protect your work surface.  This spray will stain.  (It will stain your fingers.  If this bothers you, use a glove.)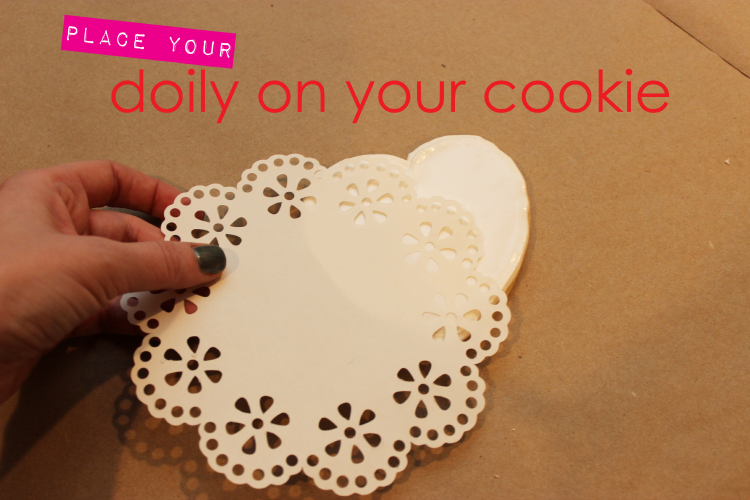 First, choose a doily.  You will want to gently place your doily on top of your cookie, and hold it into place so it does not move.
Hold your aerosol can about 12 to 18 inches away from your cookie (or else the dye will spatter) and gently spray your cookie.  Move your hand in sweeping motion to apply the dye as evenly as possible.  Make sure you hold your doily as still as you can!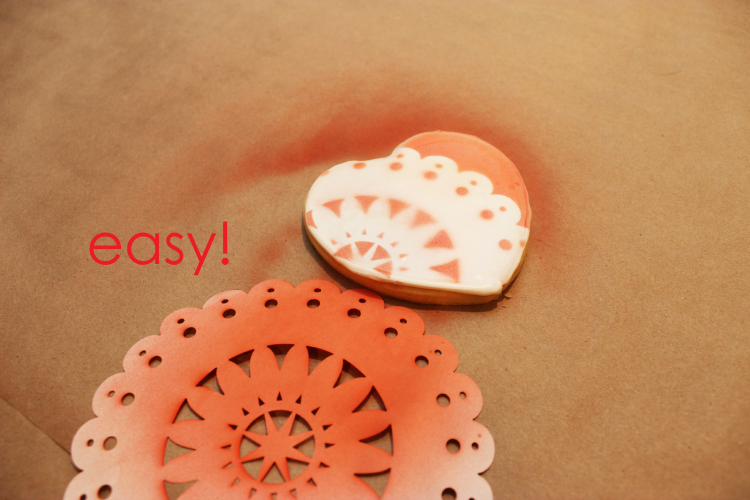 Gently lift your doily from the top of your cookie, and voila!  Your DIY Spray Painted Cookie is complete!  Isn't it pretty!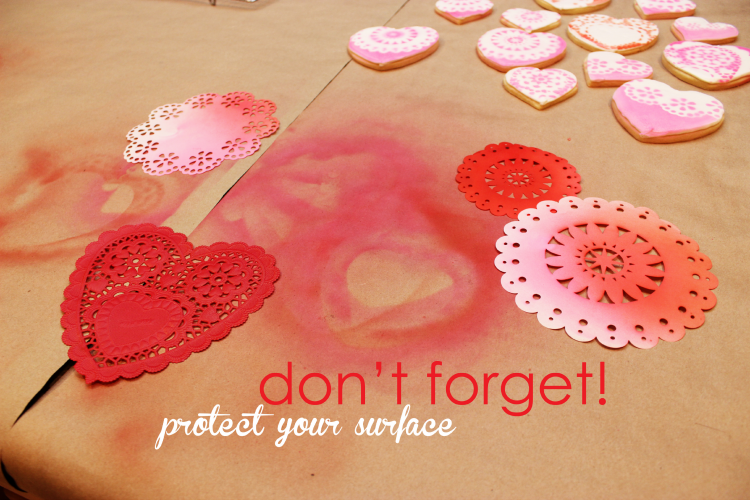 Like I said, don't forget to protect your surface because this food coloring spray CAN stain!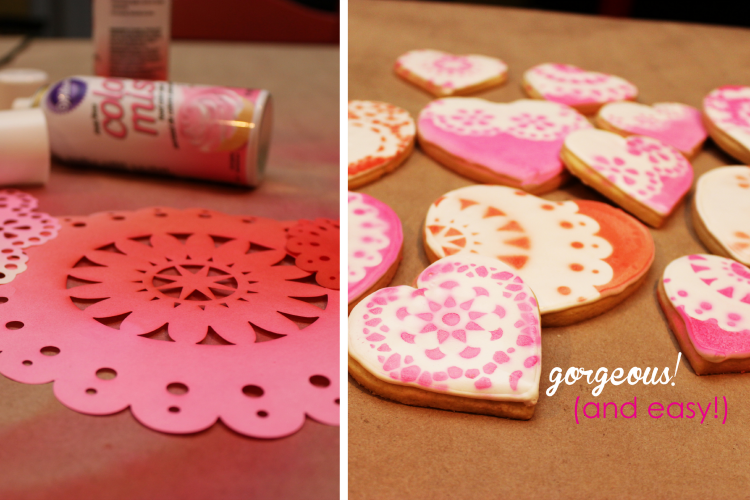 There are not many cookie decorating techniques that are quite so easy that create a result that is quite so stunning!  Kids will love to get into the kitchen and create their own DIY Spray Painted Cookies!  They are the perfect way to spruce up a typical and boring Valentine cookie, and are so simple, your whole batch will be done and decorated in minutes!
FEATURE YOUR CONTENT!
Do you have a craft, recipe, or another Pin-teresting post that you want to share? Use the below Linky to get featured! We'll be sharing our favorite posts in the coming week across our social media channels, on the blog, and in our newsletter.
SHARE THE COMMENT LOVE
Be sure to spread the comment love! If you link up, please comment on at least three posts that grab your attention. We're looking to help our community continue to grow their tribe and spread the comment support.
WHO WE LOVED FROM LAST WEEK
Here are our favorite picks from last week's link-ups. Show these ladies some love!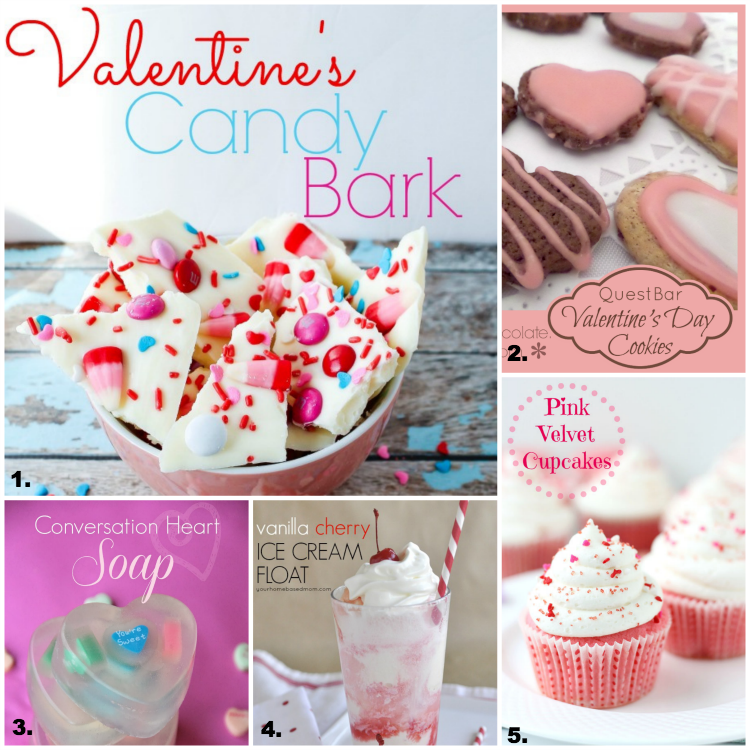 Link Up Here