This post may contain affiliate links which may give us a commission at no additional cost to you. As an Amazon Associate we earn from qualifying purchases.
Let's be honest, life is fast paced. It doesn't stop, and if you are like me, you are constantly looking for a way to make things just a little easier. A busy day often means I have no time to eat breakfast or lunch, and I end up starving at 4pm, and start eating whatever I can find. Smoothies are a great way to fix this issue. Don't just drink any old smoothie, thought, you need a smoothie that has a ton of protein, will satisfy your sweet tooth, and give you a jolt of caffeine. This delicious Double Chocolate Peanut Butter Smoothie is packed with protein, super foods, and promises to leave you full and satisfied.

Double Chocolate Peanut Butter Smoothie
There are two secret ingredients in this smoothie. The powdered peanut butter and raw Cacoa powder are what makes this so unique.  Many people love peanut butter, but are unaware of the health benefits of it. Natural Peanut Butter can be a great source of protein and healthy fats.  In fact dietitians and health fanatics swear by it as a way to satisfy your sweet tooth while you are dieting. It used to be consumed by people in the fitness industry only, but has now gone mainstream. I currently buy mine in bulk on amazon (affiliate link).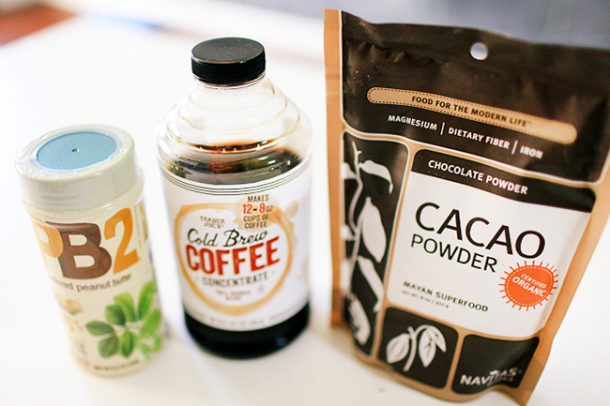 Raw Cacoa powder is something that is making its way into the foodie world, and is known as a Mayan Superfood. It has been a staple in South American diets for years. Cacoa beans are roasted and ground to make cocoa powder. When the beans are roasted at low temperatures they can then be ground to produce raw cacoa powder. Raw Cacoa powder is full of flavanoids and antioxidants. In fact, it has as many antioxidants as green tea, and flavanoids are known to have great benefits for your cardiovascular system.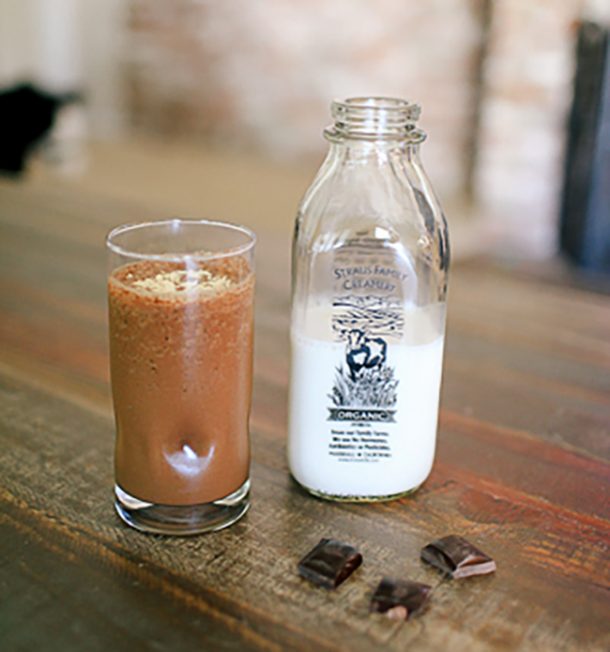 Ingredients:
Half of a Banana
1/2 cup of Unsweetened Almond Milk
1 scoop of Whey Isolate Chocolate Protein
1 Tablespoon of PB2 Powdered Peanut Butter ( or any powdered peanut butter)
1 Tablespoon of Raw Cacoa Powder
1/2 cup of cold brew coffee ( or just chilled coffee)
6 ice cubes ( or more if you prefer)
Total Calories: 220 calories and 27 grams of Protein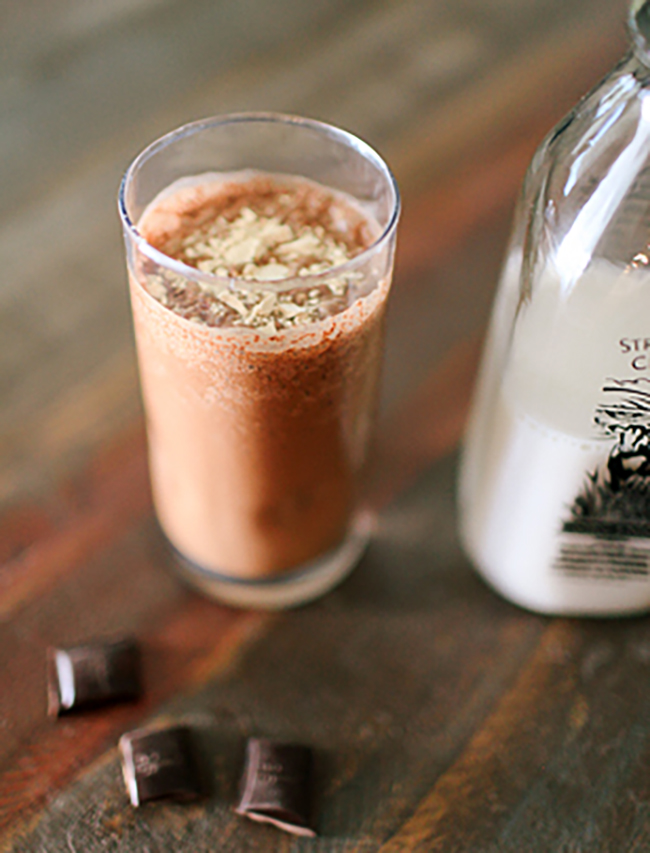 Double Chocolate Peanut Butter Smoothie:
Add Almond Milk to the base of the blender first. This will prevent the rest of the ingredients from sticking to the bottom. Next, add the protein powder, peanut butter powder, cacoa powder, coffee, and ice. Blend until all is mixed, and the ice is crushed. Sip and enjoy!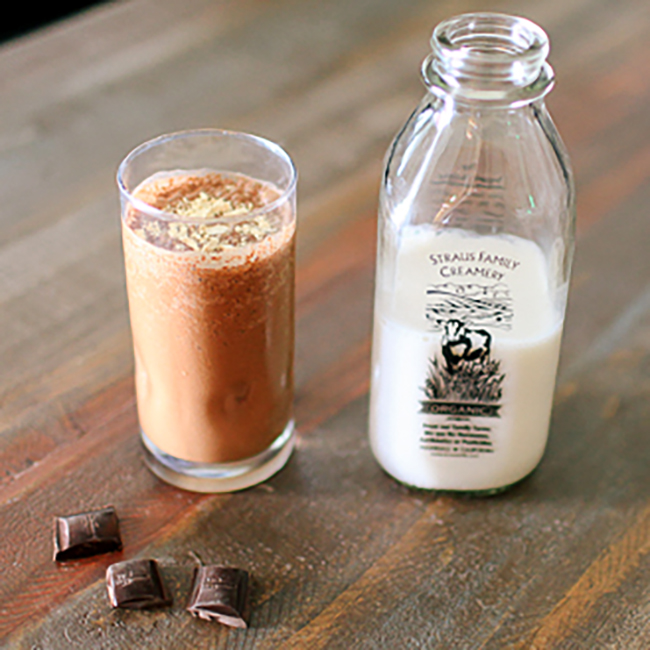 Protein is your best friend if you are trying to cut back on the calories! Stock up on protein and you will feel fuller longer. This smoothie has more protein than a chicken breast, and tastes like a Peanut Butter Cup… sounds like a win to us!