This post may contain affiliate links which may give us a commission at no additional cost to you. As an Amazon Associate we earn from qualifying purchases.
My kiddos wanted an Easter themed treat. So, of course, off to Pinterest I go.
I had honed in on the Easter Bunny Dirt Cups. Let me tell you, there were TONS of recipes and options. Martha Stewart even had one. Some were dirt cakes with cute little frosting carrot tops, some were made in little flower pots, some even had little bunny bottoms digging in the dirt. I wanted kid friendly dessert recipes that weren't  too hard to make.
I poured over the recipes, and most of them were made with Oreos, cream cheese, and pudding. I don't know why, but that just seemed too heavy for me. I kept remembering a cake disaster from last year involving me trying to make a Mine Craft Grass Block cake and substituting frosting for fondant. Take it from me…when the recipe calls for fondant…icing does not work. That being said, I made a great looking dirt cake parfait by mixing Oreos and graham crackers. I think I can make a hybrid of the bunny cups and that Mine Craft cake that would be pretty darn yummy. (Side note: while that grass block cake was sad looking, it was crazy yummy!)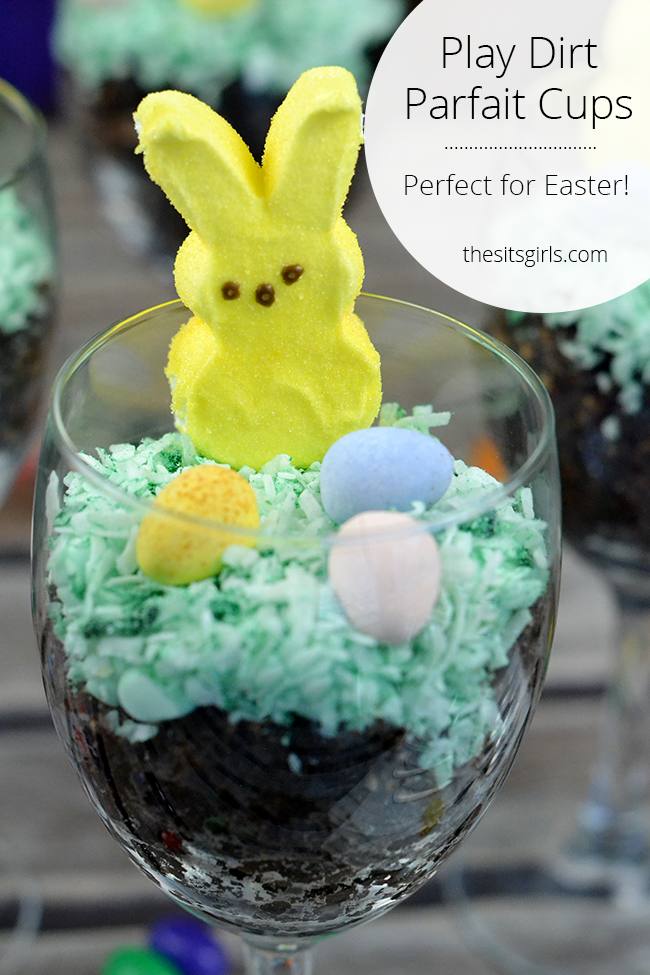 Easter Bunny Dirt Cake Parfait
Here's what you need for the cutest Easter dessert:
1 package of Oreos
10 graham crackers
2 3.25 ounces chocolate pudding snack packs
1 teaspoon vanilla extract
1 can of vanilla icing
sweetened coconut flakes
green food coloring
4 Peep bunnies
chocolate eggs or jelly beans
Add graham crackers and Oreos to a food processor and blend until fine consistency. Stir in the pudding and vanilla extract. Spoon mixture into glass or cute flower pot container and push down to pack a bit. (I used glass because I think it's fun to see the dirt.)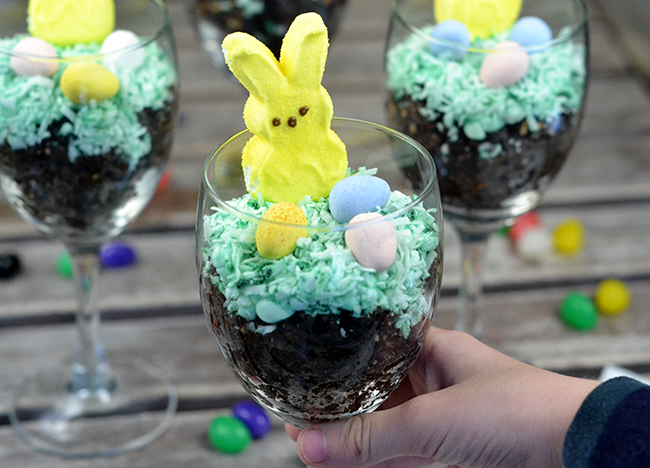 Mix 4 or 5 drops of food coloring into the icing and mix until desired green color. Cut the tip of a ziplock bag and add icing. Squeeze a layer of green frosting on top of dirt cups. Mix food coloring and coconut flakes in another ziplock bag until desired green. Sprinkle desired amount of green coconut grass over icing.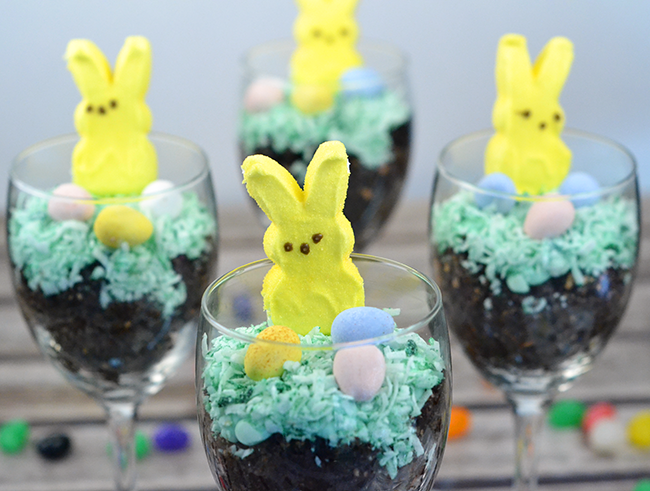 Top with Peeps and chocolate eggs, jelly beans, or whatever Easter treats you love.
Enjoy!