This post may contain affiliate links which may give us a commission at no additional cost to you. As an Amazon Associate we earn from qualifying purchases.
Are you ready for a tasty treat? Then our spring roll recipe is just what you need.
If you're looking for a fun and exciting new way to eat your vegetables, then try wrapping them up inside a spring roll wrapper! Even kids will think that eating vegetables is fun!
Spring Roll Recipe Ingredients
Quick! Make your escape from the boring old salad doldrums! Creating your own vegetable spring rolls is so easy, you just won't have an excuse not to make them.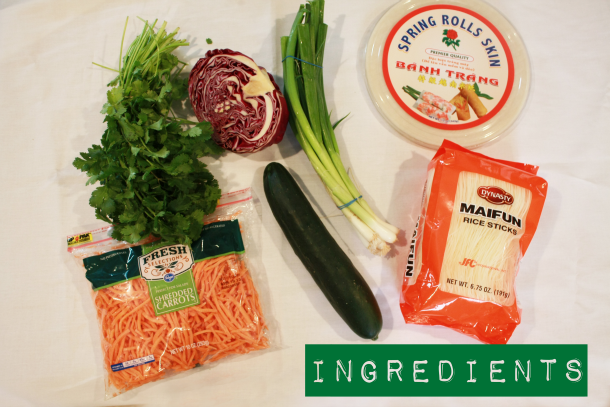 First, you will need to gather your ingredients.
Vegetables of your choice (I choose cucumber, red cabbage, carrots, cilantro, and green onions)
Spring roll wrappers
Rice noodles
A big bowl of warm water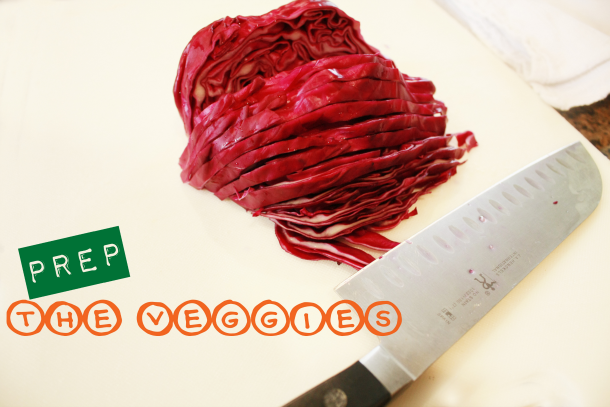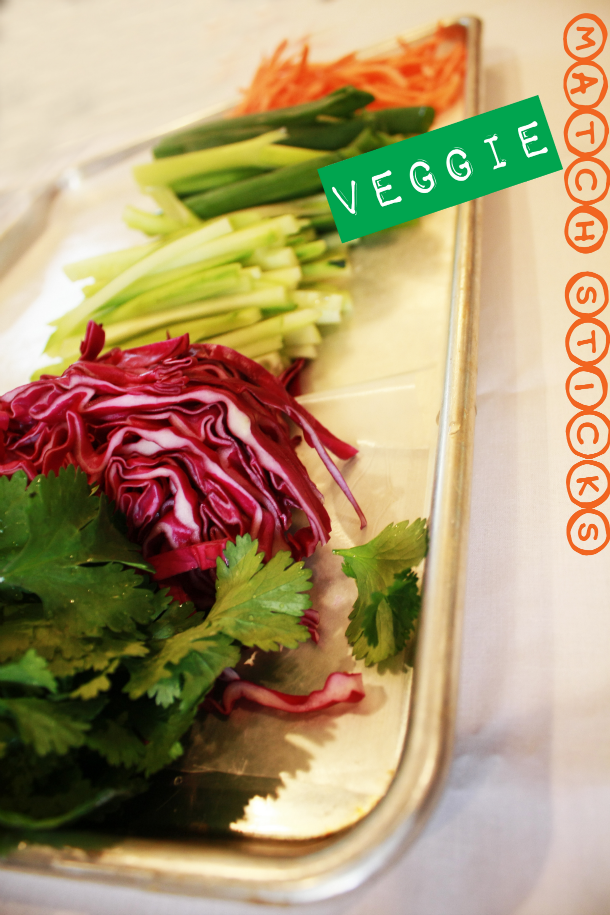 Spring Roll Recipe Fun
First, wash and prep your vegetables. Remove any skins. Make nice and straight matchstick cuts. Make sure that you cut all of your veggies about the same length. (Instead of cutting my carrots, I bought them pre cut to save time.)
While you are cutting your vegetables, cook your rice noodles according to the instructions on the package.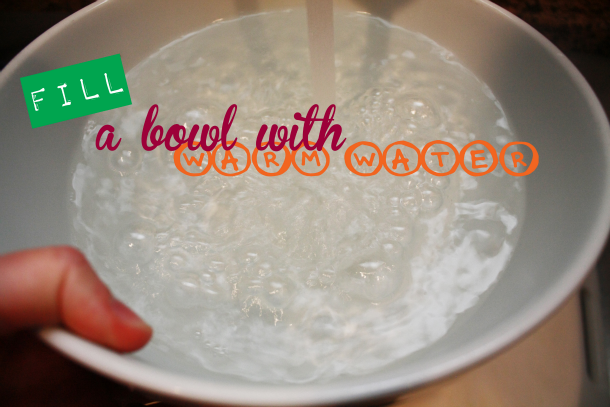 Next, fill a large bowl with very warm water.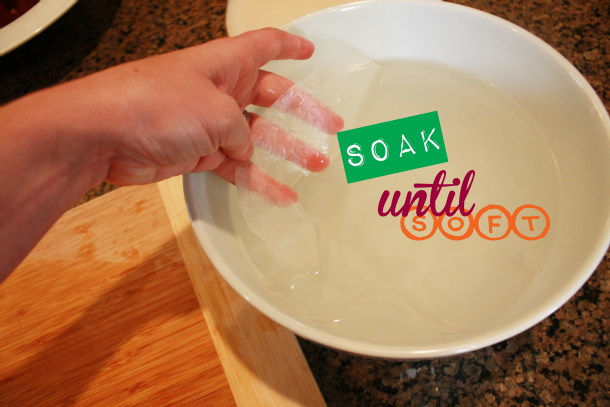 Place one spring roll wrapper into the warm water and soak until it becomes soft. Remove the spring roll wrapper from the water and place into a very wet work surface. I used a cutting board that I had sprinkled with water from my bowl.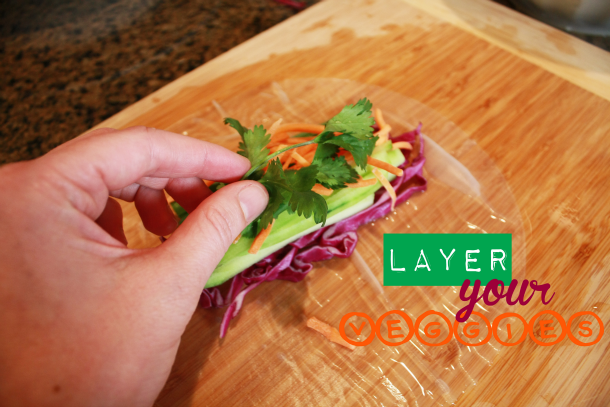 Quickly layer your veggies in the middle of your spring roll wrapper, making sure to leave space around the edges for adequate folding.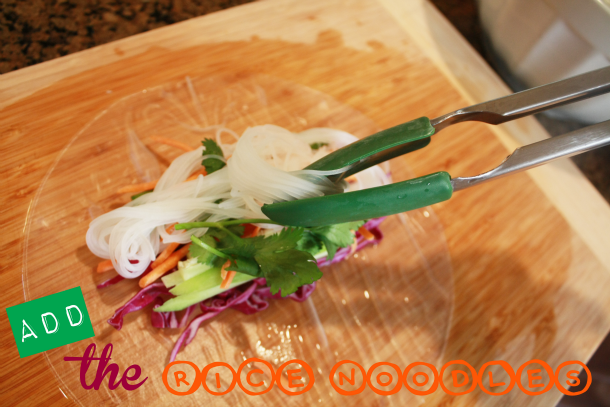 Top your veggies with some of the cooked rice noodles. Be mindful of the edges!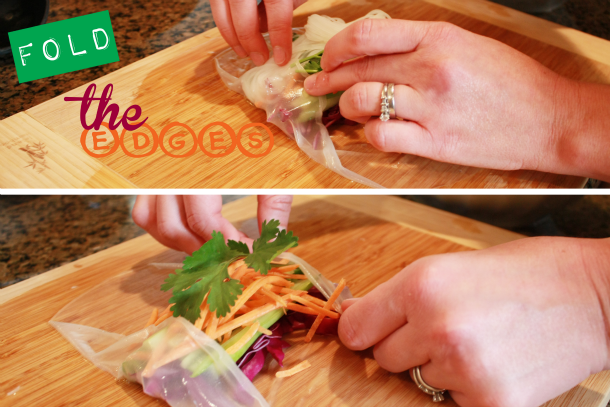 To create the spring roll, fold up the edges of the wrapper like a burrito. Make sure all of the veggies are neatly tucked inside.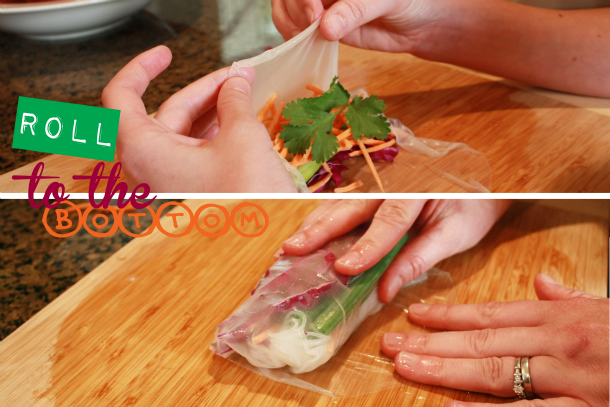 Next, pull the top of the wrapper taunt, and tuck it under the veggies while rolling to the bottom. Make sure your veggies are all inside the wrapper and that the wrap is pulled firmly into place.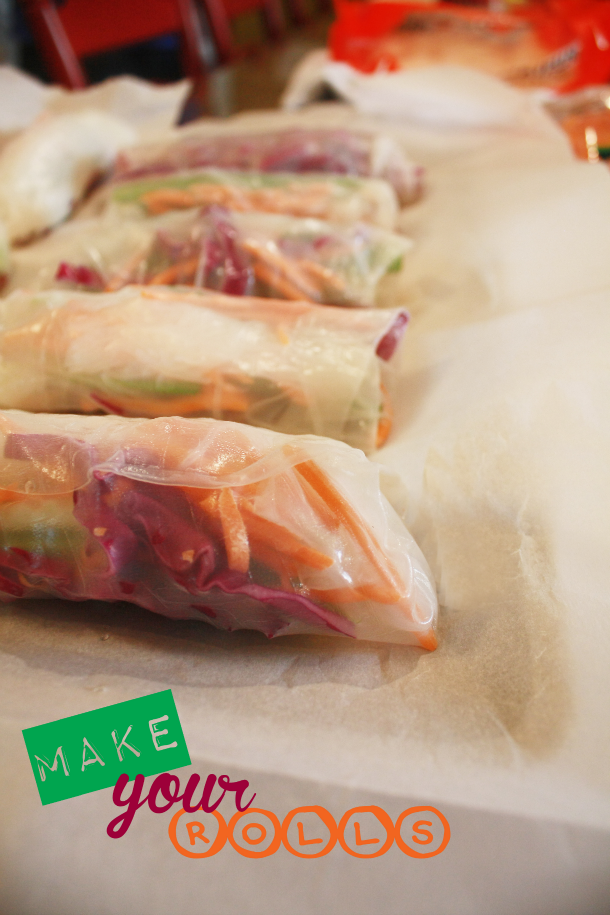 As you create your rolls, lay them on a prepared nonstick surface, a piece of parchment or foil is the perfect place!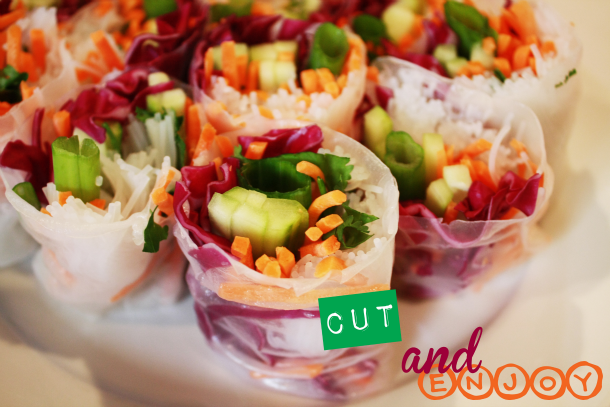 To finish off your spring roll recipe, just cut in half and enjoy! Rolls can be dipped in soy sauce, teriyaki sauce, or eaten plain! Uneaten rolls can be refrigerated up to 2 days, but they are best served fresh.
Enjoy breaking free from the vegetable rut! Have fun eating your vegetables!
What are you cooking up good this weekend in the kitchen? Let's chat in the comments below or head over to our Facebook fan page to continue the conversation.
More Recipes Like This Spring Roll Recipe
If reading through this spring roll recipe made you hungry, then keep clicking. We've got tons more tasty treats for you to check out!