This post may contain affiliate links which may give us a commission at no additional cost to you. As an Amazon Associate we earn from qualifying purchases.
I am not trying to toot my own horn, but these are literally the best brownies that I have ever had. They are crunchy, moist, and have peanut butter. It is a match made in heaven, and also a few secret ingredients. Not to mention, they are super easy to make, but look like you spent hours slaving away. These will be the hit of any bake sale, cookie exchange, or dessert at any party! These Four Layer Brownie Bars are the best way to put a new twist on a classic recipe.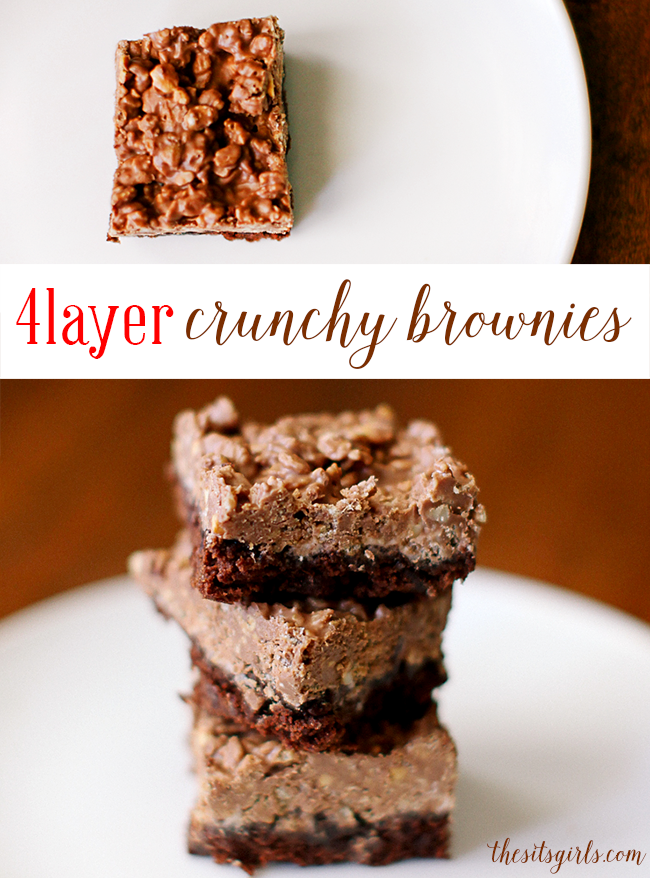 Four Layer Brownie Bars
Ingredients:
One Box of Brownie Mix (whatever brand you prefer + the ingredients to make the boxed brownie mix)
A jar of Marshmallow Fluff (7 oz is the typical size)
8 oz of Butterscotch Chips
8 oz of Milk Chocolate Chips
3 cups of Rice Krispies
7-8 oz of Crunchy Peanut Butter (Do not use natural peanut butter, Jiff or Skippy works best)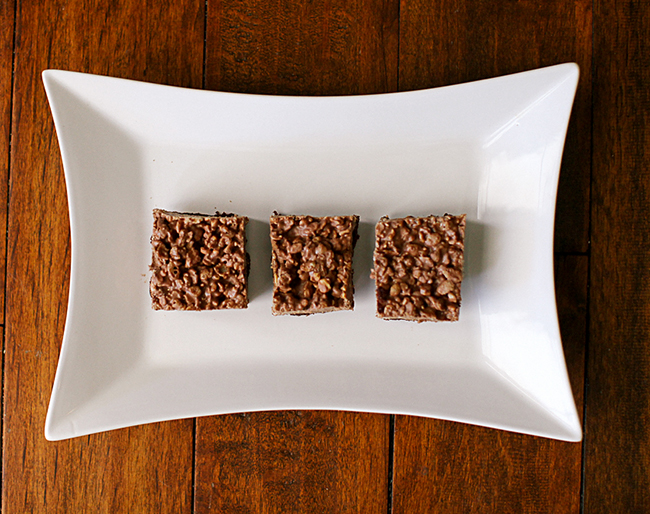 Brownie Bar Recipe:
Step 1: Prepare the boxed brownie mix as instructed on the back of the box.  Line a 9×13 pan with tin foil and apply nonstick spray to the tinfoil. This makes it easier to get the brownies out. Once you have mixed the box mix pour in the 9×13 pan and bake according to the instructions on the back of the box. Normally, around 20-25 minutes, or until the sides pull away from the tinfoil and the center is set.
Step 2: When the brownies are almost done baking  you will start to prepare the next layers. Combine butterscotch chips, milk chocolate chips, and crunchy peanut butter in a microwave safe bowl. Make sure it is large enough to hold the rice krispies as well. Melt the butterscotch chips, milk chocolate chips, and peanut butter in the microwave on 30 second intervals, making sure to stir in between. It will normally take about 2-3 minutes to be fully melted. Once the mixture is smooth (except for the chunks from the crunchy peanut butter) stir in the rice krispies.
Step 3: Remove the brownies from the oven and immediately spoon clumps of the marshmallow fluff on the top.  Let them sit for about 3 minutes while the fluff warms and melts. Once the fluff is melted a bit spread it around the top of the brownies until they are covered.
Step 4: Once the marshmallow fluff is evened out spread your rice krispy chocolate peanut butter mixture over the top.  Even it out until the top is covered.
Step 5: The final step is to let these delicious brownies set in the fridge for around 2 hours.  You can store longer if you like, but at least 2 hours.  These could easily be made a day or two in advance, and will taste just as delicious.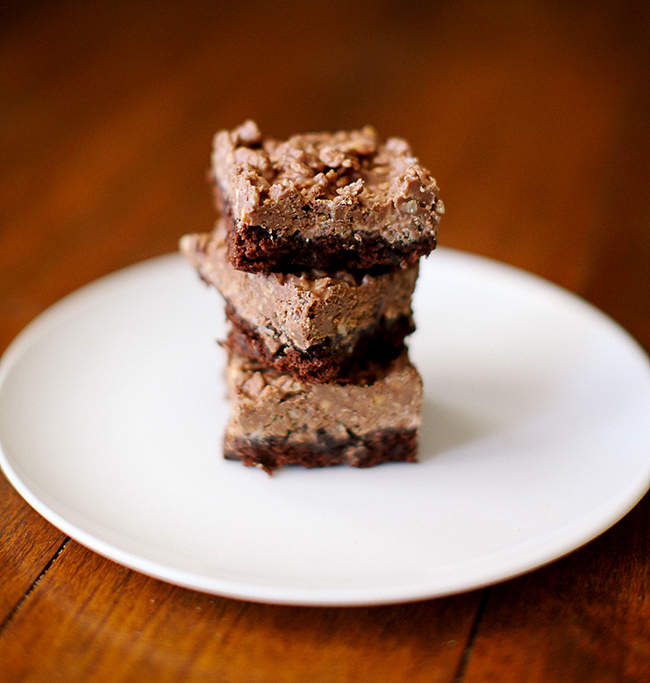 Our favorite thing about this brownie bars recipe is that it uses boxed brownie mix. In our dream world, we would love to have the time to create everything from scratch, but let's be honest — we are all busy, ladies! So we will cut a corner when we can. With all the delicious layers that go on top, nobody will ever know that you used boxed brownie mix. If you wanted to, you could add mini chocolate chips to your brownie mix for an even richer taste! Or perhaps a drizzle of melted white chocolate on the top of the layers. The possibilities are endless!
Reminder: Do not forget to use a 9×13 baking pan and line with tin foil covered in non-stick spray. Also, always use crunchy peanut butter!