This post may contain affiliate links which may give us a commission at no additional cost to you. As an Amazon Associate we earn from qualifying purchases.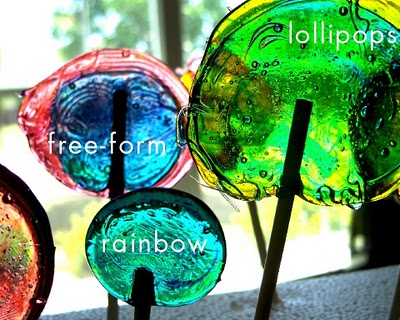 Every summer, we invite the rainbows inside with our free-form rainbow lollipops.
They are cheery and fun, an amazing way to spend a dull afternoon.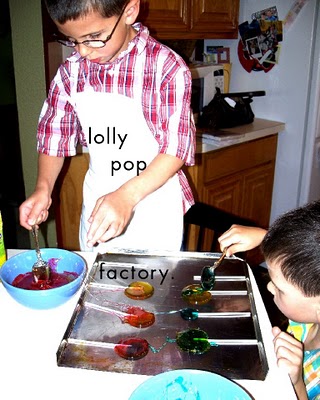 They require a few ingredients, a bit of creativity, and some helpers!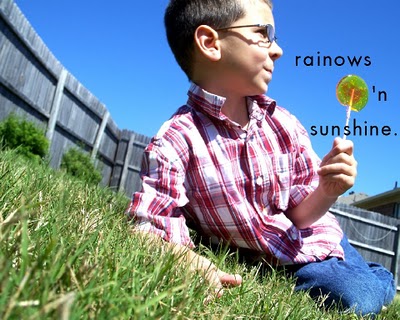 They are the perfect addition to summer! I know you want to make your own rainbows! I don't blame you either, they are as delicious as they look.
Emily's free-form rainbow lollipops
2 cups of sugar
2/3 cup of corn syrup
2/3 cup of water
1/2 t orange extract
food coloring (red, yellow, and blue)
Lightly spray a cookie sheet with Pam, or lightly oil. Place lollipop sticks in rows leaving 2 inches of space in between.
Combine sugar, syrup, and water in a large saucepan. Bring to a boil over high heat. Without stirring, cook until mixture reaches 305 degrees. Set up an ice bath in the sink. When the mixture is done, dip the bottom of the saucepan into the ice bath for 10 seconds to stop cooking process. Stir in extract. Divide sugar mixture into 3 separate bowls. Color one bowl with the red food coloring, one with the yellow, and one with the blue.
Spoon the mixture over the lollipop sticks, creating free form designs by mixing colors. Let harden and enjoy.