This post may contain affiliate links which may give us a commission at no additional cost to you. As an Amazon Associate we earn from qualifying purchases.
When the weather gets hot, it is time for my coffee to cool down! I love iced coffee, mainly because you don't need to wait for it too cool down before you drink it. I am also a huge fan of coffee ice cream and desserts! Basically, I love every form of coffee, and these frozen coffee popsicles are my new favorite way to get a jolt of caffeine on a hot day.
I also think coffee popsicles are cute to serve at a dinner party! Instead of offering coffee with dessert, serve coffee popsicles!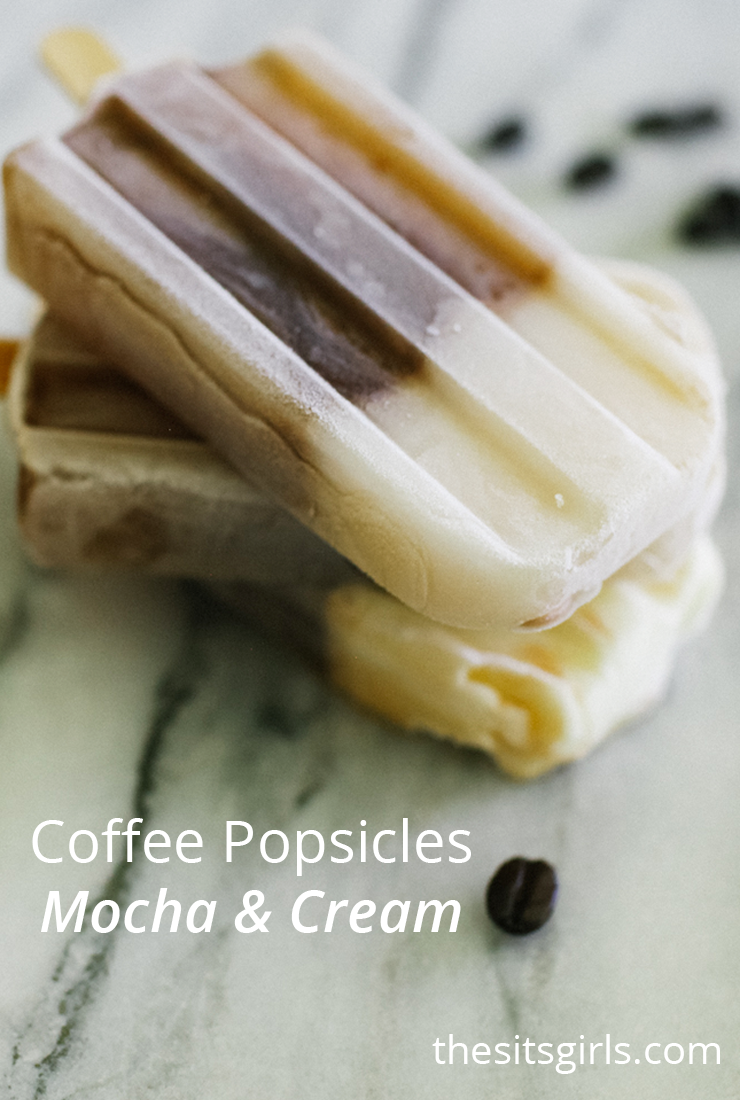 Frozen Coffee Popsicles
Frozen Coffee Popsicles Ingredients:
 2 cups cooled Coffee or Cold Brew Coffee
1/2 cup of cream
3 tablespoons of sugar
Mocha Creamer
Chocolate Chips
Popsicle sticks
Popsicle mold
The beautiful part about this recipe is that it takes minimal effort and provides maximum results! You can grab a frozen coffee popsicle when you are on the go, or present them to impress when you are entertaining!

Frozen Coffee Popsicles Recipe
The first step is to brew coffee and allow it to cool. While the coffee is cooling, mix your cream and sugar. Stir until the sugar is dissolved. Fill the popsicle molds about 1/3 full with the cream/sugar mix. If you are using mocha cream, pour that into the mold, no need to mix in additional sugar.
Freeze your creamer for about an hour, or until the creamer is set.
Once the creamer is set, you are ready to pour your coffee layer on top. I added some chocolate chunks on top of my mocha layer and then poured the cooled coffee. Fill the rest of the molds with cool coffee, add the sticks, and freeze again!
I stamped the sticks to to tell what kind they are!
To get your frozen coffee popsicles out of the mold, run them under hot water for about a minute. They should slide right out!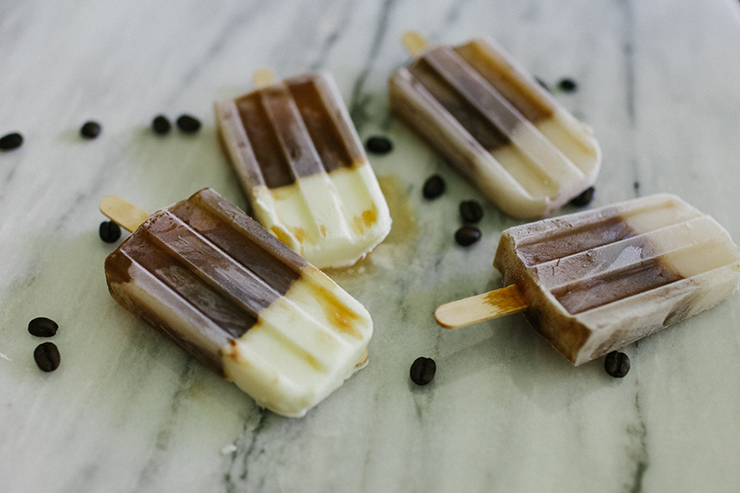 There are so many different variations you can make. If you have a guest that is dairy-free, try making these with almond milk and then freezing. You can also use cream and no sugar. If you enjoy black coffee, skip the creamer and freeze the coffee straight!

If you are more into chocolate than coffee, you might want to try our Frozen Hot Chocolate Recipe. It's another treat that is perfect for hot, summer days.