This post may contain affiliate links which may give us a commission at no additional cost to you. As an Amazon Associate we earn from qualifying purchases.
Warm weather calls for cool drinks! I am a huge fan of anything tropical when summer rolls around! When my husband and I went on our honeymoon to Belize we drank a delicious pineapple punch. I tried to recreate it for years, but had no such luck. A good friend of mine recently served this Frozen Tropical Fruit Punch at a party, and I was instantly taken back to the beaches of Belize.
Make this punch and store in the freezer. Pull it out whenever you need it for a party! It is the PERFECT no hassle party drink for summer, and it easily transitions from a mocktail the kids can drink to a cocktail for adults.

Frozen Tropical Fruit Punch
Ingredients:
4 ripe bananas
1/2 can frozen orange juice
1/2 can frozen lemonade
46 oz can of pineapple juice
1 Liter of Sprite or 7up
2 cups of simple syrup (1 cup sugar and 2 cups water, dissolved)
Frozen Tropical Fruit Punch Recipe
First make your simple syrup. Heat 1 cup of sugar and two cups of water on the stove top on medium heat. Stir the mixture until the sugar has dissolved.
Take your ripe bananas and put them in a food processor. Pulse until the mixture is pureed. Add the the bananas mixture to the simple syrup that is cooled.
Next add the lemonade, orange juice, and 46 can of pineapple juice. Stir until combined.
Pour mixture in a Tupperware and freeze overnight. I like to divide mine in to two containers. That way if I want to only serve a smaller portion I can pull out half.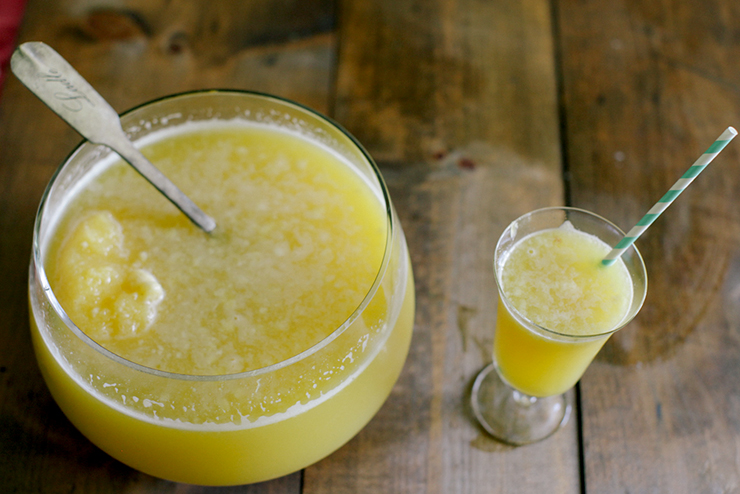 When you are ready to use the punch you simply pour a liter of soda over it and slush it up!
The slush keeps it cool, and since you don't need to use ice, it doesn't get watered down.
Tip: If you are wanting to turn this drink into a cocktail, add some Malibu Rum with the 7up!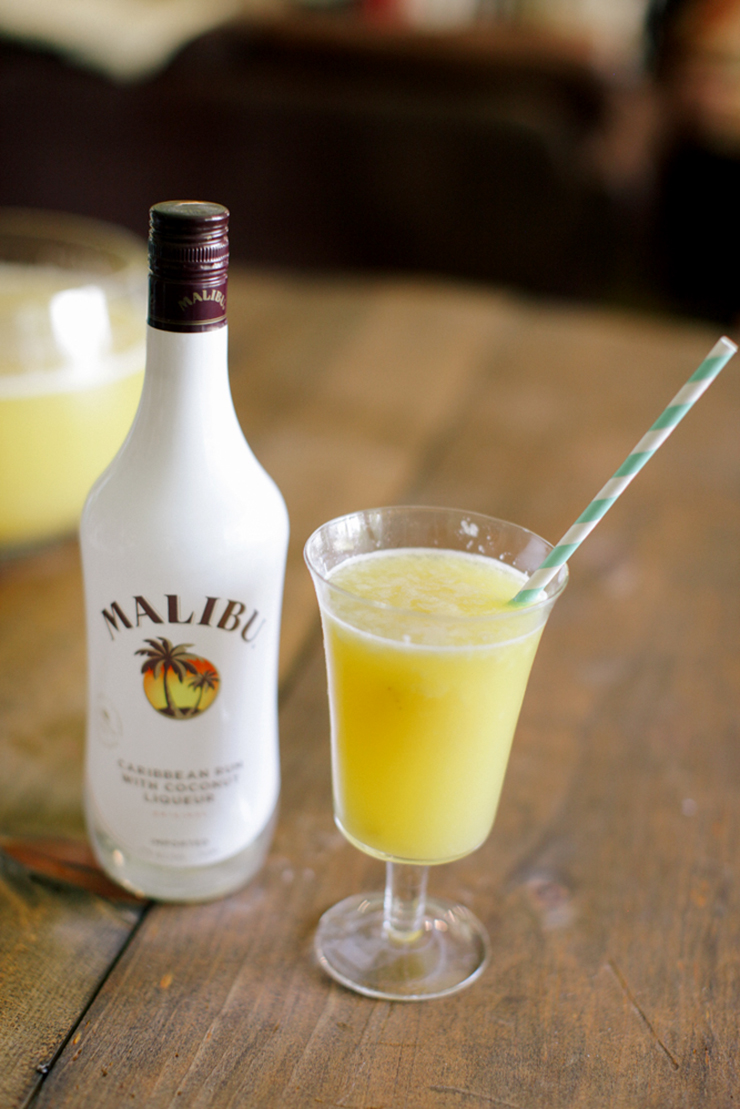 Also you can keep one in your freezer to have ready on hand whenever you need it!
Check out all of our quick and easy summer recipes here!