This post may contain affiliate links which may give us a commission at no additional cost to you. As an Amazon Associate we earn from qualifying purchases.
I don't know what it is about smoothies, but my entire family fell in love with them within the last year. Well to be fair, my husband already loved them and made them regularly – in kitchen contraptions I didn't even know we had – but falling in love with smoothies has been super rewarding. And not to mention my kids fell in love with them at the same time I did! That's why you'll all love my Rainbow Layered Fruit Smoothie Recipe. It has something for everyone, and you can swap out ingredients!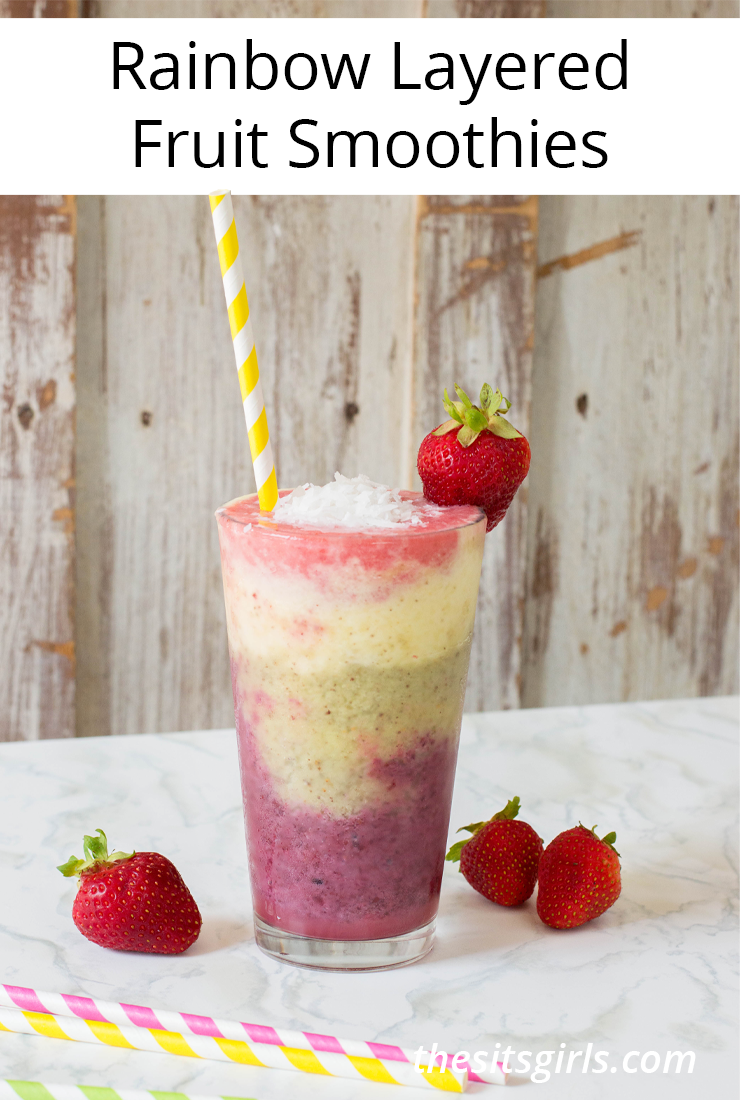 Rainbow Layered Fruit Smoothie Recipe:
So I first fell in love with layered smoothies almost accidentally. My son wanted a strawberry smoothie, my daughter wanted an avocado smoothie, and I wanted both. And for the sweetness of the strawberry to pair well with the avocado/banana. Eventually, I tried a three layer smoothie (strawberry, blueberry, avocado) and this was my first attempt at a four layer fruit smoothie! So, cheers to that!
Ingredients:
1 large glass
1 cup frozen strawberries
4 tbsp sugar, divided
1 fresh strawberry
¾ cup + 2 tbsp milk, divided
¾ cup + 2 tbsp water, divided
6-7 ice cubes
1 cup frozen blackberries
2 small kiwis
1 cup frozen pineapple chunks
1 tbsp sweetened shredded coconut (optional)
Yields: One smoothie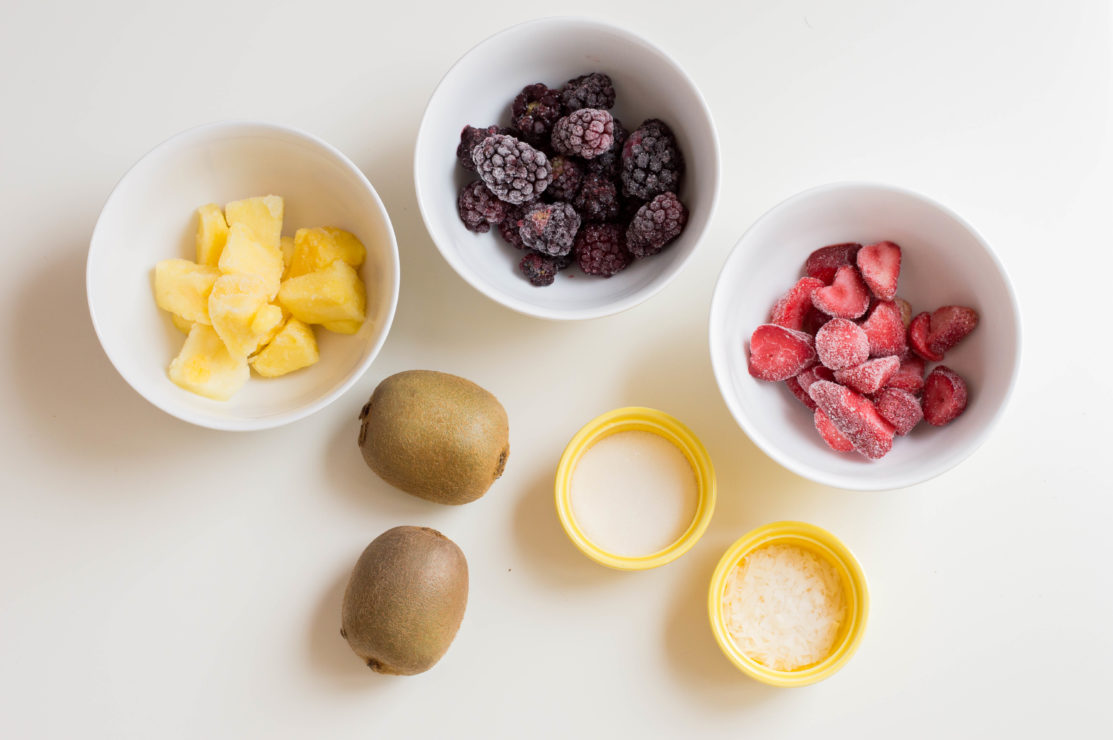 Instructions:
First, start with the purple portion. In your blender, blend together frozen blackberries, 1 tbsp sugar, ¼ cup milk and ¼ cup water.
Once it's blended, use a spoon to scoop it into the bottom of the large glass.
And then rinse out blender.
Peel and cut kiwi. Place into blender followed by 1 tbsp sugar, 2 tbsp milk, 2 tbsp water and ice cubes. Blend until smooth.
Use a spoon to scoop the kiwi mix on top of the blackberry mix.
Rinse out blender again.
Blend together pineapple, 1 tbsp sugar, ¼ cup milk, and ¼ cup water until well-combined.
Use a spoon to scoop on top of kiwi mixture.
Repeat the same steps with frozen strawberry, using the remaining sugar, milk and water.
Top smoothie with shredded coconut. Cut a slice on the bottom portion of the fresh strawberry and insert on edge of glass. The coconut is optional because not everyone likes coconut in their smoothie. I always ask first!
Lastly, serve and enjoy!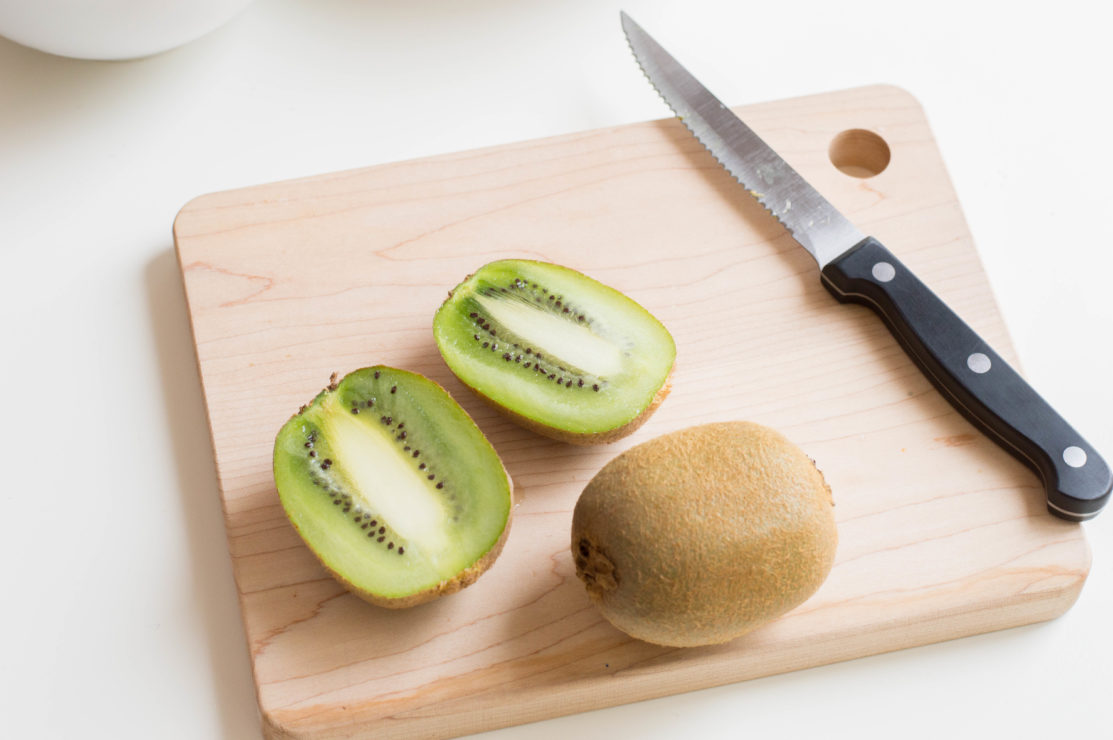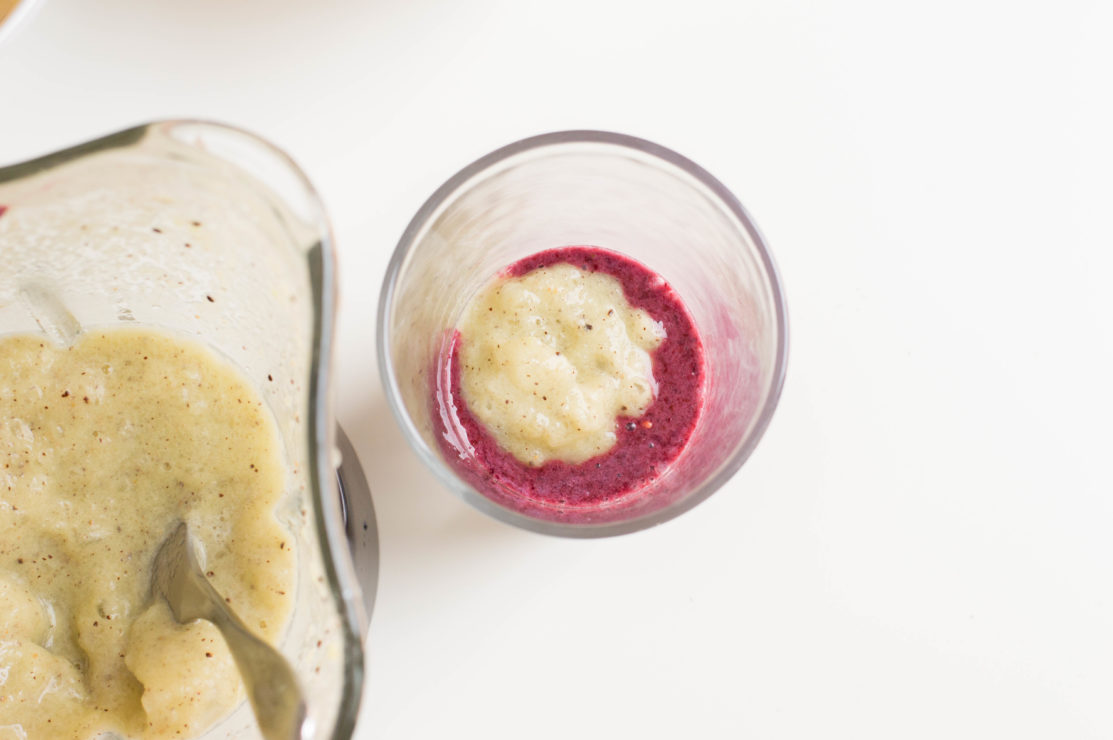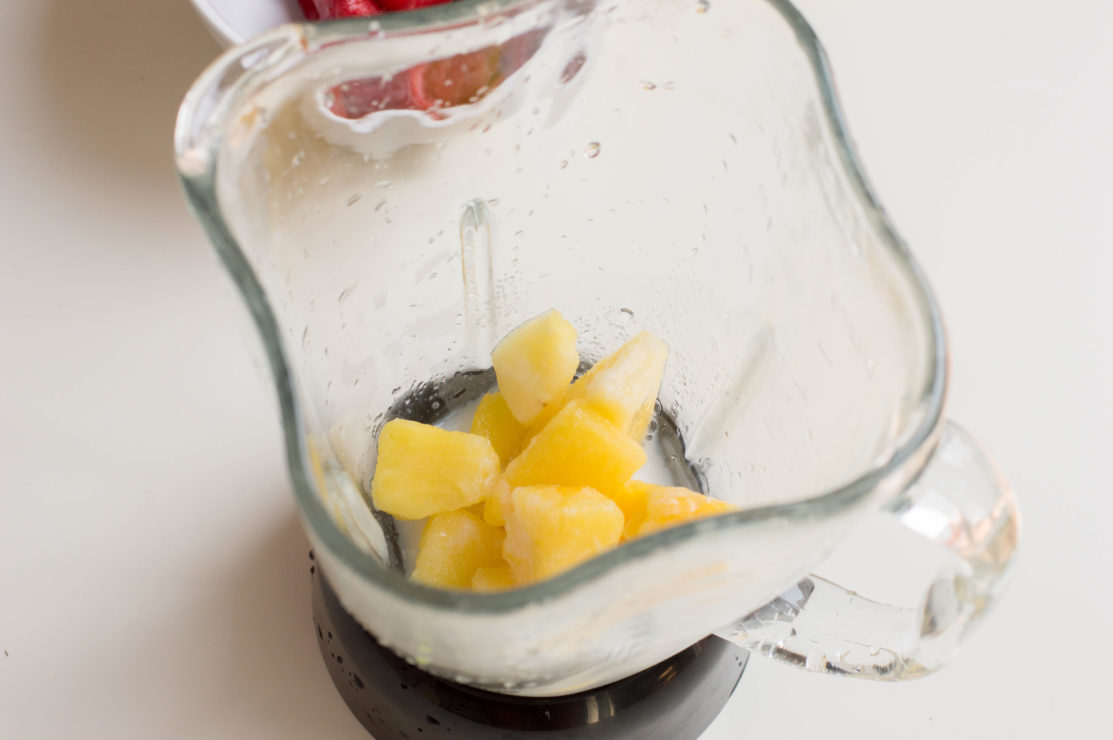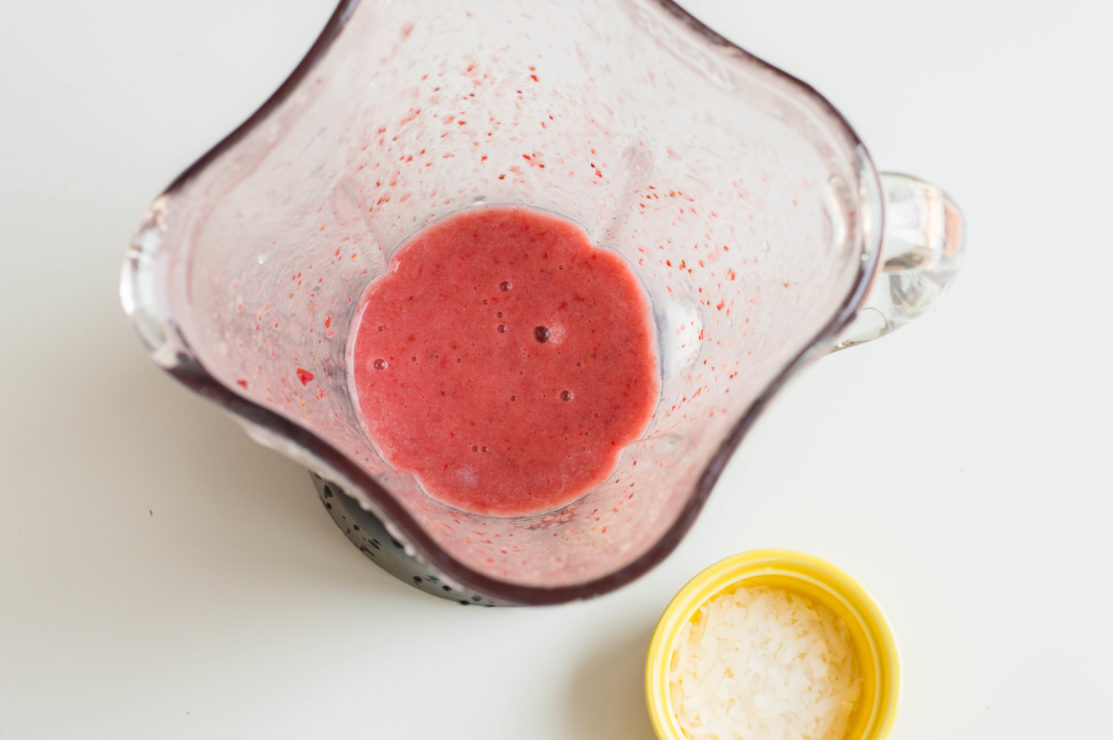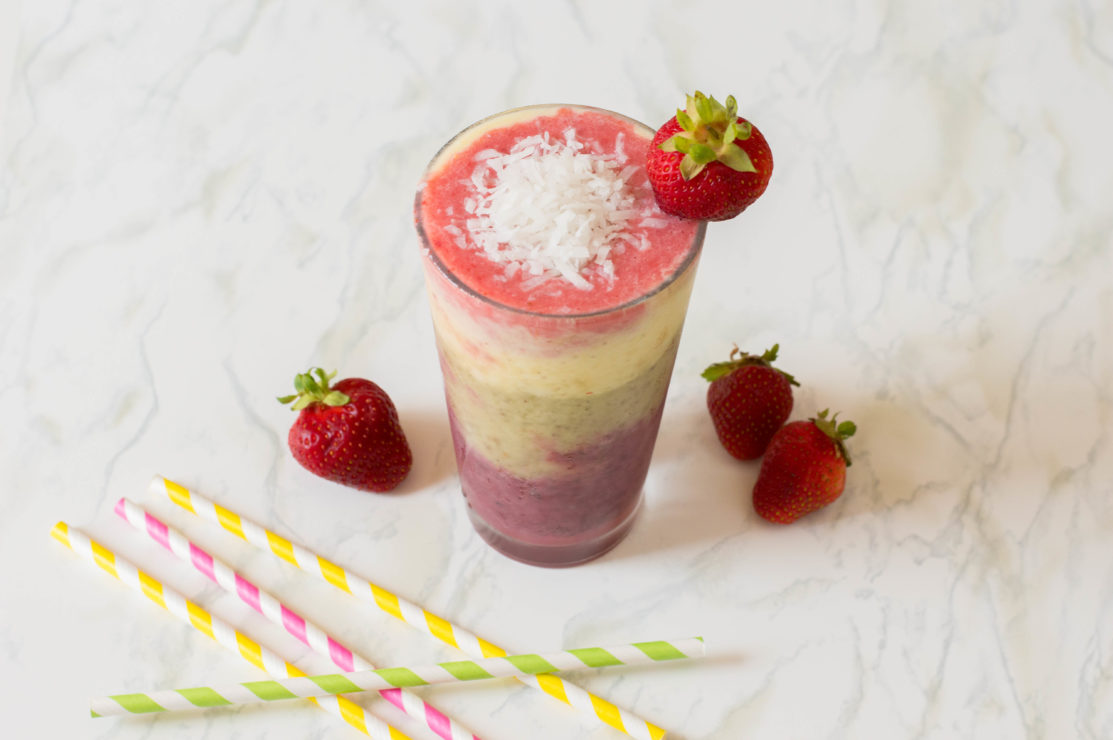 So, isn't it fun? For a little treat, I sometimes swap out shredded coconut for whipped cream. It's just so good! And to make it a lower sugar smoothie, you can remove the sugar from the recipe, and use lower sugar fruits as well. One day we'll try five layers and with some greens too!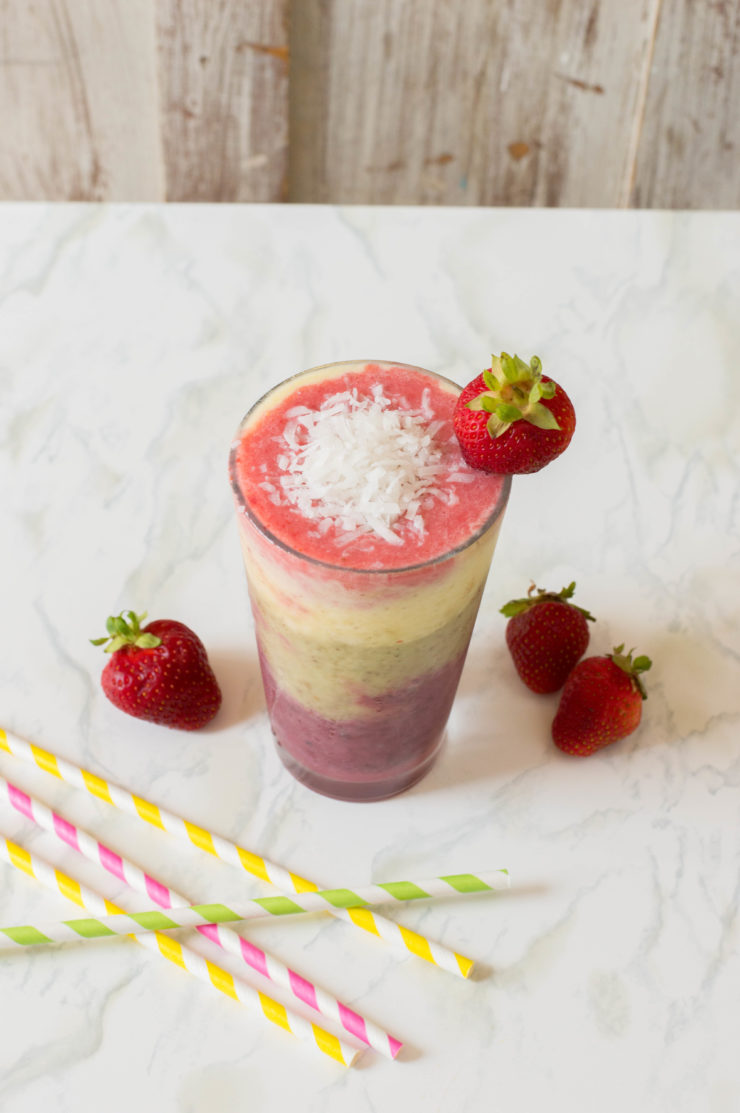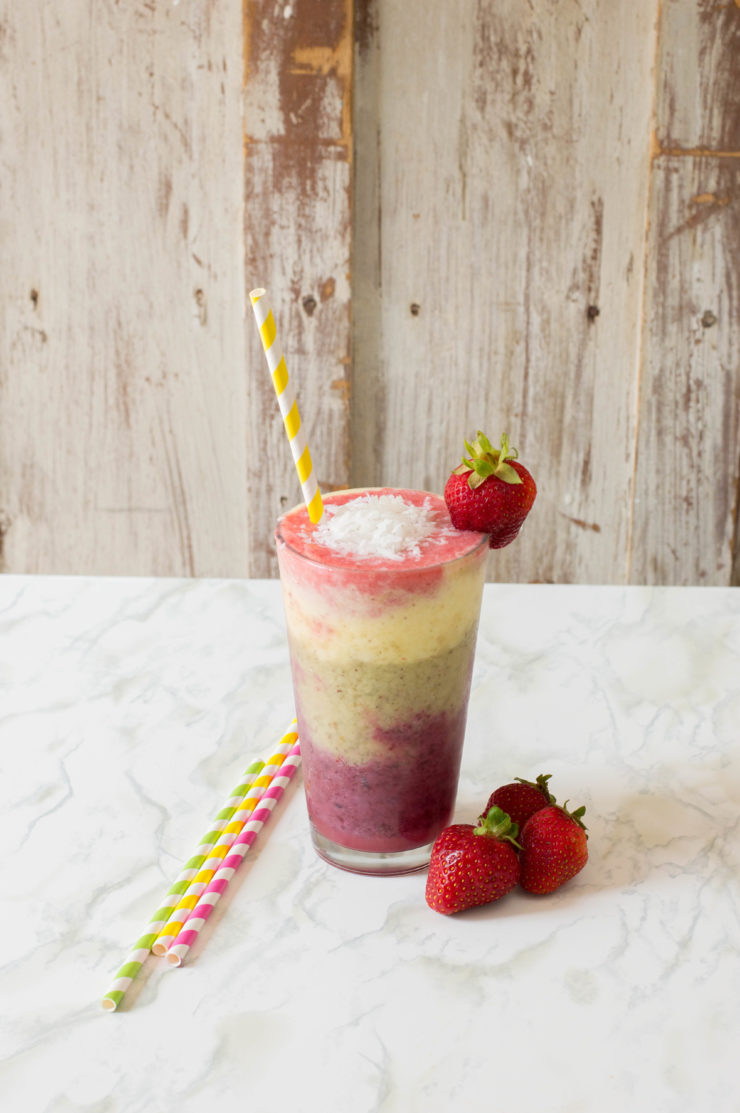 Love smoothies? Check out our other smoothie recipes: