This post may contain affiliate links which may give us a commission at no additional cost to you. As an Amazon Associate we earn from qualifying purchases.
Last week in my Haunted Halloween Party post I showed you some of my favorite Halloween treats and promised the most awesome Spiderweb Sugar Cookie tutorial. Today, I will deliver exactly that!
Halloween begins the major kickoff to my Fall/Winter baking season, and these Spiderweb Sugar Cookies are some of the first on my To-Bake List. every year. I've taught sugar cookie decorating classes in the past, and these have always been a fan favorite. The cookie looks hard to achieve, but once you know the little secrets, it is super easy to master. Based on past experiences, I have found almost everyone has a family sugar cookie recipe, but most people really struggle with the icing. So I will help you master the icing for the sugar cookie, and show you how to create the spookiest Spiderweb Sugar Cookies around!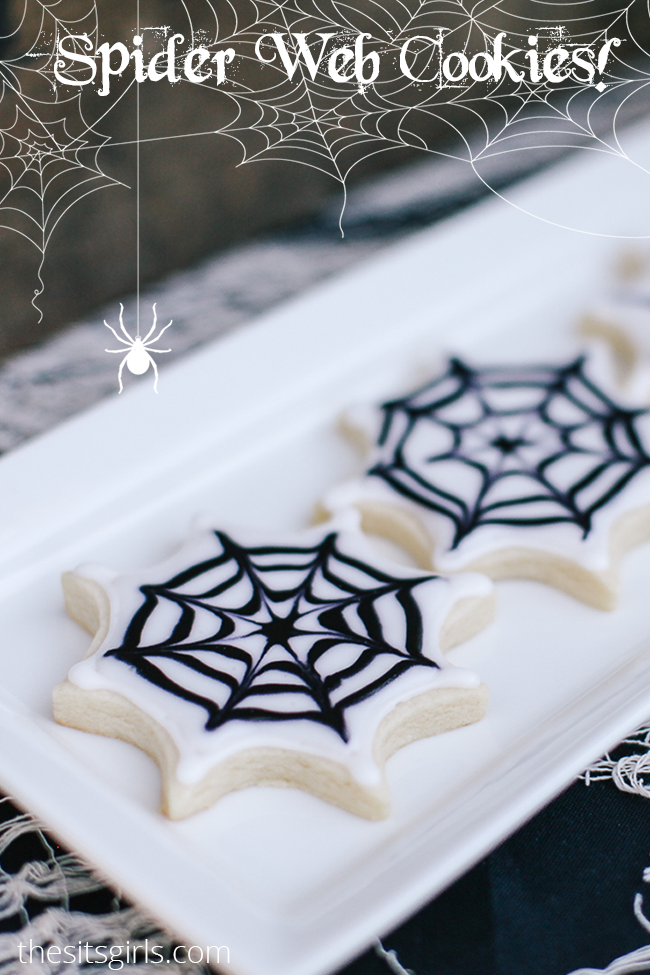 Halloween Treats — Spiderweb Sugar Cookies
There are three key items I use when making all of my icing.
I always, always, always use CLEAR imitation vanilla extract. You need the clear kind, so you can get that really pure white color for the white icing. I have also found it gives it more of a buttery bakery taste. (Disclosure: this post contains affiliate links.) I buy my clear vanilla extract on amazon, because I can get a larger bottle than at a craft store.
I also use GEL food coloring. The gel icing color ensures that you get crisp, dark, rich colors without diluting the icing with the extra liquid you get using typical food coloring. Gel is a little bit more expensive, but it lasts a lot longer. Plus, a little goes a long way when using gel food coloring. Warning, though, it does not come off clothes or hands quite easily, so proceed with caution.
 As you will be able to see in the next pictures I use a food grade squirt bottle to decorate. I buy these in bulk. It is so much easier to use squirt bottles than icing bags, and way cleaner. It also allows you to control your lines more if you are not a master decorator.
If you haven't used Royal Icing for cookie decorating, you may also want to get a Cookie Flooding Decorating Kit. The tools will help you achieve a clean look on each cookie.
Also pictured below is the spiderweb cookie cutter I use to give these cookies their unique shape.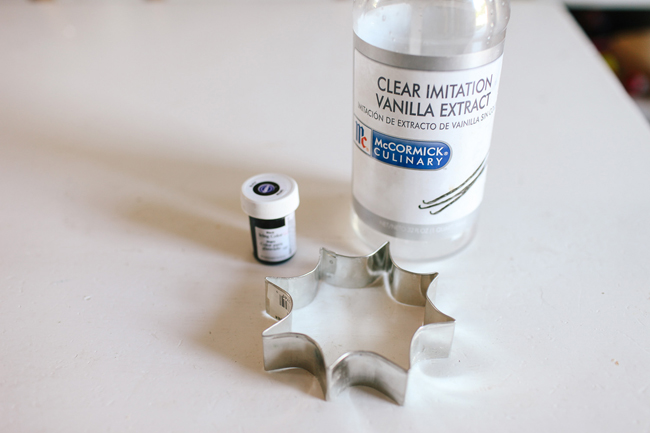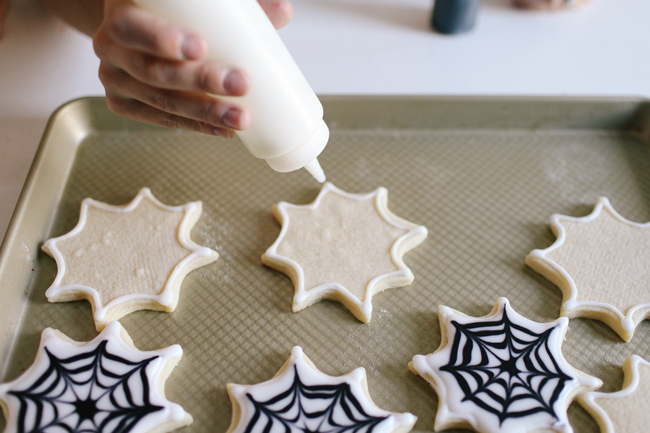 Icing Recipe
This recipe will make one squirt bottle full of frosting.
2 1/2 cups of powdered sugar
1/2 teaspoon of clear vanilla extract
1 tablespoon of butter
2 tablespoons of light corn syrup
3-5 tablespoons of hot tap water
gel food coloring (in this case black)
Toothpick or something similar
The recipe to making the frosting is super simple. Start by combing the first 4 ingredients in a stand mixer. You can use either a paddle or whisk attachment, whatever you prefer.
Build up to medium speed slowly. Do not start too fast, or the powdered sugar will fly everywhere. Next you will begin to add the hot water by one tablespoon at a time. Let each tablespoon of water be incorporated before you add the next. It is crucial you do not make the icing too runny. The mixture should begin to resemble the texture of toothpaste.
Keep adding water slowly, until your icing reaches the consistency of honey. It should be thick, but not so thick that it won't be able to spread easily and flood the cookie area.
If you add too much water, and it is too runny, simply add a little powdered sugar slowly until you get the proper consistency. For the Spiderweb Sugar Cookies you need white and black icing. Fill a squirt bottle with about 3/4th of the white frosting, and then add black gel food coloring to the remaining to get your black. You only need a little black, for the lines, but will need to use a lot of black food coloring to get a pure black color.

Spookie Spiderweb Cookies Video Link
How To Decorate Spiderweb Sugar Cookies
Once you have your cookies baked and your frosting made you are ready to start decorating your Halloween treats!
1. The first step is to outline the cookie with your icing. I like to outline them all, and let the line solidify for about 5 minutes before I flood it.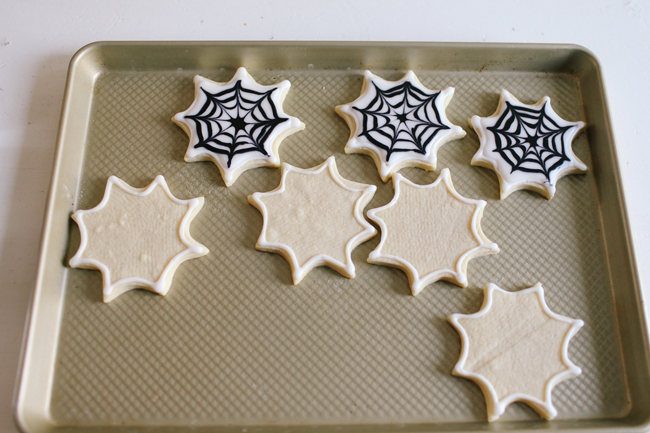 2. Next you are ready to flood the cookie with white icing. The icing should be runny enough that it will start to spread in to fill the gaps you might have while flooding.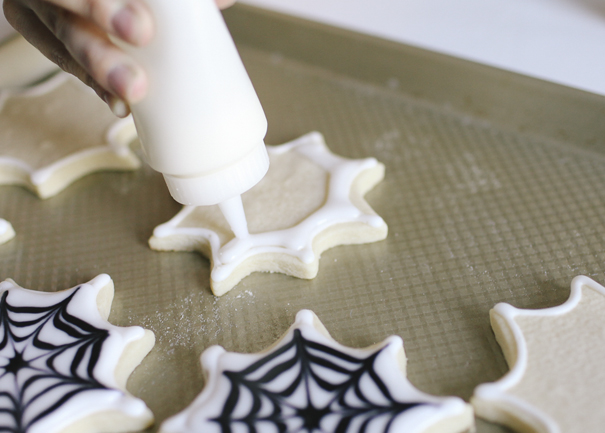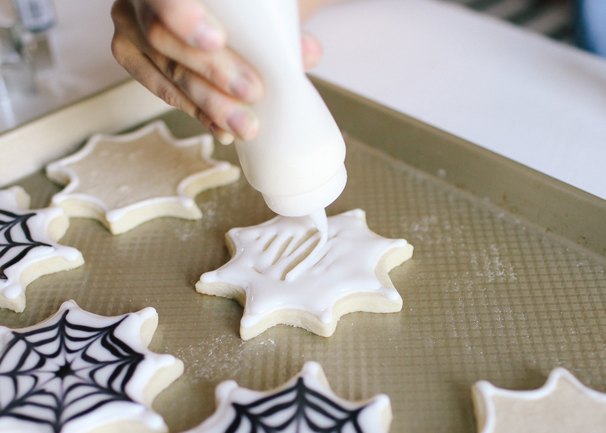 3. Once you are done flooding with the white icing, it is time to make the design using your black icing. You need to do this step right after you flood the cookie with white icing. Make sure the frosting is not set — you need to be able to easily pull a toothpick through to achieve the end look.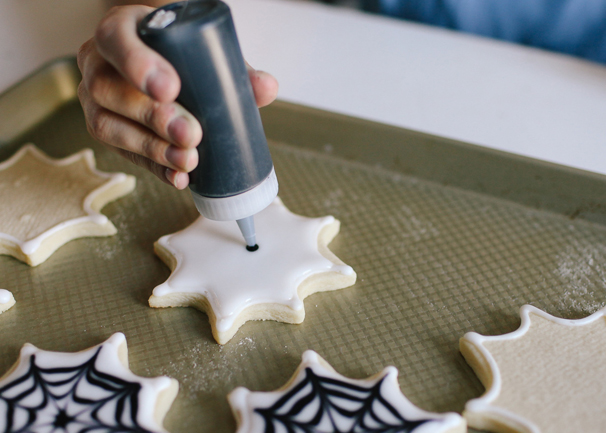 The spiderweb design begins with a center dot and three concentric surrounding circles.
4. Once you have completed all your circle it should look like the picture below. Next, grab a toothpick and get ready to pull it through the circles towards the points on the end of your cookie.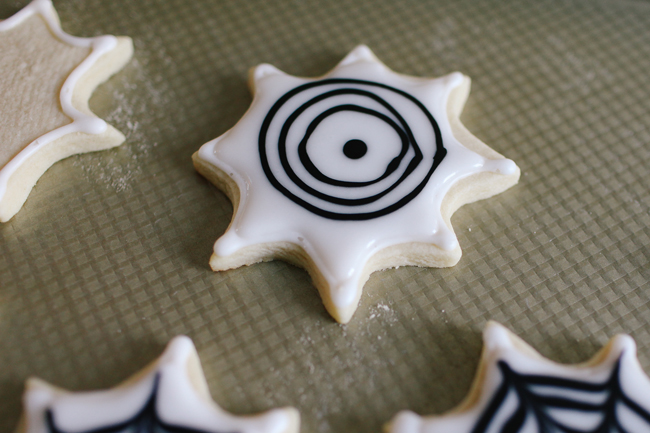 Pull the toothpick AWAY from the center, and toward the end points, each time.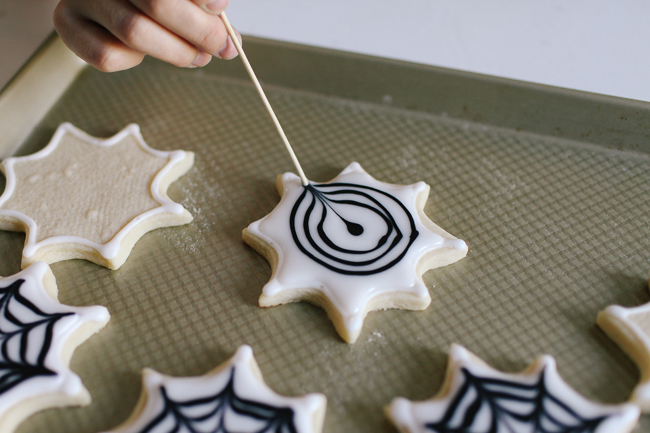 Work quickly so the frosting does not set in the circular pattern.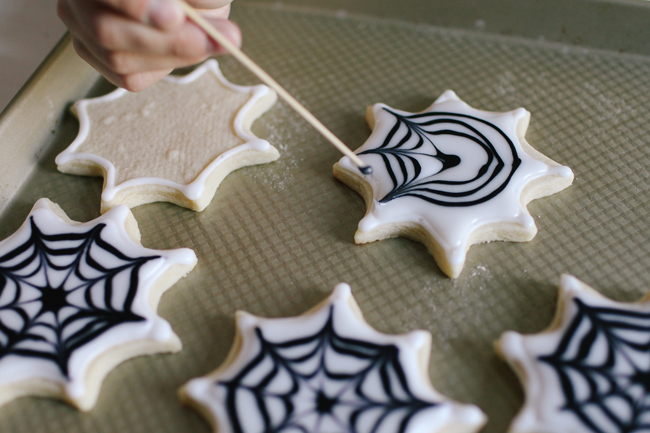 Continue making the lines through the circles until you have one branching out to every point of the cookie.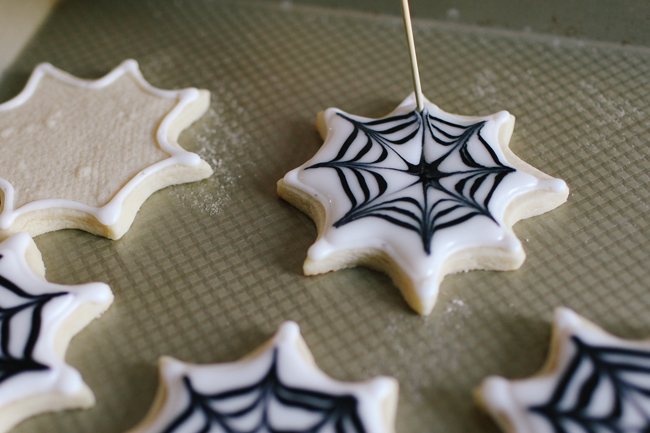 I told you it looks harder than it really is!
Quick Tip: Outline all the cookies at once, and then go back and decorate each one individually when making the spiderweb design. You should not do assembly line style when trying to make the web design, or the frosting will harden, and you will not be able to pull the toothpick through.
Finally, serve your beautiful, and delicious Halloween treats at your next Halloween party.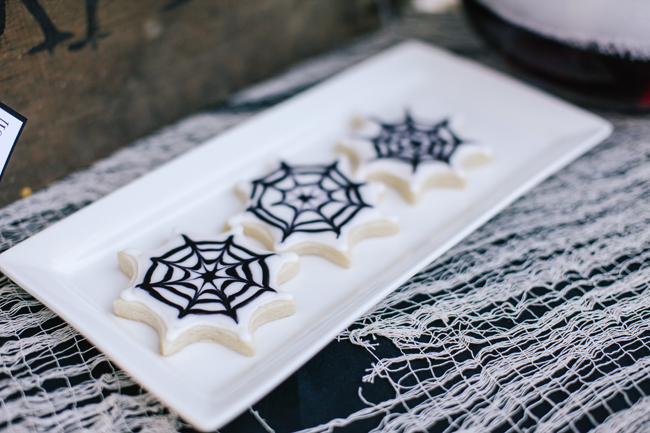 I guarantee everybody will oohhh and ahh over your baking skills when you bring out these fabulous Halloween treats!
Want more Halloween inspiration? Check out our Haunted Halloween Party!