This post may contain affiliate links which may give us a commission at no additional cost to you. As an Amazon Associate we earn from qualifying purchases.
At a recent party I was served the most delicious little hand pies. They were soft and buttery, but still had the perfect amount of crispness to them. I simply could not get enough. After the party I was sent home with a to-go bag of hand pies and the recipe. The next week I decided to make some for a brunch I was hosting, and when I looked at the ingredient list I was totally surprised. These tasty little Ham and Cheese Hand Pies have a few secret ingredients, and what is even better, they take almost no time at all to make!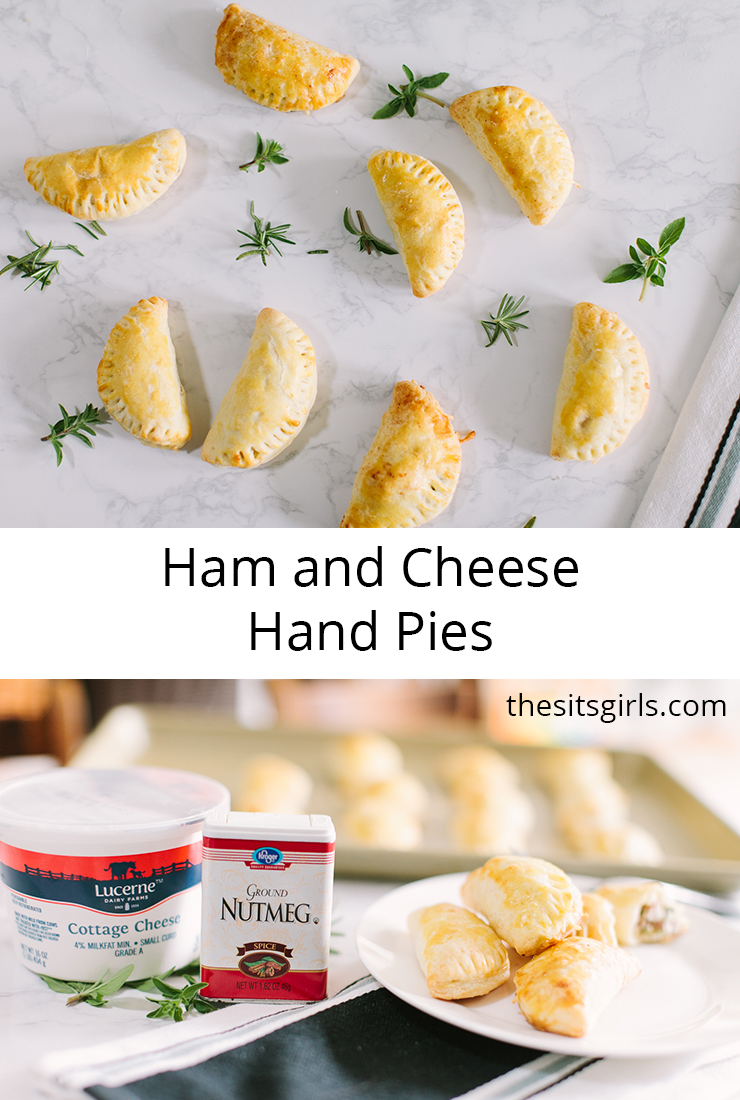 Ham and Cheese Hand Pies
Most people are intimidated by pastry dough. It can be too crumbly, too moist, too hard to roll out, the list goes on and on. The normal pastry dough needs to be mixed just right, and often times can take years of practice to perfect. This pastry dough contains 3 ingredients, and is mixed up in about 2 minutes! The secret ingredient is cottage cheese. Yes, I said cottage cheese. So I guess it's not a secret anymore! I promise you, you will be amazed at how easy and delicious this dough turns out to be!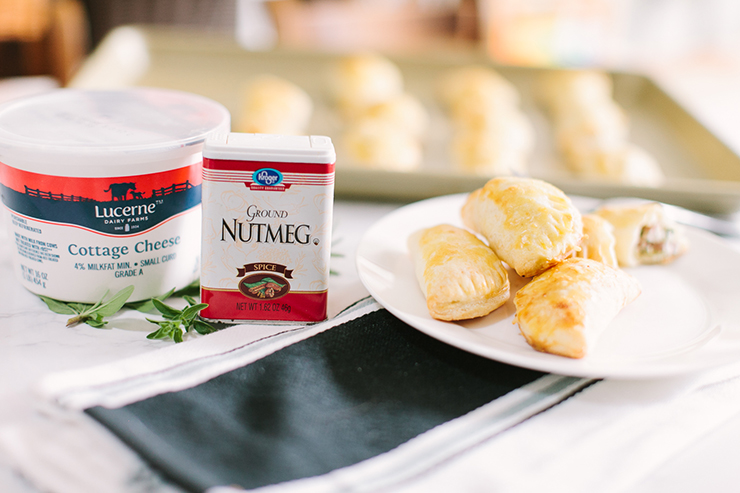 Pastry Dough Ingredients:
1 1/4th cup unbleached flour
1/2 cup cubed cold butter
1/2 cup cottage cheese
Hand Pie Filling Ingredients:
You can use any filling you want with these hand pies.
Spinach and ricotta cheese stuffing is also delicious!
1/2 cup cubed ham
1 cup shredded monterey jack cheese
3 tablespoons chopped green onions
2 tablespoons flour
dash of nutmeg
salt and pepper to taste
1 egg (separated, you will use the egg yolk to baste the hand pies before baking)
Ham and Cheese Hand Pie Recipe
1. First, preheat the oven to 350 degrees.
2. Then, make your simple dough. Add the flour and butter to your mixer. Let it mix for around 30 seconds so it is a bit crumbly. Once the butter begins to crumble into a pebble like texture, you can add your cottage cheese. Watch as it magically balls up in to dough in about a minute!
3. Flour a hard service and roll out your dough. When the dough is rolled you can cut any shape you want for your hand pies. I used a mason jar top as my cutter to make small bites.
4. Next, lay your cut-outs on a cookie sheet.
5. Mix your filling ingredients all together, and put a tablespoonish amount on one side of your circle cut out.
6. Then, brush the edges with egg white, and fold one side of the hand pie over. Use a fork to press around the edges. Continue the process until you have used all your dough!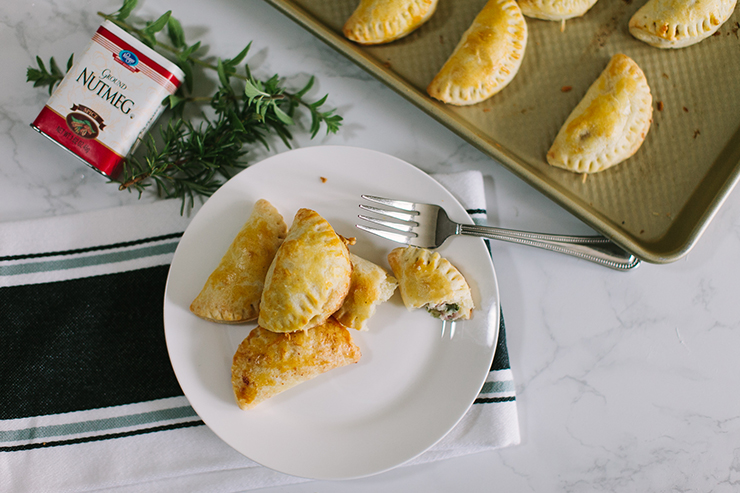 7. Lastly, at this point, you can either put them in the fridge to chill for 20 minutes, or freeze them to bake at a later date. If you choose to bake them though, baste the outside with beaten egg yolk. Bake them for about 18-24 minutes — the exact time will depend on your oven and the size of your hand pies. Pull them out when they are golden brown and perfect.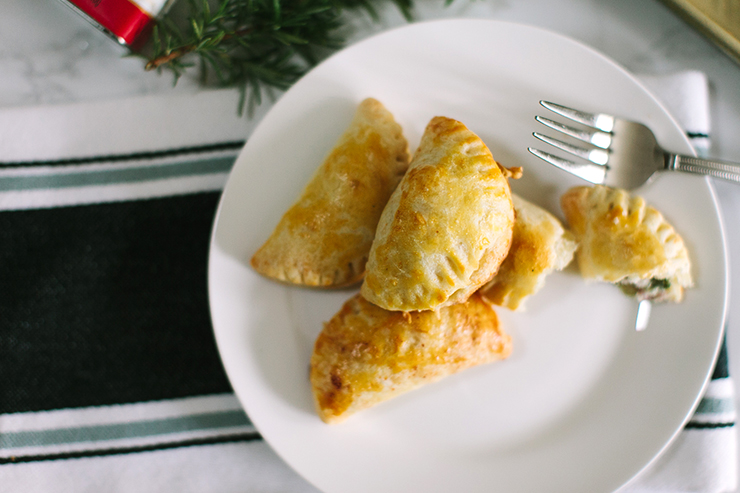 I have become totally addicted to these hand pies, so I keep a batch frozen in the freezer at almost all times. It is a great go-to for a busy night, or busy morning and perfect for parties too!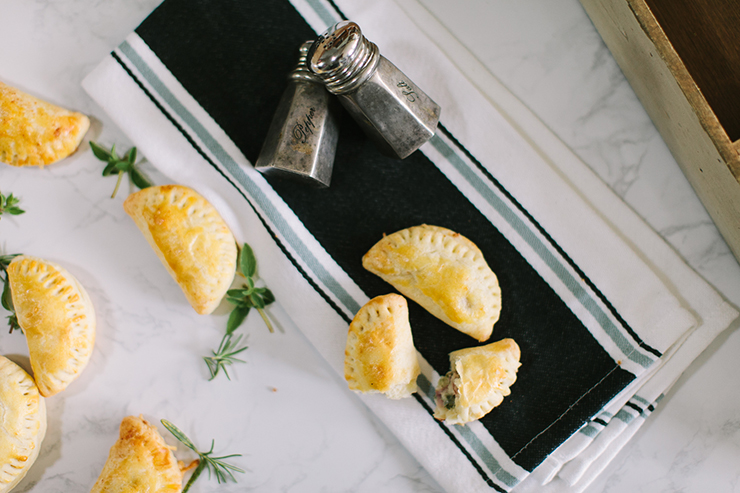 So, what kind of filling do you think I should try next?