This post may contain affiliate links which may give us a commission at no additional cost to you. As an Amazon Associate we earn from qualifying purchases.
I've been looking for healthy breakfast ideas. To that end, there are two things I have been meaning to add to my diet for the longest time: steel cut oatmeal and chia seeds.
I've always read that steel cut oats are better than regular oats. But steel cut oats take so much longer to prepare, and as it is, I never have time to cook oatmeal. I need quick and easy summer recipes for breakfast. I don't want to do a lot of work in the morning, and I certainly don't want to heat my house up by turning on the stove or oven. When I found Overnight Oats – and learned how to make oatmeal in a jar – I knew I had found my breakfast love.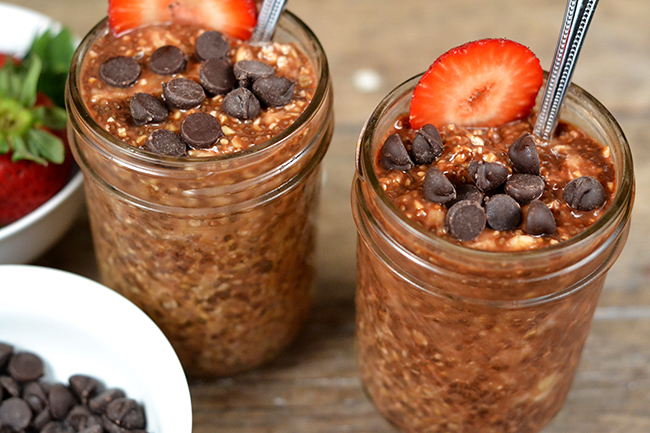 A quick note about Chia Seeds. They are loaded with anti oxidants, high in fiber, high in omega 3, and they give you energy. Between you and I, all I am looking for with my breakfast routine is an energy boost. I spent a fortune at my local grocer on chia seeds until my tennis coach told me you could get them for $4 at Trader Joe's. I mention this because, if you dig, you don't have to spend a fortune on Chia Seeds. They kind of remind me of quinoa, they don't really have any taste, but absorb the taste of whatever you prep them with.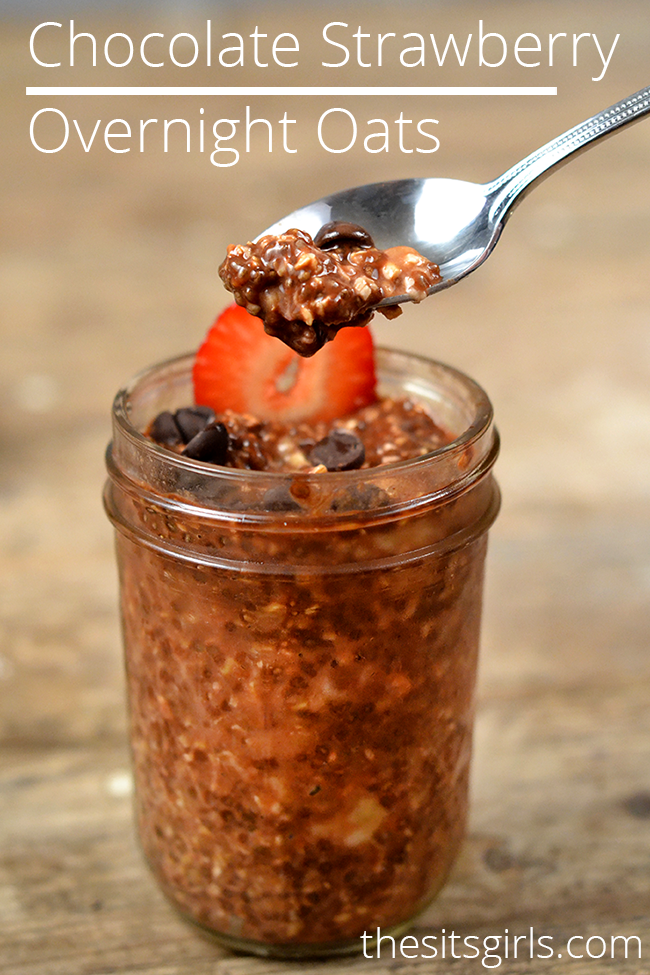 Healthy Breakfast Ideas: Overnight Oats In A Jar
There are many ways to prepare Overnight Oats, but here's what I did….
Chocolate Strawberry Overnight Oats Ingredients
sliced strawberries
1/2 cup skim milk
1/4 Steel Cut Oats
1/2 mashed banana
1 Tbsp chia seeds
1/2 Tbsp unsweetened cocoa powder
1/2 Tbsp maple syrup or agave (I believe honey would work as well)
1/4 tsp pure vanilla extract
Prep could not be easier. Mix up ingredients into a small mason jar, shake it up, and let refrigerate overnight.
How easy is that?! The next morning, you just pull the jar with your overnight oats out of the refrigerator, and they are ready to eat!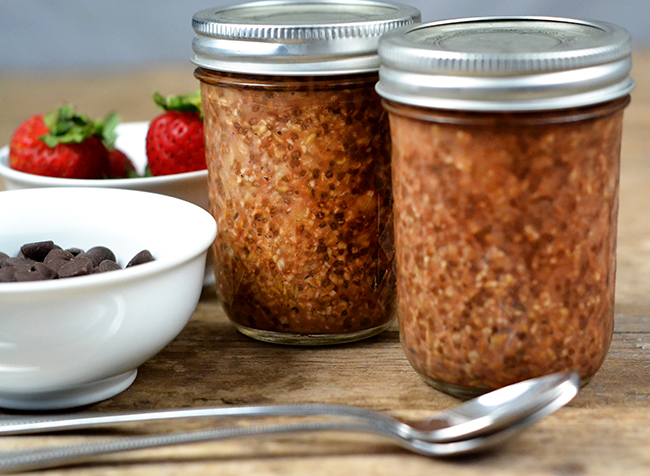 I topped mine with dark chocolate chips and sliced strawberries!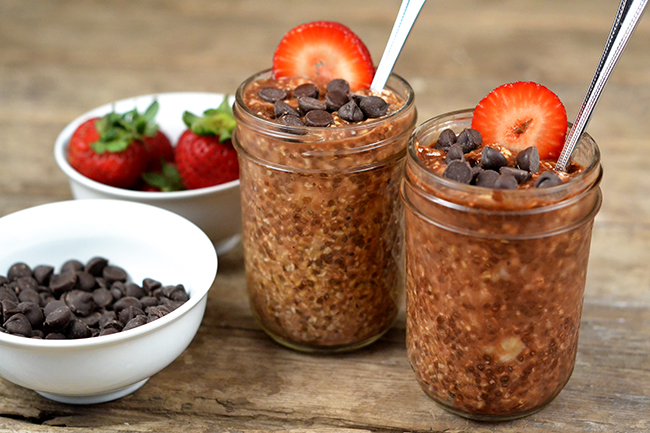 I've had this a few mornings in a row now, and I feel like a million bucks.
I've seen recipes with nuts and oats, as well as, blueberries and coconut milk. I think I will try that next 😉 What kind of toppings do you like with your oatmeal?