This post may contain affiliate links which may give us a commission at no additional cost to you. As an Amazon Associate we earn from qualifying purchases.
To continue our preparation for St. Patrick's Day, we have another great Irish Recipe to bring you! If Kerry Pie and Colcannon aren't enough for your menu, check out this pizza- with an Irish Twist. 
Corned Beef and Cabbage Pizza
My Irish American Dad grew up at St. Vincent's Boys Home in Brooklyn, NY. One of his fondess memories was Corned Beef and Cabbage Pizza, a great Irish recipe. It was usually a holiday treat. He would say, "the I-talians wanted pizza and the I-rish wanted corned beef so they combined the two." Then he would laugh. To this day I don't know if he was joking.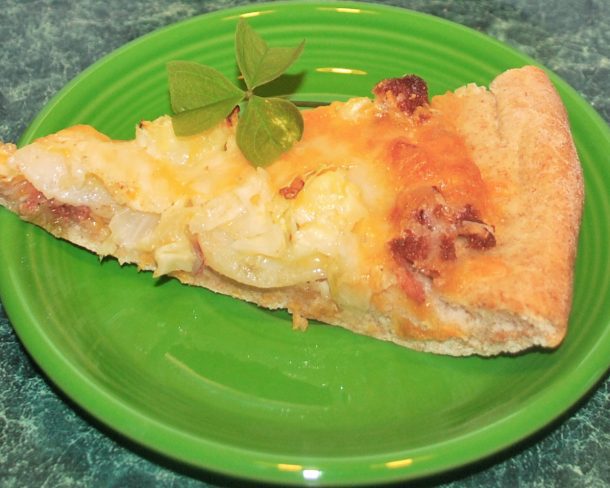 After I married and became a mom, I made this pizza for my Dad a few times. He always enjoyed it and said it reminded him of his childhood. This Irish recipe is derived from a recipe at Boston's Penguin Pizza. It is not on their menu at this time, but it may just be a St. Patrick's Day special.
Note: I use a bread maker to make my dough so I included two recipes, one for bread makers and one for those who prefer to make their dough by hand. (The breadmaker recipe is at the very bottom of this post)
Prepare the Whole Wheat Pizza Dough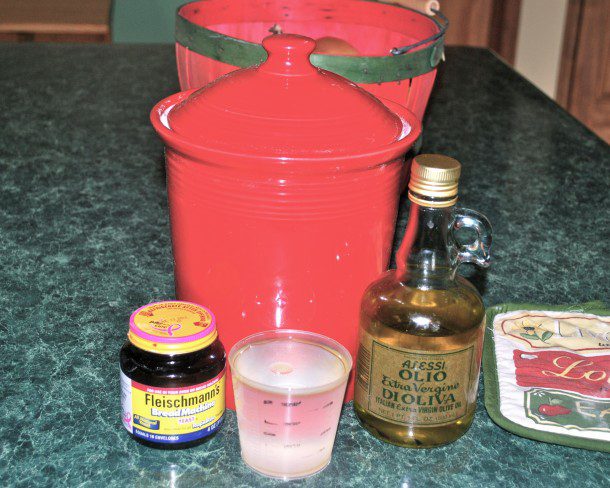 Instructions:
Whisk 1 cup warm water (105 degrees) with the sugar in a bowl.
Scatter the yeast over the top and set aside until foamy, about 10 minutes.
Stir in the olive oil.
Whisk the flour and salt in a large bowl.
Make a well in the center and pour in the yeast mixture.
Gradually stir the dry ingredients into the wet ingredients to make a rough, shaggy dough.
Turn out onto a floured surface and knead until smooth and elastic, about 5 minutes. (Add more flour to prevent sticking, if necessary.)
Form the dough into a ball; place in a large oiled bowl, turning to coat with oil.
Cover the bowl with plastic wrap and set aside at room temperature until the dough has doubled in size, about 90 minutes.
Prepare the Toppings
Heat 2 1/2 tablespoon olive oil in a skillet over medium-high heat. Add the cabbage, season with half the salt and cook until just soft, about 5 minutes.
Add the pickling spices and just enough water to cover. Simmer over low heat, covered, until the cabbage is tender, about 15 minutes. Drain the cabbage and set aside (discard spices).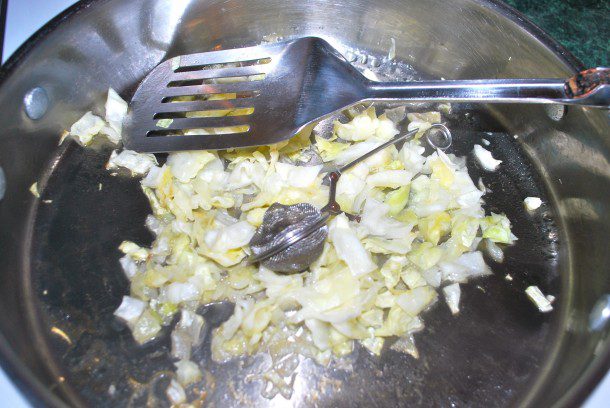 While skillet is still warm add the remaining olive oil and place in single layer potato slices.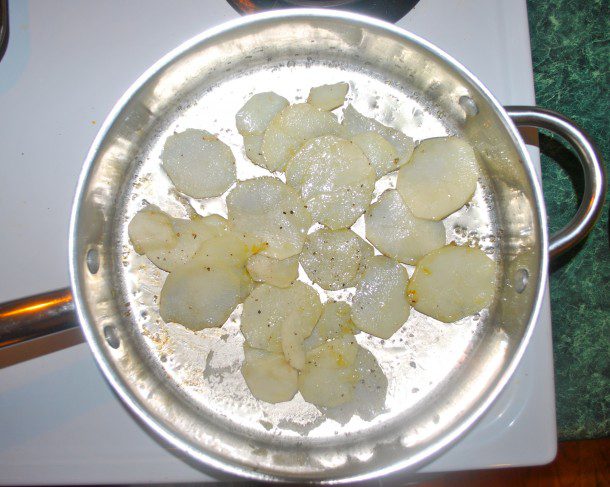 Add salt and pepper and cook until almost tender – about 5 minutes. Remove from heat.
Preheat your oven to 450*. With olive oil or olive oil spray grease your pizza pan and add your dough. Mix your cheeses together if desired.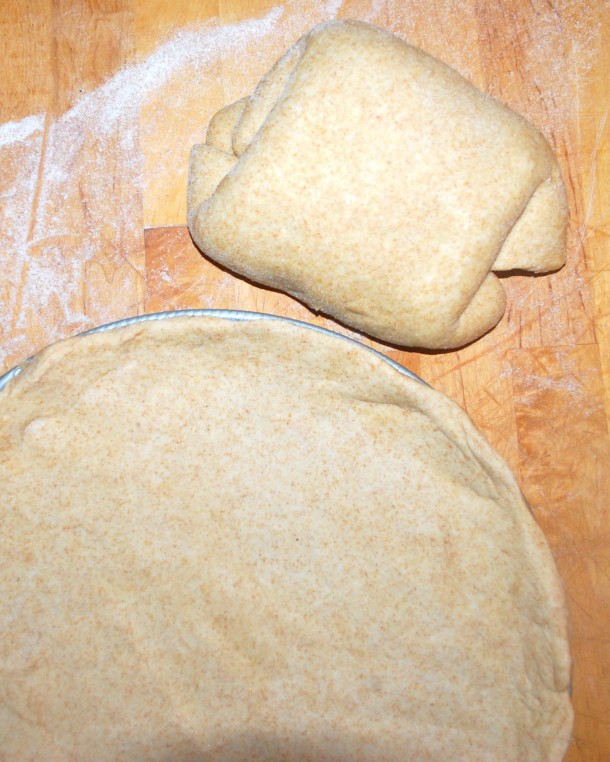 Now it's time to layer. I like to layer my ingredients starting with a little cheese, add corned beef, a little more cheese then potatoes and cabbage and top with remaining cheese.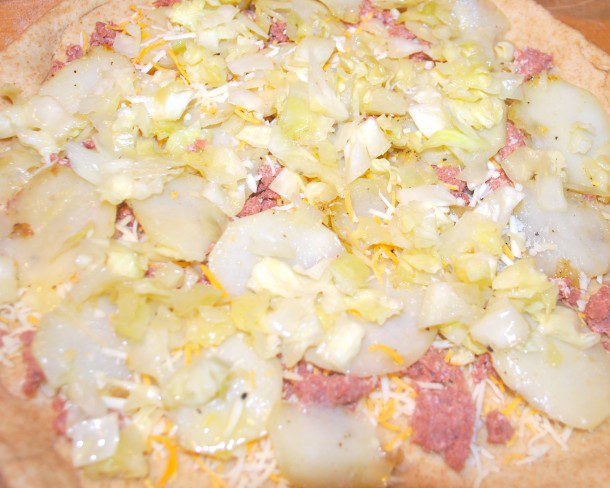 Cook 450* for 10-15 minutes. I am high altitude so I cook mine for 12 minutes.
Enjoy with a pint of Guiness or Irish Tea 🙂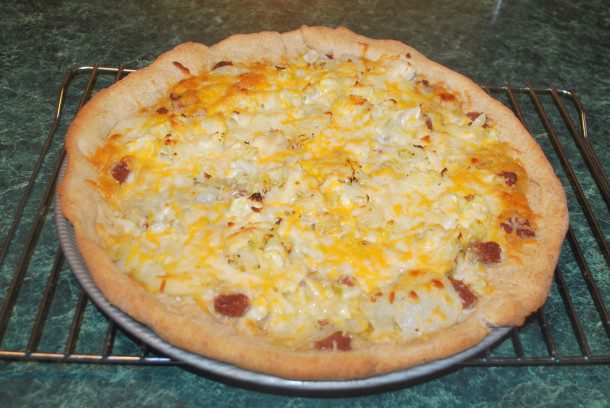 About the Author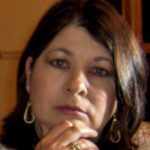 Hi, I'm Kathleen and I am a proud Irish-American. I hate coffee, love my husband, four grown kiddos, the ocean, gardening, traveling and spending time with people I love. My favorite past time is spoiling my two grandchildren. My blog, The Empty Nest Express, is about and for empty nesters, singles or couples entering the next chapter in their life. It is really an exciting new chapter and we need to jump right in and enjoy it!  You just never know what we'll discover about ourselves – so time to explore the unknown. Join me in this great adventure 🙂
[amd-zlrecipe-recipe:4] [amd-zlrecipe-recipe:5]