This post may contain affiliate links which may give us a commission at no additional cost to you. As an Amazon Associate we earn from qualifying purchases.
The beginning of the year is the perfect time to pick out some new recipes to try. Today we're sharing ideas for five classic foods. For each type of food, I'll share a few recipes to help you get started, so you can master the perfect pancakes, grill scrumptious steaks, bake beautiful brownies, and more…even if you are just starting your journey of learning to cook.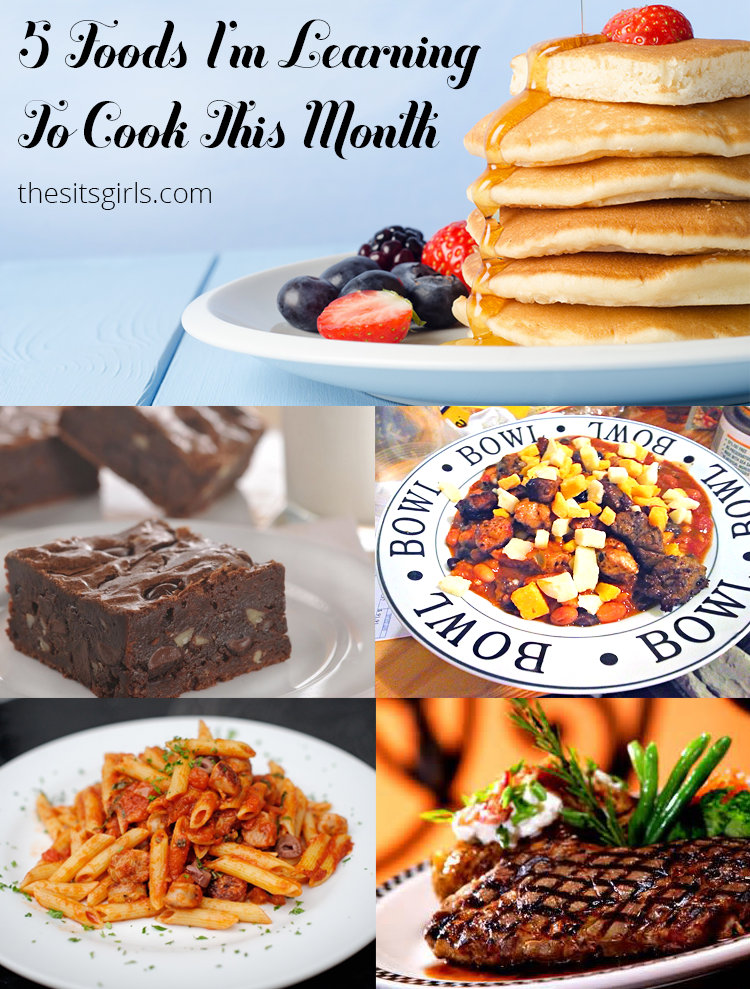 5 Foods I'm Learning To Cook This Month
Please note: this post will make you HUNGRY!
We'll start with breakfast.  Let's learn how to make Perfect Pancakes:
It's always good to have a go-to Pasta Dish in your repertoire. Pastas are so versatile. They can make a quick and easy dinner if you need to get dinner on the table in 30 minutes or less. They're perfect for a potluck or to bring to a friend. There are a lot of meatless options. Many pasta casserole type recipes can be prepared ahead of time and then frozen. So many choices!
If you're thinking of making a great classic meal for your Valentine, master the art of a perfect steak, and pair it with perfect potatoes:
If you're starting to think about the perfect entrée for the Super Bowl in a couple weeks, look no further because chili is the answer.  There are again so many options, and mastering the art of making chili in January will allow you to make it over and over on cold winter days.
Let's close it out with dessert. Having a perfect brownie ready to go from your pantry helps with those last minute needs – to bring to the Super Bowl party, or for the school or work snack, or just because you need some chocolate RIGHT NOW.
This should give you plenty of ideas for choosing that recipe you're going to master this month. Before you head out the door to the grocery store to get started, let us know which one you plan to try first in the comments!