This post may contain affiliate links which may give us a commission at no additional cost to you. As an Amazon Associate we earn from qualifying purchases.
The inspiration for this maple bourbon apple pie recipe came from the idea of giving new life to traditional Thanksgiving and fall classics. The combination of molasses from the light brown sugar and maple syrup melt together to create a caramel sauce that coats the apples, making this apple pie recipe a show stopper. Brown butter makes the sauce silky smooth, and the addition of bourbon makes the flavors pop.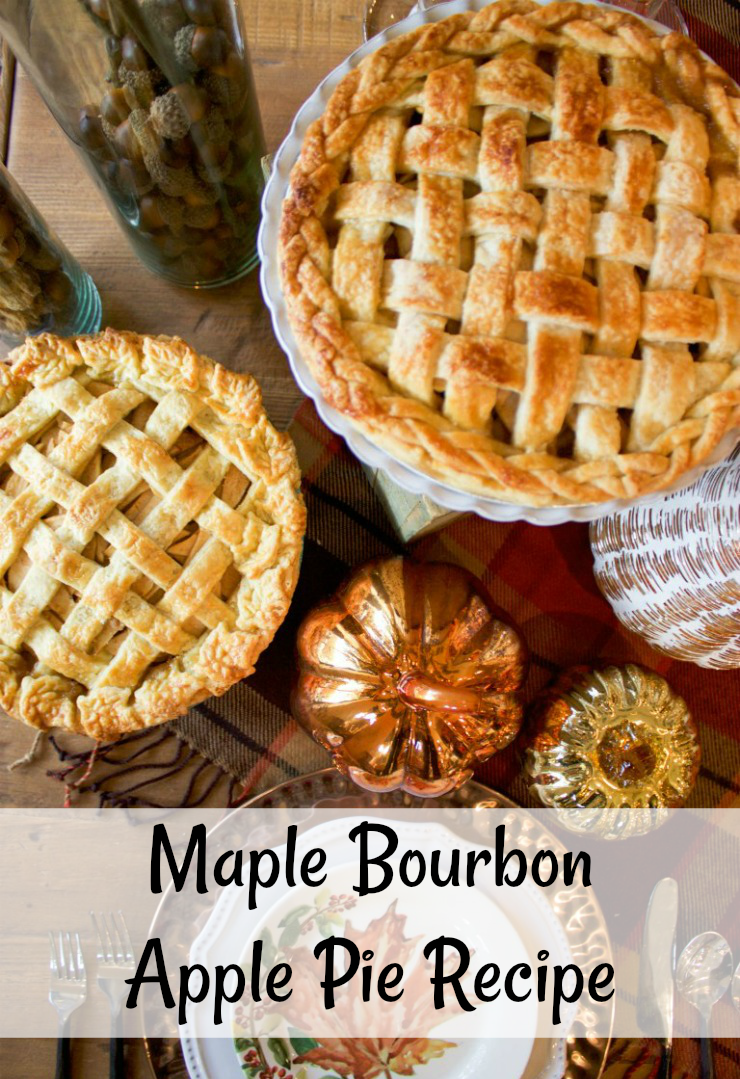 Maple Bourbon Apple Pie
Just like the addition of red and white wines to stew, braises, etc… the alcohol burns off leaving behind the aged-to-perfection flavors. When you cook with alcohol (wine, beer, spirits), make sure it is one you would actually want to drink. Your pie is only as good as the ingredients you use.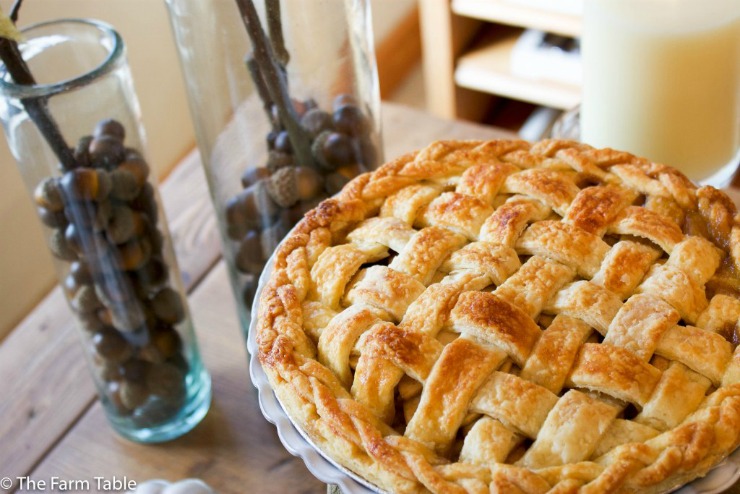 The Apple Filling
In this recipe I used a combination of Jazz and Granny Smith apples to capture both sweet and tart flavors. The secret is to use 4 sweet apples, and 3 tart apples. You can use whatever your favorite is. I am completely obsessed with Pink Lady apples, so generally that is my first choice for a sweet apple. But Gala could work nicely, as well. The most important thing is to use whatever is organic, fresh and available to you locally.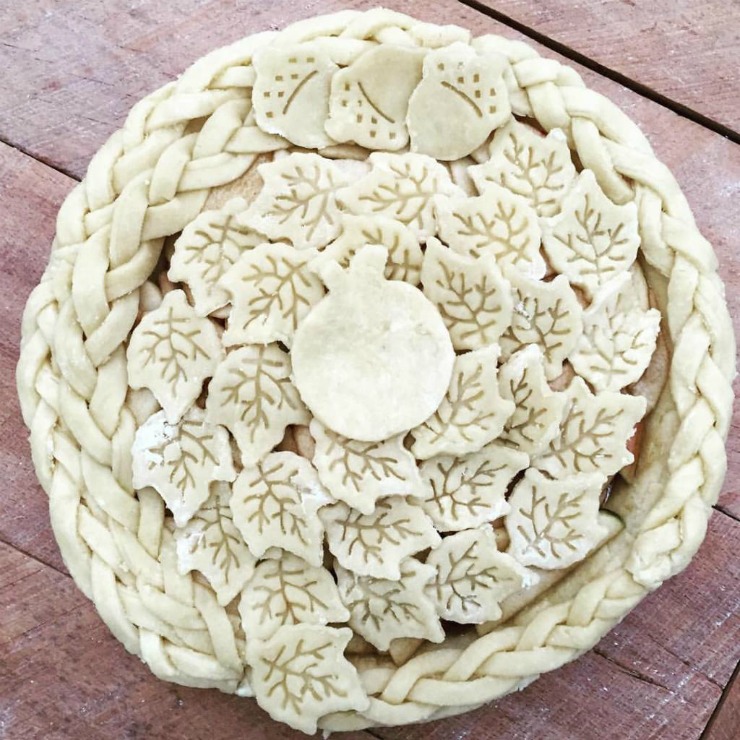 Pie Crust Design & Decoration
This could potentially be a two day process depending on how many details you are creating. Once you roll out your top crust dough, you have to let it chill at least 15 min on a parchment paper lined sheet tray.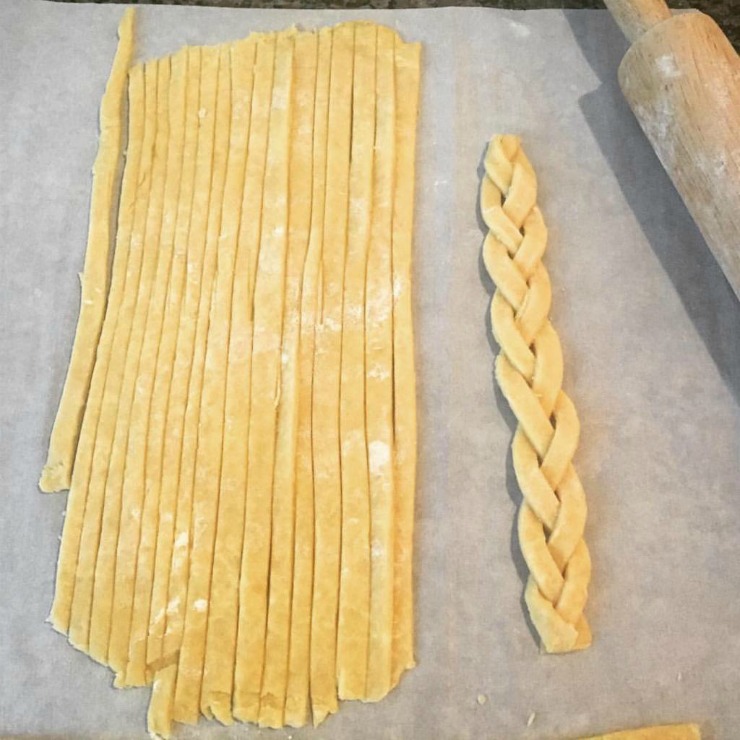 To create braids, use a sharp long knife and a ruler to score 1/4 inch marks in the dough. Cut them straight, then separate them into groups of three (use a bench knife or something similar for assistance moving). Pinch the top to begin the braid and cut off a clean edge at the bottom.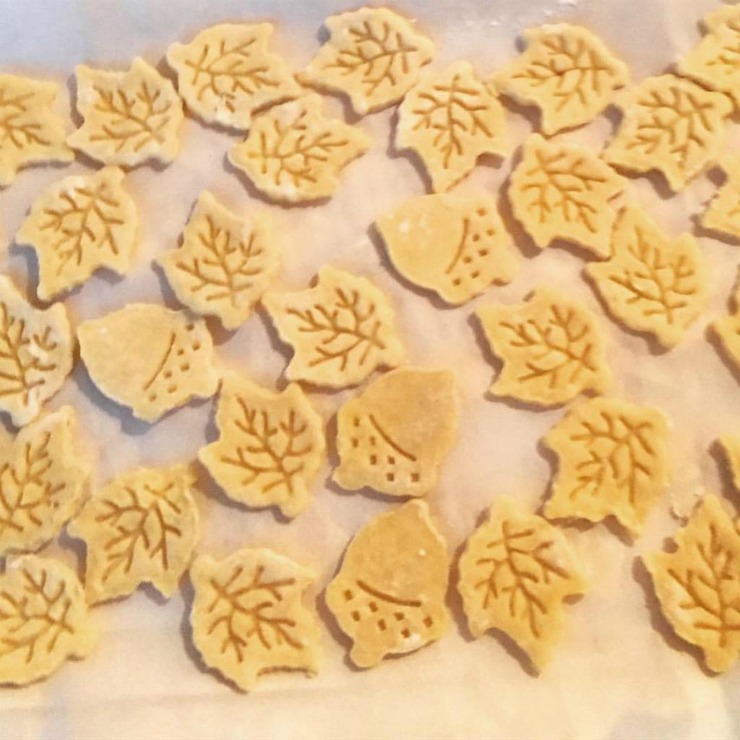 A good strategy is to make three pie crusts. Use one for braids, one for cookie cutter shapes and the smallest one for the pie plate. Rotate sheet trays so you can keep working while the other chills. Repeat chilling for 15 minutes at a time as needed.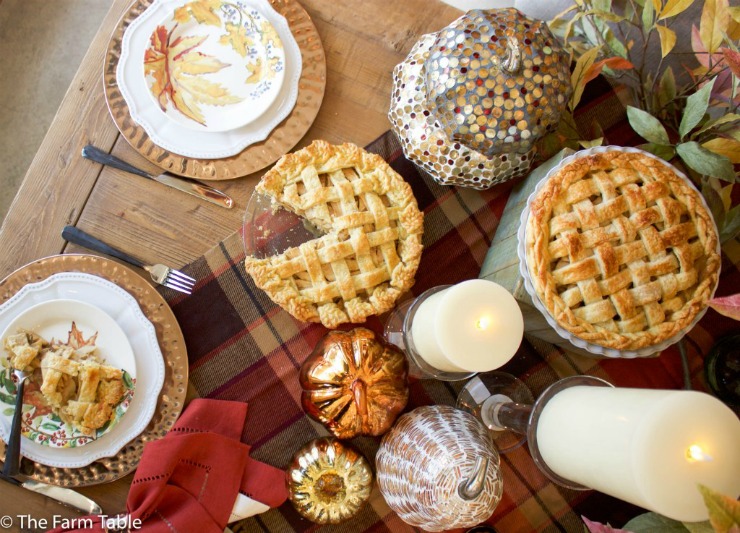 Prepare the top crust decorations up to 5 days ahead of time. Cover the sheet trays with plastic wrap and store in the refrigerator. When you are ready to bake the pie, all you will need to do is prepare the filling and assemble! Use egg wash as glue to hold on your designs.
*Tip: Press the fruit down firmly so that the crust doesn't sink when baking. Any air gaps will collapse in the oven.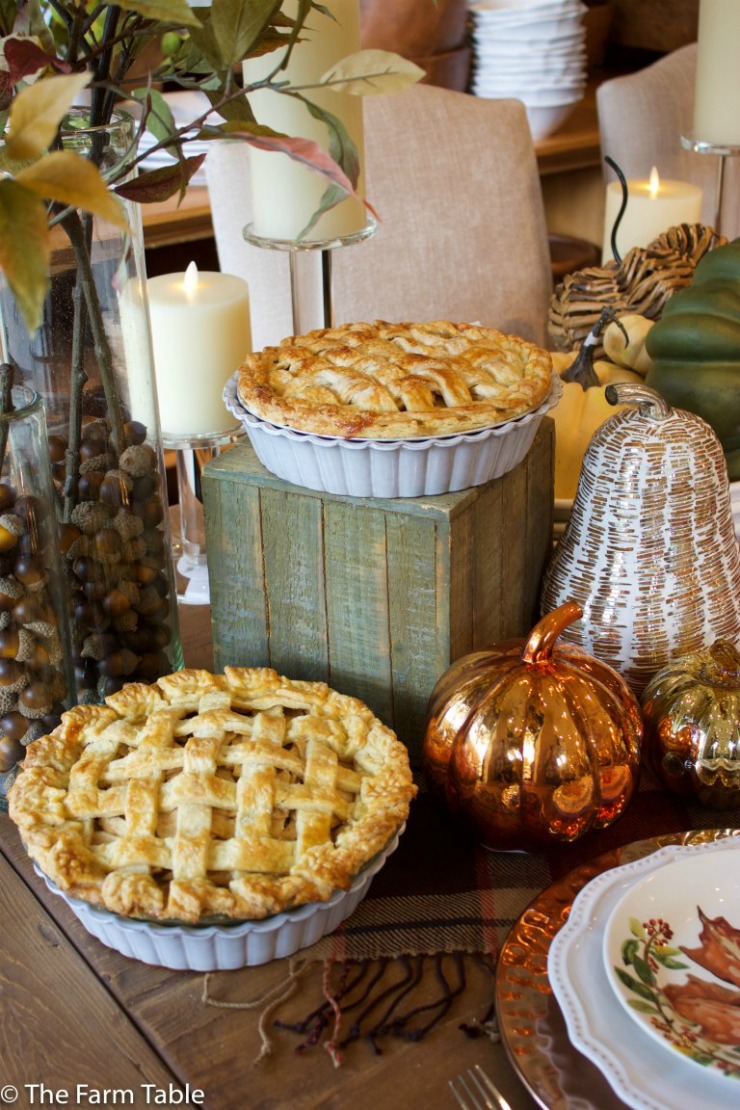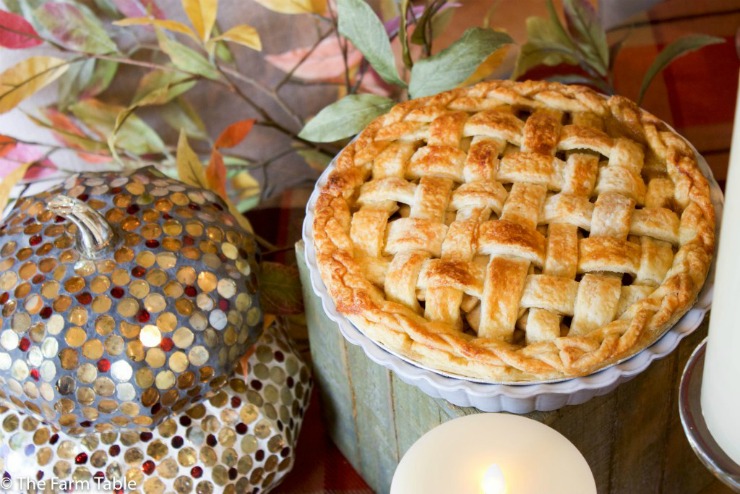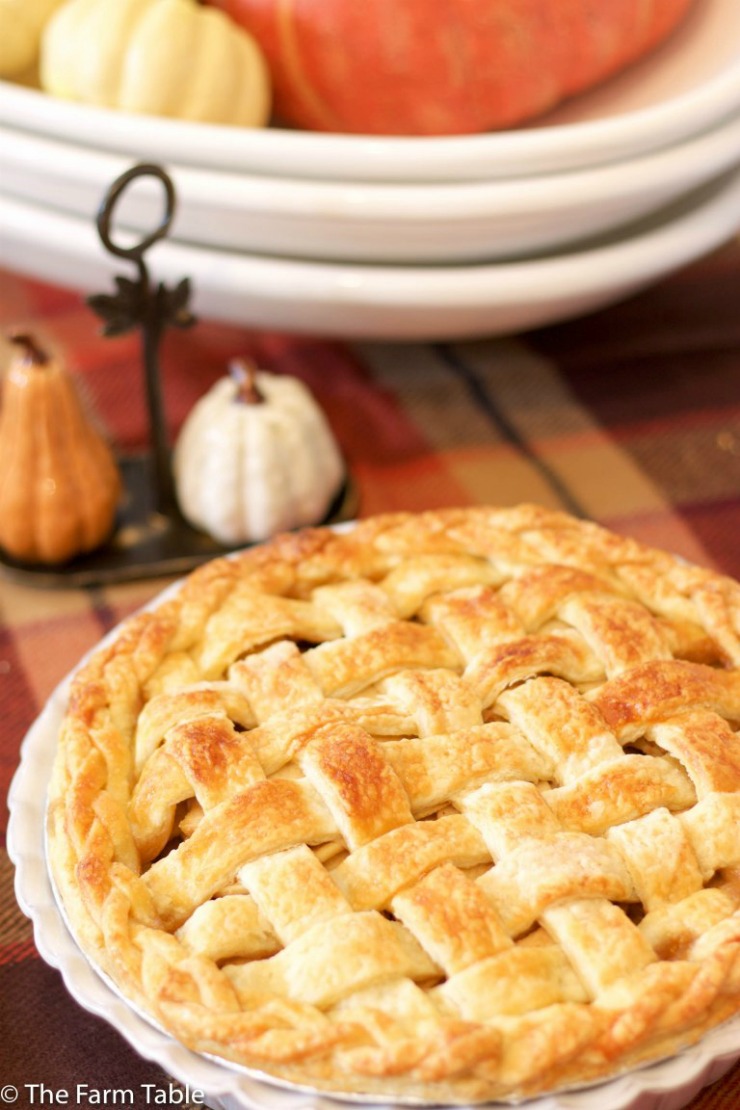 MAPLE BOURBON APPLE PIE RECIPE
Pie Ingredients
Pie Filling
3 tart large apples (such as Granny Smith)
4 sweet large apples (such as Jazz, Gala or Pink Lady)
1 tsp Cinnamon
Pinch of Allspice
1/2 tsp salt
2 tablespoons all purpose flour
Secret Sauce
1/4 cup Grade A Maple Syrup
1/2 cup light brown sugar (lightly packed)
2 tablespoons Bourbon
3 tablespoons grass fed butter
Pie Crust
2 1/2 cups all purpose flour
1 tablespoon sugar
1 tsp salt
6 tablespoons ice cold water, divided
2 sticks COLD butter, cut into cubes
Egg Wash
1 large egg + splash of milk or water to thin if desired (but not necessary).
Instructions
Instructions
Cut butter into 1/2 inch cubes and place in the freezer for 10-15 minutes.
Weigh 2 1/2 cups of all purpose flour in a large mixing bowl.
Add in 1 tsp salt and 1 tablespoon sugar and mix.
Cut the cold butter into the flour using a pastry blender until you have several flour coated butter chunks the size of peas.
Add 2 tablespoons ICE COLD WATER into the bowl and toss with a spatula to distribute.
Repeat with 2 more tablespoons of water.
Using your hands, try and grab to flour together to see if it holds. If its still dry and falls apart add another tablespoon of water. Repeat with one more tablespoon until the flour sticks together. **(I always use exactly 6 tablespoons, try not to use more than 7.)**
Form the dough into a ball, then divide it in half and flatten each into a disc.
Wrap the dough in plastic wrap and chill for AT LEAST ONE HOUR. Two is best.
Roll out the larger half on a well floured surface. Once the dough is rolled out, roll it onto your pin to transfer it to a large sheet of parchment paper.
Flour your cookie cutters and press them firmly into the pie crust.
Set them aside on a sheet tray and chill them when finished.
Roll out your bottom crust and fit it into a lightly buttered 9 inch pie dish. (I like glass so I can see my bottom crust brown).
Chill your pie crusts while you make the filling.
Preheat the oven to 425 degrees and place the rack in the lower third of the oven. (To ensure your oven is actually 425 when you put your pie in it, use an oven thermometer.)
Combine maple syrup, brown sugar and bourbon in a small sauce pan over medium heat. Stir the mixture until the sugar has dissolved.
Once the liquid starts to boil, turn it down to low and let it simmer gently to thicken. Avoid stirring at this point! *you can gently swirl the caramel sauce if you think it is burning.
After about 10 minutes the sauce will be thicker. Add in the butter and swirl it around to melt and combine.
Let caramel sauce cool in the pan while you prepare the apples.
Peel and core the apples. Slice them very thin (1/8 inch) and place the apples in a large mixing bowl. You should have about 5 cups of sliced apples. It is important to do this step last so the apples don't macerate in the bowl and create a lot of liquid.
Toss the apples with salt, cinnamon and allspice ensuring they are all coated well.
Pour the caramel sauce over the apples and toss to coat the apples completely.
Place the apple mixture into the prepared bottom crust.
Press the apples down into the pan to make sure you sink any gaps (so your crust doesn't sink).
Prepare egg wash, then assemble your pie
Seal your top crust (or decorations) with egg wash.
Brush the entire crust with egg wash when complete and sprinkle with white sugar if desired.
Bake for 20 minutes on the lower rack at 425.
Remove the pie, cover the crust with a pie shield (or foil strips).
Return the pie to the center rack and lower the temperature to 375.
Continue baking for 25-30 minutes until the filling bubbles and the crust is golden brown.
This makes one 9-inch pie.
Author Bio: Jenn
Born in South Florida and raised in North Carolina, I acquired a strong sense of Southern hospitality growing up. After I graduated from nursing school in NC in 2007, I moved back to Florida to pursue my dreams. Somewhere along the way I met my amazing husband Mike, we married in 2014 in Costa Rica and recently relocated to Dallas. Gardening and cooking are the two hobbies that have inspired me to share what I have learned with the world on jennsfarmtable.com.