This post may contain affiliate links which may give us a commission at no additional cost to you. As an Amazon Associate we earn from qualifying purchases.
I'm a planner. I've never been a spontaneous, fly-by-the-seat-of-my-pants kinda girl. I would say I try to control plan every aspect of my life.  Call me crazy, but it keeps me sane!
This applies to meal planning too. Each week, I make a "menu" for the week. Basically, I write down on a piece of paper, the meals we will be eating each night.
It looks like this: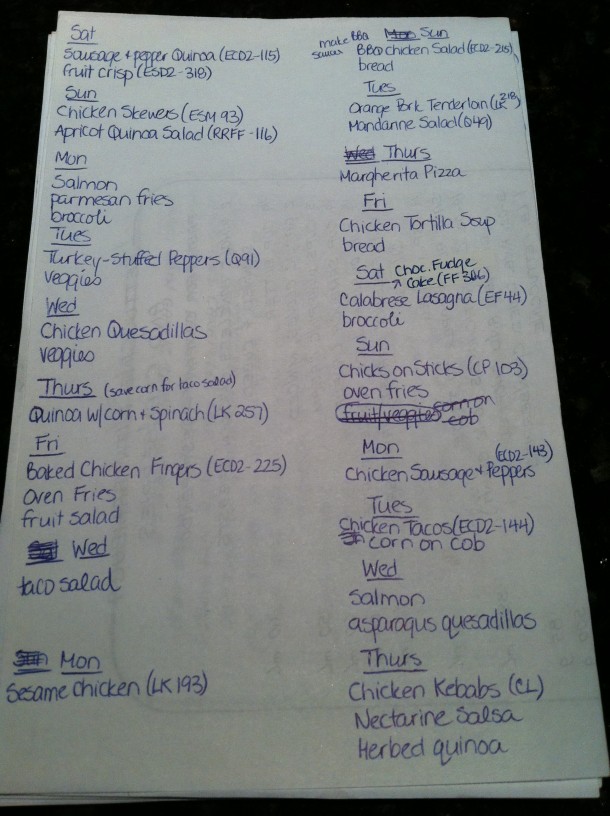 Every evening, I look at the list to see what we'll be eating the next day. From there, I can make the appropriate preparations, such as taking the meat out of the freezer and sticking it in the fridge, or making a marinade to throw the meat in the next morning.
Okay, so you're thinking, this seems like it would take forever!
But I'm here to tell you, that you only need 15 minutes for meal planning.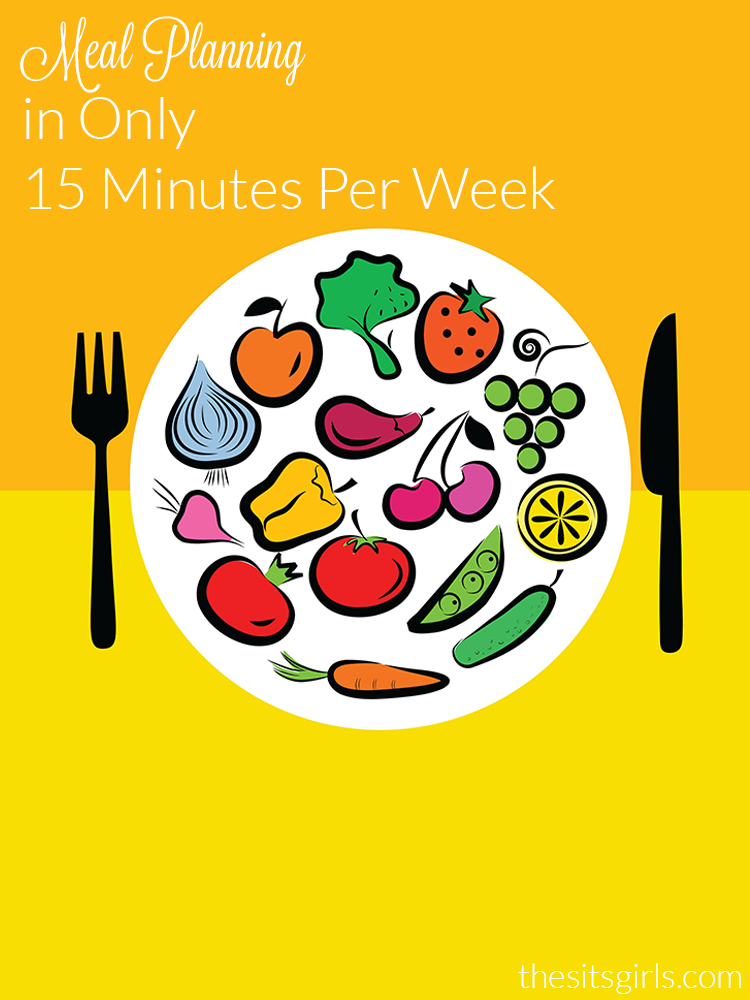 How To Meal Plan In 15 Minutes
15 minutes? It's true.
1. Plan Family Favorites

There is no need to haul out all of your recipe books and flip through them each time. We all have favorite meals we like to eat, and my kids are no exception.  For Caleb, it's Taco Salad. For the other kids, it's Tuna Casserole. And for the big boy, it's anything with meat! Of course, I'm a pizza kinda girl. So I always make sure to include a couple of family favorites each week when meal planning.
2. Keep It Simple
You don't need to plan a gourmet meal each night. After I've decided on the protein portion, I think of a few simple sides to go along with the meal. Some examples are our favorite oven fries, simple summertime salad, or a fresh plate of veggies with some hummus!
3. Think About Portions
For one of your meals, try to make a large casserole or something that always has a few leftovers. That way, you can save the leftovers for another meal, or you'll have lunch for the next day. One of my family's favorites is Macaroni Lasagna. It's so simple and there are always leftovers for the next day.
4. Make Your Grocery List
Once you've decided on the meals, make your grocery list. For example, if I have Macaroni Lasagna on my menu, then I know I might need to buy some ground beef, pasta sauce, and cheese. I always have staples, like spices and pasta, on hand so I don't have to buy them every week. I always add fresh fruits and veggies to my list each week because I know that we like to include them with our meals a lot.
5. Organize Your Grocery List
I like to organize my grocery list however the store is laid out. For example, where I shop, the dry/canned goods always come first, followed by the meat and dairy, followed by the fruit and veggies, followed by the bread. If organize my list in the correct order, it makes my grocery shopping much faster.
6. Plan A Time To Shop
The best part about meal planning is that you only have to go to the grocery store once a week! No more running there each night trying to figure out what to eat. Once you've made your menu and list, pick one day a week that you will grocery shop. Perhaps it's the weekend when you can shop as a family, or maybe on a weeknight when hubby can stay home and watch the kids while you shop in peace!
7. Keep Your Menus
I've been planning my menus for so long that I have a large stack of menus that I can refer back to each week. That way, I don't have to think of new meals each time. I can just flip back and pick out a few favorites and repeat them. Sure, sometimes I like to find new recipes from magazines or look through my cookbooks for some new ideas, but if I'm ever stuck for a meal idea, I can always look for inspiration from my previous menus.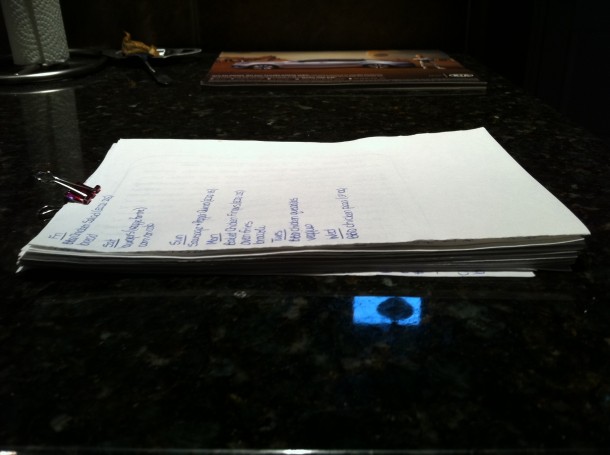 There you have it! Meal planning can be easy and only take up 15 minutes of your time.
More importantly, you'll no longer be asking yourself everyday, "What shall we have for dinner tonight?"
About the Author
My name is Jen and I'm a stay-at-home mom to 3 little boys ages 5 and under. I also have a wonderful husband of 9 years who is my 5 p.m. saviour. My passions in life include my family, preparing great food, fitness, and having fun along the way. You can read more about my adventures at www.familyfoodfitnessandfun.com.
More Recipes For Your Meal Planning: