This post may contain affiliate links which may give us a commission at no additional cost to you. As an Amazon Associate we earn from qualifying purchases.
Some of my favorite dishes to make in the summer are fresh salads using as many vegetables and fruits as I can. I love all the produce that's in season right now. When I was first married, I totally went on a quinoa kick and made up so many different recipes every week — maybe I over did it on my quinoa intake, because I haven't made it a long time. I was craving a yummy greek style salad this week and thought a delicious Mediterranean quinoa salad would do the trick. The best part about making quinoa is that it will last for a couple days, and is the perfect lunch or dinner, plus it's so healthy for you.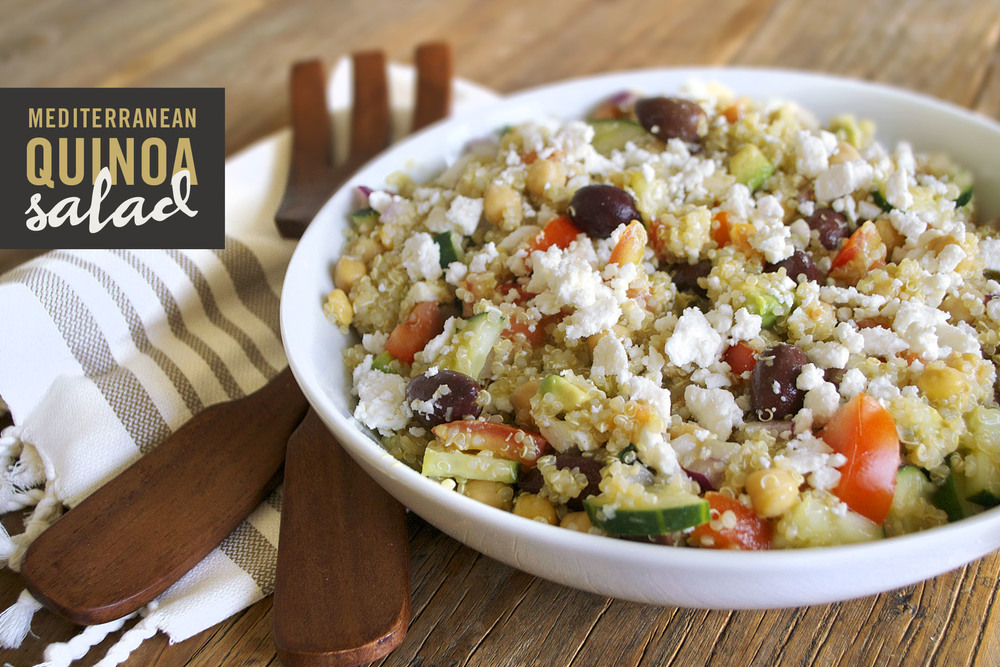 Mediterranean Quinoa Salad
Mediterranean Quinoa Salad Ingredients:
1 cup quinoa, rinsed
1 1/2 cups water
1 cup tomato, sliced
1 cup cucumber, sliced
1/4 cup red onion, diced
1 avocado peeled and diced
1/4 cup kalamata olives
1/4 cup feta, crumbled
1 [15 oz] can chickpeas, drained and rinsed
3 tablespoons lemon juice [1 lemon] or red wine vinegar
3 tablespoons extra virgin olive oil
1/2 teaspoon oregano
1 clove garlic, grated
salt and pepper to taste
Directions:
1. Bring the quinoa and water to a boil, reduce the temperature to medium-low and simmer, covered, until the liquid has been absorbed, about 15 minutes, and let sit covered for 5 minutes before letting it cool.
Tip: cook the quinoa a day ahead to save time on busy weeks.
2. Meanwhile, prepare the remaining ingredients.
3. Mix the quinoa, tomatoes, cucumber, red onion, olives, avocado, feta and chickpeas and toss in the mixture of lemon juice, oil, oregano, garlic, salt and pepper.
You can also add other mediterranean inspired ingredients like roasted red peppers, sun dried tomatoes, or artichoke hearts. This salad is easy to customize to your taste and preference.
Author Bio: Chelsey
Hi there, I'm Chelsey and I write the lifestyle blog West Coast Capri where I share all of my passions from cooking a delicious meal, interior design for the home, styling the perfect outfit, traveling, and being a mom. I live in Southern California with my husband and daughter, where we love soaking up the sun and spend most of our time at the beach. We love trying new foods and cooking up recipes with fresh healthy ingredients. Hope you'll stop by and visit.