This post may contain affiliate links which may give us a commission at no additional cost to you. As an Amazon Associate we earn from qualifying purchases.
Mornings are so hectic around my house. I am always scrambling to get everything ready and get out the door before school starts. Trying to feed the kids, make lunches, get showered, change the baby — it is seriously a never ending whirlwind of craziness. One thing I started to do to make our morning routine a bit easier is to make breakfast ahead of time. These darling Mini Pancake Bites are the perfect thing for breakfast! Make a batch ahead of time and serve them all week long!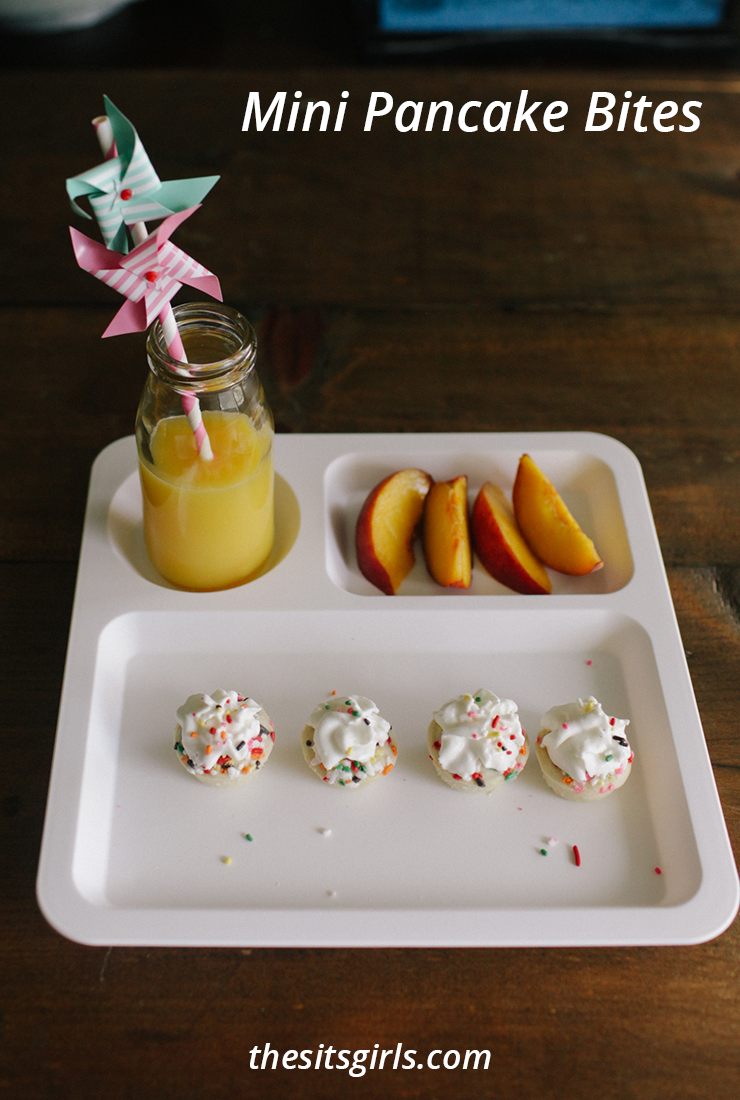 Mini Pancake Bites
Pancake Ingredients:
1 1/2 cups of flower
2 teaspoons baking powder
one egg
3 tablespoons of melted butter
1 – 1 1/2 cups of milk
4 tablespoons of sugar
Toppings of your choice: sprinkles, chocolate chips, cinnamon sugar, blueberries
mini muffin pan
Mini Pancake Bites Recipe:
I only make pancakes using one recipe. It's my mom's famous pancake recipe, and it's delicious. So when i decided to make these yummy mini muffins, I knew that I had to use her infamous recipe. The beauty of this recipe is that you can add any ingredients you want to your pancakes. You can easily leave them plain too!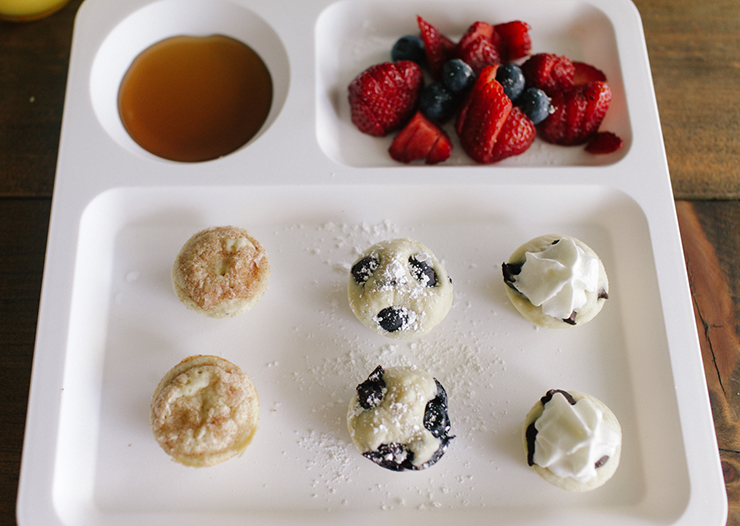 Begin by preheating the oven to 350 degrees. Make sure that you spray your muffin pan with some nonstick spray. I like to use coconut oil, but you can use any baking spray.
Combine all the dry ingredients and mix. Then add your egg and melted butter. Stir until everything is combined.
At this point the mixture should be pretty lumpy which is totally normal. Gradually add the milk to the mixture. Make sure you stir as you add. Try not to add too much milk, you want the consistency of honey for your batter. You will use between 1 cup to 1 1/2 cups of milk before you get the consistency that you want.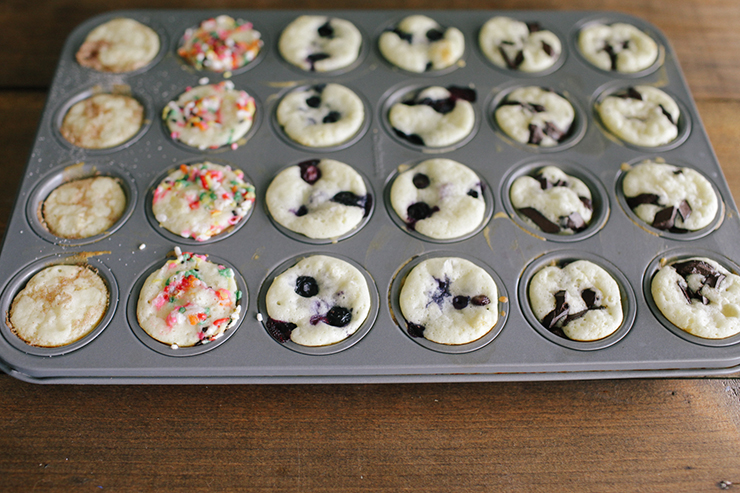 Once your batter is mixed scoop it into the mini muffin pan. You will fill each one about 3/4th the way full.
Now you are ready to add your toppings!
For the chocolate chips I add them to the top and pushed them down a little bit so they sunk to the center. I sprinkled a couple with sprinkles and cinnamon sugar, too! Add a little whip cream, powdered sugar, or syrup, and you have a delicious pancake bite!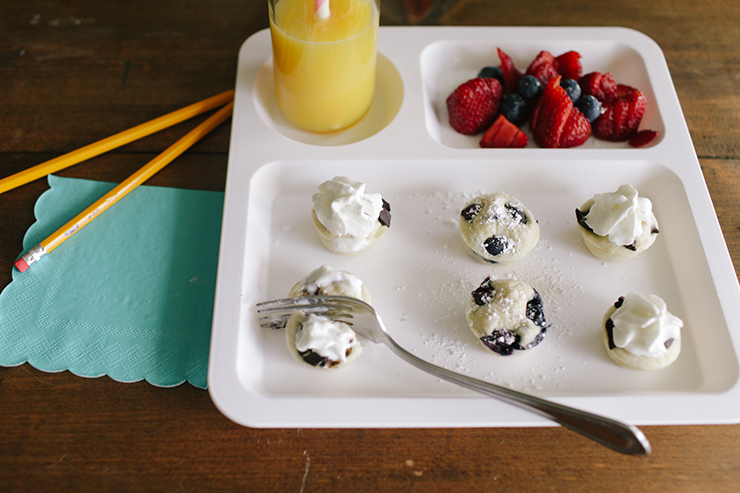 Bake for about 18 minutes or until the muffins are set! Let them cool, and then pop them out to enjoy. You can also package them in baggies and serve through the week! They taste delicious cool, or you can heat them up for about 20 seconds.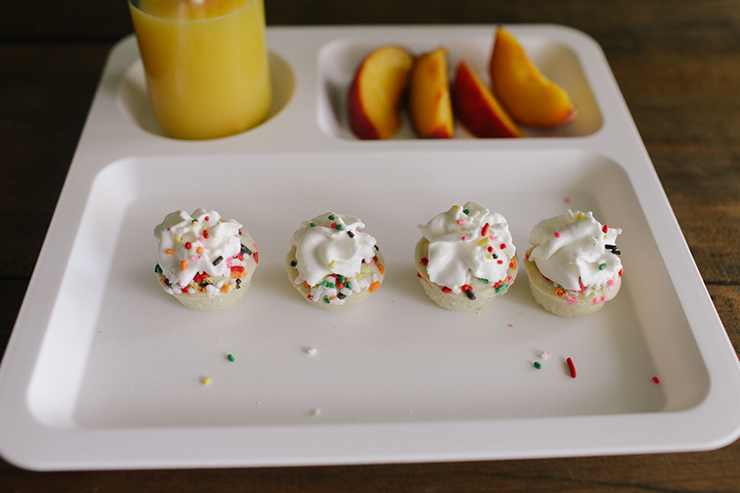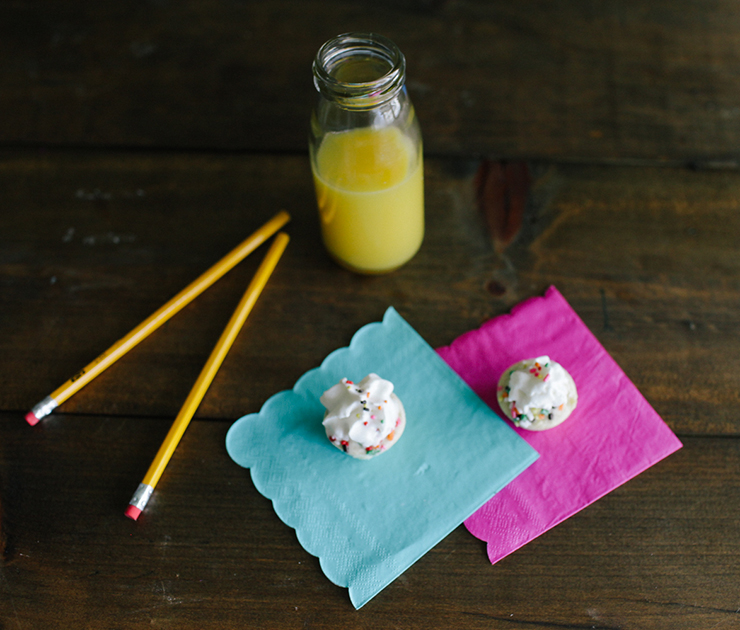 This recipe is great when you have a busy week coming up and want to make sure no one skips breakfast!
For more help creating a morning routine that works for you, check out our tips on becoming a morning person and tips for time management with kids!