When I was younger, one of my favorite things to do was to watch my mom cook. She put on a beautifully choreographed dance in the kitchen – rhythmic chopping of vegetables, sizzling of frying pans, stirring of pots and sprinkling of spices. I would get so excited when my mom asked me to help out. My favorite job was to break off the heads and tails of green beans.
But, of course, while in the kitchen, my mom was busy actually preparing our meals and didn't always have the time to explain the details of what she was doing, the ingredients in each recipe or the exact equipment she was using. She would often joke that she wished that she could just send me to a cooking class.
Now, that cooking class exists – a great new way for parents to teach kids about cooking and healthy eating: Sara's Cooking Class.  GirlsgoGames is launching this great new app to help get tweens cooking. Based on the popular desktop game on GirlsgoGames, Sara's Cooking Class inspires young girls to learn more about working with recipes, healthy eating and cooking creatively for themselves.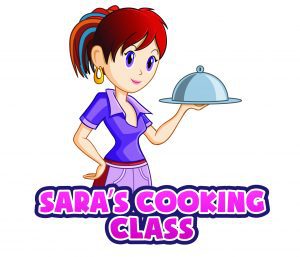 The app is a fun, interactive game that takes girls through each step required to create one of Sara's recipes. Users earn points as they progress through each recipe. The recipes are diverse and range from sushi to homemade pizza to fish tacos to kebabs to muffins. With the help of Sara, a friendly cartoon chef, girls are able to visually see how a recipe comes together and what equipment to use. Girls have the opportunity first to test the recipes via the app before giving it a go in their own kitchen.
Video: Sara's Cooking Class from Spil Games on Vimeo.
Today, with the rising rates of childhood obesity, it is more important than ever to help our children learn about nutritious foods and to establish healthy habits that will support them throughout their lives. With Sara's Cooking Class, GirlsgoGames hopes to inspire the younger generation to get excited about and experience the joy of cooking delicious, healthy food for themselves.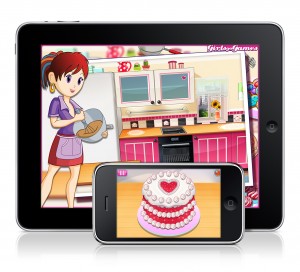 Sara's Cooking Class launches today both as a lite (free) version as well as a full premium version with additional features. It is available in the iTunes App Store for iOS devices and via Google Play and Amazon Appstore for Android devices.
You can also connect with the Sara's Cooking Class Community on Facebook.
GirlsgoGames, an online social gaming platform tailored to girls, has 50 million monthly active users worldwide and is the world's largest entertainment destination for tween girls. GirlsgoGames brand is a subset of Spil Games, one of the world's leading online-games publishers. You can also find Spil Games on Facebook.
{Disclosure: This is a sponsored post written by me on behalf of Girls Go Game. The opinions and text are all mine.}