This post may contain affiliate links which may give us a commission at no additional cost to you. As an Amazon Associate we earn from qualifying purchases.
Would you like to try something new for breakfast?
Something fun and out of the ordinary?
Something unexpected?
Something that is filled with fresh fruit and whispers: "Summer is coming…"
Yes, yes, yes and YES?!
Well then, consider making a Dutch Baby.
The Dutch Baby is my most requested recipe at littlemomma&co.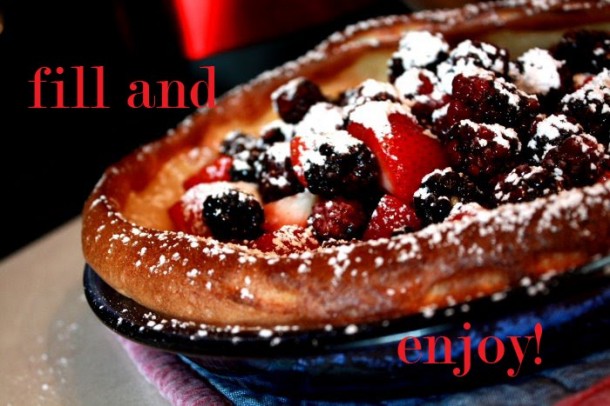 A Dutch baby starts as a runny, liquid batter. But, through the magic of your oven, it bakes into a light, pillowy bowl perfect for filling with fruit and powdered sugar. It's transformation packs a little "wow factor" into your morning routine.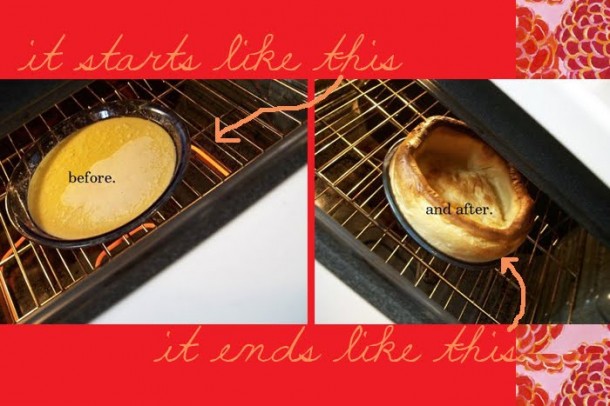 They are so easy to make! Try it!
Dutch Baby
3/4 C milk (I used skim)
1/2 C flour
2 large eggs
1 and 1/2 T sugar
1/2 t vanilla extract
3 T butter
…
powdered sugar
desired fruit for topping
…
15 minutes before baking, preheat your oven to 450.
Have a pie plate ready.
Whisk together milk, flour, eggs, sugar, and vanilla. Put the butter in the pie plate and place it in the oven to melt. When butter is just melted, brush the sides of the pie plate with it so the pancake will not stick.
Slowly pour the batter into the hot pie plate. Bake it for 20 minutes. Reduce heat to 350 and bake for another 8 to 10 minutes, until pancake is well browned. Remove from oven and spoon fruit into the center of the pancake. Top with powdered sugar.
Enjoy!