This post may contain affiliate links which may give us a commission at no additional cost to you. As an Amazon Associate we earn from qualifying purchases.
You are in for a treat with this Lemon, Garlic, & Parmesan Roasted Broccoli recipe! Broccoli is one of my go-to side dishes. It's something that is quick and easy, the kids actually like it, and it's packed with nutrition. Did you know that broccoli is one of the few veggies that actually contains protein? It's also got vitamins A and C, potassium, fiber…the list goes on! But we like these "little trees" mostly because they're delicious.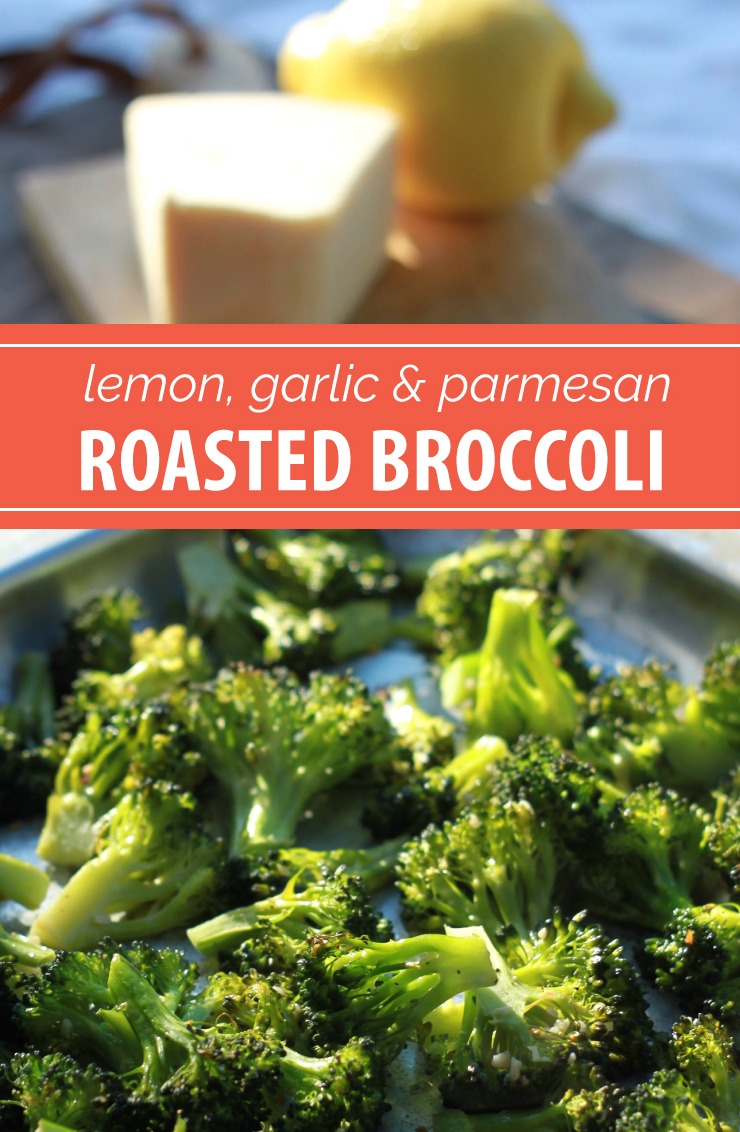 Lemon, Garlic, & Parmesan Roasted Broccoli
Roasted broccoli has a great crunch and roasting really brings out the flavor. I have found that even when people think they don't like broccoli, once they try it roasted, they change their minds! And then, once you add the flavors of garlic and lemon and parmesan…you'll put this dish on permanent rotation.
I even snack on the leftovers cold from the fridge!
Now I'm going to let you in on a little secret here…many people don't know this, but it will change your life, I promise!
LIFE-CHANGING TIP: You can roast FROZEN BROCCOLI!!! Yes, it's true. Get yourself a big old bag of frozen broccoli florets and then you have zero prep to do for this side dish. You just open the bag and dump it onto the pan. Now you have a super simple side dish that goes with everything. You're welcome.
This dish couldn't be simpler, whether you chop up some fresh broccoli or just use a bag of frozen.
Preheat the oven to 425° and spread the broccoli florets on a large baking pan with sides (also known as a jelly roll pan.) 
Add a quick drizzle of olive oil and a little minced garlic…then pop it in the oven for 15- 20 minutes.
Once you remove it from the oven, add a sprinkle of parmesan and a squeeze of lemon.
While this dish is fantastic with fresh lemon, garlic and parmesan, believe me when I say it is still so good with bottled lemon juice, grated parmesan, and minced garlic from a jar.
And those shortcuts make this a dish you can have on the table any night of the week.
Author Bio: Stacy
I'm a wife, mama of three kiddos, graphic designer, lover of mechanical pencils, fresh notebooks, and a good glass of wine. I feel it's so important to take the time to both create and honor family traditions and memories, so  I'm on a mission, along with my husband to build a life full of love, laughter & learning. Some of the sweetest family memories are made in the kitchen so my site is a place where I record our recipes and cooking adventures!