This post may contain affiliate links which may give us a commission at no additional cost to you. As an Amazon Associate we earn from qualifying purchases.
Cupcakes make the world go round! They bring brightness to our world, and are the perfect dessert for any occasion. What could be better than a cupcake you ask? A perfectly frosted cupcake with a swirl of color! This tutorial for patriotic cupcakes will help you achieve the perfect red, white, and blue swirl!
The art of baking and frosting cupcakes is one that proves to be very handy. Once you learn this frosting technique, you will no longer have to buy cupcakes from the bakery.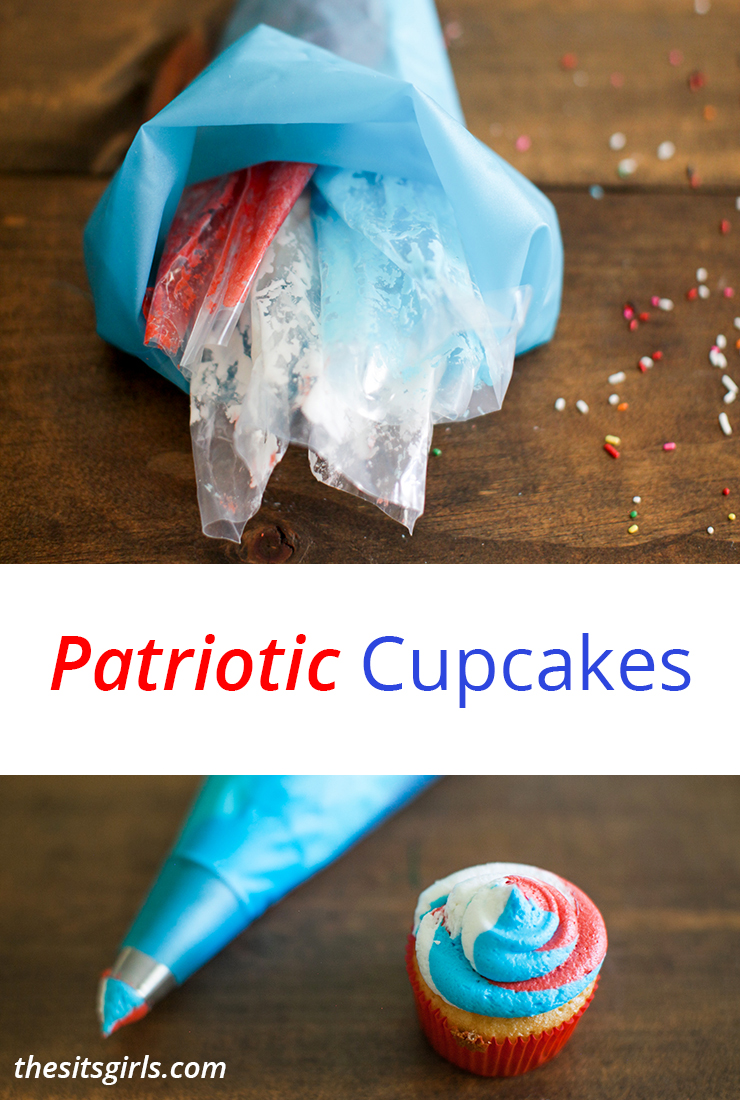 Patriotic Cupcakes With Swirled Frosting
This cupcake recipe is quick and easy. You can easily use a boxed cake mix and doctor it up to taste homemade! *Note: This post contains affiliate links.
Cupcake Recipe:
Ingredients:
One box of white or yellow cake mix
1/2 cup of oil
3.4 ounce box of vanilla pudding flavor
4 eggs
1 1/2 cups of milk
1 teaspoon of vanilla extract
Method: Begin by mixing the cake mix and milk in your mixer. Next, add the oil and eggs. Once everything is combined, add in your pudding. Scrape down the sides and beat again to fully combine.
Line your cupcake pan with any liners you choose, and fill them 2/3 the way full with your cupcake mixture. Bake for about 18 minutes and then let cool before you frost.
Frosting Recipe:
1 cup Crisco
1/2 cup of butter (I prefer salted sweet cream butter)
2 teaspoons of clear vanilla extract (regular may be used but the clear gives it a pure white)
1 bag of powdered sugar (2 lbs)
9-11 tablespoons of warm milk
Gel food coloring I used red, white, and blue
Method: Combine butter and Crisco in the mixer and beat until there are no more lumps. Next, add in the clear vanilla extract and beat for a couple minutes. Add the powdered sugar all at once and let the mixture turn to a thick paste. Gradually begin to add the milk a tablespoon at a time.
Tip: Make sure your milk is warm. Heat it for about 20 seconds in the microwave. This helps break down chunks of the powdered sugar.
Once you have added 9 tablespoons of milk, check the consistency of the frosting and add more if you need it to have a smoother texture. Again, add gradually so you do not pour in too much milk.
Now that you have your desired consistency you can add the food coloring. Divide the frosting into 3 bowls and add red food coloring to one and blue to another. Take your pastry bags and fill each with its own color. Cut the tip of the plastic bag and insert them with the cut tip down into the large silicone bag. Give it a test squeeze until all the colors are coming out together.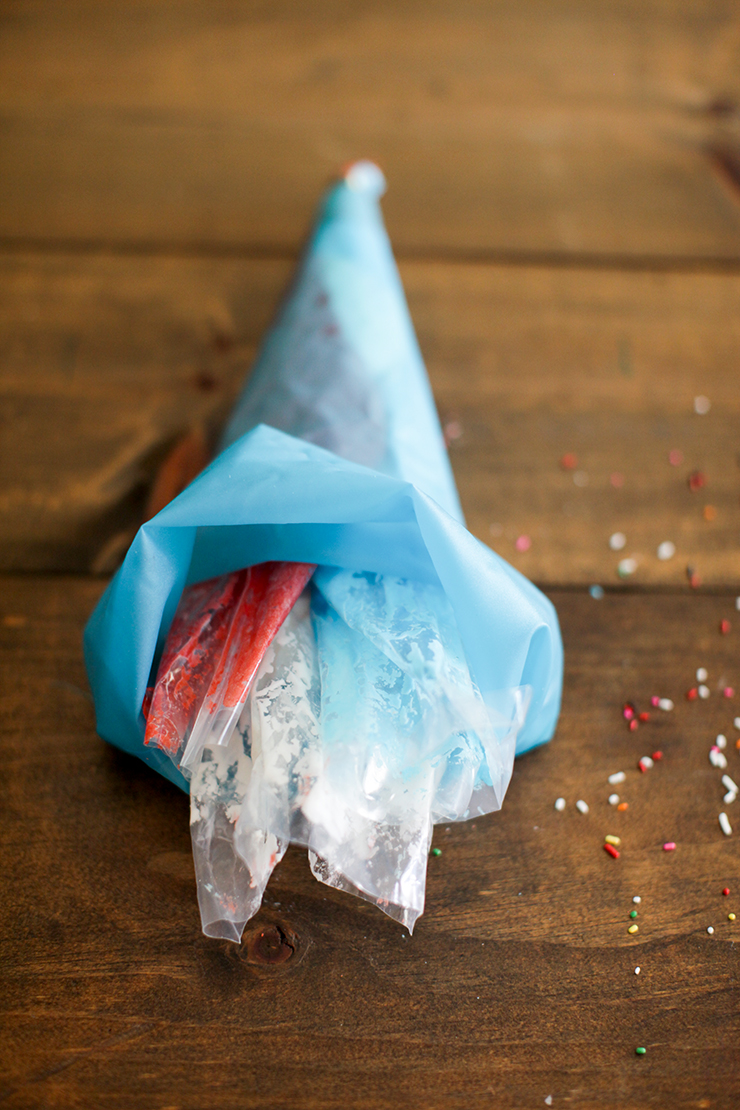 When you have all three colors flowing out of your larger bag you are ready to frost!
To create bakery looking designs on your patriotic cupcakes, first frost one circle, and then lift and frost another circle. Push down a tad and pull up to create a nice peak on the frosting!
This is the best frosting recipe because it holds up so well in the elements. The crisco is the secret ingredient and will help the frosting keep its form.
Want more patriotic fun? Check out our All-American July 4th party ideas!