This post may contain affiliate links which may give us a commission at no additional cost to you. As an Amazon Associate we earn from qualifying purchases.
There is a reason why children lick all the icing or frosting off cookies and cupcakes first. The icing is the best part! A friend gave me her icing recipe a while ago, and together, we have been making iced sugar cookies for parties and events in our city. Prior to learning how to decorate sugar cookies I always wondered what the key to having a perfectly decorated cookie was. Now I know — it is all in the icing and the tools. The most classic type of sugar cookie frosting is called Royal Icing. I have worked with royal icing, but the flavor is nowhere near as delicious as our recipe. Ladies, it is your lucky day, because today I am going to share our top secret, perfect sugar cookie icing recipe.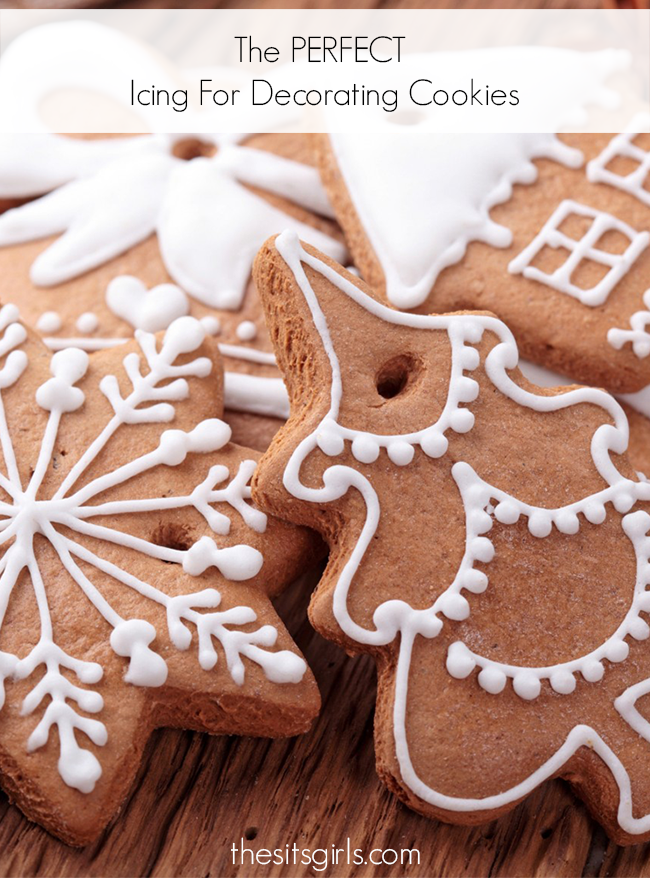 The Perfect Sugar Cookie Icing
Icing Ingredients:
This recipe will make one squirt bottle full of frosting.
2 1/2 cups of confectioners sugar
1/2 teaspoon of clear vanilla extract
1 tablespoon of butter
2 tablespoons of light corn syrup
3-5 tablespoons of hot tap water
gel food coloring
Toothpick or something similar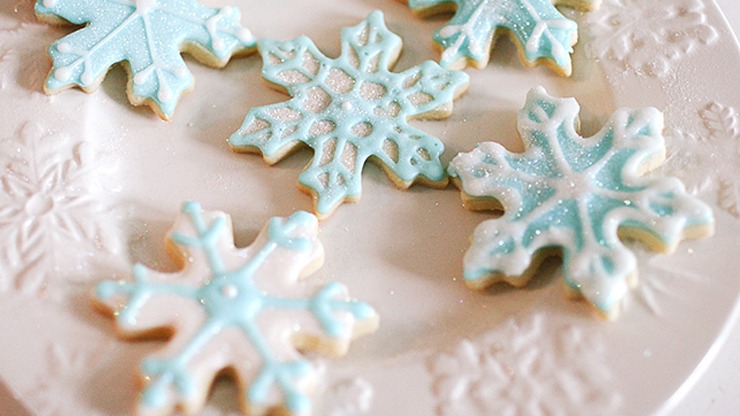 How to Make Icing for Sugar Cookies:
The recipe to making the frosting is super simple. Start by combing the first 4 ingredients in a stand mixer in a large bowl. You can use either a paddle or whisk attachment, whatever you prefer.
Build up to medium speed slowly. Do not start too fast, or the confectioners sugar will fly everywhere. Next you will begin to add the hot water by one tablespoon at a time. Let each tablespoon of water be incorporated before you add the next. It is crucial you do not make the icing too runny. The mixture should begin to resemble the texture of toothpaste.
Keep adding water slowly, until your icing reaches your desired consistency, similar to honey. It should be thick, but not so thick that it won't be able to spread easily and flood the cookie area.
Once you have reached a good consistency you can use the gel coloring to mix whatever color you want. If you need just a little of one color pour some into a little bottle and mix accordingly.
Icing Tips
I have a few other secrets that will help you as you begin decorating cookies.
1. I always use these Wilton squirt bottles for icing cookies. They are amazing. They allow for control of the design, and it is so much easier than using piping bags or frosting bags. Plus, you can store leftover icing in the bottles before your icing dries out. I can not recommend these enough!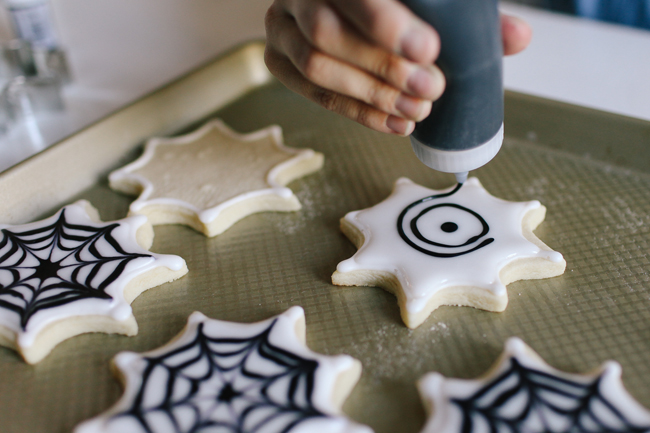 2. To get intense color, make sure you are using gel food coloring. It allows you to add a little to get a richer color, and does not water down your icing if you need to add a lot to make a deep color (like red or black icing). You will also have a larger range of colors to choose from when using gel food coloring than the old school liquid drops.
3. Always use CLEAR Vanilla Extract when you make sugar cookie icing. I buy it in bulk from amazon. In order to get a pure white color, you need to be using clear vanilla extract. It also has a great flavor.
4. Finally, I also recommend that if you need to make a lot of one color you try to make it all at once. Triple the icing recipe and make 3-4 bottles of red at once, that way you can make sure that they are all the same exact color of red. If you try to make them one by one, often times the colors will end up different.
You are now ready to make your own icing and decorate super cute cookies.
Want our recipe for the perfect sugar cookies?
Check it out here and get ready to pull out your baking sheet! Plus, the post has a fun marbled icing technique you have to try on your next batch of cookies!