This post may contain affiliate links which may give us a commission at no additional cost to you. As an Amazon Associate we earn from qualifying purchases.
Normally, I would have never thought to take cake batter to the next level– but, after a very interesting conversation with a lady at church, the idea was sparked in my inner creative thoughts. In fact, I carried that idea with me for weeks. It was always in the back of my mind. Could I really do it? Would the results end in a disaster?
Not quite.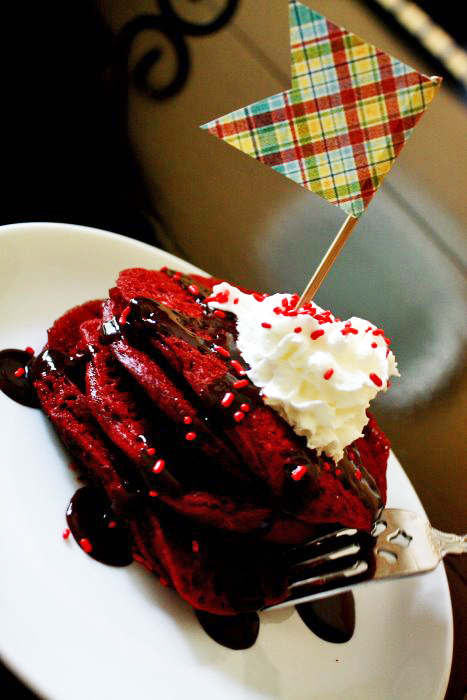 And so, the idea for dessert flapjacks was born.
Now mind you, I thought this cake batter would behave itself just like it's long lost cousin- regular pancake batter. (It's just plain ol' cake batter, straight from the box!) But, it was up for a fight. Persnickety Red Velvet! Well, she threw a fit as soon as she hit the hot pan. I had to work with her a bit to show her who's boss. After a few harsh words, a little elbow grease, and a warning threat to be tossed in the trash can, Red Velvet behaved herself. I knew she had it in her.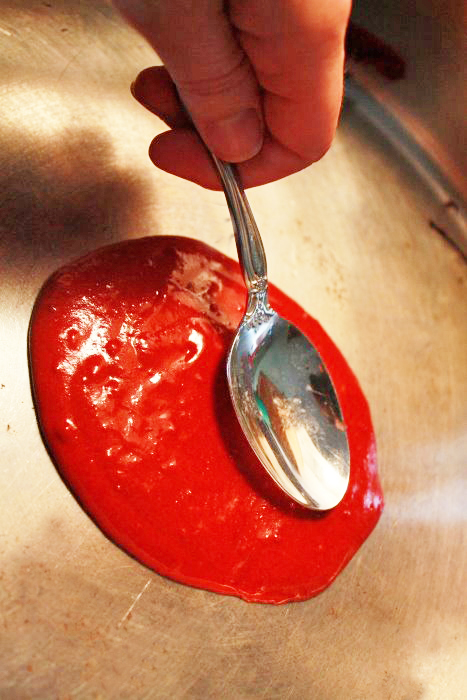 The secret to my success… a quick spread with the back of a spoon. Red Velvet does not like to be too thick. Once I figured that out, flapcakes were a breeze!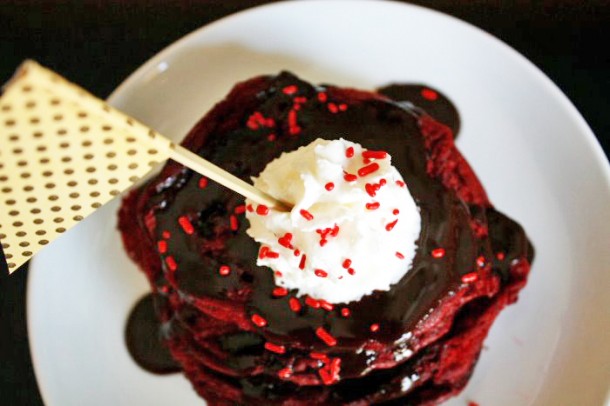 Now, why Red Velvet– you may ask? To me, Red Velvet is the most decadent cake, exactly what Marie Antoinette would have eaten if she were sitting at my table. And, I'm kind of a Southern girl at heart. Red Velvet makes me want to slip into my ornate gown fashioned from green taffeta drapes and begin quoting Scarlet O'Hara.
So, now that we've got our fabulous 4 tiers of hot dessert cakes, what do we do with them? Toppings! Don't forget the toppings! None of that drab maple syrup or boring butter for these hot fancies. Bring out the chocolate syrup! Bring out the fluffy whipped cream… and don't forget the sprinkles! Everything is better with sprinkles.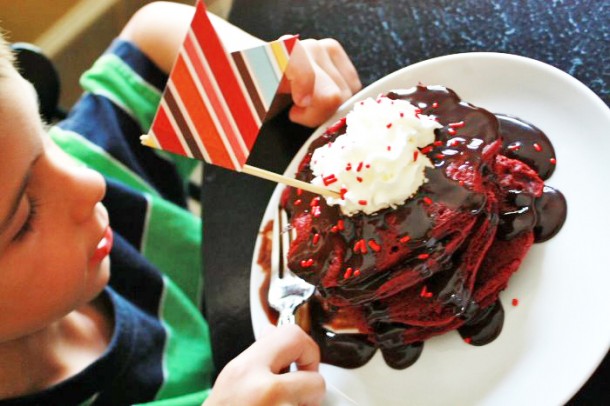 And, if you're a little bit crazy like me– you can whip up a small decorative flag out of toothpicks and a pennies worth of paper. But, that bit of insanity is totally optional. I'm throwing that out there just in case you are not afraid to take your pancakes to the next level!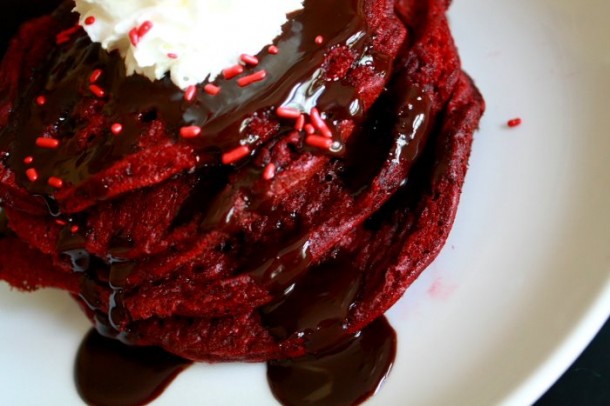 Now, let me just get my frying pan and a wooden spoon and whoop a holler out the back door!
"Flapjacks are on! Cooooooome and get it!"
For more fun ideas, you can come and visit me at Little Momma & Co.