One of our household favorite meals is a rice bowl. They are so versatile (i.e. use up whatever veggies you have sitting in the fridge). And I loooove adding a lightly fried or poached egg to, well, pretty much everything. I know there are a lot of people who don't like runny egg yolks, but I think they make a perfect "sauce" for so many dishes.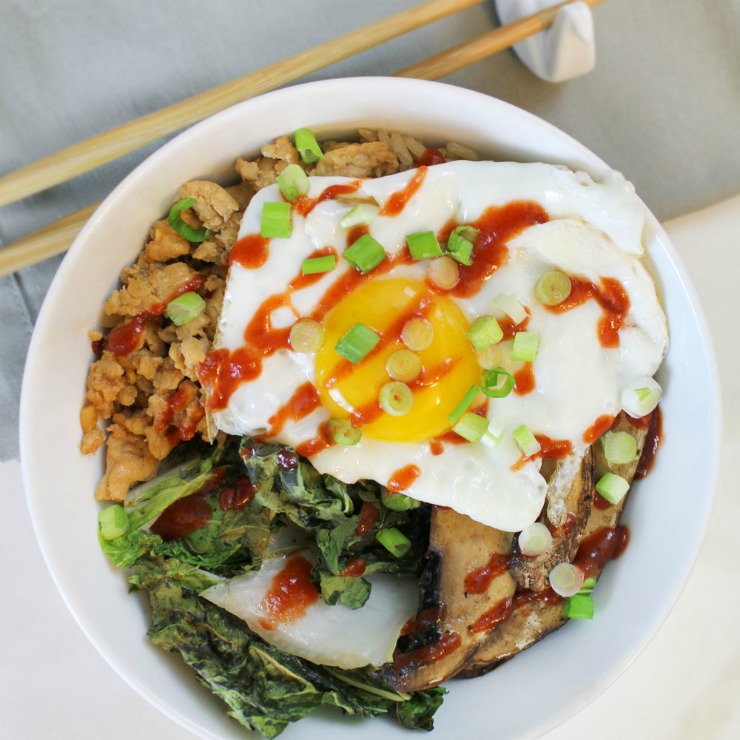 I often sauté my rice bowl veggies in a pan on the stove, but I decided to go a different route this time and roast them in the oven. If you have never had roasted bok choy before, you are missing out. The thicker parts get tender, but not soggy, and the edges of the leaves get crispy (almost like a kale chip).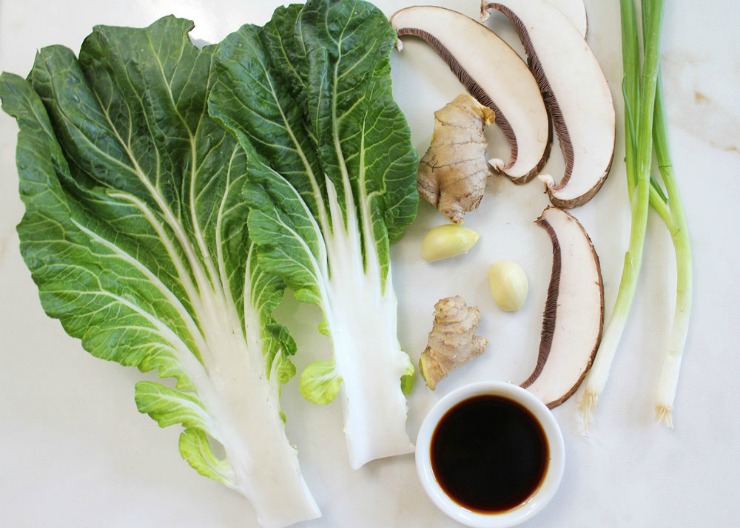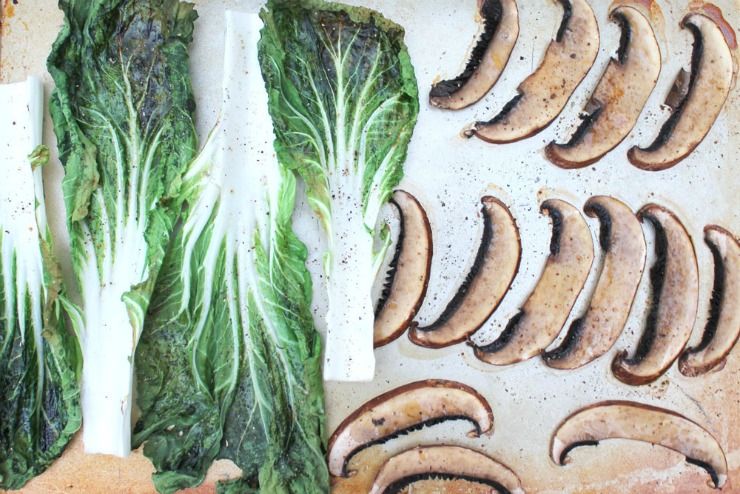 As I said before this recipe it very versatile. I used regular bok choy because that is what came in my CSA box, but baby bok choy would work well too. Instead of separating all of the leaves, just cut the head in half vertically. If you don't have bok choy, substitute with kale or chard (you may need to adjust the cooking time) or use ground turkey or beef instead of chicken if you wish. Be creative!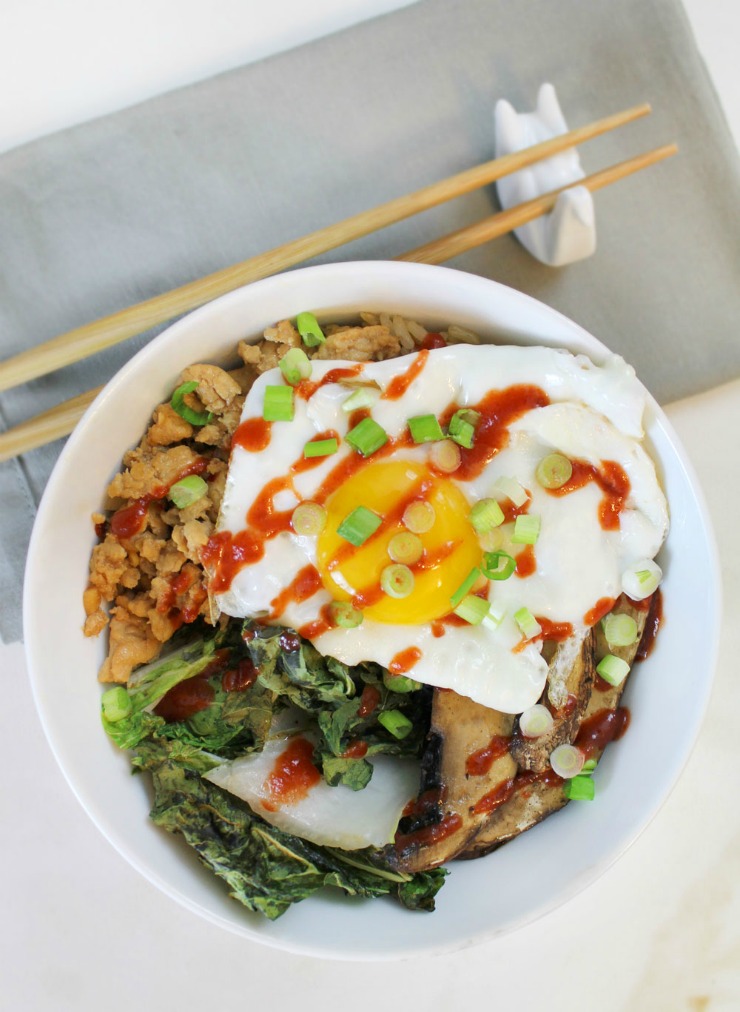 Chicken & Mushroom Rice Bowl With Roasted Bok Choy
Rice Bowl Ingredients (Serves 2)
4 Large Bok Choy Leaves
1 Portabella Mushroom, sliced
1/2 lb Ground Chicken
1 1/2 cups Cooked Brown Rice
Olive Oil
Salt & Pepper
2 Sunny Side Up Eggs
2 tbsp Chopped Green Onion (optional)
Sriracha (optional)
Simmering Sauce for Chicken
3 tbsp Low-Sodium Soy Sauce
1/2 tsp Grated Fresh Ginger
2 Cloves Garlic, Minced
1/4 tsp Red Pepper Flakes
1 tbsp Honey
1 tsp Sesame Oil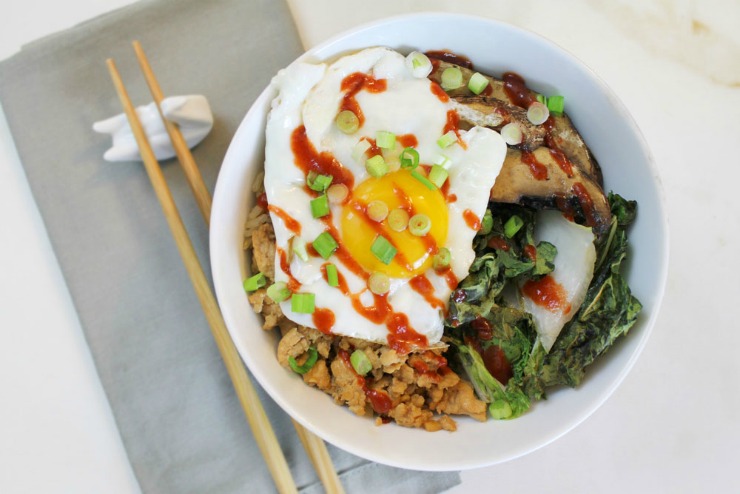 Directions
1. Preheat oven to 425°
2. In a small bowl, mix together simmering sauce ingredients.
3. Spread bok choy and mushrooms out on a baking sheet and lightly drizzle or spray with olive oil (I use a Misto). Sprinkle with salt and pepper.
4. Bake for about 15 minutes, or until bok choy and mushrooms are cooked through and the edges of bok choy leaves are crispy.
5. While the veggies are roasting, heat a frying pan over medium-high heat with 1 tsp olive oil. Add chicken and cook, stirring to break up pieces, until browned (about 5 min).
6. Reduce heat to medium-low and add sauce. Simmer for about 5 minutes or until chicken is completely cooked through and sauce has slightly thickened.
7. Lightly fry or poach 2 eggs.
8. Divide rice into two bowls and top with bok choy, mushrooms, chicken, and eggs.
9. Drizzle with sriracha and sprinkle with green onions (if using).
Author Bio: Jen
Hi there, my name is Jen. I am a graphic designer living in Austin, TX with my husband and dog (but I'm a California girl at heart). I love delicious food, design, craft beer, a good cocktail, reading, adventures, learning new things, dog snuggles, friends and family. I love to create. Whether it be food, design, art, crafts or DIY projects around the house. I blog at asipofbliss.com where I chronicle some of my projects, thoughts, and creative endeavors.