This post may contain affiliate links which may give us a commission at no additional cost to you. As an Amazon Associate we earn from qualifying purchases.
Dessert is always my favorite part of a meal! When the weather gets warmer my kids love to have frozen pops and ice cream on our porch to cool down. It is always one of our favorite parts of summer. The only problem with kids and ice cream is…it creates a huge mess with sticky hands, stained clothes, and melted ice cream everywhere! This Rice Crispy Surprise Treat is the cutest way to enjoy a mess free dessert during the summer!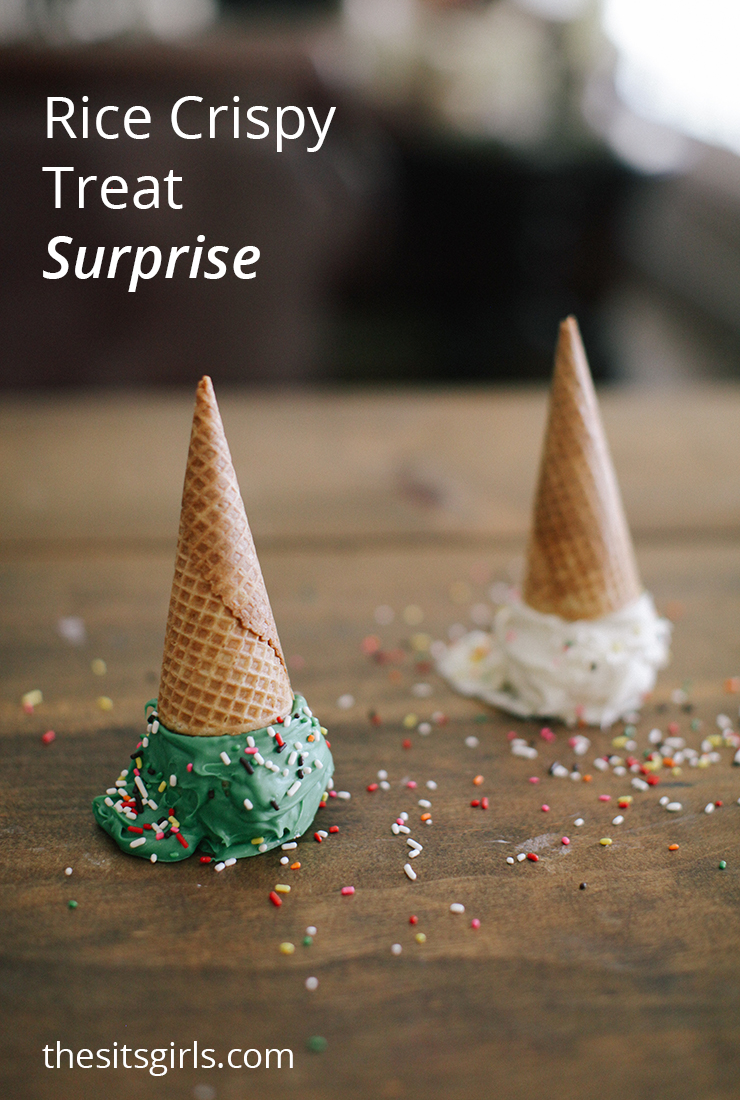 Rice Crispy Surprise Treat
Ingredients:
Rice Crispy Treats (about 2 squares)
Sugar cone
candy melts
sprinkles
wax paper
Method:
To make these cute treats I used store bought Rice Krispie Treats. I love using homemade when possible, but the ease of this dessert is that it is as quick as it is delicious! The most important part is to make sure you lay wax paper down before you put the melted chocolate ball on the surface, or else it will not come off in one piece.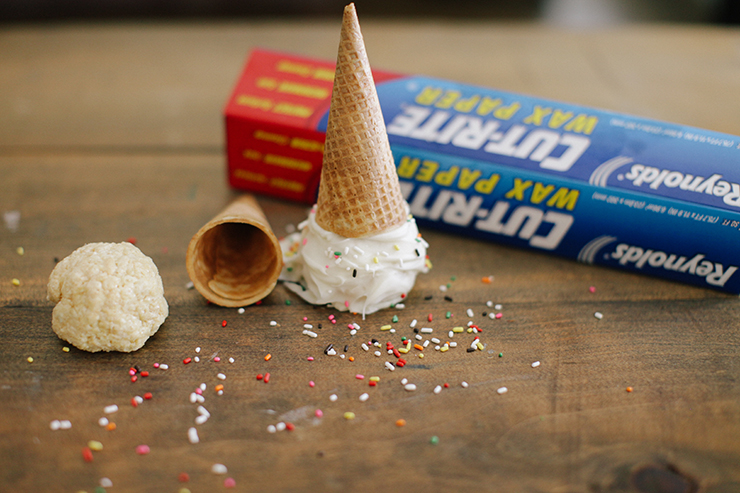 Begin by melting the candy melts in the microwave. I chose white and green candy melts, but pink and brown would look very cute as well! The best way to melt them is in 20 second intervals. Stir in between, and continue until the candy melts are a smooth consistency with no lumps.
While the chocolate is melting, shape two rice crispies into a ball in your hand. Once the shape is circular, smash one side so that it is flat.  This will be your base after you have covered it in chocolate.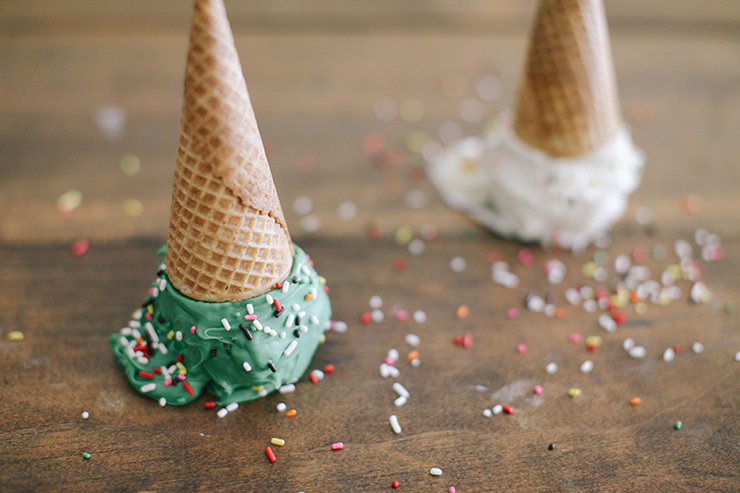 Roll the rice crispy ball in the melted chocolate candy melts leaving some excess on one side.  Place it on the wax paper and add some more to create a dropped ice cream cone effect.  Place a sugar cone immediately on top of the rice crispy ball and then add some sprinkles. Let it dry until the chocolate is hardened and remove from the wax paper.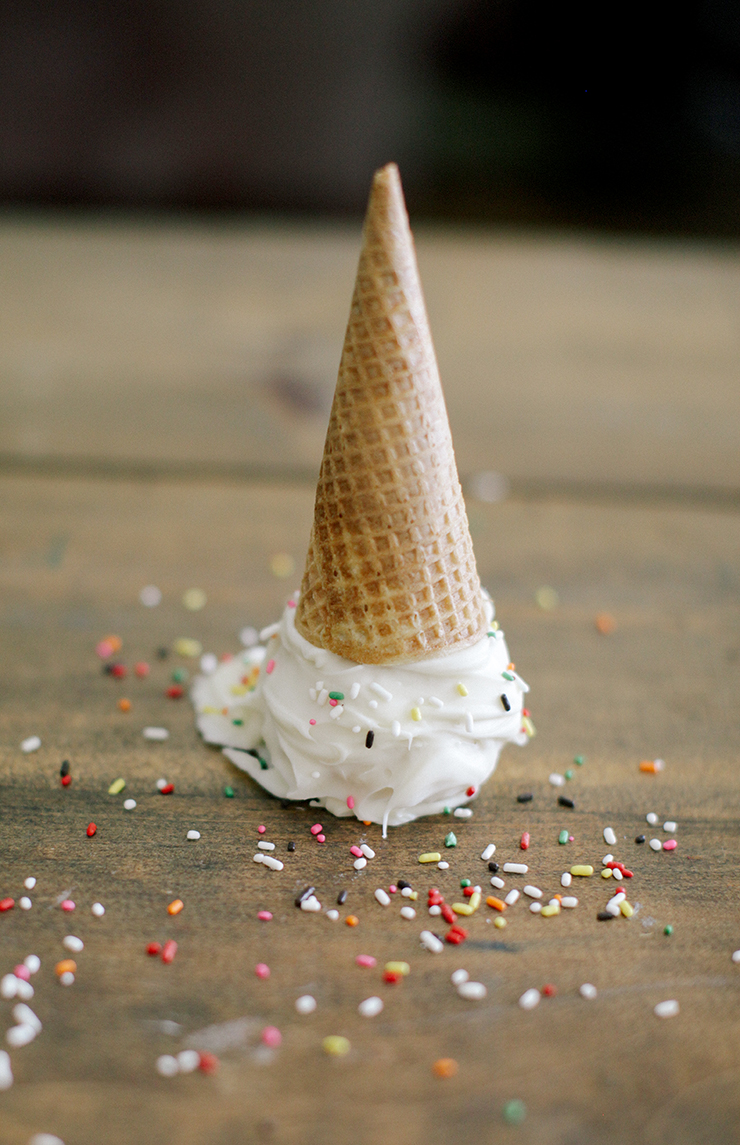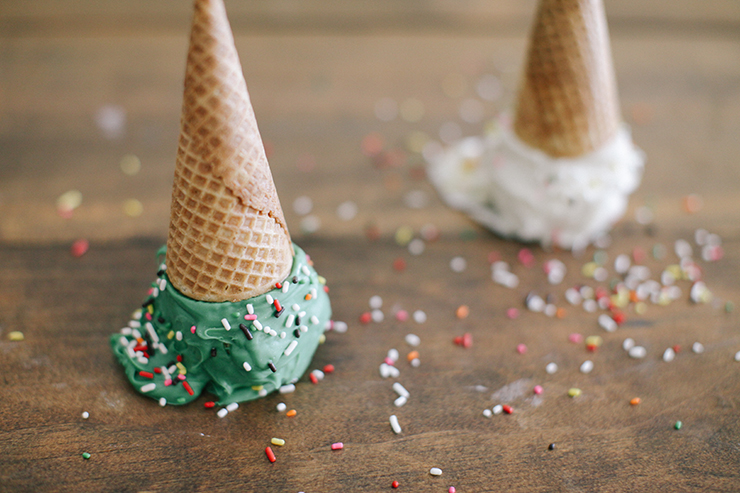 These treats are so fun to eat! Rice crispies covered in chocolate are seriously delicious snacks. The whimsical feeling of eating an ice cream cone (without the mess!) is the best part!