This post may contain affiliate links which may give us a commission at no additional cost to you. As an Amazon Associate we earn from qualifying purchases.

I like Beer. Um, actually that is not entirely true. I. Love. Beer. Yep, that's better. I appreciate it, I enjoy trying new varieties when we are out for dinner, and I relish in the fact that different varietals pair well with almost every type of meal.
So, when SITS was invited to attend a lunch event for the recent re-release of Shock Top's Lemon Shandy and Belgian White Ales, I was prepared to arm wrestle anyone else who wanted to go.
Shock Top's Lemon Shandy is a Belgian-style wheat ale and is the only nationally distributed Shandy made with real California lemon peels, making Limoneira Ranch in Santa Paula, California, the perfect location to celebrate it's return. I live fairly close to Limoneira, (although after spending the day there, I've decided I would rather live AT Limoneira) and opted to drive up from home. My decision to drive myself was very quickly deemed a fail while I was waiting for the other guests to arrive and this happened…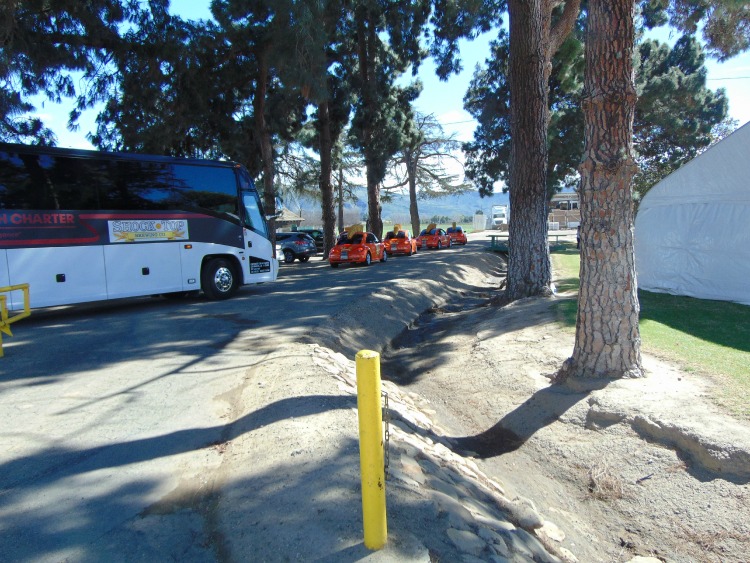 Yes, that is a luxury bus full of people sipping Shock Top Lemon Shandy and Belgian White Beer, escorted by a fleet of Neon Orange Shock Top Bugs.  Oh, how I wanted to be on that bus. Actually, I wanted to be driving one of those cars, complete with a beer tap in the trunk and a yellow Mohawk. SO fun!
I quickly tried to blend in with my fellow Shock Top enthusiasts as we were all ushered over to a large tent. A large tent that was COLD, I mean East Coast cold, which I don't do well, being a California girl, born and raised.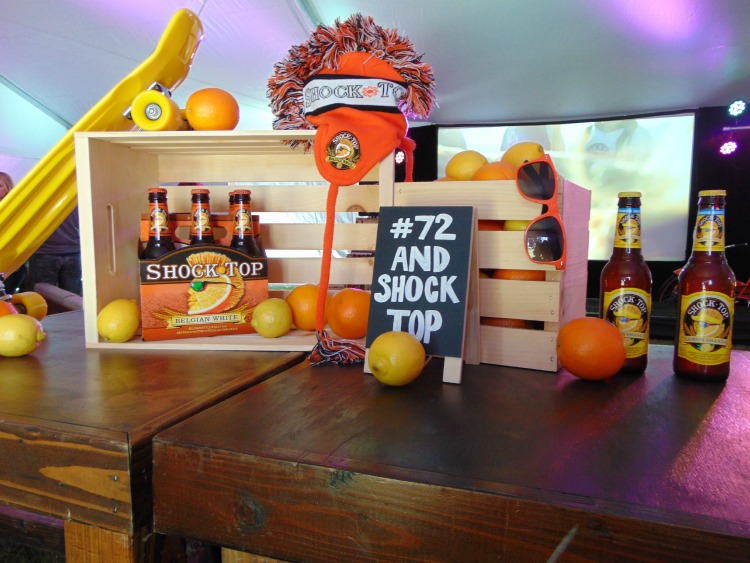 (Notice the beanie – they actually passed those out to people to wear in the tent. Reiterate. COLD) I really should have taken one, as shortly after this it starting snowing in the tent. It was amazing. I would have taken a photo, but between the ice cold Lemon Shandy and the snow – my fingers were frozen, even though my heart was warm!
After the snow subsided, and with Shock Top's effort to bring a summertime vibe to cold weather cities across the country, the tent opened on the other side and that glorious 72 degree California weather and sunshine filtered its way in. We walked out to the lemon groves and a setting that I can only describe as perfect. The smells, the sounds, the Lemon Shandy, the music, the food, the people, the Lemon Shandy – yes, I meant to say Lemon Shandy twice.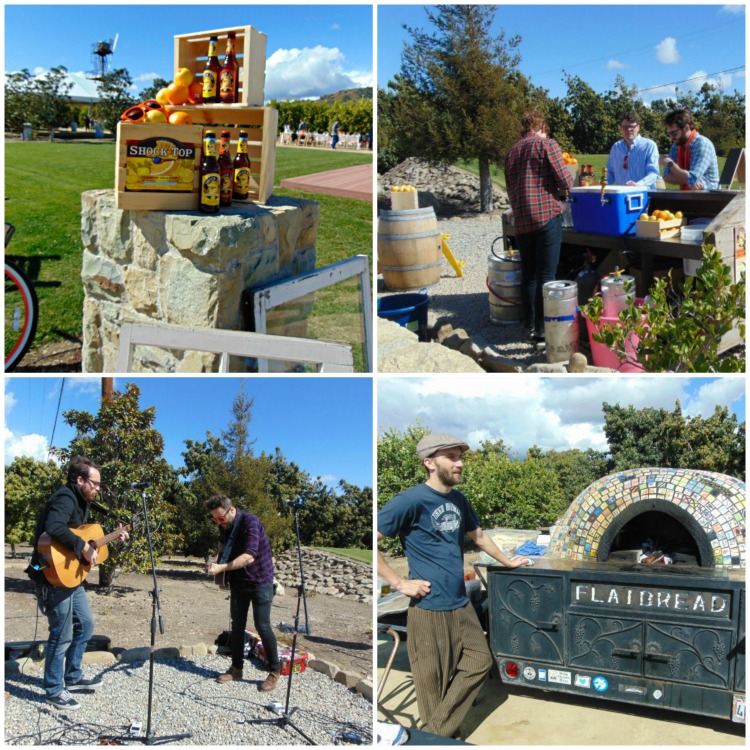 We had some time to explore the grounds while enjoying amazing appetizers and learning more about Shock Top Lemon Shandy and Belgian White.
Shock Top Lemon Shandy is a Belgian-Style wheat beer and the only Shandy on the market made with real California lemon peels. To be honest, I was a little worried before taking my first sip; I am not a HUGE lemon fan. It had such a refreshing and smooth taste, not at all bitter or overly flavored. Shock Top Belgian White is brewed with orange, lemon and lime peels, and coriander to produce a crisp and distinctive taste. Both are amazing. Trust me. Or better yet, just go out and get some right now to see for yourself.
At this point, I am thinking, "The day can't possibly get any better". Then this happened.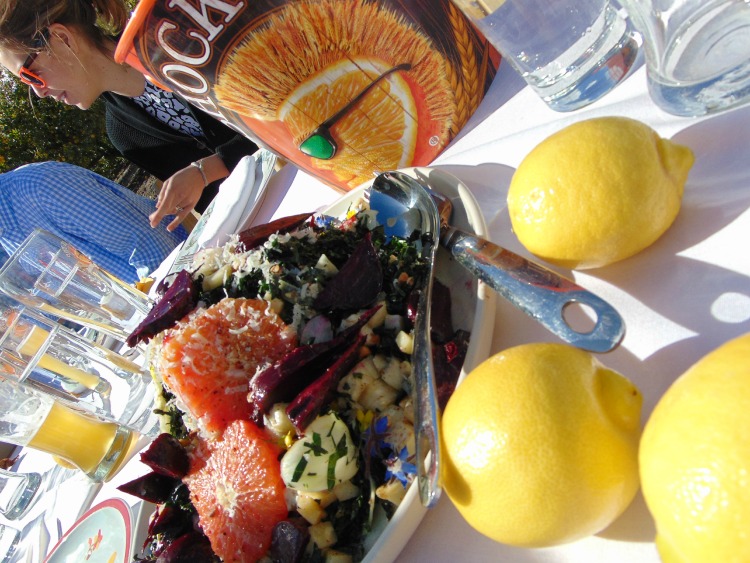 Outstanding In the Field and chef Clark Staub served us a meal that can only be described perfection. Farm to Table fresh using Shock Top Lemon Shandy and Belgian White. Fresh Kale Salad with roasted beets, grapefruit and fresh cheese.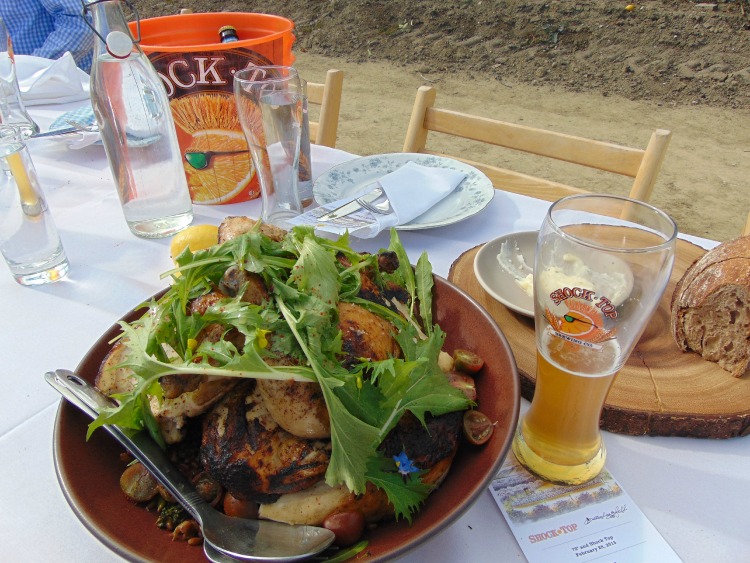 Whole Roasted Pressed Chicken that had been marinated in Lemon Shandy!! Stop. It. Now. I also can't believe I managed to snag a photo of that fresh baked bread, made with the Belgian White in the background. People were gobbling that up double sliced. It was epic.
I tried to just get up and walk away with this whole tray of desert. I mean, I did drive myself and figured I could probably make a clean getaway, but while I was busy acting like a paparazzi and drooling all over the place, people starting claiming what they were taking first.
The most amazing thing about this meal was that both the Lemon Shandy and the Belgian White paired perfectly with everything. Yes, even the popsicles!
Belgian White and Lemon Shandy beers deliver a summertime vibe—especially coming out of a record-breaking winter. Up next, Boston. Do they ever need some Lemon Shandy and Belgian White goodness right now! Lemon Shandy and Belgian White make it "72 and Shock Top" no matter where you are!!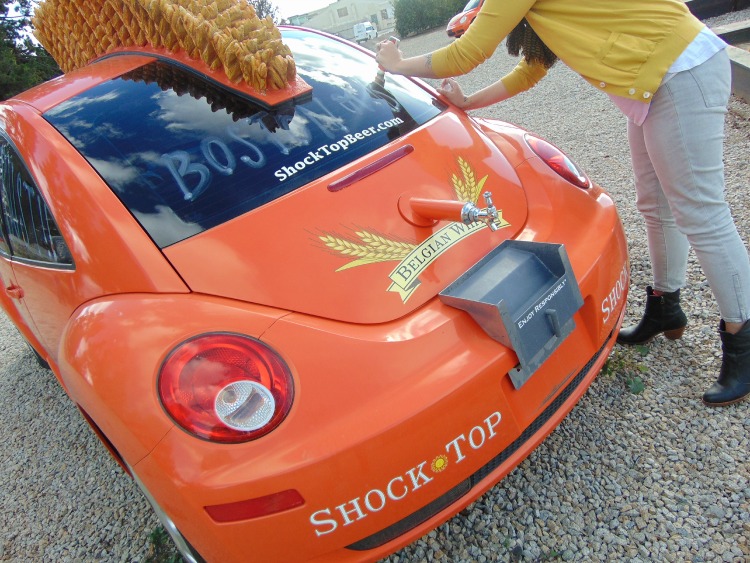 Want a say in what cities they will visit next? Weigh in on social media with the hashtag #72andShockTop, and help bring a taste of summer to your favorite frozen city.
Shock Top Lemon Shandy is available on and off-premise from March 2nd through Sept. 6, 2015.
This is a sponsored post written by Cheryl on behalf of Shock Top.