This post may contain affiliate links which may give us a commission at no additional cost to you. As an Amazon Associate we earn from qualifying purchases.
Summer is not complete with at least a few bonfires that involve making s'mores with the kids. There is something about that roasted marshmallow and melted chocolate that make both kids and adults happy. There is something special about a dessert that you create outside as a group while debating about the technique for the perfect roasted marshmallow. However when you are entertaining in the summer, or have little kids around that you can't trust with an open fire, these S'mores bars are a great alternative.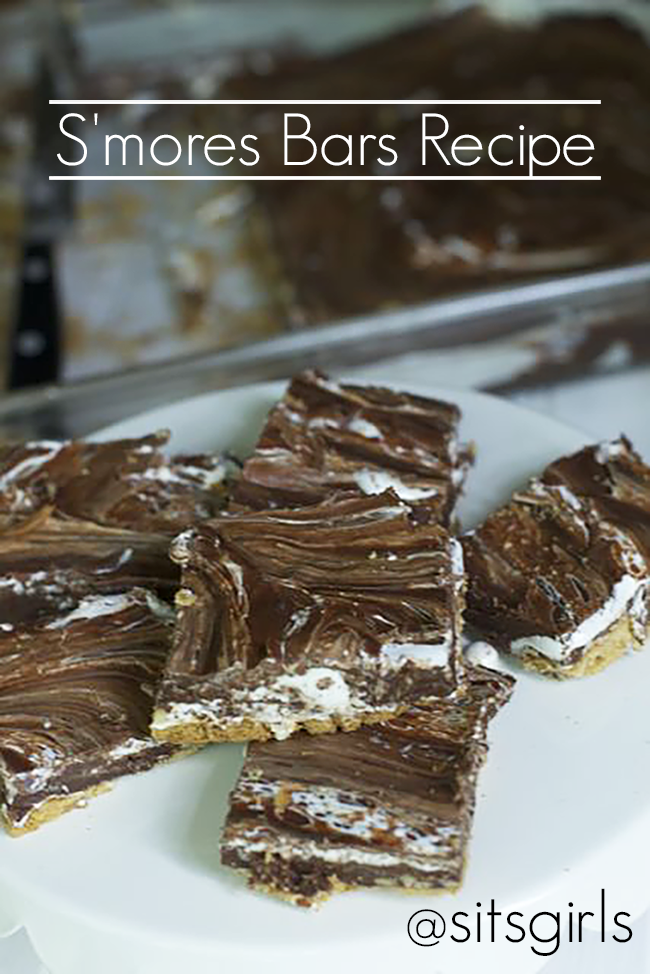 The Perfect S'mores Bars Recipe
Being able to make these bars ahead of time is another plus of this recipe. S'mores Bars stacked up on a dessert bar allows your guests to enjoy them at their own leisure. These bars are not just kid friendly, but the adults I recently served them to gobbled them up, and all wanted the recipe. With just a few ingredients you, too, can make this childhood treat that will get even the stuffiest of adults reminiscing of the outdoor bonfires they had as kids.
First line a tray with graham crackers. The obvious start to any S'more.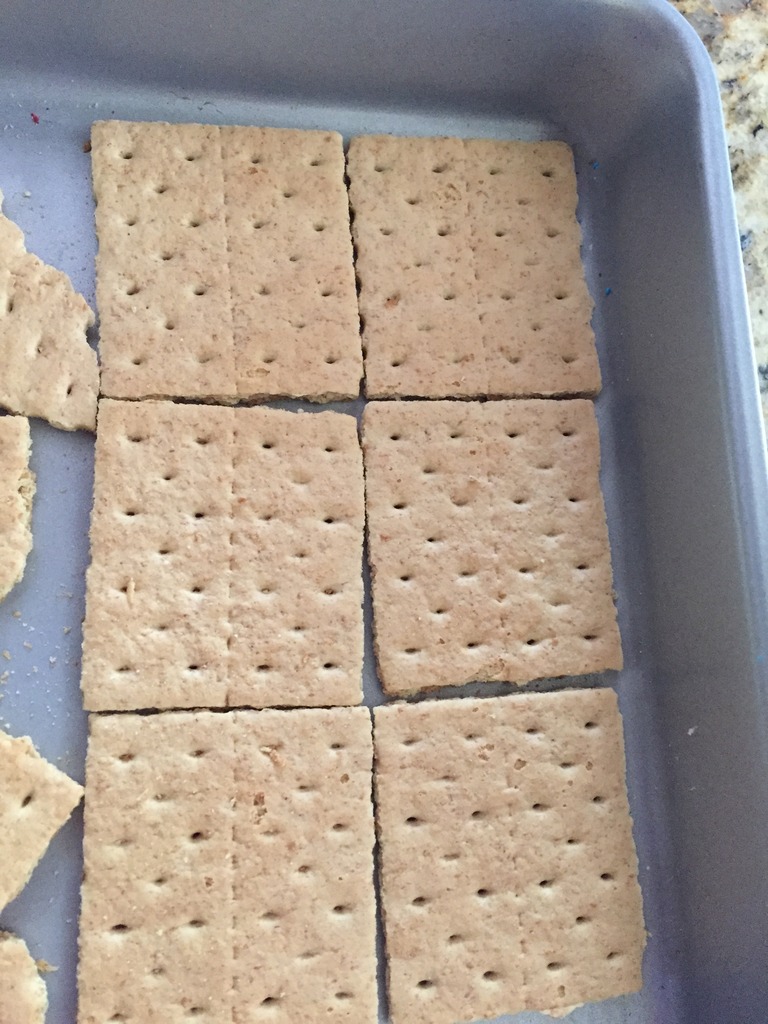 Layer a jar of Marshmallow fluff over the crackers. This can be messy but with a little patience you can spread this sweet confection over the bars. I added nuts to the first batch I made, but think I like them better without.
For the chocolate layer, simply microwave chocolate chips and Sweetened Condensed milk together until smooth.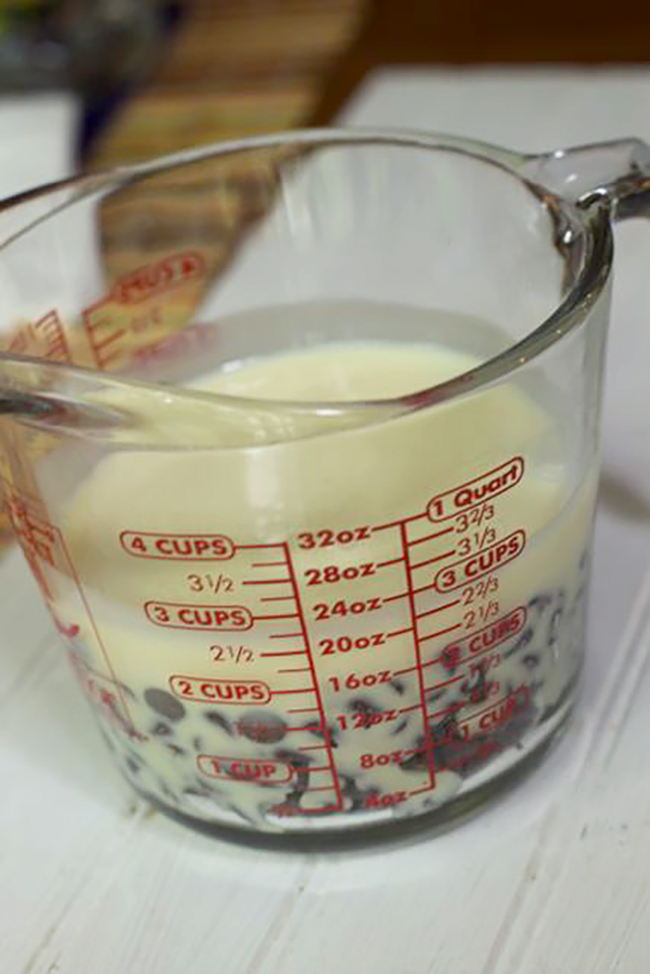 You need to work quickly at this point! This chocolate mixture starts to harden fast. I found using an offset spatula worked well to spread this mixture. Don't worry about any marbling you might get when the chocolate hits the fluff, I think it gives this dessert bar character.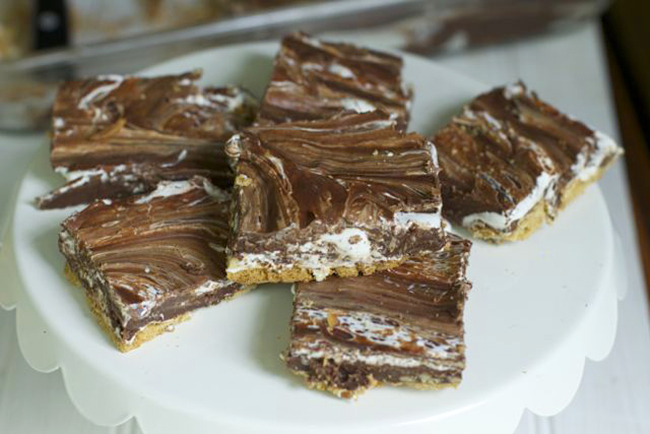 Allow these bars to cool in the fridge, especially during the summer months. Be sure to cut and store them in a cool place as well as I noticed the longer they sat out at room temperature, the fluff started oozing from the bars. Still tastes amazing just not as appealing on a serving tray.
These S'mores Bars are a little sweeter than the traditional version so cut them smaller and your guests can just grab another one or two. Read below for the full directions.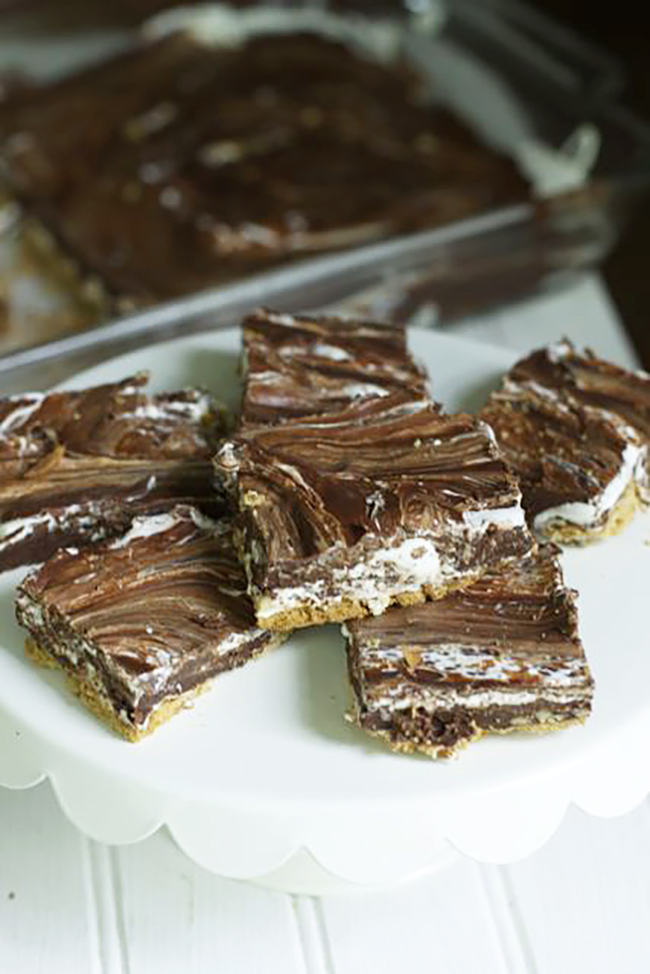 INGREDIENTS
*This recipe is adapted from Martha Stewart
8 graham crackers
1 cup marshmallow creme
1 bag (12 ounces) semisweet chocolate chips
1 can (14 ounces) condensed milk
Directions
DIRECTIONS
Preheat oven to 375 degrees. Line bottom of a 9-by-13-inch baking dish with graham crackers, breaking them to fit if necessary. Bake until crackers are lightly toasted and fragrant, about 8 minutes. Spread the top with marshmallow creme.
In a heatproof bowl water, combine chocolate chips and condensed milk. Microwave, stirring occasionally, until chocolate melts and mixture is smooth. Adding only 30 seconds at a time. Pour chocolate mixture over marshmallow creme; working quickly, swirl together with a thin-bladed knife. Refrigerate until set, about 1 hour. Cut into 18 squares. Eat and enjoy!