This post may contain affiliate links which may give us a commission at no additional cost to you. As an Amazon Associate we earn from qualifying purchases.
If you are anything like me, you always have a bag of carrots at the bottom of your refrigerator crisper. It doesn't matter the time of year, season, or holiday- there is always a bag. (sometimes large, sometimes small) Most of the time, those carrots find their way into our dinners, lunch bags, and maybe even a carrot cake dessert– but sometimes they sit. sit. sit.
And, if you are anything like me– you hate cleaning out the refrigerator and throwing away food that at one point in time would have been great to eat. But you forgot about it, and now it's too late. The wobbly carrots, well– they've seen better days, my friend. Whenever I toss that old food into the garbage, I am instantly transported to that skinny little eight year old with pigtails, sitting at the dining room table, pushing around the food on my plate and listening to my dad go on about starving children in some far away land. I feel guilty.
But, you are in luck! I've found a way to utilize those carrots! You know the ones. Just head to your refrigerator and look under the bagged lettuce, and to the left of the cucumbers. There they sit! Waiting for you to transform them into something amazing! And get ready, because– it really is amazing.
Emily's Secret Spaghetti Sauce
1. Chop 2 of those large carrots, one onion, and two cloves of garlic.
2. Add 2 TBSP of olive oil in a large skillet. Sauté the veggies until they are soft.
3. Add a 28 oz. can of crushed tomatoes, a T basil, and a tsp of oregano into the skillet with the veggies.
4. Simmer, until sauce is a bit thickened. About 10 minutes.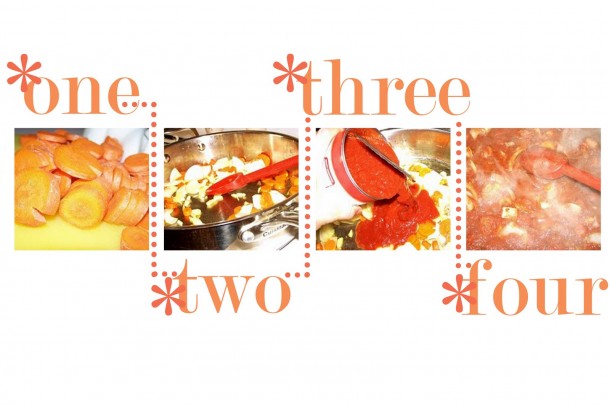 5. Remove from heat. Blend until smooth in a blender or food processor. (Use care, it's very hot!)
6. Pour the puree back into the skillet and add 2 tsp sugar, one tsp red pepper flakes, and salt and black pepper to taste. Heat through on medium.
7. Meanwhile, boil your spaghetti.
DONE.
Serve and enjoy. Top with grated parmesan, crusty bread, and a salad! Voila! Will your family even know that you have hidden carrots in their spaghetti? I'd bet not! Pat yourself on the back, you are SO sneaky!