This post may contain affiliate links which may give us a commission at no additional cost to you. As an Amazon Associate we earn from qualifying purchases.
Cooler weather means you can wear chunky sweaters, which means you can afford to snack a little more on delicious holiday treats, and nobody will know! It is one of the reasons we love fall best. The holidays, and especially Halloween, are the perfect time to overindulge in some delightful treats. I love baking with my little ones. It is such a fun family experience that can be passed down through generations. Our go to-treat is typically sugar cookies, but this year I decided we would branch out, and create our own trio of Spooky Halloween Treats!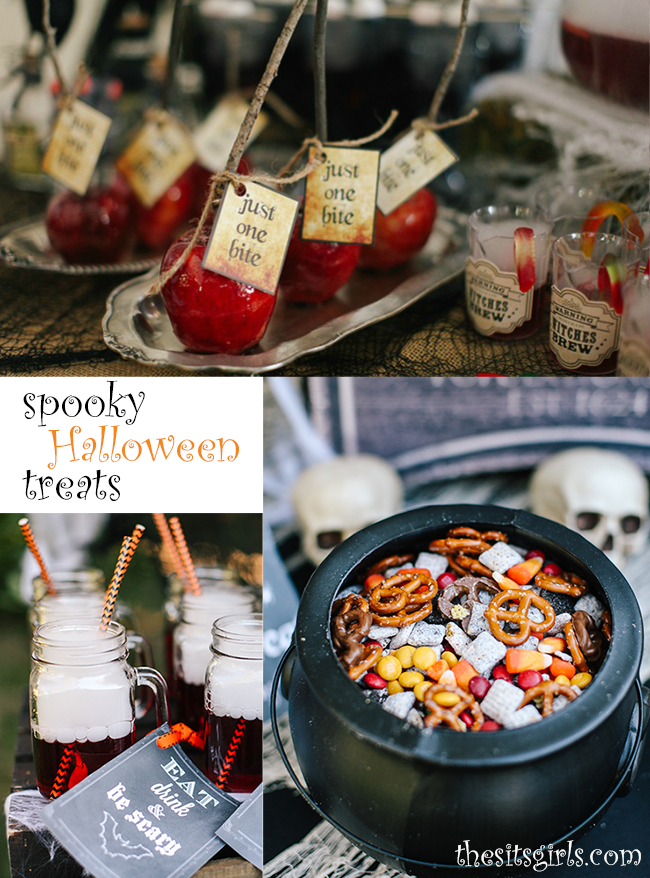 Spooky DIY Halloween Treats
In my Haunted Halloween Party and Evil Queen Party I served Spooky Halloween Punch, Spooky Chex Mix, and Poisoned Candied Apples. All these recipes are very easy to make, and do not require much prep work. Best of all, they are recipes little ones can help make!
Spooky Halloween Punch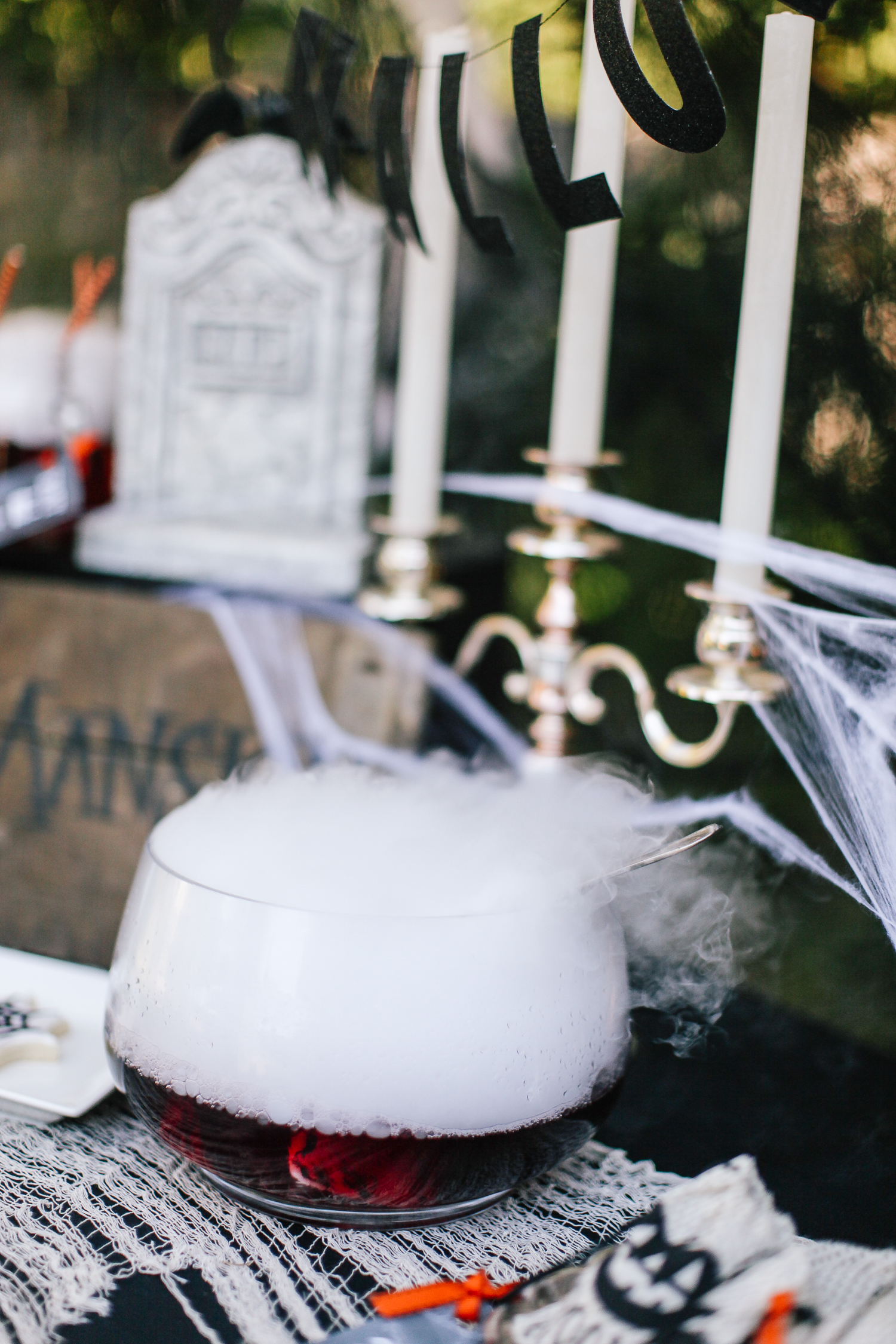 Ingredients:
One bottle of pomegranate juice
One bottle of Blood Orange Sparking Juice (you may use 7up if you can not find this)
One bottle of fruit punch
Dry Ice (around 5lbs, available at various grocery stores)
Our super cute Free Printables 🙂
Recipe:
Combine the three bottles of juice in the punch bowl (or cauldron, whichever you prefer) and mix! Break the bag of dry ice into smaller pieces, and add a large piece to the punch bowl, and smaller ones to the drinking cups. Pour and serve!
Tip: Dry Ice should not be touched without using gloves or protection on your hands. Dry Ice is colder than your freezer, so believe it or not it will actually melt quicker in the freezer! Store it in an empty ice chest instead of your freezer.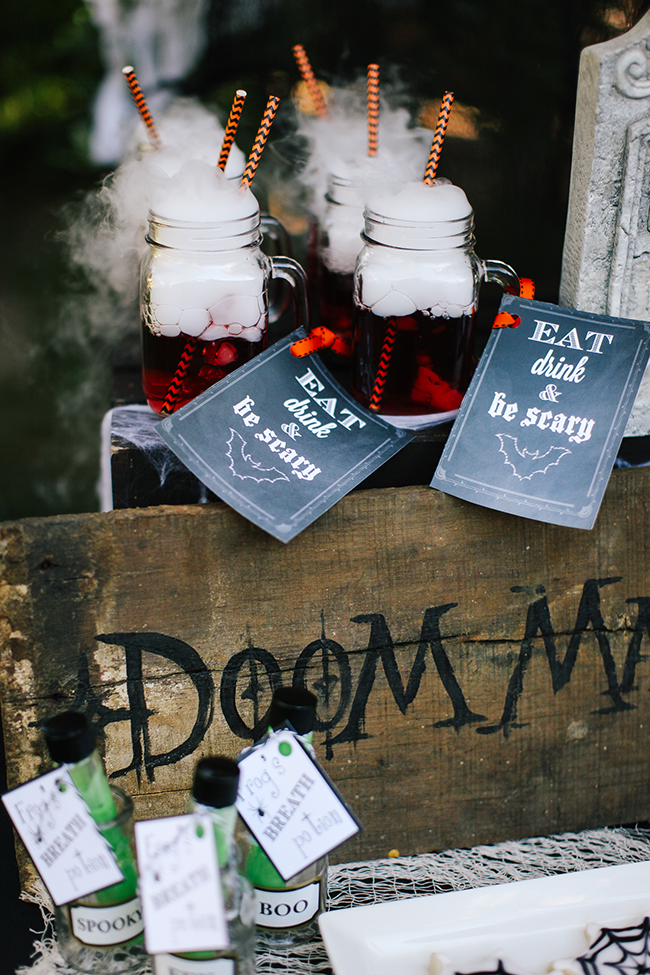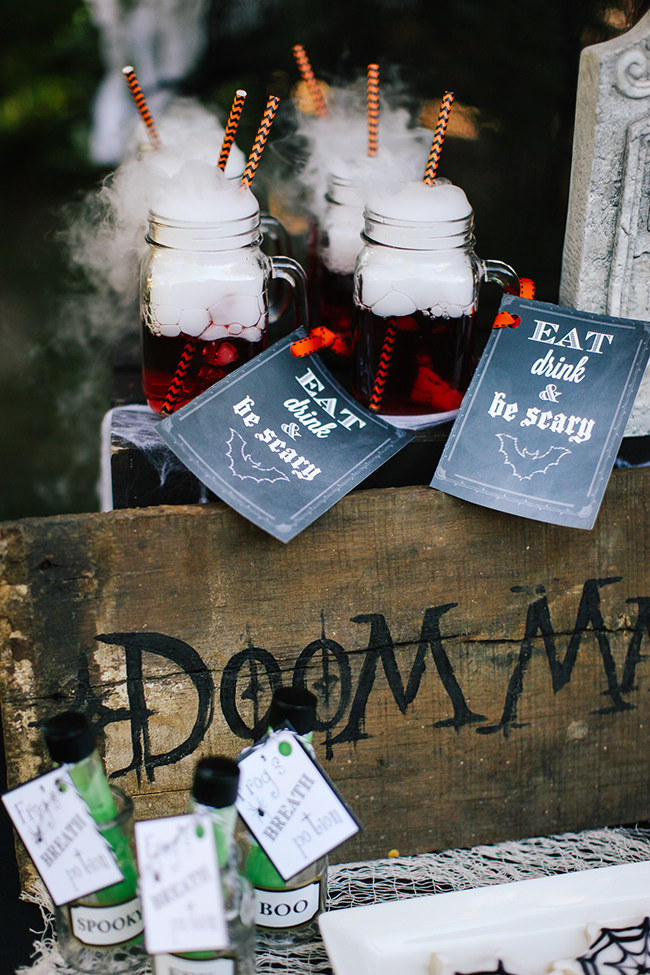 You can garnish your punch however you would like. For the Halloween party I added our cute printables and fun chevron print straws. At the Evil Queen Party I used skeleton goblets garnished with gummy eyeballs and beakers with gummy worms. You could throw the gummy candies in to the punch for an even spookier mix! Dry ice is such a fun and different thing to serve at a party. It is an easy way to add a lot of drama without spending a lot of money.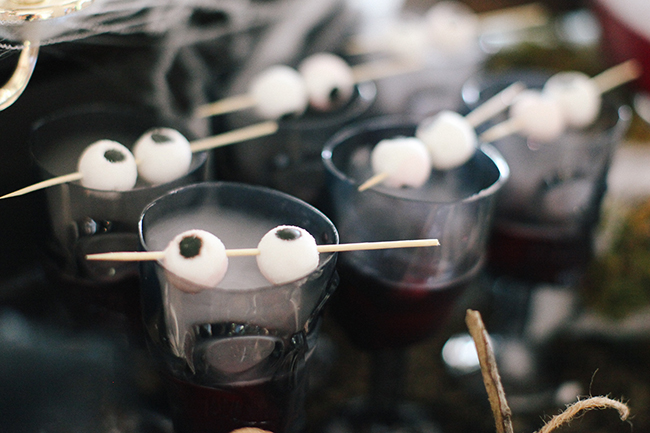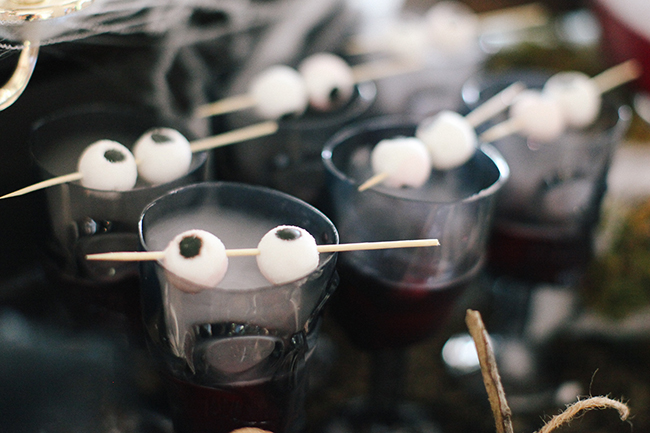 Spooky Halloween punch is adorned with gummy eyes, obviously this is what an Evil Queen would serve to her guests! Using fun goblets or different serving glasses is such a fun way to really up the ante!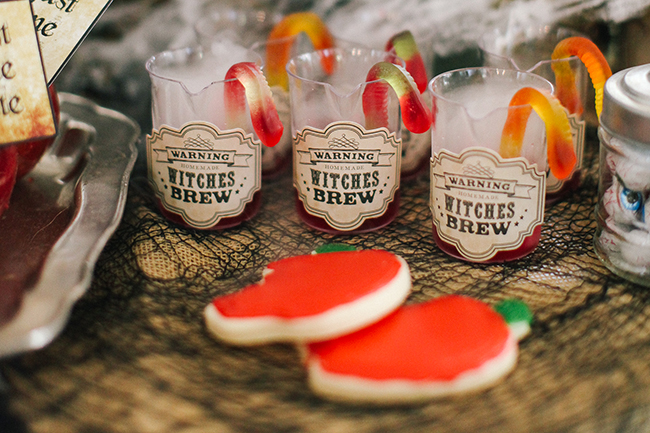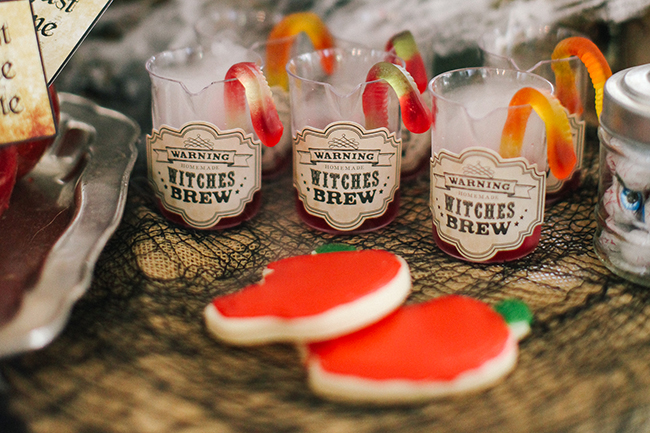 Mixing up potions can be a tiring job. Serve your little witches Spooky Punch with a side of gummy worms! Soon they will be refreshed and back to casting spells!
Spooky Chex Mix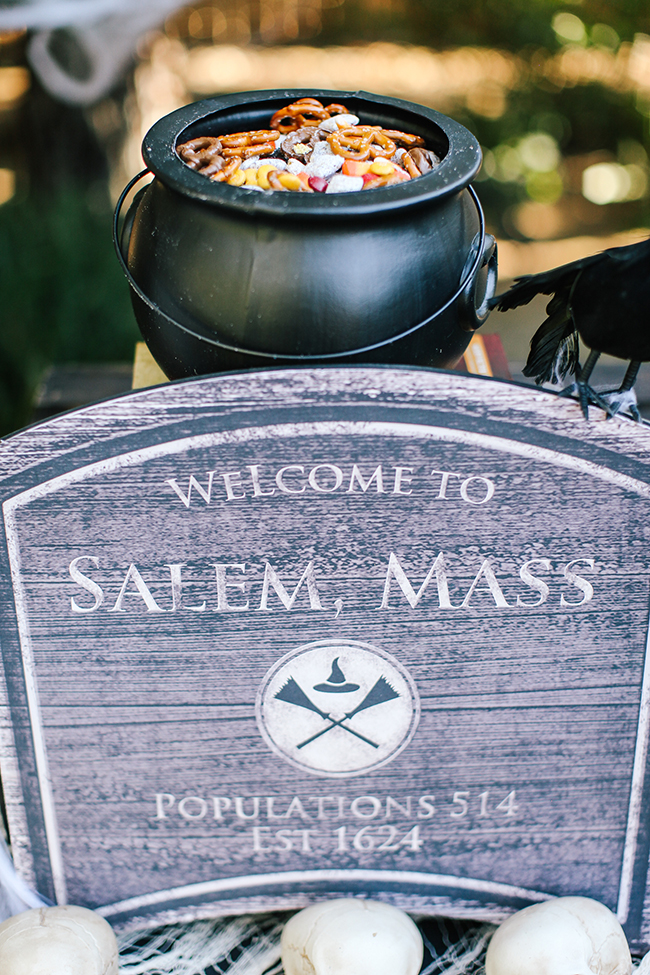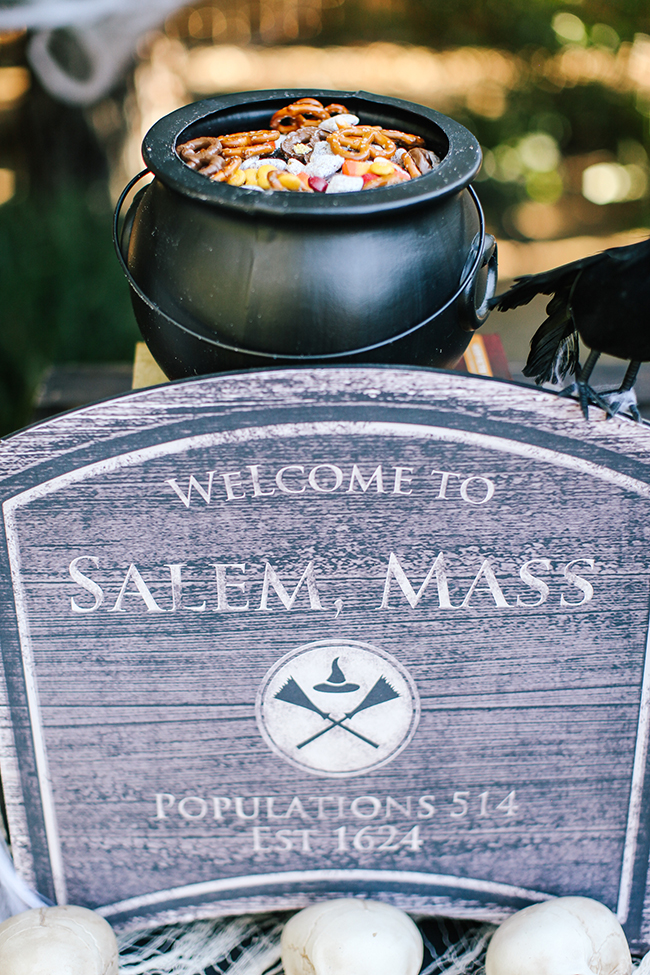 Ingredients:
Muddy Buddy Chex Mix
Mini Oreos
Pretzel twists or sticks entirely up to you
Chocolate covered pretzels
Pumpkin candies
Candy Corn
M&Ms or sixlets
Recipe:
Combine the Chex, Mini Oreos, and pretzels in a serving bowl. Stir until they are mixed well and then add the pumpkin candies and candy corn. Stir again. Lastly, add the chocolate candies and chocolate covered pretzels. Give it one last stir! How easy was that!? You're finished, and ready to bag up or serve your Spooky Chex Mix however you would like!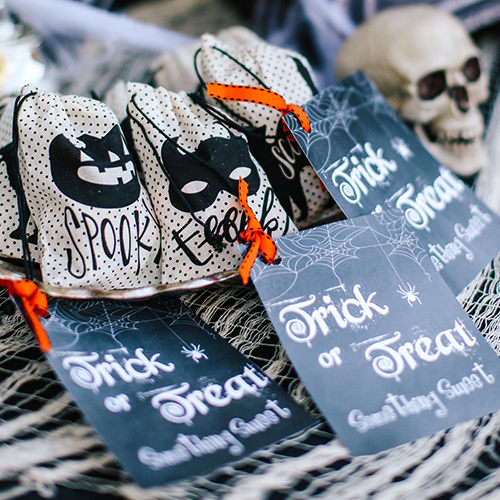 I bagged the Spooky Chex Mix in these adorable burlap Halloween bags, and added our Free printable to them.  We used them as cute little party favors that guests could munch on later in the evening.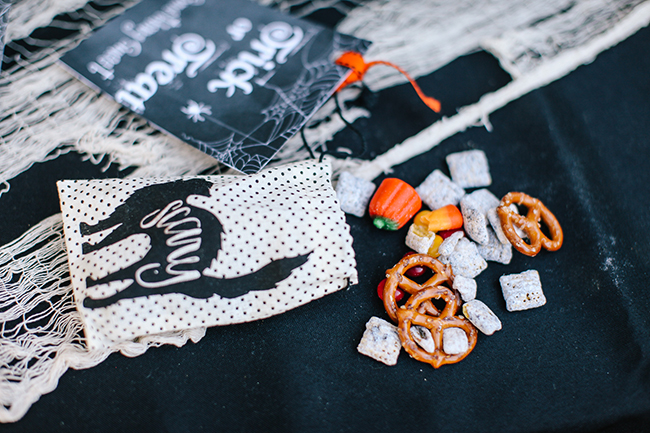 I served the Spooky Chex Mix in a cauldron to give it an extra creepy Halloween vibe. The kids were so delighted, and served huge handfuls out on their plates!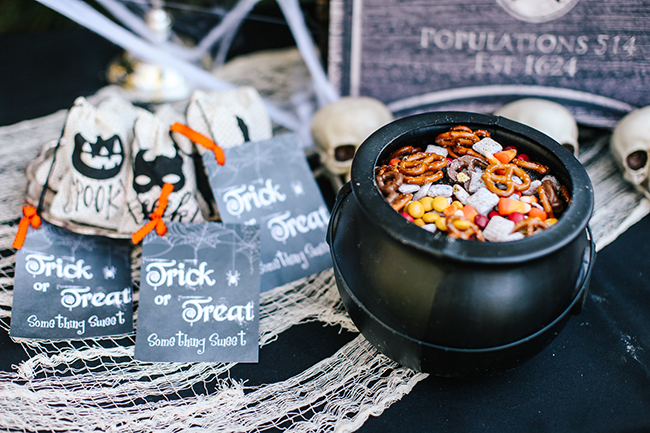 This was perhaps one of the easiest things to make, but was also super delicious. It is so fun to serve this to kids and watch them explore all the different ingredients. This is a recipe kids can make entirely by themselves. My son mixed his own batch, and was so proud to bring it to preschool to show his teachers he had made snack all by himself! Pair this with our adorable printables, and you have a smash hit Halloween treat!
Candied Poisoned Apples
As I have mentioned before, caramel or candied apples used to be a staple at Halloween parties.  I think they have been forgotten due to all the ready made Halloween treats that are now available.  To me, they are such a fun item to serve, and something that is perfect for any spooky party. My recipe is super easy, and will be sure to impress all your guests!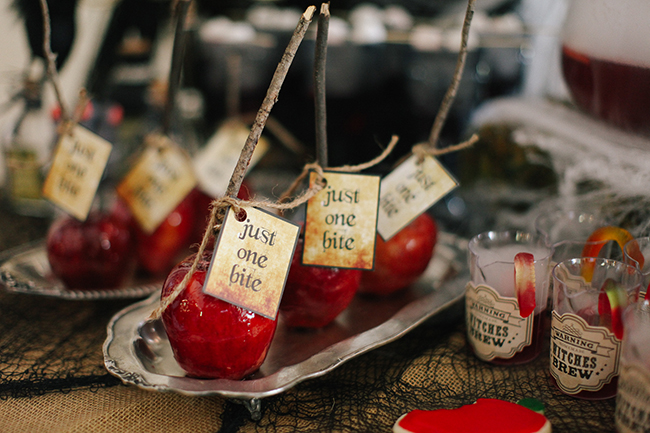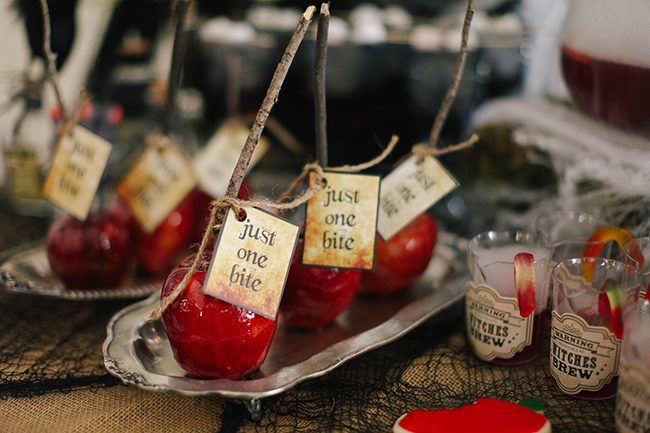 Ingredients:
8 red apples
8 craft or candy sticks
red food coloring
2 cups of sugar
1 cup of light corn syrup
1 1/2 cups of water
candy thermometer ( you can improvise if you do not have one, however it is easier if you do!)
Recipe:
Lightly grease a cooking sheet with canola oil or a cooking spray. This will prevent the candied apples from sticking to it once they are dry. In a medium saucepan, over medium to high heat, combine the sugar, water, and corn syrup. You will heat the mixture until it is at 310 degrees (basically the hard candy crack stage). Depending on your stove top it could take from 7-12 minutes. Test the mixture with your candy thermometer.
Tip: If you do not have a candy thermometer, you can drop a little of the sugar solution in a cold glass of water. If it forms hard brittle threads it is ready for use. If not, keep boiling until it gets there.
Once you have reached the desired consistency you will remove the candy solution from the burner and stir in about 10 drops of food coloring. Next dip your apples in the hot candy solution. You can used a spoon to drip over the top if the entire apple can not be dunked. Finally, let harden and dry!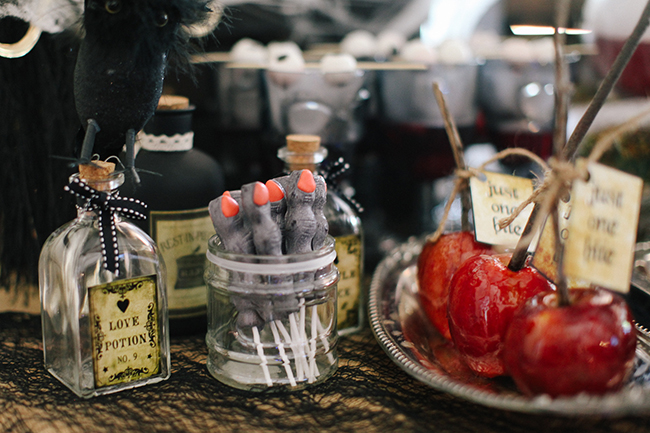 The next morning, after my applies were dried I exchanged my candy sticks for actual broken twigs. I washed the twigs and let them dry before I stuck them in to the apples. This is a fabulous way to make Candied Apples spooky!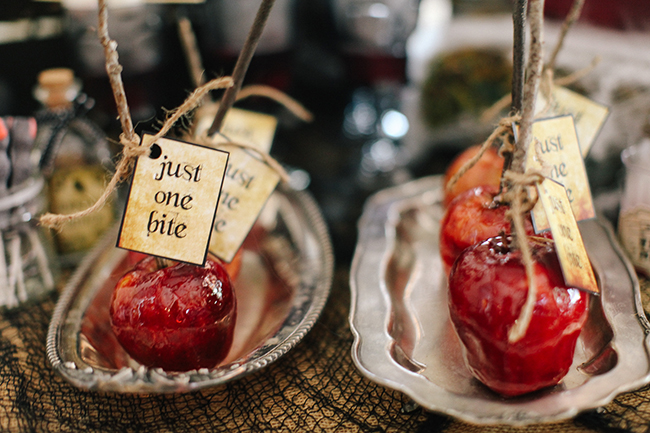 Add our adorable Free printables to your Poisoned Candied Apples and all your guests will be chilled to the bone!
With so many options to make and serve the possibilities are endless! Preparing the food yourself for a party is such a fabulous way to bond with the kids and guests. Everybody will want to steal your recipes and be so impressed with your skills.
I can not wait to see some of your renditions of these delicious recipes! Tag us on Instagram using #SITSBlogging if you make them, so we can see your great results.
Want more great Halloween Treats and party ideas?
Check out our Spiderweb Sugar Cookie decorating tutorial.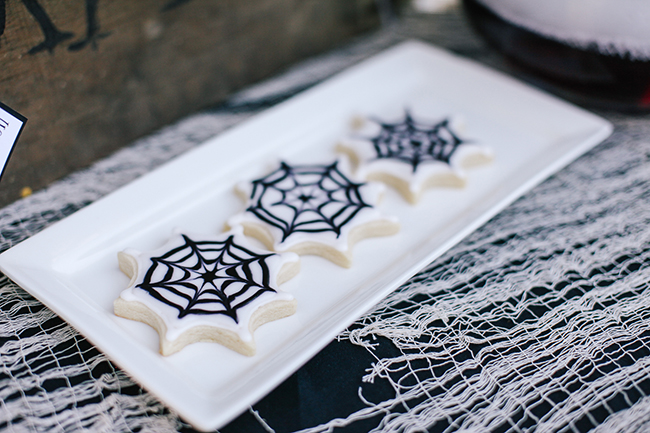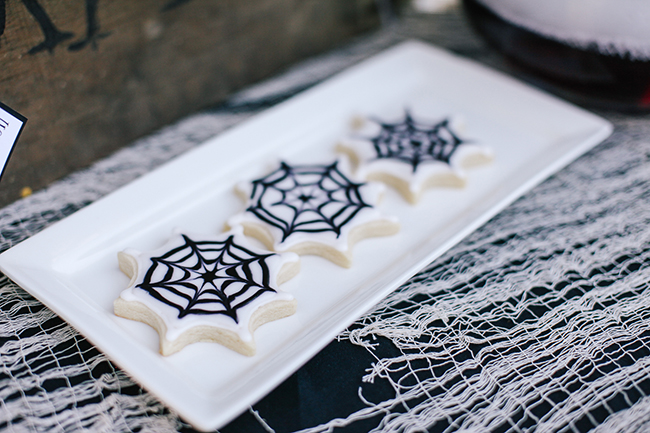 Or host a Fear The Walking Dead Viewing Party — after all, Halloween is the perfect season to celebrate your love of zombies.