This post may contain affiliate links which may give us a commission at no additional cost to you. As an Amazon Associate we earn from qualifying purchases.
It is almost spring, and I'm so excited that the new Beauty and the Beast movie is ALMOST here! My kids and I have been watching the trailer over and over, and can not wait to see the movie. We decorated DIY Beauty and the Beast mugs, including one that looks just like Chip, and made these adorable Shortbread Tea Bag Cookies in preparation for the movie.
Shortbread Tea Bag Cookies
Supplies (this post contains affiliate links):
Free printable tags (download at bottom of post)
Baking Twine
Toothpick
Sugar Cookie Tips
I go back and forth when I make tea bag cookies — sometimes I use shortbread cookies and sometimes I use sugar cookies. If you are going to use sugar cookies, these tips will help!
Chill your dough for at least 30 minutes. This helps the cookies to keep their shape.
When you roll out your dough, make sure the surface is floured. I even add a little flavor to the top of the dough to make sure it does not stick to the rolling pin.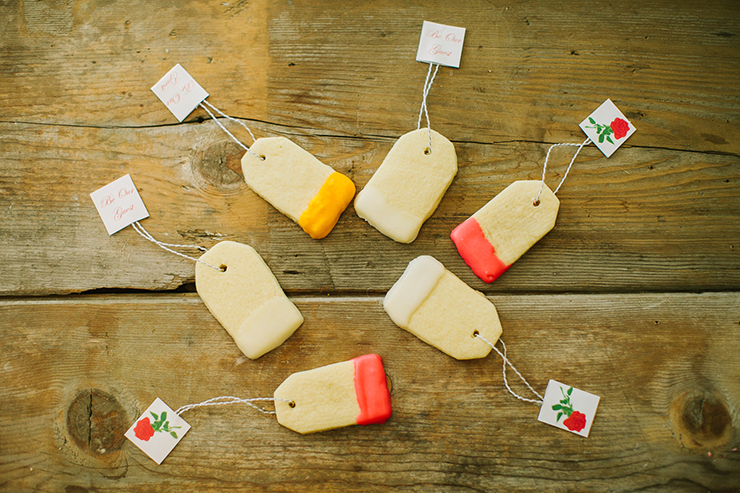 How To Make Tea Bag Cookies
Use your preferred recipe to prepare your cookie dough. Shape the dough with your tea bag cookie cutter, and bake as directed.
You need to make the little hole for the string as soon as you take the cookies out of the oven. If you wait until they cool, they will likely break. Use your toothpick to form a hole. Make sure it's a clean hole that goes all the way through the cookie.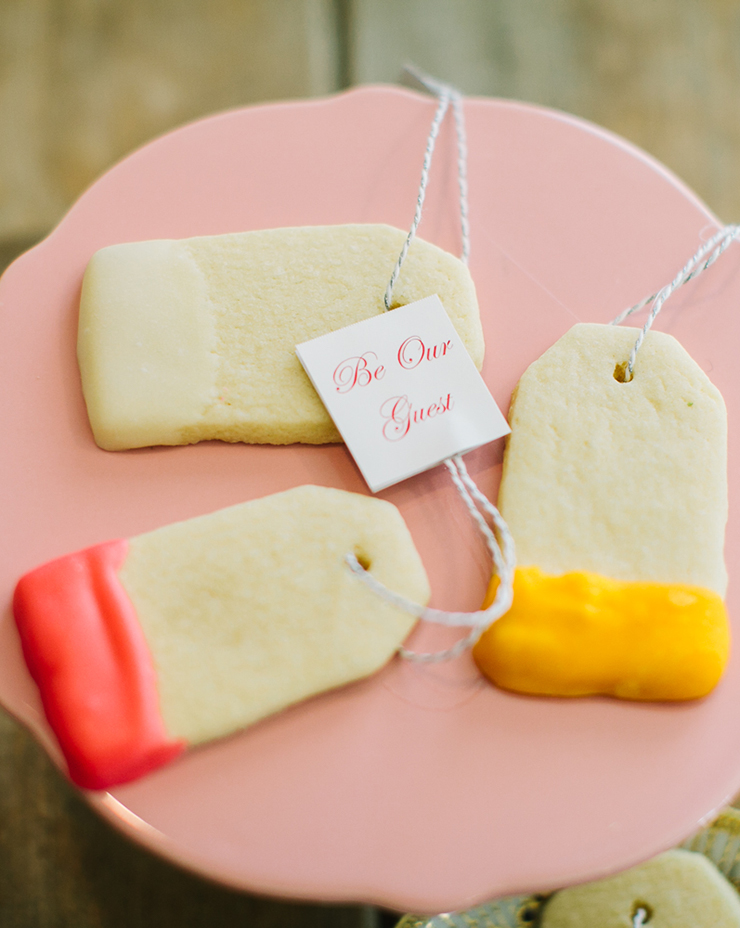 After your tea bag cookies cool, you will dip them in the icing and thread the baking twine through the hole. Lay the iced sugar cookies on a baking pan lined with wax paper to dry.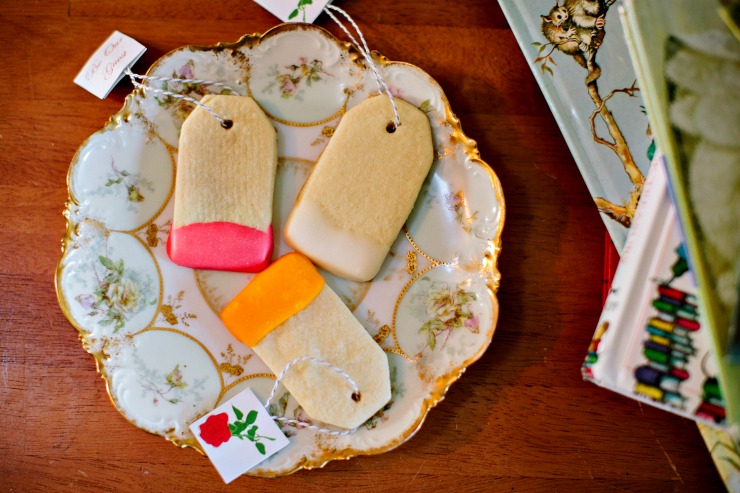 Use a hot glue gun to attach the tea bag tags to the twine, and you are ready for a tea party.
Download Your FREE Tea Bag Cookie Tags Here!
[embed_popupally_pro popup_id="3″]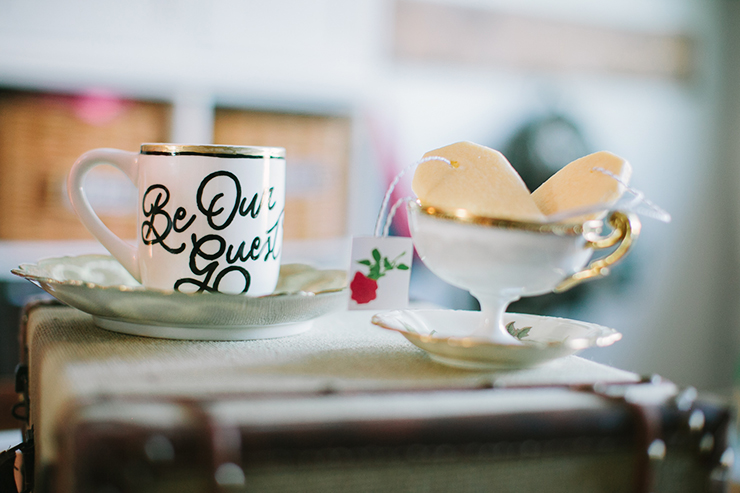 Personally, I think the cookies taste that much better served on vintage china. But you can't go wrong with a Beauty and the Beast mug full of cocoa for the little ones (or yourself)!
Just look at this Chip mug. Isn't he the cutest!?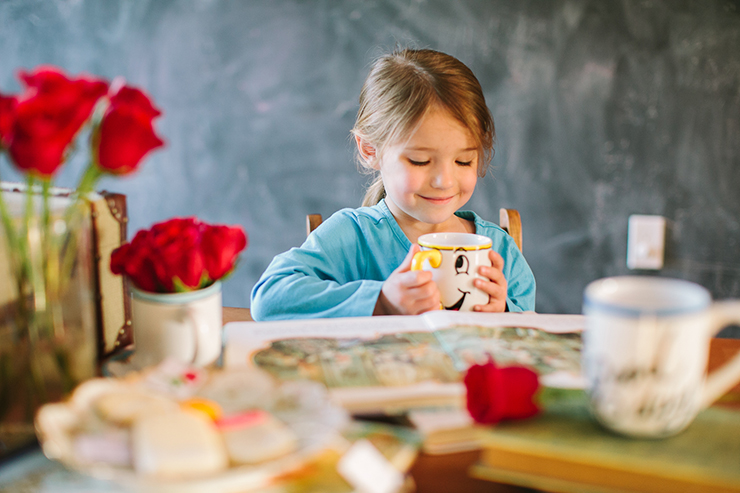 You can make your own Chip Mug (or get inspired by one of our other Beauty and the Beast designs) and plan the perfect Beauty and the Beast tea party.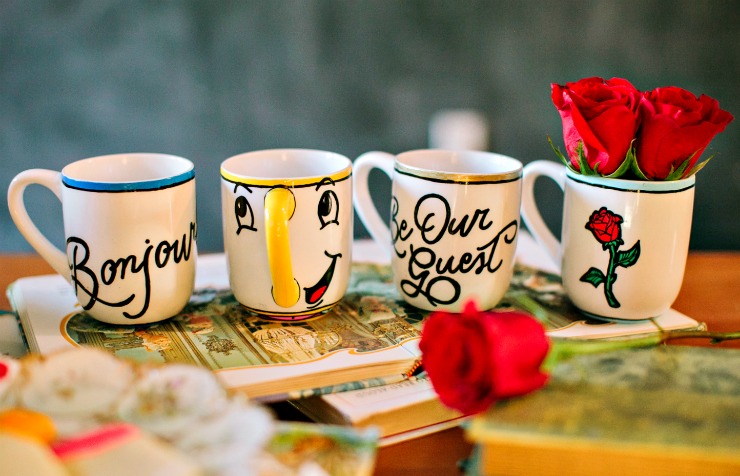 Tea bag cookies are great for other tea parties, too. Check out our Black and White Tea Party for more cute ideas.