This post may contain affiliate links which may give us a commission at no additional cost to you. As an Amazon Associate we earn from qualifying purchases.
Are you looking for fabulous food for kids?
We are deep into summer, and if your kids are anything like ours, food is disappearing from your pantry faster than you can go to the grocery store. If you are spending long stretches of summer vacation at home, you need an arsenal packed with snack foods and boredom busters that will keep even the pickiest of kids happy and busy.
There is no need to hear the constant whining words that are "I'm bored". Use this handy Summer Snack Survival Guide to unlock your supermom potential and blow your kids' minds with these food for kids ideas to help you find summer contentment in your home!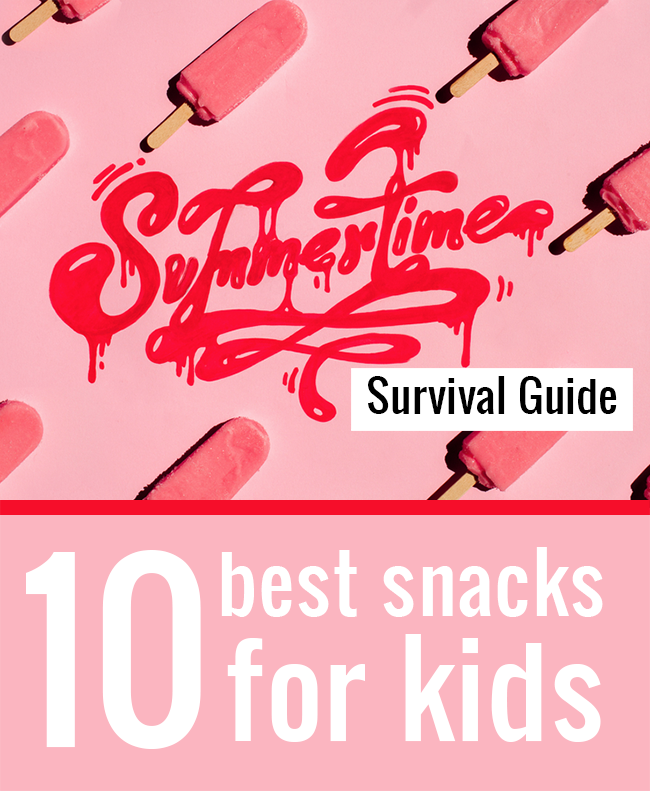 Food For Kids To Help Survive Summer Break
This week, our Summer Survival Guide begins in the kitchen! All of these fun snack ideas stem from kid friendly recipes that are not only fun, but can be used as a teaching tool for children of all ages.
As a parent, you know your own child's personal limits and progress when it comes to
food for kids
. Pre-schoolers can help measure and stir, while older school-agers can be allowed to use a knife to cut and use the oven with adult supervision.
Don't hesitate to pull your kids into the kitchen! Most kids love to cook and will try new foods if they are allowed to help prepare them!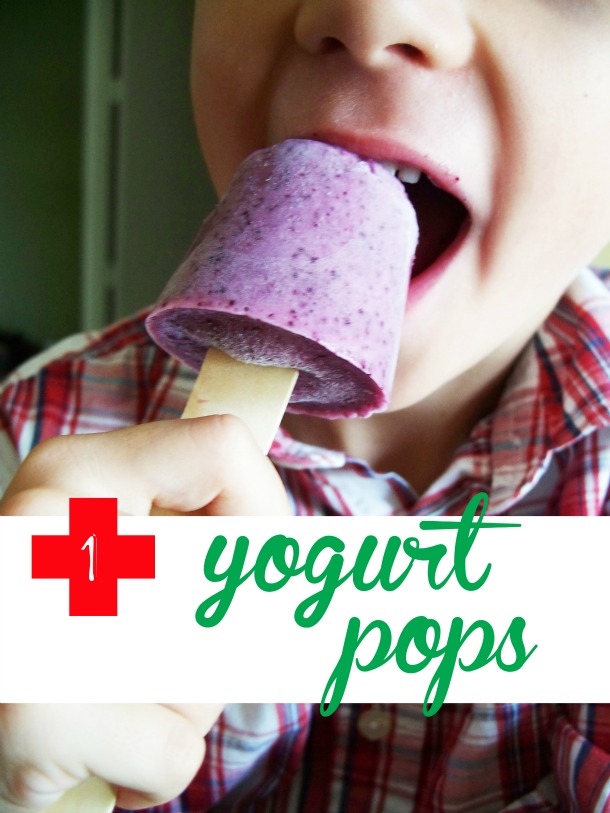 Yogurt Pops
1 container of yogurt
your choice of fruit
¼ C milk
2-3 ice cubes
1 T honey
Throw everything into a blender, and blend until creamy. Pour into Popsicle mold, or use paper cups and Popsicle sticks. Freeze until set. Healthy and yummy!
Enjoy outside in the springtime sunshine!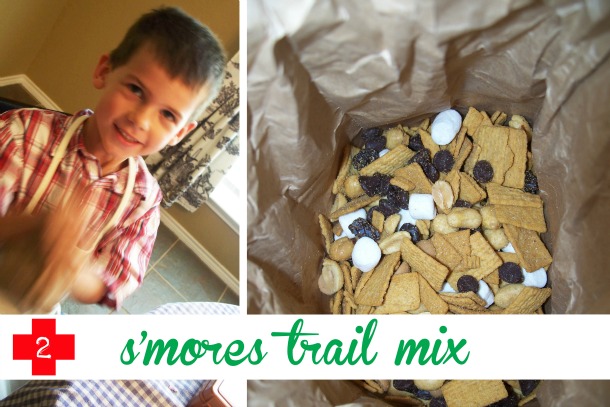 S'mores Trail Mix
2 C honey grahams cereal
1 C tiny marshmallows
1 C peanuts
½ C chocolate chips
½ C raisins
Who knew s'mores could be bite size? Add all ingredients to a medium paper sack. Close the end of the bag and shake well! Store the mixture in a sealed container.
Makes about 5 cups.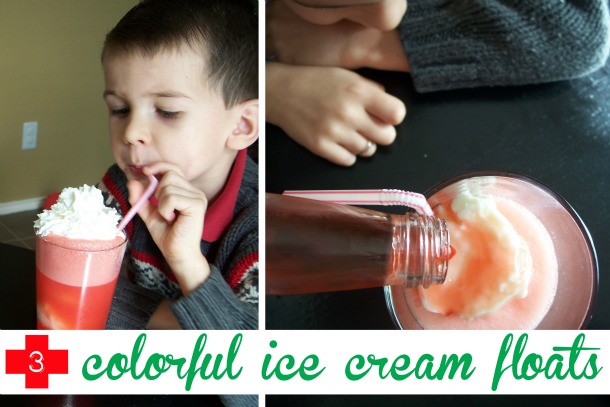 Colorful Ice Cream Floats
1 bottle of soda, any flavor (we love the colorful varieties of Jones Soda Co.)
1 scoop of vanilla ice cream
whipped cream
1 maraschino cherry
straw
Open up a soda shop right in your own kitchen! Add a scoop of ice cream into a chilled tall glass. Pour your choice of soda over it and allow to foam.
Top with whipped cream and a cherry, if desired.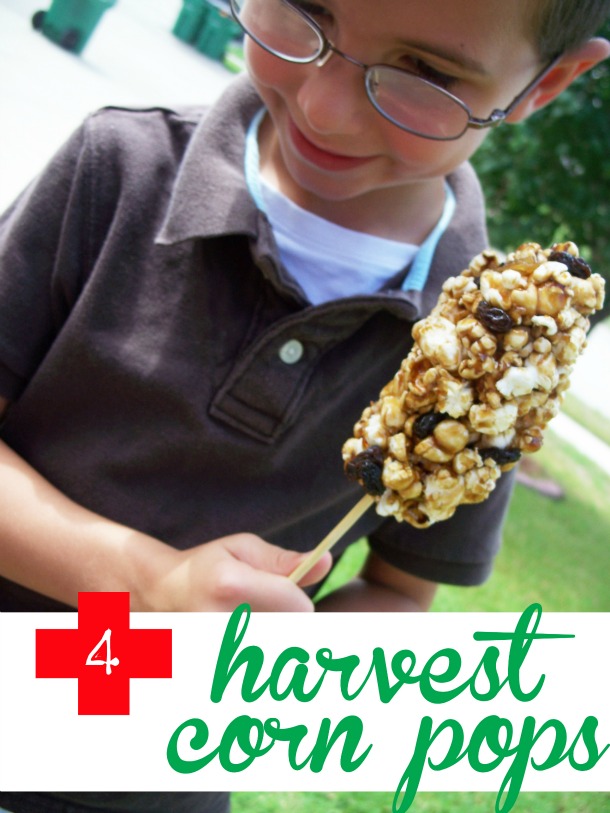 Harvest Corn Pops
10 cups of popped popcorn
1 C brown sugar
¾ C water
¼ C corn syrup
¾ t vinegar
½ C golden raisins
½ C purple raisins
wooden skewers
It's like a popcorn ball, but better! In a small saucepan, combine brown sugar, water, corn syrup, and vinegar. Cook and stir over medium high heat until the mixture boils and reaches the hard ball stage (250). This will take about 15 to 20 minutes.
Pour sugar mixture on top of popcorn and add raisins. Stir until all ingredients are coated.
Using buttered hands, shape mixture onto sticks to resemble ears of corn.
Serve the same day.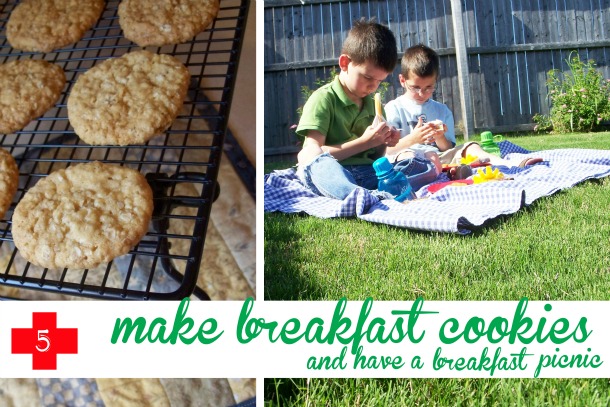 Breakfast Cookies
1 c. shortening
1 c. sugar
1 c. brown sugar
2 eggs
1 tsp. vanilla
1 1/2 C. flour (white or whole wheat)
1 tsp. salt
1 tsp. soda
2 c. "Special K" or other flaky breakfast cereal. (I used raisin bran)
1 c. oatmeal
Optional: raisins, dates, nuts, etc. (I used golden raisins)
Who wouldn't like a backyard picnic with these yummy breakfast cookies?
Preheat oven to 375 degrees. In small mixing bowl, combine flour, baking soda, and salt; set aside. In larger mixer bowl, beat shortening, sugars, and eggs and vanilla until light and creamy.
Gradually blend in flour mixture. Stir in oatmeal and breakfast cereal, and raisins or dates etc.
Drop by rounded spoonfuls onto ungreased cookie sheets. Bake 8 to 10 minutes. Let stand 2 minutes before removing from cookie sheets.
A great breakfast or snack!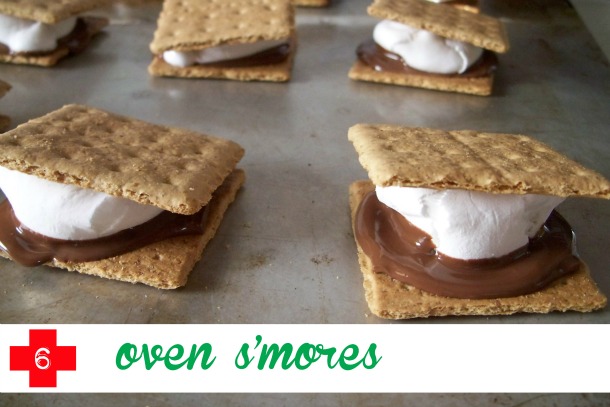 Oven S'mores
5 large marshmallows
10 graham cracker squares
5 squares of milk chocolate
No campfire necessary! Perfect as an after dinner dessert on the front porch watching the sunset!
Preheat your oven to 350 degrees. Place your graham crackers on a cookie sheet and top with one square of chocolate and one marshmallow. Bake until marshmallows become soft and puffy.
When they are finished, pull them out of the oven and top with another graham cracker square.
Enjoy hot out of the oven.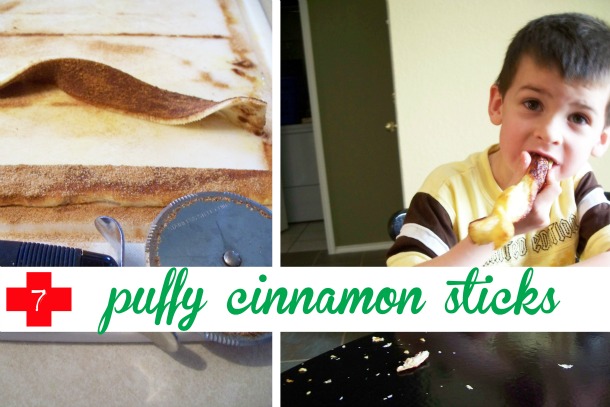 Puffy Cinnamon Sticks
1 box of premade puff pastry dough, thawed
cinnamon and sugar, mixed
½ C melted butter
Make your house smell like a bakery!
Preheat your oven to 375 degrees. Unfold your puff pastry dough and spoon or brush on melted butter. Sprinkle on cinnamon sugar.
Use a knife or pizza cutter to cut into "breadsticks". Gently transfer to a baking sheet and twist two or three times.
Bake until golden brown and puffy.
Enjoy with cold milk.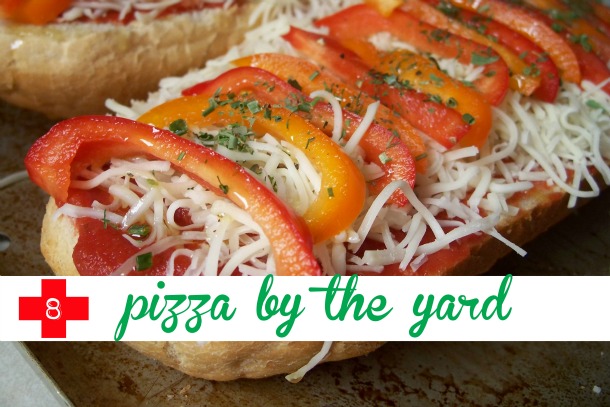 Pizza-By-The-Yard (AKA French Bread Pizza)
1 loaf of French bread (cut into two pieces, lengthwise)
1 c spaghetti or pizza sauce
2 c mozzarella cheese
toppings of your choice (we picked peppers, olive oil, and dried basil)
If you stack these pizzas end to end, you can make it as long as you like!
Preheat oven to 375. Spread the sauce on the cut side of your French bread. Top with cheese and various toppings.
Bake until cheese is melted.
Cut and enjoy!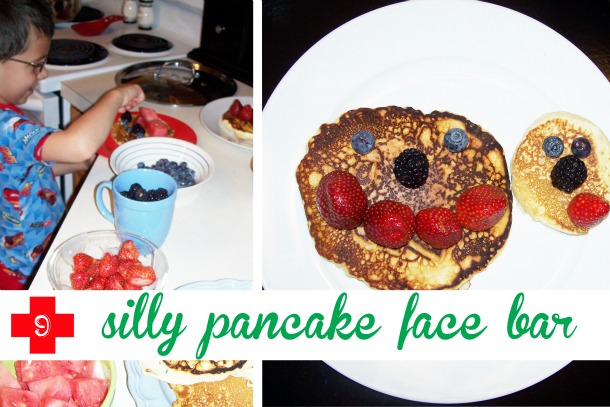 Pancake Faces
Pancakes (make these ahead according to your own recipe or mix)
Various fruits
Syrup
Butter
Getting out of bed is more fun when your breakfast is smiling back at you!
Create a breakfast bar and allow your children to create their own pancake faces using fruits of all shapes and sizes!
(This is even fun for grown-ups too!)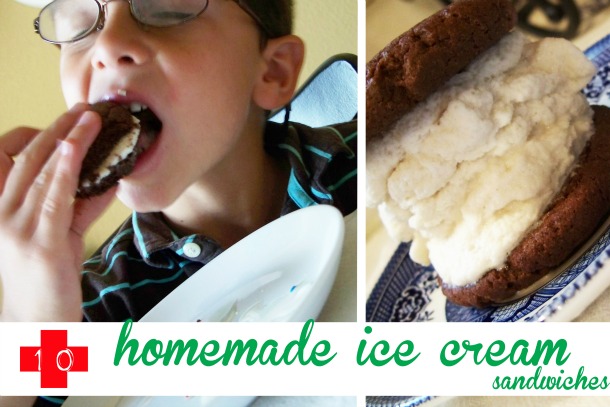 Homemade Ice Cream Sandwiches
This recipe is the most difficult, but the most fun! Create your very own chocolate cookies and then assemble with ice cream at the end into a fun ice cream sandwich!
Soft cake box cookies
1 package of cake mix
1/3 C oil
2 eggs
Heat oven to 375.
Stir together cake mix, oil and eggs with a spoon until well blended.
Drop by tablespoonfuls about 3 inches apart onto ungreased cookie sheets to make 22 cookies.
Bake for 7 to 9 minutes or until puffed and almost no indentation remains when touched. Cool 1 minute, remove onto a wire rack and cool completely.
Put it all together now!
To assemble your ice cream sandwiches, place half of the cookies bottom side up and top with a scoop of ice cream. Cover with remaining cookies, bottom side down. Gently press cookies together to flatten ice cream. Roll the edges of each sandwich in sprinkles and tightly wrap in plastic wrap.
Freeze at least 2 hours. Enjoy!
Hopefully this list has given you a lot of great ideas inspiration for summer snack fun!
More Food for Kids Ideas!
Food for kids can be easy, healthy, and most importantly, FUN. Check out our kid-friendly dessert recipes for more ideas!