This post may contain affiliate links which may give us a commission at no additional cost to you. As an Amazon Associate we earn from qualifying purchases.
I had a craving. I don't get them very often, but I had a craving for a good old fashioned Moon Pie. Some people call them Whoopie Pies.
But the big question isn't what to call them, it is, can you make your own? Turns out you can! I did some googling, and actually, there are many ways to make both moon pies and whoopie pies. Hmmm…which to choose? I wanted to try them all. And now you get to benefit from my labor, because I have the best whoopie pie recipe to share with you.
They were super easy to make…
Chocolate Whoopie Pie Recipe
Whoopie Pie Chocolate Cookie Ingredients:
1/2 cup butter softened
1 cup white sugar
1 egg
1 cup evaporated milk
1 teaspoon vanilla extract
2 cups flour
1/2 teaspoon salt
1/2 cup unsweetened cocoa powder
1 1/2 teaspoons baking soda
1/2 teaspoon baking powder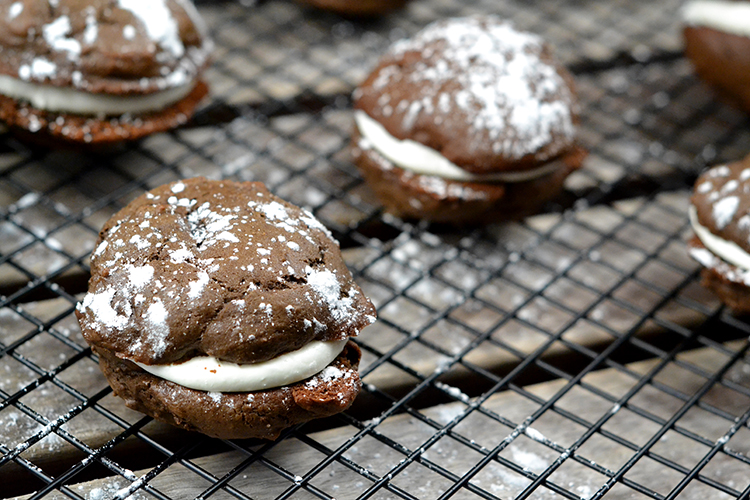 First, preheat your oven to 400 degrees.
Next, you'll mix 1/2 cup butter or margarine and white sugar. Add egg, evaporated milk, and vanilla. In another bowl, mix together flour, salt, cocoa powder, baking soda, and baking powder. Then, stir the flour mixture into the sugar mixture and hand mix together until combined.
Grease a cookie sheet and place tablespoonfuls, 3 inches apart. Pop that in the oven for about 10 min. Allow to cool before filling.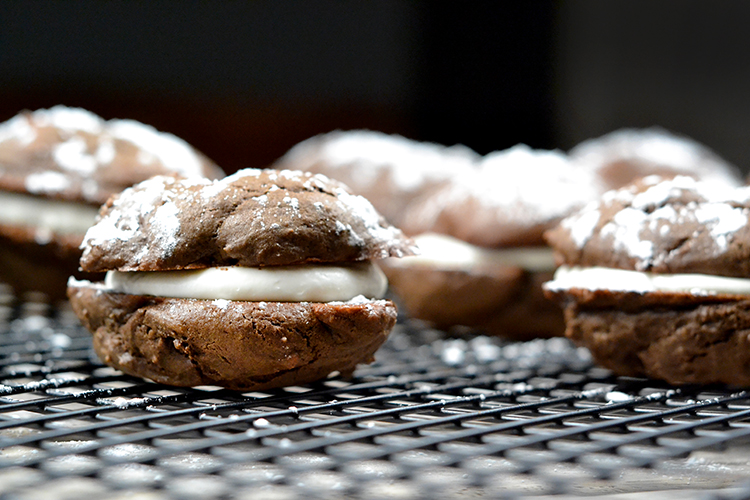 Whoopie Pie Filling Ingredients:
1/2 cup butter softened
1 cup confectioner's sugar
1/2 teaspoon vanilla extract
1 cup marshmallow creme
For the marshmallow filling, in a medium mixing bowl, combine 1/2 cup butter or margarine, confectioners' sugar, flavored extract, and marshmallow creme. Mix until smooth. At this point, I popped my fluff into the fridge for about 20 minutes so it firmed up.
Assemble pies by spreading 1 to 2 tablespoonfuls of filling on flat side of a cookie crust, then covering filling with flat side of another cookie crust. Sprinkle with powdered sugar. Super easy!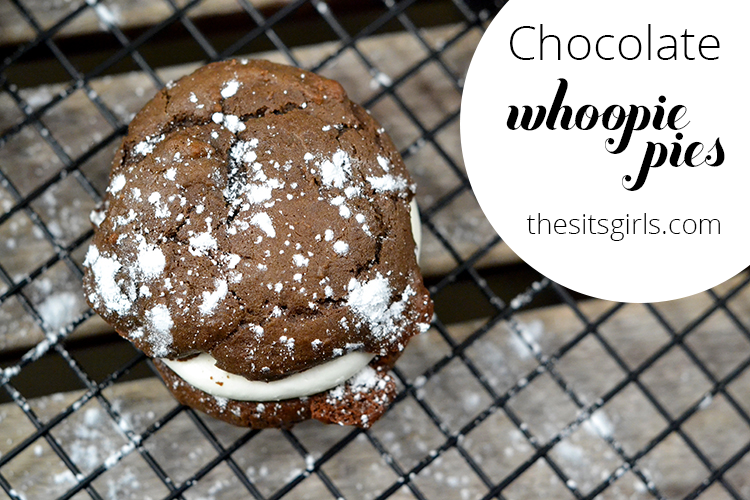 Enjoy!